Kashmiri Lamb Chops Curry: exotic and extremely succulent lamb chop made using saffron, yogurt, and special Kashmiri spice blend.
The Kashmiri Spice blend can be easily made at home and stored for other recipes.
Friday is what we call a fun family night and this Kashmiri Lamb Chops Curry is a perfect way to welcome the weekend!
What is Kashmiri Lamb Chops Curry?
It's nothing but Indian Lamb Chops made using a special 'Kashmiri Spice Blend' in a yogurt sauce.
Kashmir is a state in the north of India and extremely popular for it's rich, aromatic dishes cooked using 'Saffron, Fennel, Almonds and Cardamom'.
Just the aroma of all 4 ingredients together can send your taste bud ticking for more exciting and delicious recipes.
Another extremely important ingredient in Kashmiri cooking is 'Red Chillies', which are famous all over the world for its bright red color.
They are not that spicy as they look but gives an extremely bright…almost burning red kind of a color which at times we mistake for too much heat.
If you would have looked carefully into any of the store bought Tandoori Spice Blends, you might see 'Kashmiri Chillies' as an ingredient (bright color and less hot).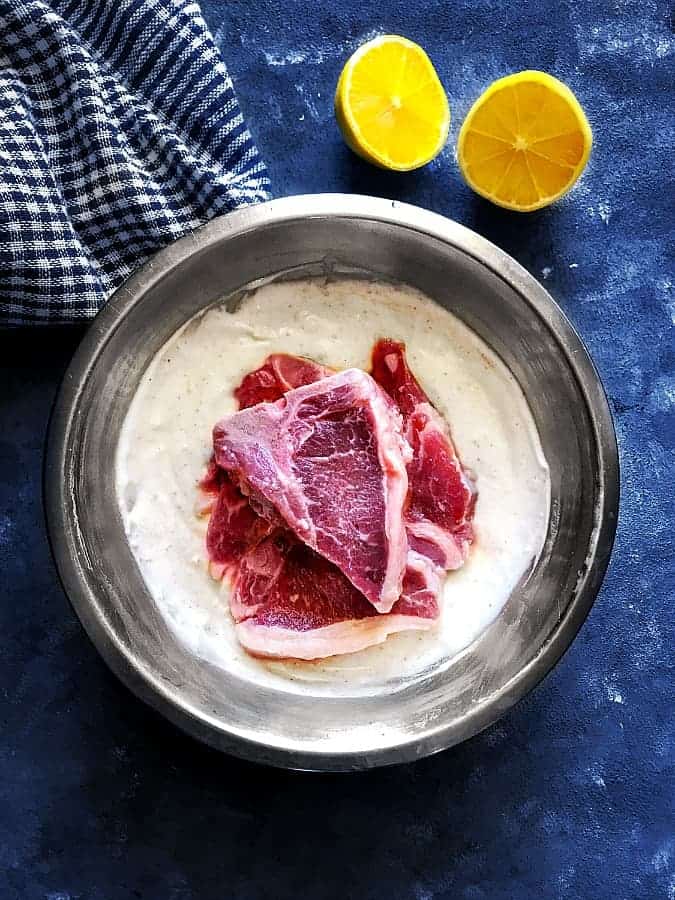 So, once you have my 'Kashmiri Spice Blend' ready, this recipe comes together in 30 minutes.
You can store this blend upto 6-7 month in an air-tight jar and use whenever you want to make this Kashmiri Lamb Chops Curry or even Kashmiri Dum Aloo.
Once the spice blend is ready, you just need to pan sear the Marinated Lamb Chops till lightly cooked.
And then finish off cooking rest of the marinade into a thick luxuriously creamy, aromatic sauce.
This 'Kashmiri Lamb Chops Curry' as Bae say is a perfect blend of spices and meat that satisfies your soul.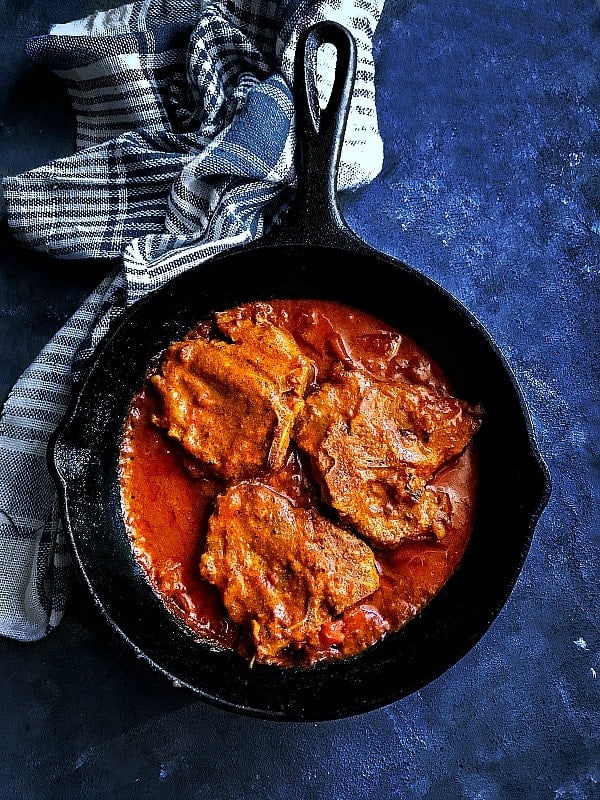 Once cooked, the curry is bright red (because of Kashmiri Chili Powder) but doesn't taste as hot as it looks.
Just a quick squeeze of lemon and you can serve this Kashmiri Lamb Chops Curry along with fresh steamed rice or even Indian naan or dinner rolls.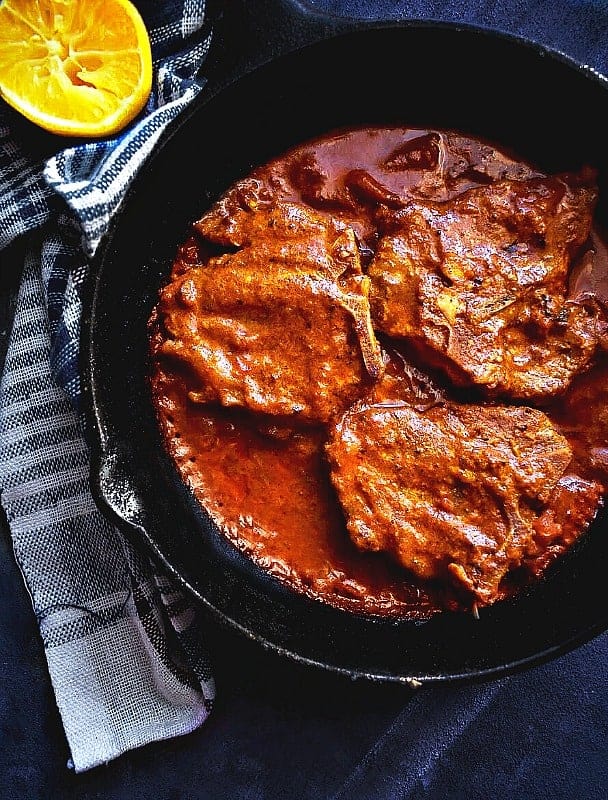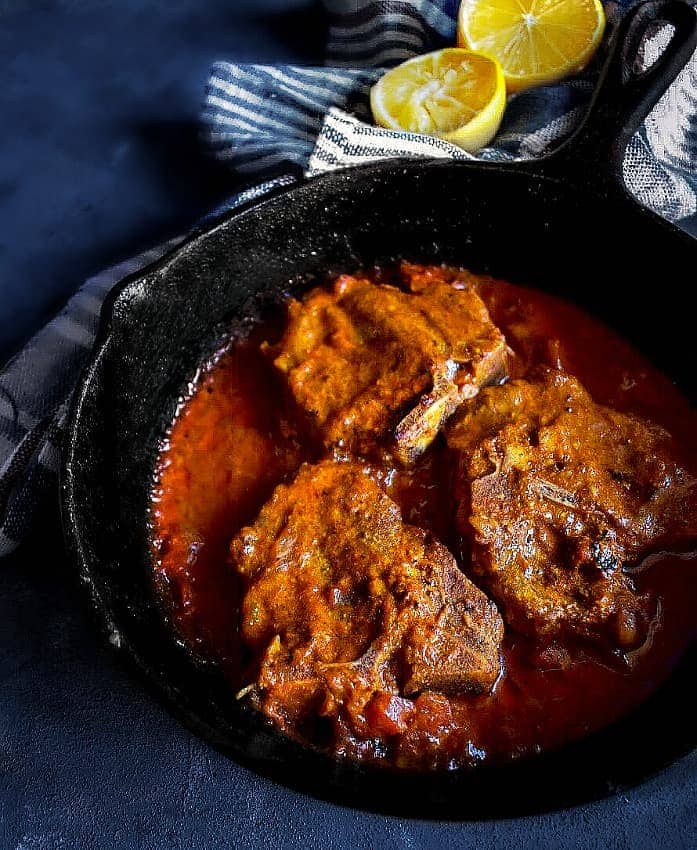 :: You May Also Like ::
---
Tried Our Recipe – AWESOME!!!
Now Quickly SNAP A PICTURE & TAG :
#easycookingwithmolly + @easycookingwithmolly on Instagram –>
Connect with Me Here: Facebook / Pinterest / Instagram / Twitter / Subscribe to our Newsletter / Google+
Yield: 4 People
Kashmiri Lamb Chops Curry
exotic and extremely succulent lamb chop made using saffron, yogurt, and special Kashmiri spice blend.
Ingredients
4 Lamb Chops - I'm using loin chops
2 Tbsp Ghee - brown butter
4 Tbsp Oil - to make the curry
2 Tsp Garam Masala - homemade or store bought
1/2 Cup Water
Marination Ingredients:
1 Cup Yogurt
Ginger Paste
Garlic Paste
1 Tbsp Lemon Juice
1/4 Tsp Salt
1/4 Tsp Pepper
Kashmiri Spice Mix:
1 Small Bay Leaf
1 Tsp Kashmiri Chili Powder - you may use other mild red chili powder
1 Tsp Fennel Seeds
6 Green Cardamom Pods
5 Cloves
1/4 Cinnamon Stick
6 Almonds
1/4 Tsp Saffron
Instructions
Marinate the Lamb Chops:
In a large bowl, whisk together yogurt, ginger, garlic, lime juice, salt, pepper.
Add lamb chops and mix everything using hands or fork.
Marinate in fridge overnight or atleast for 2hrs.


Make the Kashmiri Spice Mix:
Add the 'Kashmiri Spice Mix' in a blender and pulse to form a fine powder.
Keep Aside.


Cook the Lamb Chops:
Heat 2 Tbsp oil and 1ghee in a skillet for a minute over medium flame.
Remove the marinated lamb chops from fridge.
Using a fork, lift the marinated lamb chops and place in skillet.
Cook evenly on both sides on low medium heat till meat is tender (takes about 4 minutes each side).
Remove the cooked lamb chops and place on kitchen towel to soak any excess oil.


Make the Kashmiri Lamb Chops Curry:
Add 1 Tbsp of Kashmiri Spice Mix in the leftover yogurt marinade and whisk to a smooth paste.
Add the remaining oil and ghee to the skillet.
Reduce the heat to low and add the whisked yogurt marinade.
Saute and cook for 5-6 minutes (stir every 2 minutes to prevent burning the sauce).
Finally add cooked lamb chops and water.
Mix everything together and cover cook for 10 minutes on low heat.
After 10 minutes, touch the chops with fork and the meat should be tender. (Also the sauce would be thick and creamy now).
Turn off the heat and transfer to serving bowl.
Serve with steamed rice or choice of breads/rolls.
Nutrition Information:
Yield:
4
Serving Size:
4
Amount Per Serving:
Calories:

596
Total Fat:

46g
Saturated Fat:

15g
Trans Fat:

1g
Unsaturated Fat:

28g
Cholesterol:

128mg
Sodium:

393mg
Carbohydrates:

11g
Fiber:

3g
Sugar:

5g
Protein:

37g