Best Indian Lamb Keema Curry: how to make lamb keema curry or lamb curry using minced lamb, yogurt, and spices. An extremely easy recipe that's bursting with flavors. Glutenfree and keto-friendly.
Indian Lamb Keema Curry – Keema Curry

This Indian Lamb Keema Curry or as everyone at home calls it Best Indian Lamb Keema Curry is what our weekend brunches are all about!!!
It's spicy, the meat is perfectly cooked to an almost 'Melt in your mouth' texture and the curry is light…almost resembling a texture of warm stew.
We say it's Perfect for such Fall/Winter season, but don't take our word, Try It Yourself and let me know 🙂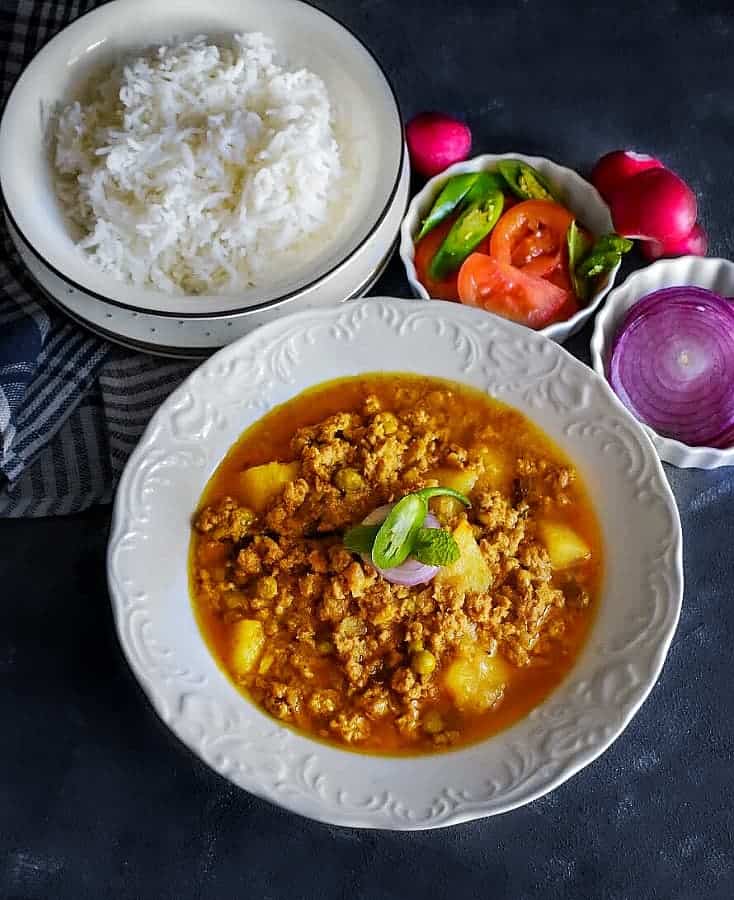 So every other weekend, this Indian Lamb Keema Curry is requested by Mr or my meat-lovers family/friends.
As difficult as this might sound or look, the recipe is extremely easy, just follow the simple steps below or as shown in the videos.
Seriously!! Even if you are cooking curry for the first time, you'll get it right – trust me on this.
Also, It's quite easy to pair with sides like Indian flatbreads/ bread or steamed rice/couscous/quinoa/etc.
Ingredients for the Indian Lamb Keema Curry / Lamb Curry
Lamb Keema – ground / minced lamb meat
Onion
Ginger + Garlic
Tomato
Potato
Peas – frozen or fresh
Indian Spices – turmeric, garam masala, red chili powder, coriander powder, cumin powder, salt
Yogurt – cannot skip on this as it adds so much more flavor.
Now before we get started on our Indian Lamb Keema Curry recipe, I wanted to discuss 'Strauss Direct'.
They have been around for more than 80 years (4rth generation now) and have been providing high-quality, premium meats to chefs, restaurants, and retailers nationwide.
That means their products are:
100% grass-fed and grass-finished
Never administered antibiotics
Never administered growth hormones
Raised on open pastures – never confined to feedlots
Born and raised in the USA
I've recently started using their products (lamb/chicken, etc) and I'm already loving the premium quality, superior tasting meats they provide.
Also, it's now easier than ever to get their products as they have an option of getting meat delivered right at your doorstep (if you can't find them in your local store).
I also choose them as their meats are really really tender and you could feel the difference of quality within the first bite or two of your cooked recipe.
Process to Make Indian Lamb Keema Curry / Lamb Curry
I HIGHLY Recommend that you try their products and make this Indian Lamb Keema Curry asap!
Getting back to our recipe, so what differentiates my recipe from the other Lamb Curry Recipe you might have eaten:
– Premium Quality Meat –
The taste definitely comes from using a high/premium quality meat (which cooks quickly and adds natural flavors – no preservatives).
– Spices –
This recipe is based on Northern Indian cuisine, especially 'Mughlai', which is famous for the use of various spices for different curries.
– Yogurt –
The magic of the curry comes from thick yogurt that when cooked with spices and meat, gives this intense flavors.
– Marination –
This is an important step and cannot be skipped. Even if you marinate it for 15 minutes, that would do wonders to the flavors of this dish.
Once the lamb mince or keema as we call any form of meat in India, is marinated for a couple of minutes, the curry is made really quickly.
Most of such Mughlai dishes were cooked in ghee/brown butter but as things changed, so did our cooking medium.
Hence, I'm cooking this recipe in a mix of 'Oil + Ghee' which makes the dish extremely light yet gives it that rich-aromatic flavors that comes from cooking in ghee.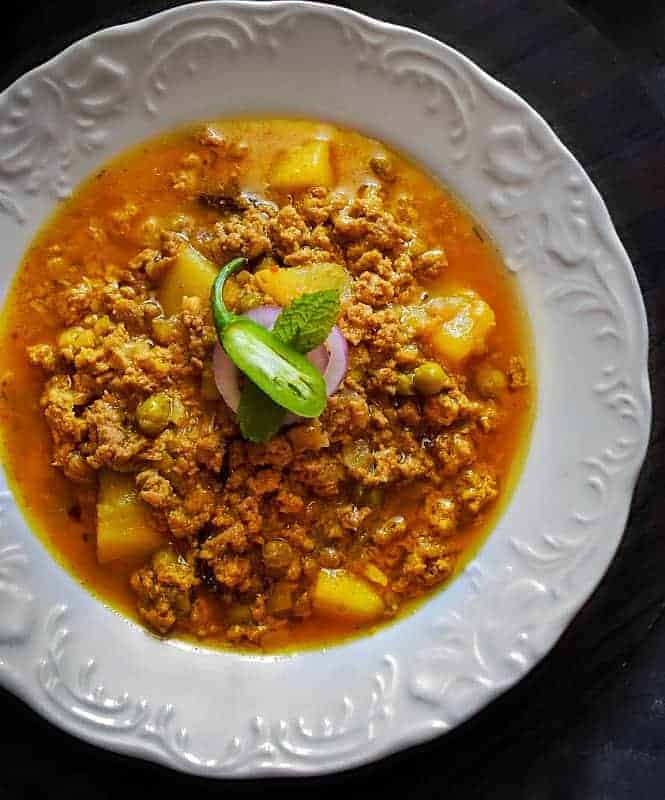 Now, I feel lamb itself is heavier meat, hence whenever I cook lamb based dishes, I try to keep the curry thin for the lightness of flavors.
Hence, this Indian Lamb Keema Curry is more like a stew consistency and perfect to dunk that large piece of bread or even naan.
To make things even quicker, I'm preparing this Indian Lamb Keema Curry recipe in an Indian pressure cooker.
You can also make this in an Instant Pot.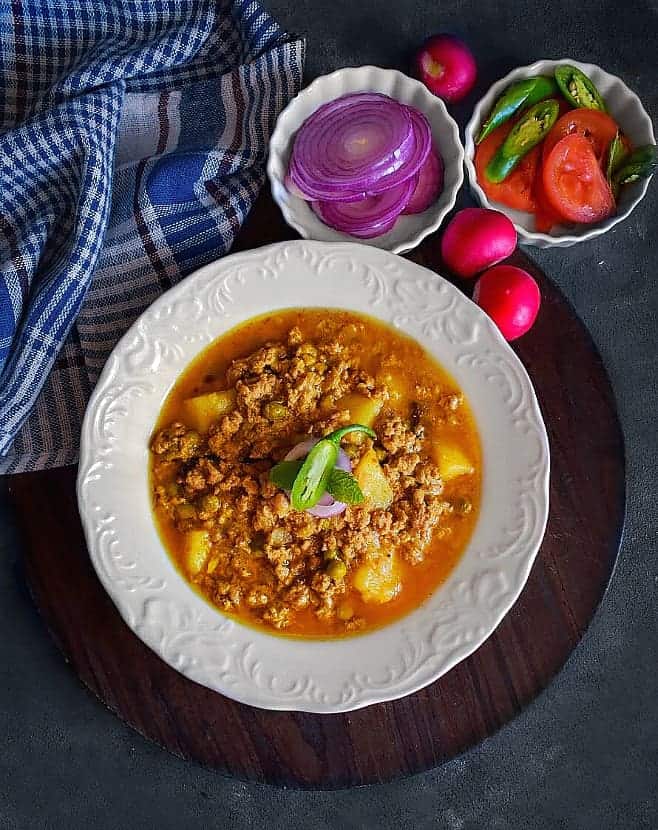 As I mentioned in the beginning, this lamb curry recipe is our beloved weekend nosh, hence I always make a big batch and keep some for the next day or freeze for later weeks.
Tip for Freezing this Indian Lamb Keema Curry
I usually cook the curry thicker and store it in freezer boxes or bags.
Then date stamp each bag and use them within a month.
You can easily thaw the bag in the fridge overnight or use a sous-vide technique.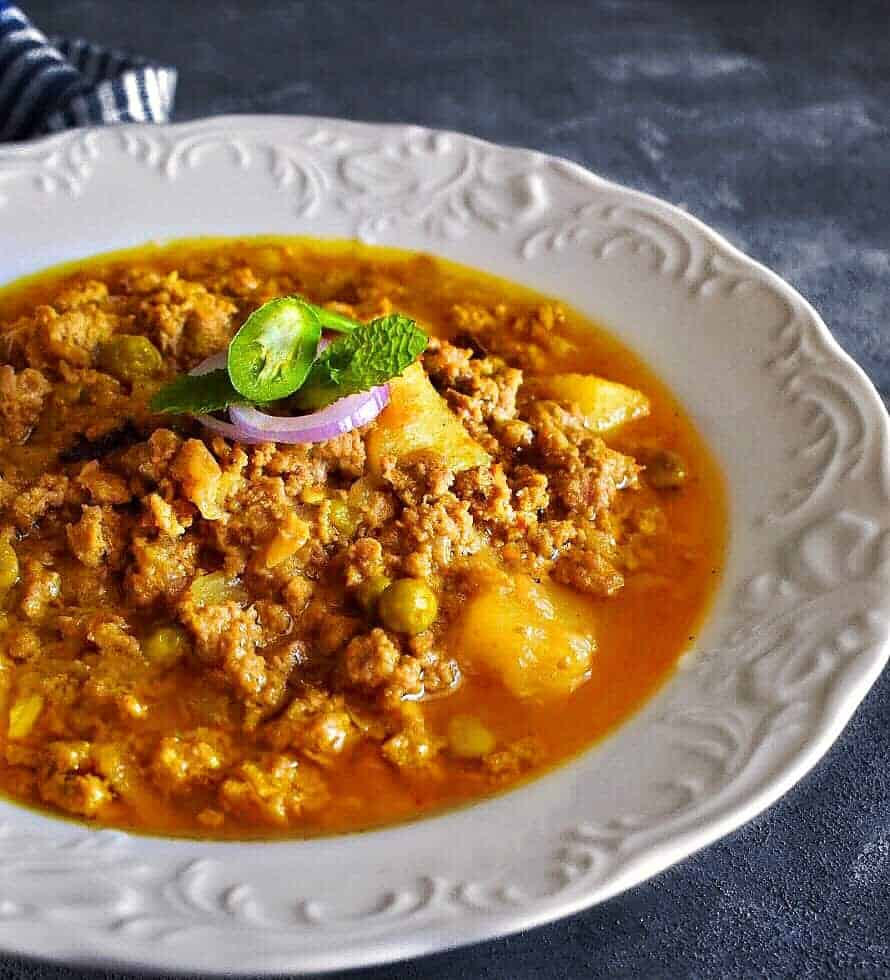 Go ahead and try this delicious, flavorful Indian Lamb Keema Curry and surprise your loved ones with a currytastic weekend 🙂
:: You May Also Like ::
---
Tried Our Recipe – AWESOME!!!
Now Quickly SNAP A PICTURE & TAG :
#easycookingwithmolly + @easycookingwithmolly on Instagram –>
Connect with Me Here: Facebook / Pinterest / Instagram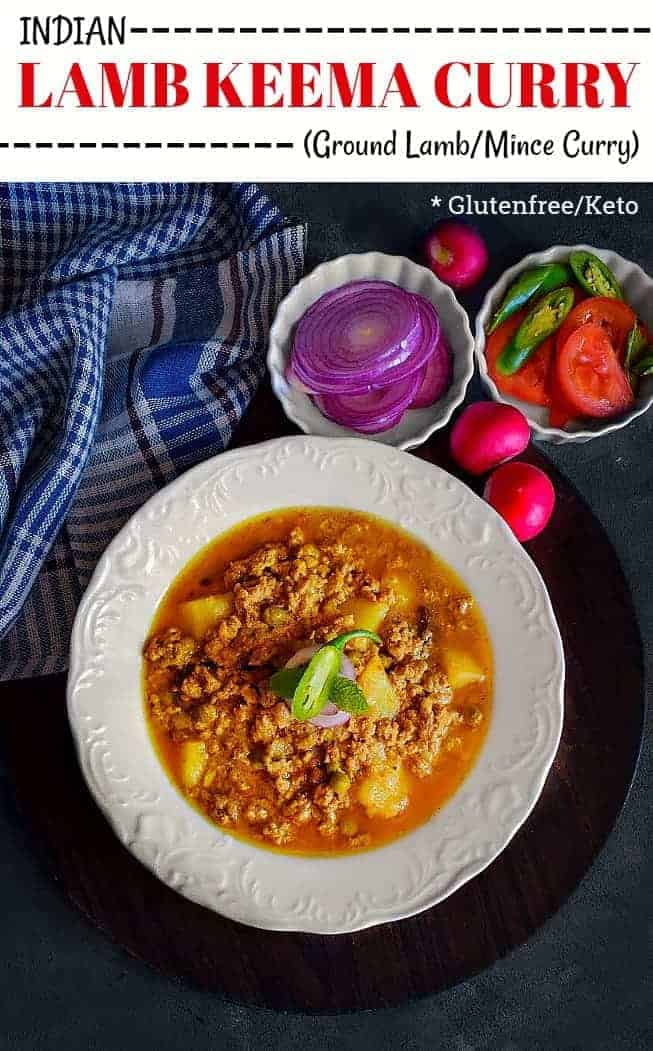 Yield: 5 Pople
Best Indian Lamb Keema Curry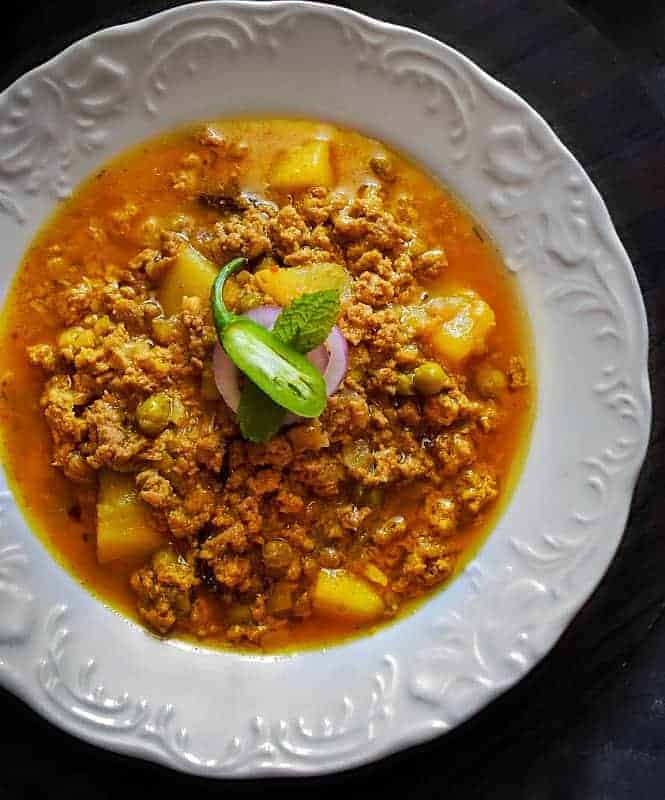 Best Indian Lamb Keema Curry: how to make lamb keema curry or lamb curry using minced lamb, yogurt, and spices. Extremely easy recipe that's bursting with flavors.
Ingredients
1 lb Lamb Mince - I'm using a light variety
2 Large Potatoes - cubed
1 Cup Frozen Peas - thawed
1 Cup Greek Yogurt - you may use thick yogurt
2 Cups Onions - thinly chopped
1 Tbsp Ginger - Shredded or use powder
1 Tbsp Garlic Powder
2 Tbsp Ghee
3 Tbsp Olive Oil
Whole Spices:
2 Black Cardamom - crushed
3 Green Cardamom
4 Cloves
4 Black Pepper Corns
1 Tsp Cumin Seeds
Powdered Spices:
2 Tbsp Coriander Powder
1 Tbsp Cumin Powder
1 Tbsp Garam Masala
1 Tsp Red Chili Powder
1.5 Tsp Salt - use as per taste
1 Pinch Saffron
Instructions
Marinating the Keema / Lamb Mince -
In a large bowl, add yogurt and mix to form a smooth consistency
Add ginger+garlic, 1/2 of the powdered spices (except salt) and mix together.
Now, add minced lamb / keema, mix everything evenly, cover and place in fridge to marinate for a minimum of 1 hour (max of 3 hrs)


Cooking the Marinated Keema -
In a large pressure cooker, heat ghee+oil over medium flame.
Add whole spices and stir.
Now add onions and saute till golden brown (takes 2-3 minutes over medium heat).
Add potatoes, peas and cook for a minute.
Add the marinated keema and stir to mix everything evenly.
Now add the remaining spices and mix everything evenly.
Reduce the flame to low, cover and cook for 5-6 minutes (stirring every 2minutes).
Once the lamb is slightly cooked, remove the cover and add water.
Stir everything and lock the pressure cooker lid and increase the flame.
Let this cook and give you 3-4 whistles (you can cook for another whistle or two for extremely stewed version).
Turn of the heat and let the pressure cooker release all the steam.
Carefully open the lid and stir everything.
Transfer to serving bowl and decorate with chopped onions, mint and green chili.
Serve hot with fav side.
Nutrition Information:
Yield:
5
Serving Size:
1
Amount Per Serving:
Calories:

300
Total Fat:

39g
Saturated Fat:

15g
Trans Fat:

0g
Unsaturated Fat:

21g
Cholesterol:

80mg
Sodium:

289mg
Carbohydrates:

55g
Fiber:

9g
Sugar:

12g
Protein:

43g