Mughlai Lamb Kebab: made of minced lamb, lentil, spices, and lightly sauteed in a mix of oil and ghee. And one of the gem recipes from the World famous Mughlai cuisine. Succulent, spicy, melt in your mouth 'Shahi Kebab'
This Mughlai Lamb Kebab recipe is also known as 'Mughlai Lamb Shami Kabob' is inspired by my recent visit to Lucknow, which apart from being the land of nawabs can also be called the 'Kebab City'.
Every street has some form or the other of kebab corner/shop. The most famous being 'Tunde ke Kebab' which is now over a 100 yrs old and was started by a one-arm chef.
It's located in the '
chowk
' area and you really need to be prepared to handle the spice level in it cause its
Amazingly HOT
!
Then you can find a variety of other kebabs like Shami/galauti/kakori/sheekh / pasanda and many more.
It's like an endless galore of food-food and more food when you are in Lucknow and their cuisine is also called 'Awadhi' which has a heavy Mughlai influence.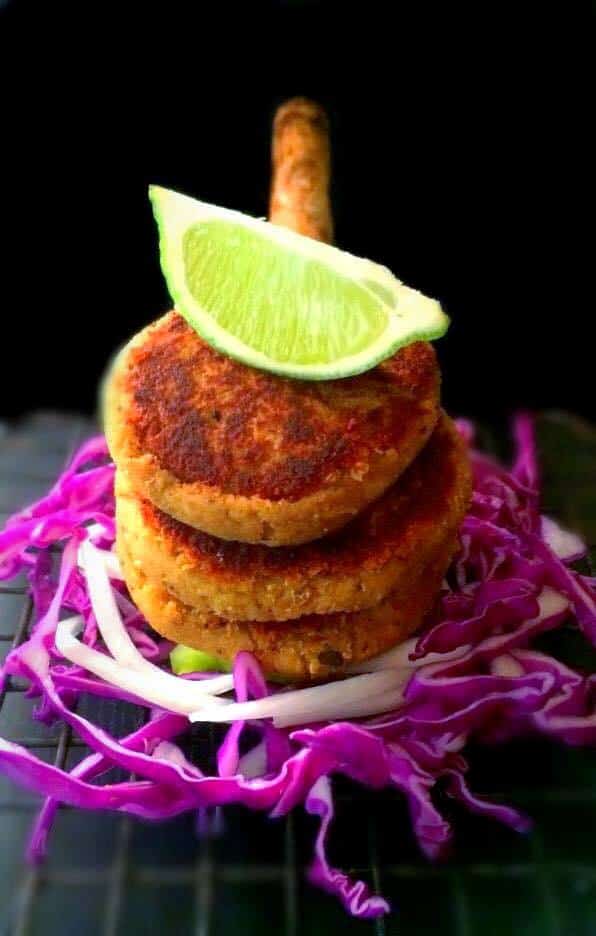 What is Mughlai Lamb Kebab/Kabab?
They are flattened kebabs made using a mix of:
Minced Lamb
Lentil
Spices
Mughlai Lamb Kebab is traditionally super spicy and made in pure ghee or clarified butter.
I've definitely modified the recipe by reducing the spice level (feel free to increase or decrease as per taste)
and I'm cooking them with a mix of oil and ghee…..although, you can make them entirely in ghee.
Now, if you don't eat lamb, you can *substitute it with chicken or turkey too.
I've made those versions and they taste equally delicious.
The kebabs need some kind of binder to hold them together while cooking hence I'm adding cornstarch but you can add regular flour or even breadcrumbs.
Can you Freeze Lamb Shami Kebabs?
Since they are a labor of love and I usually donot make them very often, hence I like to freeze some of the kebabs for later use.
Just cook the mixture and store it in the freezer bag for up to 2 months.
When you are ready to use use the frozen kebabs, simply thaw them overnight in the fridge or for at least 4-5 hrs at room temperature.
Serving Suggestion for Lamb Kababs:
I can go on about these kebabs for hours as they are our absolute favorite and we usually have them with:
Freshly Cooked Thin Paratha's
Lots of Chopped Onions & Fresh Lime.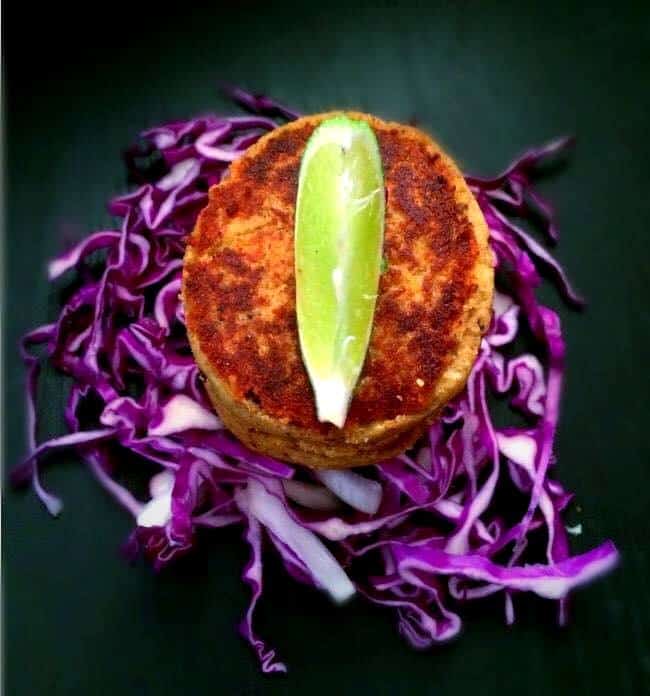 This time we actually served them with some fresh purple cabbage salad along with chilled beer and they were all gone within a few minutes.
I hope you give them a try soon as I promise you they are super easy yet absolutely delicious. Make them once and you would be wanting more of it.
Tried Our Recipe – AWESOME!!!
Now Quickly SNAP A PICTURE & TAG :
#easycookingwithmolly + @easycookingwithmolly on Instagram –>
Connect with Me Here: Facebook / Pinterest / Instagram
:: You May Also Like ::
Yield: 15
Mughlai Lamb Kebab - Minced Lamb Kabob using Indian Spices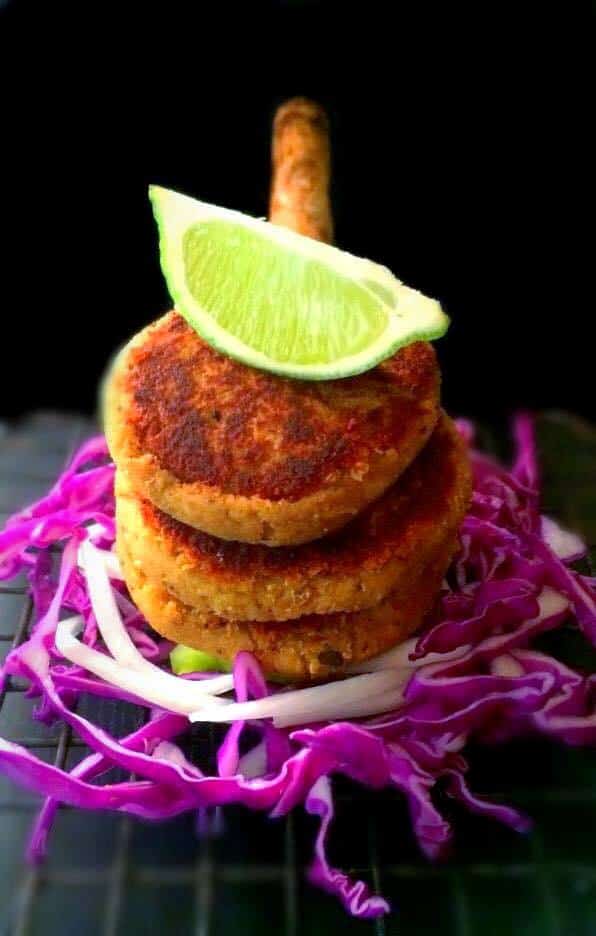 Mughlai Lamb Kebab: made of minced lamb, spices and lightly sauteed in a mix of oil and ghee. And one of the gem recipes from the World famous Mughlai cuisine. Succulent, spicy, melt in your mouth 'Shahi Kebab'
Ingredients
1 lb Lamb Mince* - See Notes
1 Cup Split Yellow Peas - soaked for 10 minutes
1 Large Onion
2 Clove Garlic
1 Small Chunk of Ginger
1/2 Large Green Chilies – Deseeded
1 Cup Water – 4 Tbsp Less
1 Egg
4 Tbsp Cornstarch or Rice Flour
4 Tbsp Olive Oil
2 Tbsp Ghee (Optional)
Spices/Seasoning:
1 Large Bay Leaf
1 Tsp Cumin
3 Whole Red Chilies – Deseeded
2 Black Cardamom – Slightly Broken
4 Green Cardamom – Slightly Broken
4 Black Peppers
4 Cloves
1/4 Cinnamon Stick
1/4 Tsp Mace
3 Tsp salt – Per Taste
Instructions
In a small bowl, mix oil and ghee together to form an even consistency.
In a pan, roast cumin, peppers, black cardamon, cloves for a minute. Keep aside.
In a large pressure cooker, add lamb, onion, ginger, garlic, peas(dal), chilies, and water.
Now add the roasted spices and all the remaining spices.
Close the lid and pressure cook on high till 4 whistles and turn off the heat,( About 5-6 minutes).
** (If using a Pot, please boil all the mentioned Ingredients together, till the water is almost absorbed and a mix is formed).
Grind the boiled mixture to a paste without adding any extra water.
Add egg, cornflour to the ground mixture and mix evenly.
Make small to medium size kebabs & refrigerate for a minimum of 20 minutes. (This helps firm the kebabs).
Heat a nonstick pan and add 1 tbsp oil mix.
Place 4-5 kebabs and lightly saute till they are crispy brown on both sides (add more oil if need be).
Similarly, saute all the kebabs to a crispy slightly reddish-brown texture.
Transfer the cooked kebabs to a plate and serve along with some freshly chopped onions and lemons.
Nutrition Information:
Yield:
5
Serving Size:
3
Amount Per Serving:
Calories:

711
Total Fat:

41g
Saturated Fat:

15g
Trans Fat:

0g
Unsaturated Fat:

23g
Cholesterol:

159mg
Sodium:

500mg
Carbohydrates:

50g
Fiber:

5g
Sugar:

8g
Protein:

35g