Kathal ki Sabzi (Indian Jackfruit Recipe): a quick, delicious recipe using kathal/jackfruit, aromatic Indian spices, and a few simple ingredients.
Kathal Sabzi or Kathal ki Sabzi is an extremely popular recipe in India.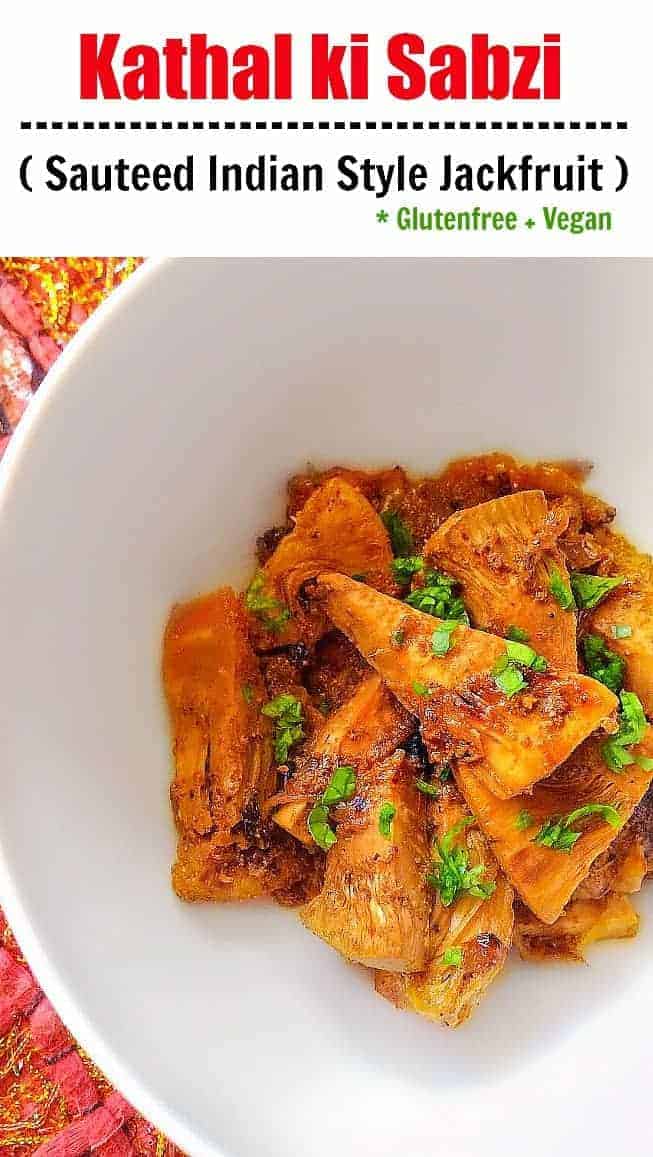 Come winter's and I start craving this Kathal Sabzi or as many know it Kathal ki Sabzi.
It's luscious and goes perfectly with any side like Indian flatbreads/steamed rice/quinoa/bread/rolls, etc.
Kathal which is also known as 'Jackfruit' all over the world, is mostly available in India during the winter season and you see an array of recipes then after.
I've literally grown up eating it every winter, so whenever winter/fall starts here in California, the cravings for Jackfruit recipe peaks too 😉
So, here I'm sharing this extremely easy and totally yummm Kathal ki Sabzi or Kathal Sabzi today.
Since we don't get raw jackfruit so easily here in the bay, I usually use canned 'Young Jackfruit' in brine.
They are peeled, clean and nicely chopped into bite-size pieces. Another advantage of using them is that they are slightly softer than raw jackfruit.
Hence, cooks quickly whether in stovetop/pressure cooker or instant-pot
So when using the canned jackfruit, just drain the water out of the can and rinse the jackfruit in fresh water to take out any brine flavor.
TIP:
This is an EXTRA step that I take to make the jackfruit tastes even more delicious, I saute them lightly before cooking.
That enhances the jackfruit flavor further and gives them an extra crunch when sauteed in Indian spices.
Once that's done, the rest of the recipe is extremely simple. You just make the Indian spice mix using the ingredients below.
Then saute everything together (including jackfruit) and add freshly chopped cilantro (coriander).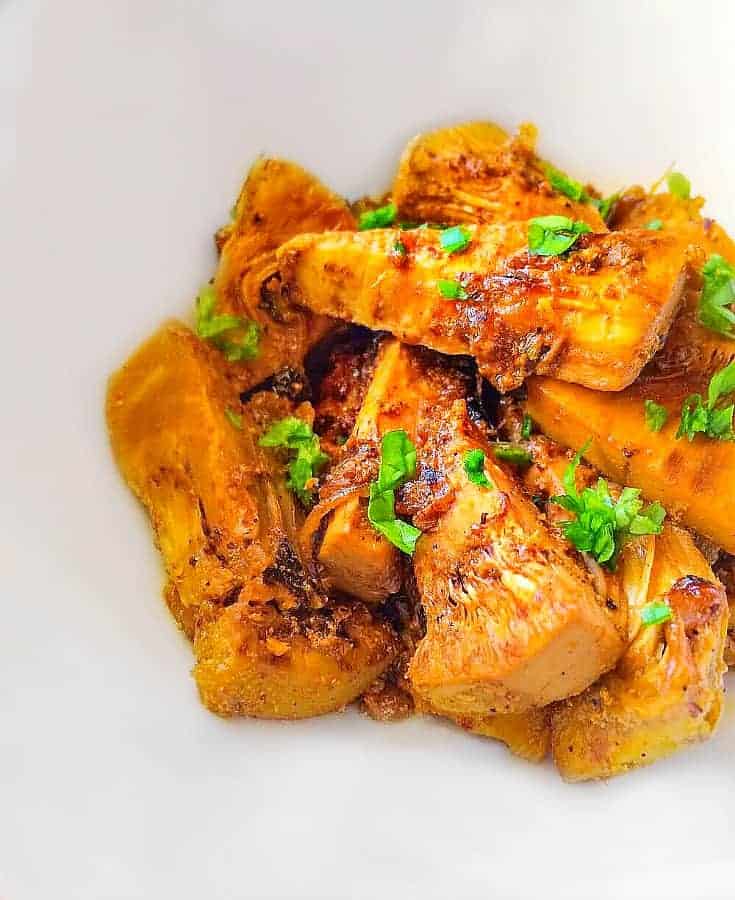 Storage:
This recipe can be made 2-3 days in advance and stored in the fridge in an air-tight container.
As mentioned above, it goes with any choice of side and makes a great brunch menu too.

:: You May Also Like ::
---
Tried Our Recipe – AWESOME!!!
Now Quickly SNAP A PICTURE & TAG :
#easycookingwithmolly + @easycookingwithmolly on Instagram –>
Connect with Me Here: Facebook / Pinterest / Instagram / Twitter / Subscribe to our Newsletter / Google+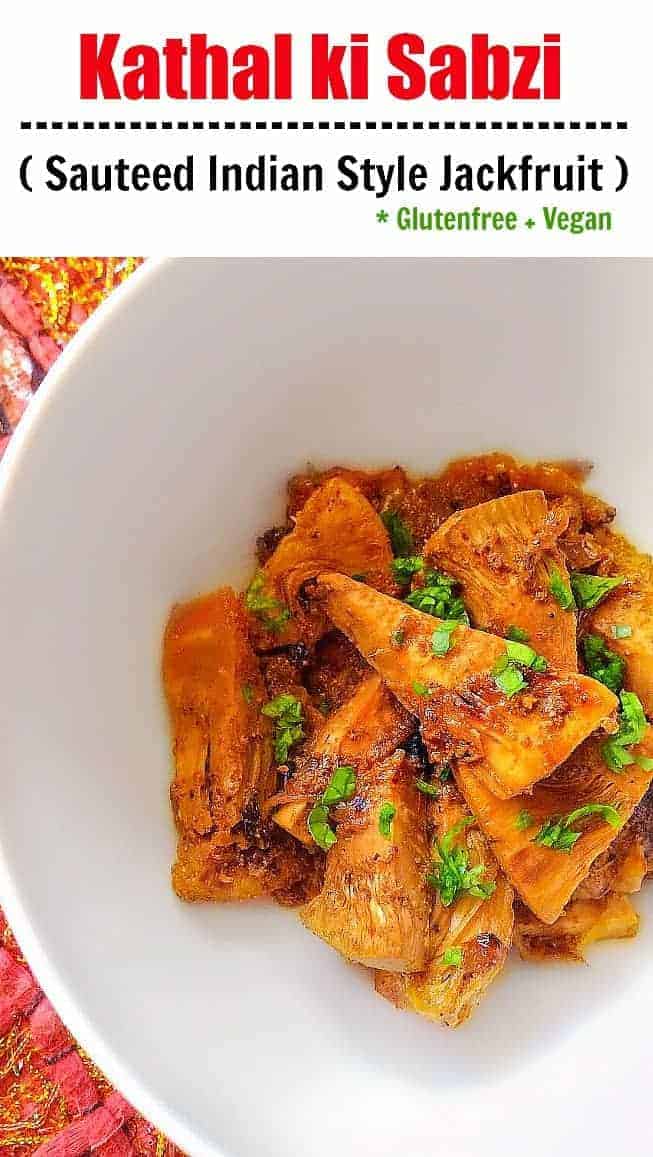 Yield: 4 People
Kathal Sabzi (Indian Jackfruit Recipe)
a quick, delicious recipe using kathal/jackfruit, aromatic Indian spices, and a few simple ingredients.
Ingredients
2 Jackfruit Cans – I'm using young jackfruit in brine (you can use thinly chopped fresh jackfruit too)
1 Large Onions – thinly chopped
1 Tbsp Grated Garlic
1 Tbsp Grated Ginger
2 Medium Tomatoes - thinly chopped
1 Cup Thick Yogurt *
1/2 Cup Water
3 Tbsp Oil
Cilantro - chopped for garnishing
Powdered Indian Spices:
1/2 Tsp Turmeric
1 Tsp Cumin Powder
2 Tsp Coriander Powder
1 Tsp Red Chili Powder
1 Tsp Salt - use more or less as per taste
1 Tsp Garam Masala - use curry powder if you don't have any
Instructions
Saute the Jackfruit:
Drain the jackfruit and rinse in cold water.
Heat 2 Tsp oil in a pan and add the drained jackfruit.
Saute on medium heat for 2-3 minutes.
Once the jackfruit is golden in color and slightly cooked, turn off the heat.
Remove the sautéed jackfruit in a bowl.


Make the Masala:
In the same pan, heat the remaining oil and add chopped onions.
Lightly saute to a golden color.
Add grated ginger, garlic, spices and saute for another 2-3 minutes.
Now add tomatoes and saute for 2 minutes till everything is slightly cooked.
Add yogurt and saute.
Now add sauteed jackfruit, mix and let everything cook together for 3 minutes.
Add water, saute everything and cover cook for 5 minutes or till water is completely reduced.
Turn off the heat and add chopped cilantro.
Transfer to serving bowl and enjoy with choice of side.


Notes
* I'm using a vegan yogurt, but feel free to use any kind of plain yogurt for the recipe
Nutrition Information:
Yield:
6
Serving Size:
6
Amount Per Serving:
Calories:

114
Total Fat:

12g
Saturated Fat:

2g
Sodium:

45mg
Carbohydrates:

1g