This shop has been compensated by Collective Bias, Inc. and its advertiser. All opinions are mine alone. #ReddiForNonDairy #CollectiveBias
Coconut-Lemon Mousse Trifle: 3 ingredients, vegan, glutenfree and absolutely luscious dessert that's perfect to share with loved ones. 3 Ingredients Coconut Lemon Mousse Trifle – Lemon Mousse Trifle
Coconut-Lemon Mousse Trifle can be enjoyed anytime of the year with a dollop of Reddi-wip® Coconut Non-dairy whipped topping.
These 3 Ingredients
Coconut-Lemon Mousse Trifle
is a perfect midweek dessert to enjoy with your loved ones.
We love desserts and any of our big-small gatherings are incomplete without a homemade version.
No matter how much food I might have cooked the party isn't over till I serve a luscious dessert 😉
That also means, keeping in mind everyone's different needs/diet, hence most of my desserts are Non-Dairy (Vegan) or Glutenfree
So when I recently found these NEW Reddi-wip® Non-dairy whipped topping at Walmart, it was LOVE at first sight!
The NEW Reddi-wip® Non-dairy whipped topping is:
No dairy, gluten-free, artificial flavors or artificial sweeteners.
All of the Goodness, None of the Dairy.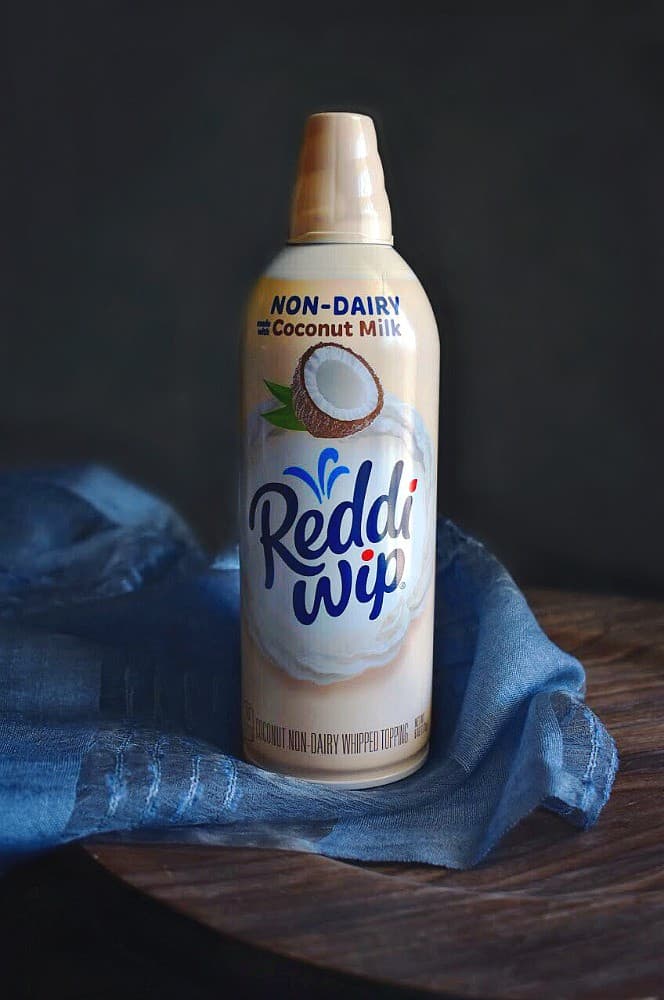 Seriously, I cannot begin to tell you how happy and excited I was to find not just one but two non-dairy flavors (Coconut and Almond).
Most of the times, when I made a non-dairy dessert in the past, I didn't top it with whip cream due to lack of availability.
So this find was quite a reason to celebrate and I made these Coconut-Lemon Mousse Trifle and shared with my neighbor (who's a vegan).
We absolutely enjoyed our desserts with this NEW Reddi-wip® Non-dairy whipped topping but she also added some on top of her coffee 🙂 – Yessss!!!
It's got all the Reddi-wip® goodness you crave without dairy, artificial flavors or artificial sweeteners.
This Coconut-Lemon Mousse Trifle is one of our MOST requested party desserts and seriously just takes 3 main ingredients to prepare:
Coconut Milk – We want to use full-fat coconut milk can
Powdered Sugar – storebought or use homemade
Lemon Extract with Yellow Color – the color is optional but adds such gorgeousness to our trifle
Once you have all these ingredients, you simply whip the coconut milk and then add flavor+color to some of the whipped coconut milk (for lemon flavor).
Then simply make two separate piping bags or use Ziploc like I do all the time 🙂
Just add in layers in the serving glasses and chill in the fridge for 10 minutes.
Once the Coconut-Lemon Mousse Trifle is slightly set, that's when the fun begins!!!
Shake the NEW Reddi-wip® Coconut Non-dairy whipped topping can and add a dollop or two in each glass.
Then sprinkle some powdered sugar and coconut flakes (as per your choice) and dive into this absolutely divine, luscious dessert that literally 'Melts-in-your-Mouth'.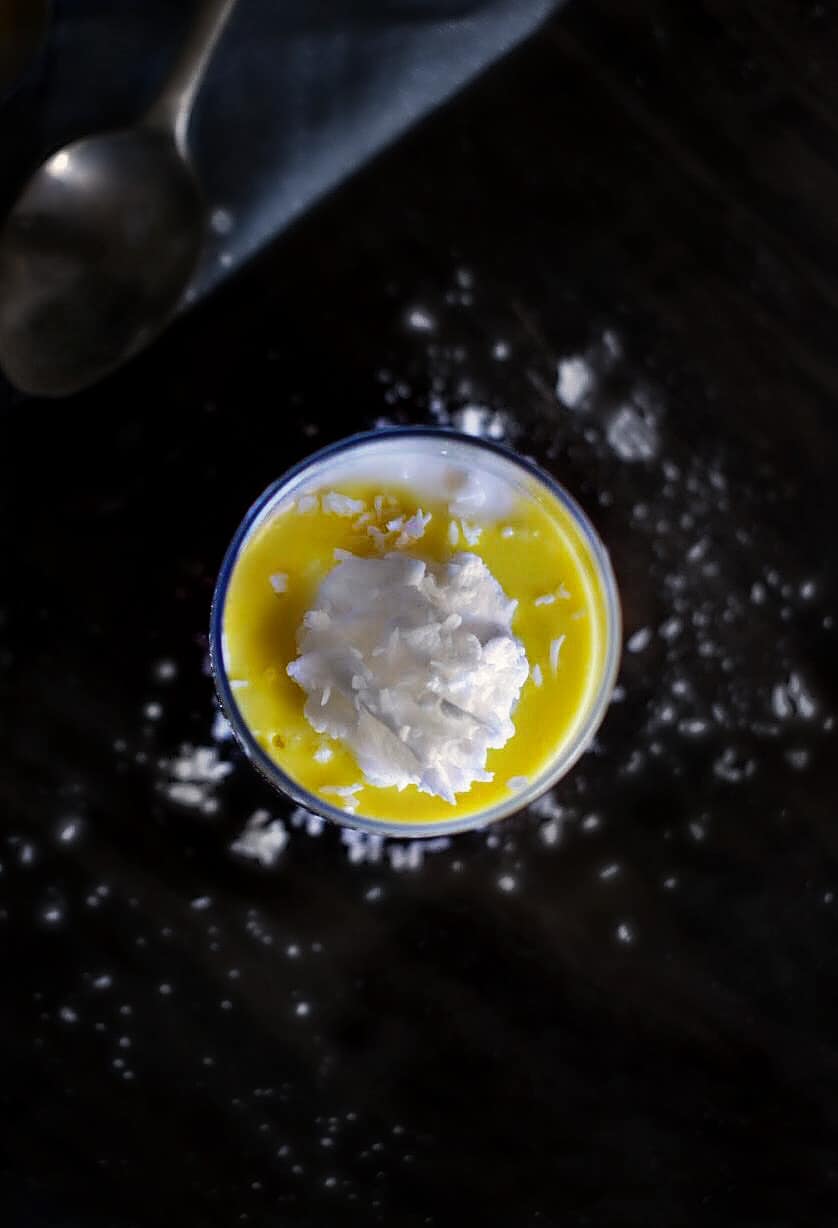 It's like Instant gratification and an extra dollop of fun is always welcome 🙂
As I mentioned above, I found the Reddi-wip® Coconut Non-dairy whipped topping in the Milk Aisle (Picture Below)
So get this asap and Indulge in this deliciously creamy, vegan whipped topping made with Coconut milk.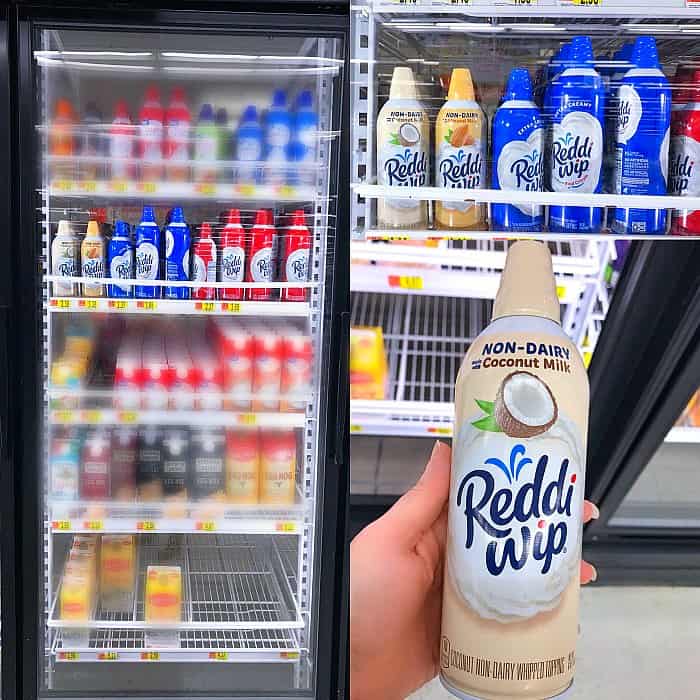 The Possibilities are endless! Top off your favorite desserts, fruits, and even your coffee with this gluten-free treat.
At 10 calories, you can call it guilt-free, too* (Not a low-calorie food)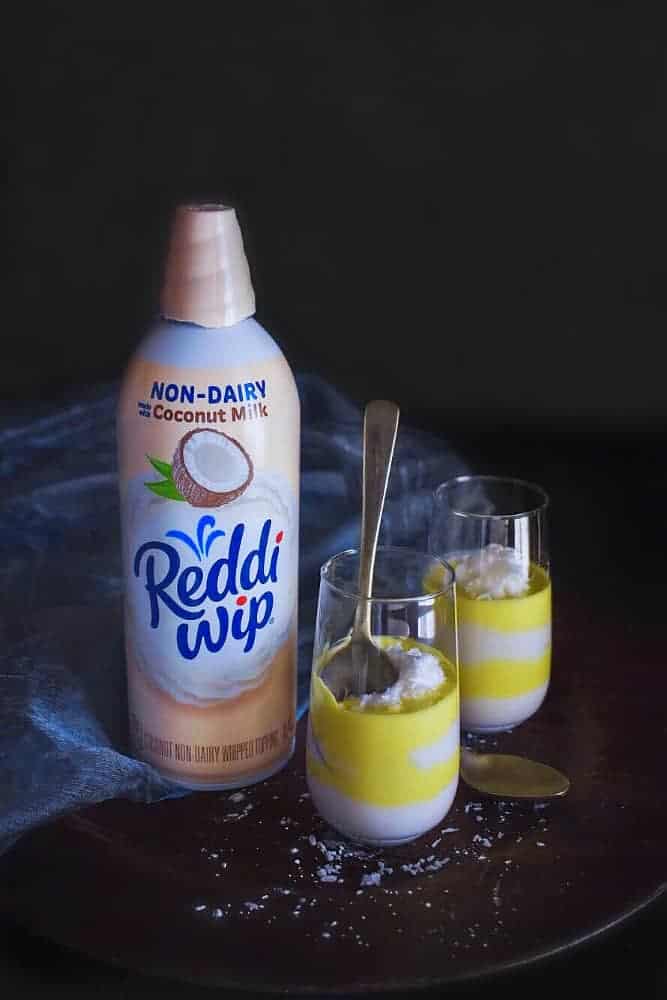 Tried Our Recipe – AWESOME!!!
Now Quickly SNAP A PICTURE & TAG :
#easycookingwithmolly + @easycookingwithmolly on Instagram –>
Connect with Me Here: Facebook / Pinterest / Instagram
:: You May Also Like ::
Yield: 2 Medium Tall Glasses
Coconut-Lemon Mousse Trifle
Coconut-Lemon Mousse Trifle: 3 ingredients, vegan, glutenfree and absolutely luscious dessert made using coconut milk, lemon juice and sugar. It's perfect to share with loved ones.
Ingredients
1 Can Coconut Milk - full fat version
2 Tsp Powdered Sugar - use as per choice
1/4 Tsp Lemon Flavor
Pinch of Yellow Food Color - for lemon color, optional
Decoration:
Reddi-wip® Coconut Non-dairy Can - whipped topping
Coconut Flakes
Powdered Sugar
Instructions
Place the coconut can in the fridge for 1 hour or overnight
Once chilled, remove the can from fridge and open it.
Remove the thick coconut milk (almost solid form now) into a large bowl. (scrape all the solid milk mixture on top).
(Discard the leftover thin water or extremely thin milk at the bottom of the can)
Now whip the coconut milk to form stiff peaks.
Add powdered sugar and whip again for a minute.
Once nicely whipped, remove 1/2 cup in another bowl.
Mix the lemon flavor+color to other half and whip to mix the flavors and color (finally bright yellow).
Now use two bags/ziploc and add both whipped coconut milk in separate bags.


Layering the Trifle:
Take a serving glass and squeeze coconut whipped cream in it (about an inch).
Tap to glass for cream to layer.
Now, add some of the yellow color coconut cream over it (1inch) and tap to evenly form a layer.
Similarly, layer with white coconut whipped cream and repeat the yellow layer.
Once you are almost at the top, add the Reddi-wip® Coconut Non-dairy whipped topping on each glass.
Sprinkle coconut flakes and dust some powdered sugar on it.
Serve Immediately
Nutrition Information:
Serving Size:
2 People
Amount Per Serving:
Calories:

12
Carbohydrates:

3g
Sugar:

3g