Quick Cucumber Tomato Zaatar Salad with Honey-Citrus Dressing (GF): super quick, delicious and an easy salad that's filled with Meditteranean flavors along with a honey-citrus dressing.
The salad is perfect for two and ready in 5 minutes.
This Quick Cucumber Tomato Zaatar Salad is my perfect pick me up kind of food all of this week.
The weather has been extremely crazy here in California …… we went from cold to hot again col and now all of a sudden rainy and cold.
So, I've been trying to increase the intake of greens/salads/soups in our daily meal and this has salad has been my goto for two reasons:
First: It's extremely easy to make (mainly 3 ingredients, rest are add-ons).
Second: The Most Important, it can be eaten both cold and warm (just heat the dressing for few seconds).
Now, we are not an everyday salad people but yes, twice or thrice a week.
However, I'm big on eating salad bowls with lots of proteins like chicken/eggs/seafood and especially end up ordering them at restaurants.
Yep, I goto Cheesecake Factory to eat their cheesecakes + salads – Dont You 😉 !!!
But Lately, we have been quite obsessed with this Cucumber Tomato Zaatar Salad and this is the 3rd time in a row that we had it.
Much to my surprise hubby loves it too (who always teases me when I'm having salads outside).
Actually, Mediterranean cuisine might be the second most popular food that we eat on a regular basis.
Especially their grilled kebabs, lambs, etc and we often make this cucumber tomato salad (without the zaatar mix) as I couldn't find it easily in our nearest Mediterranean store.
But finally, last week, I came across this 'Zaatar Mix' at another multicultural store and we literally bought 3 bottles (there were 5 on the shelf and we are not greedy)!
Also, I forgot to mention above, Zaatar is a famous Middle-Eastern spice blend that's pretty common in their cooking and can also be used as seasoning.
It's made of a mix of dry thyme, dry oregano, sesame seeds, some cumin, salt and an important ingredient 'Sumac'.
It is a lemony flavored spice used for its sourness instead of lemons in Mediterranean cooking.
I've eaten a lot of recipes with Zaatar spice mix and components of ingredients changes in many recipes (some use more sumac, some use more oregano, etc).
But mostly it's green in color with visible or crushed sesame seeds.
Now, I could have just added the zaatar to the mix of cucumber, tomato, and cheese, however, I decided to create a dressing and use zaatar in it.
The purpose of the dressing was to add some citrusy goodness + the dressing coats each and every part of the salad giving it a more balanced/even taste.
You won't complain about some part missing the seasoning and some overpowered.
Hence, I always love to add dressing and make the salad more harmonious in flavors.
Also, the biggest advantage, you can slightly warm the dressing in a microwave (15 seconds) and pour over the salad for that warm-fuzzy-comfy feel.
That's how I've been eating it in winters and I'd go all out and chill it for summers.
Other Salad's to Try:
3 Minutes Mediterranean Orange Salad (Glutenfree)
Brussels Sprout, Apple and Orange Winter Salad
---
Tried Our Recipe – AWESOME!!!
Now Quickly SNAP A PICTURE & TAG :
#easycookingwithmolly + @easycookingwithmolly on Instagram –>
Connect with Me Here: Facebook / Pinterest / Instagram / Twitter / Subscribe to our Newsletter / Google+
Quick Cucumber Tomato Zaatar Salad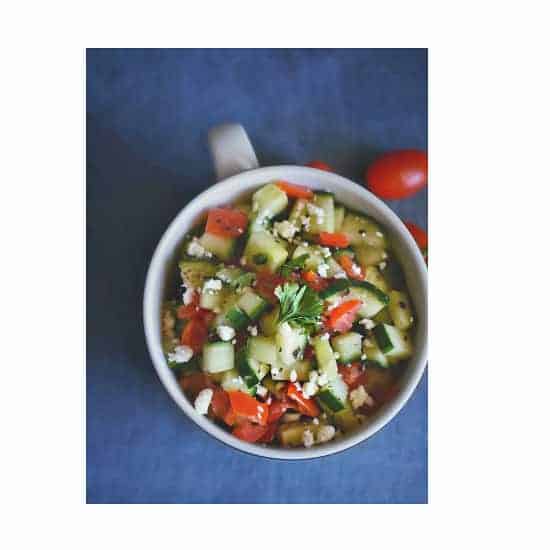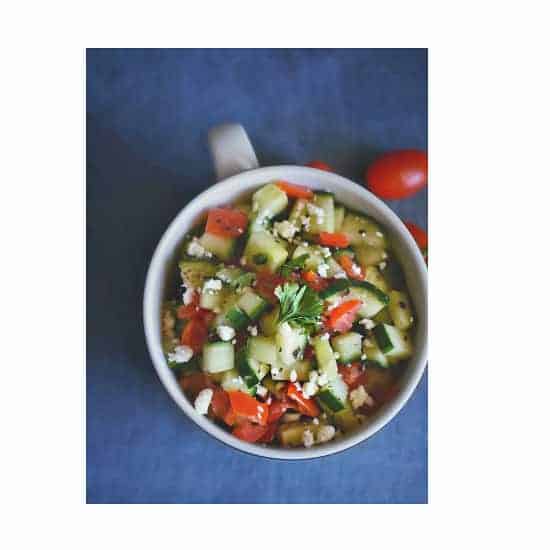 Ingredients
1 Cup Chopped Cucumber - use any or english cucumber
1/2 Cup Chopped Cherry Tomatoes - you can use any tomatoes
5 Tbsp Feta Cheese - crumbled
1 Tbsp Zaatar Spice Blend - homemade or store bought
Honey-Citrus Dressing:
1 Tsp Raw Honey - you may use any kind of flavorless honey
3 Tbsp Fresh Squeezed Orange Juice - or use store-bought
Pinch of Pepper
Salt - as per taste
Instructions
In a large bowl, combine the cucumber, tomatoes and feta.
In a small bowl whisk together the 'Honey-Citrus Dressing' ingredients and whisk.
Now add olive oil, zaatar and whisk till the dressing thickens (takes 1/2 minute to a minute).
Drizzle the dressing on the salad and toss (or you may mi with fork).
Transfer the salad to a serving bowl and Serve immediately.
Nutrition Information
Serving Size
2 Adults
Amount Per Serving
Calories

2315
Total Fat

232g
Saturated Fat

39g
Cholesterol

153mg
Sodium

4792mg
Carbohydrates

47g
Sugar

30g
Protein

13g