3 Minutes Mediterranean Orange Salad: Bursting with citrus and mint flavors, this is a super easy salad to make and tastes absolutely light and refreshing. Perfect for a light snack, side or just a pick me up dish to beat the winter blues.
Happy Monday Everybody and I'm here to share this gorgeous 3 Minutes Mediterranean Orange Salad (Glutenfree) recipe with you'll.
It's been so hot since the past two days that I can totally feel Spring knocking on our doors.
As you might have seen my last few posts have been all about 'Indian desserts' or some entree and could you believe that I've never posted a single salad recipe till date !!!
I mean I couldn't believe it as I eat so much salad on a regular basis.
Hence, I decided to start with one of my most favorite salad recipe that seriously is so easy to make that it's really tough to get it wrong 😉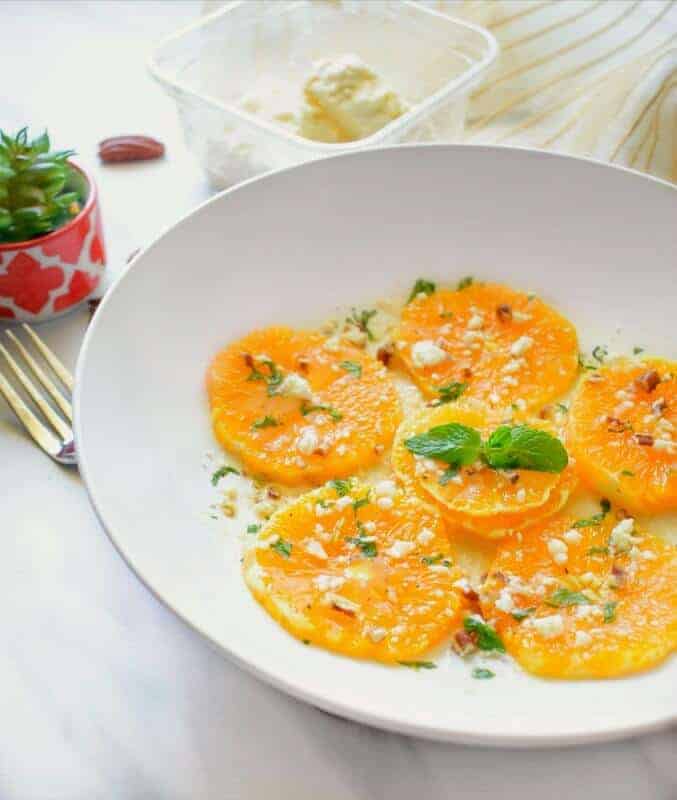 So, what do you do when you literally want to eat healthy, delicious and a quick dish?
You make this '3 Minutes Mediterranean Orange Salad (Glutenfree)' and just let all these cravings do the talking.
It's a great mix of sweet + a little bit of savory from the feta cheese.
I still remember the first time I had a similar salad in some restaurant in Los Angles, it just blew my mind.
It was so fresh and light, however, the only thing I wanted to change then was the combination of greens added to the salad – it was just way too much and overpowering the entire deliciousness.
So, I decided to make my light version with bare minimum ingredients and also ingredients that actually enhance each other.
How to Make Mediterranean Orange Salad
Now, to keep it as close to Mediterranean flavors, I've used the basic Mediterranean ingredients like:
Olive oil
Walnuts
some sort of Citrus Base
Mint
Cheese
Honey
If you're vegan or avoiding cheese, you can totally skip that ingredient.
And you need to trust me, when you combine all these ingredients together, the flavor is simply outstanding.
The only seasoning that I've added is salt and pepper and you're good to go.
This salad is good for 2 people and can be made within 3 minutes – Seriously can you think of something as delicious and flavorful in that time?
So, get the ingredients, make the light vinegarette, assemble the salad and share it with someone you love or simply eat it all on your own.
The only thing I would suggest is that this salad cannot be made too much ahead of time as the sliced oranges start becoming mushy.
But you can definitely make the vinaigrette a night before and keep in the fridge.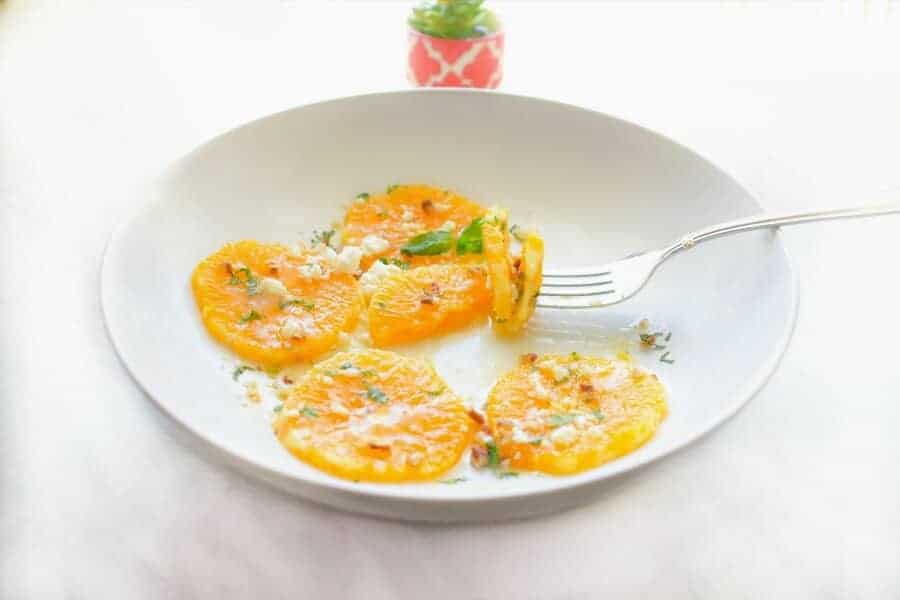 Welcome spring with this salad or just try it for a quick pick me up nosh.
Delicious & Quick Salad Recipes
---
As always, I Looove when you try my recipes and send me pictures & feedback.
You can tag my recipes tried by you using #easycookingwithmolly on any of the social media below:
Connect with Me Here: Facebook / Pinterest / Instagram
Yield: 2 bowls
3 Minutes Mediterranean Orange Salad (Glutenfree)
3 Minutes Mediterranean Orange Salad (Glutenfree) Bursting with citrus and mint flavors, this is a super easy salad to make and tastes absolutely light.
Ingredients
2 Medium Oranges - peeled
2 Sprigs of Fresh Mint
3 Tbsp Feta Cheese
2 Tbsp Walnuts - chopped
Salt - as per taste
Pepper - as per taste
Citrus Vinaigrette :
2 Tbsp Olive Oil
Juice of 1/2 Large Orange
1 Tsp Honey
1 Tsp Fresh Lemon juice
Instructions
In a jar with lid, add all the vinaigrette ingredients along with few thinly chopped mint leaves.
Close the lid and shake for 30 seconds or more to mix everything evenly.
Keep the vinaigrette in fridge.
Take an orange and slice it in thin circles (or any other shape you like).
Similarly, slice both oranges and arrange in 2 plates.
Take out the chilled vinaigrette and drizzle some on both the plates.
Sprinkle with chopped mint, walnut and feta cheese.
Sprinkle salt and pepper.
Serve Fresh.
Nutrition Information:
Yield:
2
Serving Size:
1
Amount Per Serving:
Calories:

123
Total Fat:

21g
Saturated Fat:

4g
Trans Fat:

0g
Unsaturated Fat:

16g
Cholesterol:

13mg
Sodium:

323mg
Carbohydrates:

45g
Fiber:

6g
Sugar:

34g
Protein:

5g