This post was sponsored by Green Giant as part of an Influencer Activation for Influence Central and all opinions expressed in my post are my own.
Easiest Sweet Spicy Teriyaki Salmon with Veggie Spirals: an easy-peasy meal that's filled with flavors and ready in under 20 minutes.
This juicy, tender and shiny salmon can be made and kept in the fridge for up to 3 days, the recipe can be easily doubled/tripled and makes a perfect weeknight night for the entire family.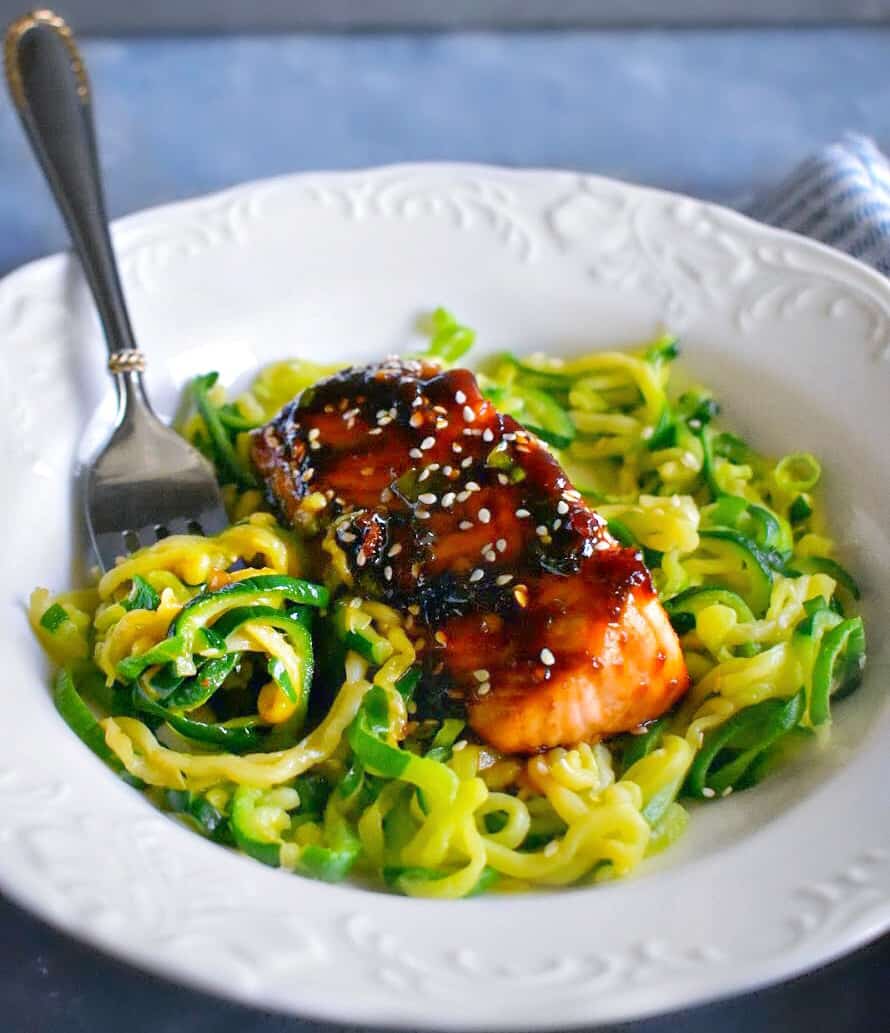 "Another Week – Another Monday", but today we are far-far away from all Monday blues.
As this one is made happy, bright and filled with deliciousness by this Easiest Sweet Spicy Teriyaki Salmon with Veggie Spirals (Glutenfree), which I've been waiting to share with you'll.
Now, who doesn't love Easy Family Meals and What if they are made under 20 minutes and Tastes Super Yummm!!! Yep, I can see your cheek to cheek smile 😉
So, this Sweet Spicy Teriyaki Salmon truly is the easiest (using 1 pan) recipe and the best part!!!! –
I'm swapping the pasta (which I would have normally served along with salmon) with these Zucchini Veggie Spirals from Green Giant!
I cannot begin to describe my excitement when I found the whole Green Giant Veggie Spiral range (zucchini, carrot and butternut squash) at Walmart.
I've recently found true love in spiralized veggies (healthy n yum) and these just take it to a whole new level (which I'll discuss below)!!!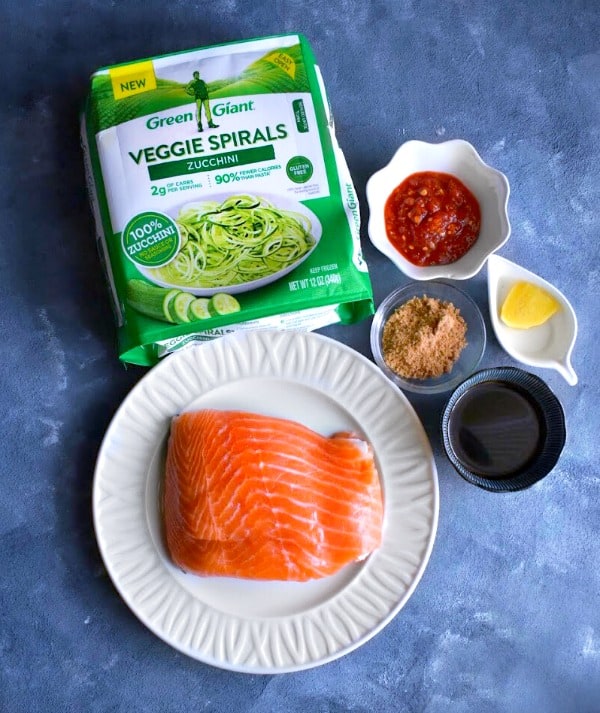 First thing First, the picture above states what you need for this absolutely easy recipe that's filled with such amazing flavors that you'd wonder why you didn't try it before.
I'm making the recipe even simpler by dividing it into two parts (Cooking the Fish) and (Cooking the Sauce), but everything is done in the same pan and the dish is ready in 20 minutes.
Now Teriyaki sauce has its own sweet-tart flavor, all I added was some spicy chili sauce (you can add flakes too), along with some ginger-garlic and you mix and saute everything in a pan.
The picture above is of Salmon sauteed in the sweet spicy teriyaki sauce and all set to be served. Now come the fun and the easiest part – Veggie Spirals.
All I did was microwaved the zucchini veggies spirals for 6 minutes (as per instructions in the back) and simply transferred the steam spiral in a sieve (to remove any excess water from steaming).
That's it!!! No chopping or taking out any special gadgets to make your own spirals. Simply microwave, drain and you're ready for your meal.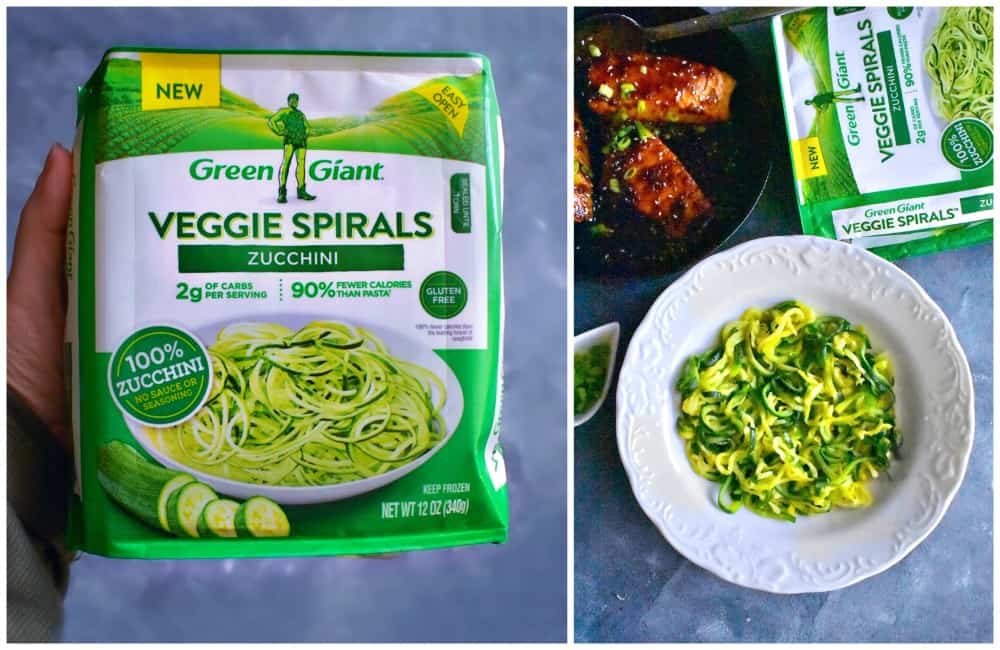 Before you go and make this Sweet Spicy Teriyaki Salmon recipe, here are some more details on the Green Giant Veggie Spirals:
* They are a 'New Take On Noodles', making them a perfect swap-in for traditional pasta.
** They are gluten-free and come without any sauce or seasoning, So you can prepare them just the way you like!
*** They are made with 100% vegetables and have up to 90% fewer calories than pasta. (*varieties have 65 percent to 90 percent fewer calories per serving than the leading brand of spaghetti).
Hence, they are perfect as an entrée, a side-dish, or even soup, just add them to your favorite dish and enjoy whenever and wherever.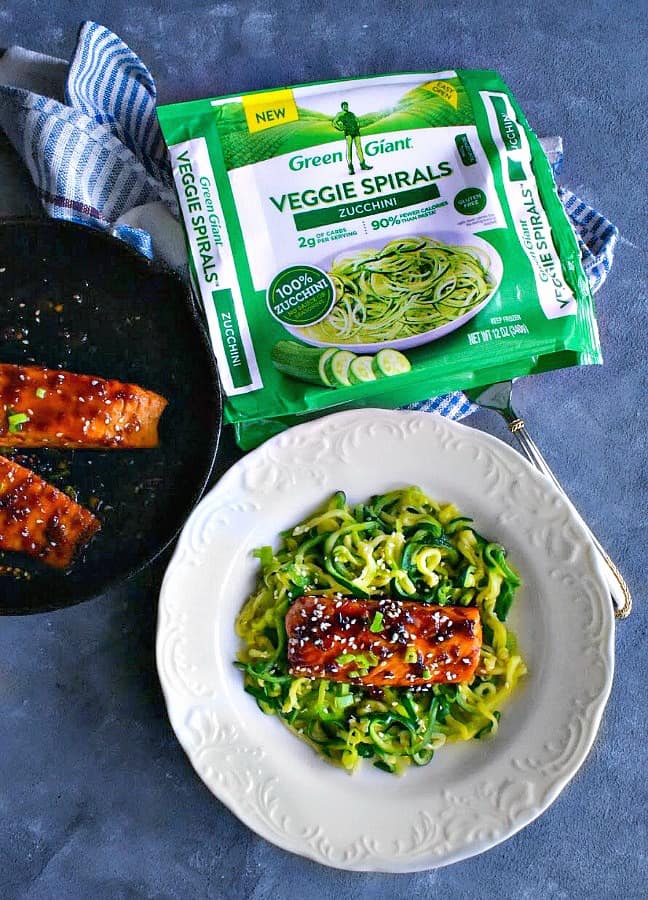 So, as soon as the spirals were nicely drained of any excess water, I simply added to our serving plate and placed the sweet spicy teriyaki salmon over it.
That's it, our meal is ready and absolutely light and easy.
It's perfect for a quick lunch or a family dinner later during the day.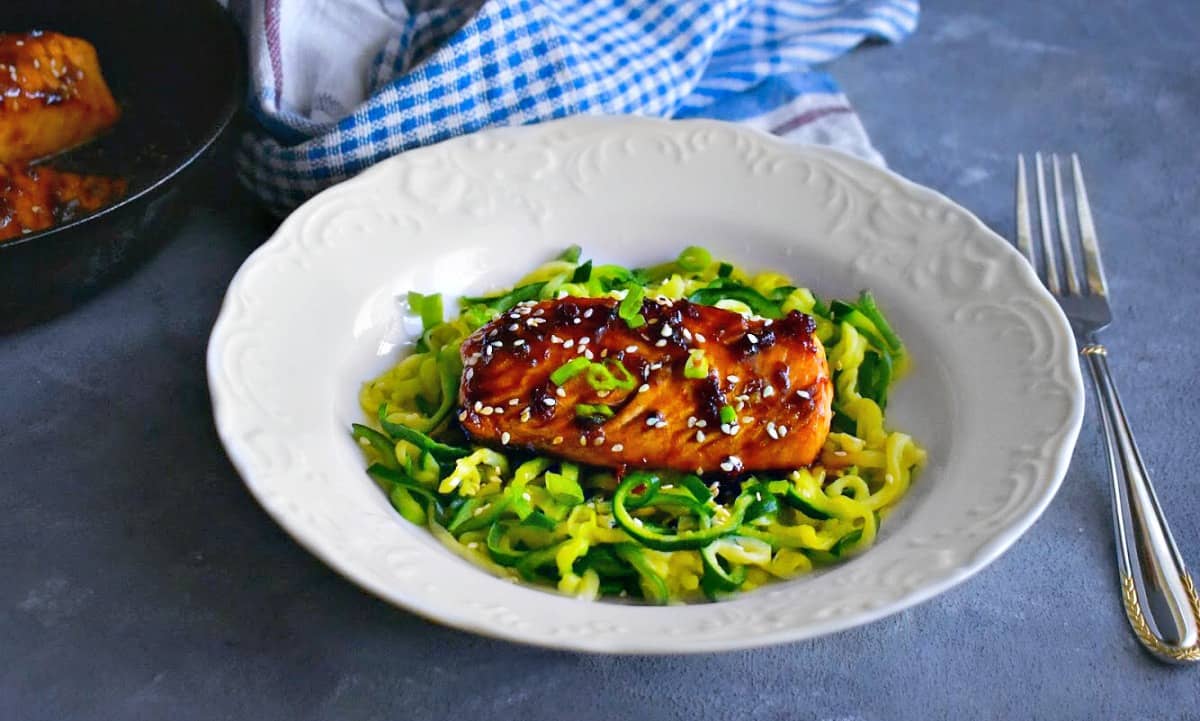 The salmon can be cooked and stored in the fridge for utp0 2 days.
So, whenever you're ready, just microwave the veggie spirals, salmon and plate everything in under 7 minutes.
As I did mention, the Green Giant Veggie Spirals come in different varieties like Carrot, Zucchini, and Butternut Squash, so I'm planning another recipe very soon – Stay Tuned!
:: You May Also Like ::
---
Tried Our Recipe – AWESOME!!!
Now Quickly SNAP A PICTURE & TAG :
#easycookingwithmolly + @easycookingwithmolly on Instagram –>
Connect with Me Here: Facebook / Pinterest / Instagram / Twitter / Subscribe to our Newsletter / Google+
Yield: 2 People
Easiest Sweet Spicy Teriyaki Salmon
an easy-peasy meal that's filled with flavors and ready in under 20 minutes.
Ingredients
1 Large Salmon Fillets - Cut into 3 pieces
2 Tbsp Sesame Oil or you can use any light, flavorless oil.
3 Green Onions - chopped
1 Tbsp Sesame Seeds
Sweet-Spicy Teriyaki Sauce:
1/2 Cup Low Sodium Soy Sauce - you can use regular or tamari sauce too
3 Tbsp Brown Sugar
1/8 Tsp Garlic Powder or 1 clove shredded garlic
1 Tsp Grated Fresh Ginger or use 1/8 Tsp ginger powder
2 Tbsp Red Chili Sauce - you can use samba or just chili flakes too
1 Tsp Sesame Oil
1/2 Tsp Cornstarch
Instructions
Add all the Sweet-Spicy Teriyaki Sauce ingredients in a bowl and whisk together - Keep Aside.


Cook the Salmon:
Heat the oil in a skillet and add salmon with skin facing up.
Cook until seared and flip over.
Cook the other side too for 2-3 minutes (until salmon is evenly cooked).
Remove the cooked salmon to a plate.


Cook the Sauce:
In the same skillet, add 1tsp oil and add the whisked sauce.
Bring it to a boil and add cornstarch.
Keep whisk the sauce to remove any cornstarch lumps.
Let the sauce cook for a minute.
Now add the cooked salmon and reduce the heat to medium.
Let the salmon cook in sauce for a minute and then flip the other side.
Cook the other side for a minute too.
Turn off the heat.


Serving the Sweet Spicy Teriyaki Salmon with Veggie Spirals:
Heat the veggie spirals in the microwave as per instructions.
Once done, remove from microwave and flip open the packet (using the sealable top).
Transfer the steamed veggie spiral to a serving bowl/plate.
Add the sweet-spicy teriyaki salmon on top.
Sprinkle some green onions and sesame seeds. (you may drizzle some of the leftover sauce now).
Serve hot and enjoy.
Nutrition Information:
Yield:
2
Serving Size:
1
Amount Per Serving:
Calories:

400
Total Fat:

56g
Saturated Fat:

11g
Trans Fat:

0g
Unsaturated Fat:

38g
Cholesterol:

122mg
Sodium:

200mg
Carbohydrates:

43g
Fiber:

4g
Sugar:

12g
Protein:

52g