Vegetable Kabab (Vegan & Glutenfree – Fried, Baked Version, Air Fryer) delicious, easy and extremely popular Indian snack, is made using mixed vegetables, lentil, and a few spices.
They are excellent to serve with drinks or any of your party. The mixture can be frozen for up to 2 weeks.
Happy Monday Folks and here I'm yet again with another party snack and this one is another crowd-pleaser – Vegetable Kabab
They are extremely popular in India, especially for weddings and parties where they are usually served in smaller sizes and always the first one to go out 😉
Ingredients for Vegetable Kabab:
Cooked Lentils
Boiled Potatoes
Green Peas
Cauliflower
Onion, Ginger, Garlic
Seasoning
For the past few days, I've been posting about the Holi recipe (Indian festival) and a couple of you have asked me for an easy-peasy vegetarian recipe that would feed a crowd and KIDS Approved!
So, that got me thinking and then I remembered these kababs which we hogged upon (as kids or adults) at Indian weddings/parties….
I mean the only thing that kept us busy in such gathering apart from playing (when kids) were fav food.
And these Vegetable Kabab or kebabs (as many of you may call them) came to my mind.
I've made them a couple of times in our parties, but trust me, us being 'snack-lovers' it's really hard to remember to name one at times.
So, coming back to our vegetable kababs, it's a fairly simple recipe and highly customizable.
There is no 'Must-Have's' in it and you can literally make one with leftovers too and that's one of the BEST things about kababs.
For this particular recipe, we are using mixed vegetables, some cooked lentils (I'm using green grams, you can use any other lentil or totally skip this ingredient).
Some spices and few glutenfree bread (as some of my friends don't eat gluten and I'm making this for tea this weekend).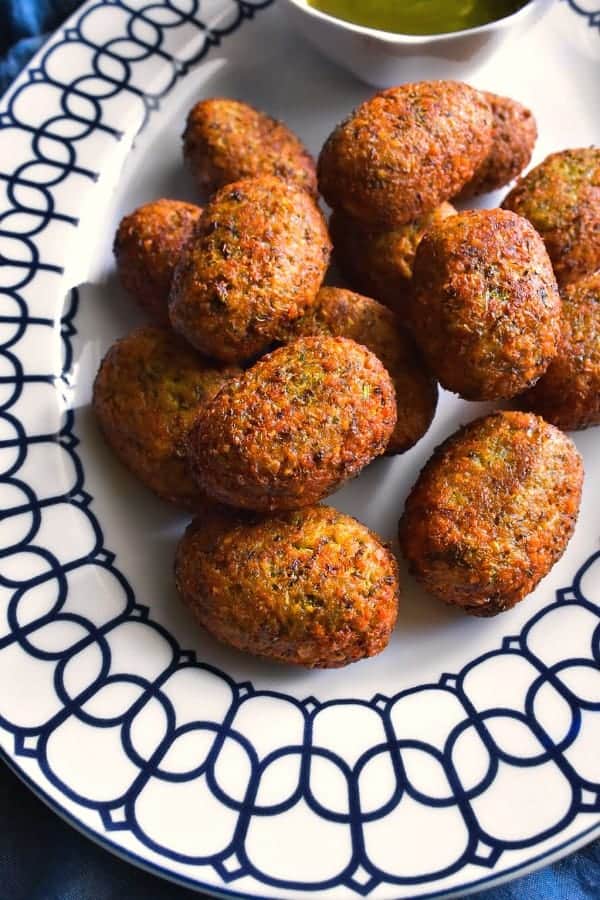 Also, to make it even easier to make, I'm dividing the recipe into 2 Major Parts and last part is divided into 2 parts (depending on the choice of cooking: frying or baking or air fryer).
Details for Cooking the Vegetable Kabab:
Fried: you need a cup of hot oil and fry 3-4 kababs at a time till they are golden and crispy.
Oven-Baked: you can place 8-9 kababs in an oiled/butter or parchment paper-lined tray and bake for 15 minutes at 180C
Air Fryer: you can place 3-4 kabab (depending on your air fryer basket) and air fry for 15-17 minutes at 180C.
It's really hard for me to deep fry anything, I just cannot muster that much courage to deep fry often as we donot like heavy / fried food (I always fall sick after that) and I really love to eat…..
So I figured out a way to turn deep fry into something lighter.
So I usually shallow fry the required recipe or figure a way to bake them (I've baked burger patties to kachori's n all).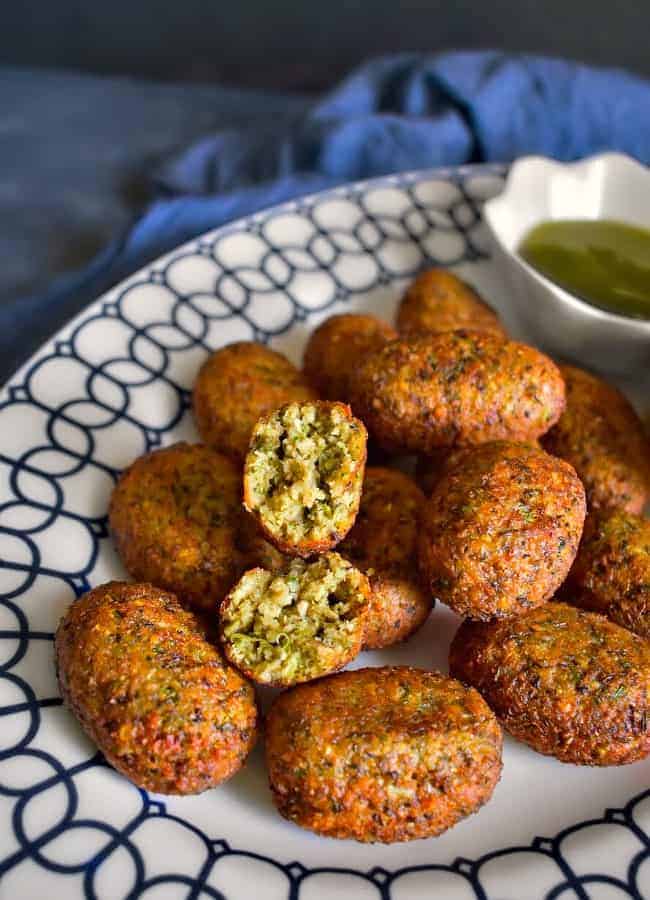 Serving the Kababs:
The vegetable kababs are really flavorful hence you don't even need any chutney or sauce to serve it with, however, you want, you can serve any of choice.
I usually serve them with Cilantro Dhanya Chutney or this Sweet-Tangy Mango Chutney.
Go ahead and try these kababs and hope you enjoy them as much as we do with our friends n family.
Other Kababs Recipes
Quick Ricotta Spinach and Corn Empanadas
---
Tried Our Recipe – AWESOME!!!
Now Quickly SNAP A PICTURE & TAG :
#easycookingwithmolly + @easycookingwithmolly on Instagram –>
Connect with Me Here: Facebook / Pinterest / Instagram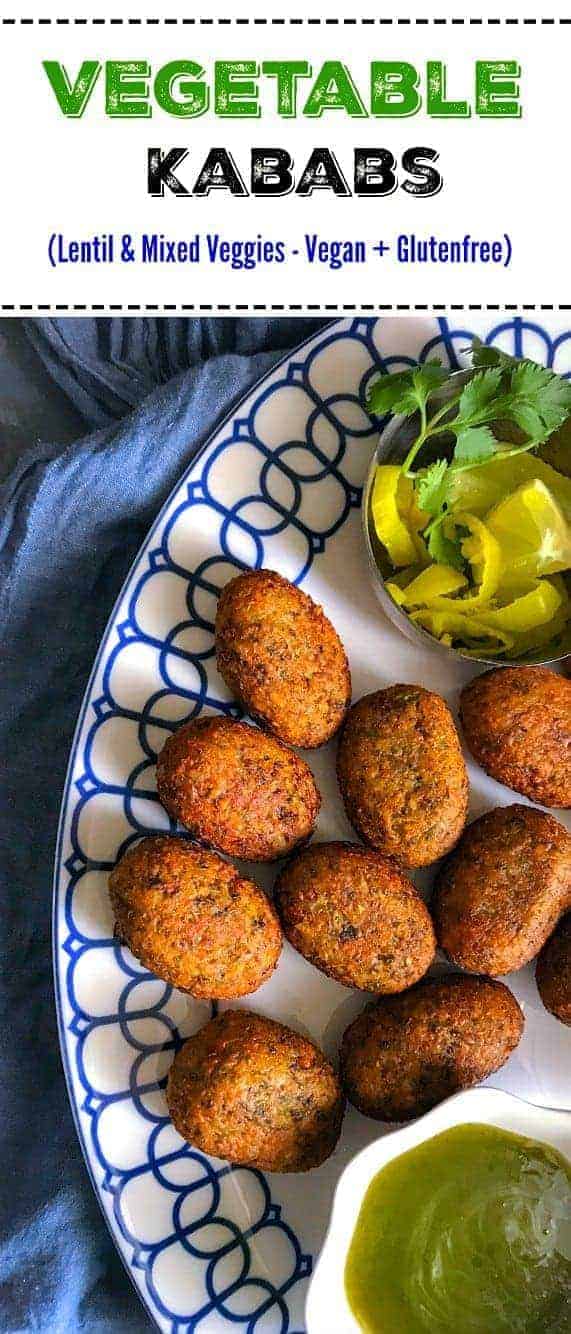 Yield: 24 Medium Kebabs
Vegetable Kabab - Indian Vegetable Kebabs: Vegan & Glutenfree (Fried, Baked, Air Fryer)
Vegetable Kabab - Indian Vegetable Kebabs (Fried, Baked, Air Fryer): made using lentils, potato, peas, cauliflower + seasoning. Vegan + Glutenfree, Extremely easy and popular Indian snack recipe that's perfect for parties.
Ingredients
3 Medium Boiled Potato - peeled and cubed
1 Cup Cooked Lentil - you can use any from green gram or yellow gram
1 Cup Cauliflower florets - chopped
1/2 Cup Peas - fresh or frozen
3 Tbsp Cilantro/Coriander Leaves - chopped
1 Medium Onion
1/2 Tsp Ginger-Garlic Paste
1/2 Tsp Green Chili Paste - optional
5 Tbsp Chickpea Flour (Besan)
3 Tbsp Water
2 Bread Slices - I'm using glutenfree, you can use any kind of plain bread.
1/2 Cup Olive Oil - for shallow frying
Cooking Spray - for baking/air fryer
Spices:
1/4 Tsp Turmeric
1 Tsp Red Chili Powder
1 Tsp Cumin Powder
1 Tsp Garam Masala
Salt as per taste
Instructions
Making the Vegetable Kabab Mix:
Add all the veggies, spices + cooked lentil in a food processor and pulse to mix everything together.
Pulse till 2 minutes until everything is minced and nicely incorporated.
Now add 2 bread slices, water, and pulse to form a smooth mix.
Remove the kabab mix into a large bowl.
Making the Vegetable Kababs Shape:
Now divide the vegetable mix into equal parts (I made 24 small kebabs out of them).
Then flatten the mix in between your palms and form any shape of kebabs you desire. (I made them slightly oblong).
Keep the kebabs in a lined tray or plate and keep in the fridge for 15 minutes. (this helps in kebabs holding it shape while sauteeing or frying).
Frying the Kebabs:
Heat a medium-size wok or skillet and add 1/4 cup of oil.
Let the oil heat for a minute.
Remove the uncooked vegetable kababs resting in the fridge.
Now add 3-4 kababs (depending on the size), in the hot oil and shallow fry on both sides.
Similarly, add more oil and shallow fry all the kababs.
Baking the Indian Vegetable Kebabs:
Pre-heat oven at 190C
Line the uncooked kababs on a baking try.
Spray the cooking oil on each kabab and bake for 10 minutes.
Turn off the oven and flip the kababs on another side, spray with oil and bake for another 10 minutes.
Once the kababs have reached the desired consistency of color (golden to dark brown), turn off the oven.
Remove the cooked kababs immediately or they'll brown a lot.
Either way, you choose to cook, once the kababs are made, transfer them to a serving bowl.
Serve with choice of chutneys and pickles.
Enjoy.

Air Fryer Vegetable Kababs:
Preheat Air Fryer at 180c for 3 minutes.
Place 3-4 kababs or as many your basket can accommodate (leaving some space in between).
Spray cooking oil on both sides.
Air Fry for 15 minutes or till crispy golden brown on both sides.
Once cooked, transfer to a serving dish and enjoy.
Notes
They can be prepped a night before or the kabab dough can be frozen till 2 weeks.
Nutrition Information:
Yield:
24
Serving Size:
3
Amount Per Serving:
Calories:

112
Total Fat:

5g
Saturated Fat:

1g
Trans Fat:

0g
Unsaturated Fat:

4g
Cholesterol:

0mg
Sodium:

82mg
Carbohydrates:

13g
Fiber:

3g
Sugar:

2g
Protein:

4g