Dahi ke Kabab – Potato Yogurt Kebabs – Air Fryer, Baked & Fried: Learn how to make these melt in your mouth Dahi ke Kabab using yogurt, potatoes & Indian spices. This recipe makes 15 kebabs and can be stored in the fridge.
These Dahi ke Kebab are one of my favorite teatime Indian snacks. They are slightly crunchy on the outside with an almost melt in your mouth texture in the inside.
They are also known as Aloo Dahi ke Tikki or Dahi Aloo ke Kabab
What is Dahi ke Kebab
"Dahi ke Kebab" or Dahi ke Kabab is nothing but kebabs/cakes made using a mix of boiled potatoes, thick yogurt, Indian spice mix and some chickpea flour (you can use bread too).
Lightly fried and served with favorite Dhaniya Chutney, these Dahi ke Kebab are perfect for any party or just when you want something extremely delicious to nosh.
You can shallow fry/sautee or deep fry (if you wish) them as per taste and they start looking just like meat kebab. I've further updated this recipe and included the
'Air Fryer Dahi ke Kabab'
+ baked version too.
I posted this recipe 2 years back with just one closeup picture and always used to think that I should post new pictures, so here we are 🙂
How to Make Dahi ke Kabab
You need simple ingredients like:
Boiled Potatoes
Yogurt
Spices
Besan
Oil
There's a funny story with these pictures too as I made them for an evening tea with my friends and being the superly excited host I am, I literally forgot to take pictures of these Kebabs.
It was right when I served them that I realized what just happened. So the pictures you're seeing are the ones which were left for me.
So here I'm with my share of this "Dahi ke Kebab" as the rest were gone even before I could say anything.
The recipe is very simple…It's prepared using the most common kitchen ingredients i.e:
It's a change from the traditional kebab recipes as it uses very fewer ingredients and is light on the palette. The kebabs are unbelievably soft and just melts in your mouth.
This can be a great appetizer for parties or can be used as stuffing for wraps/burgers or just a goto mid-afternoon snack.
You can prepare these Aloo Dahi ke Kebab a day in advance or freeze for up to a week.
Goes great with chutneys/dips/sauce.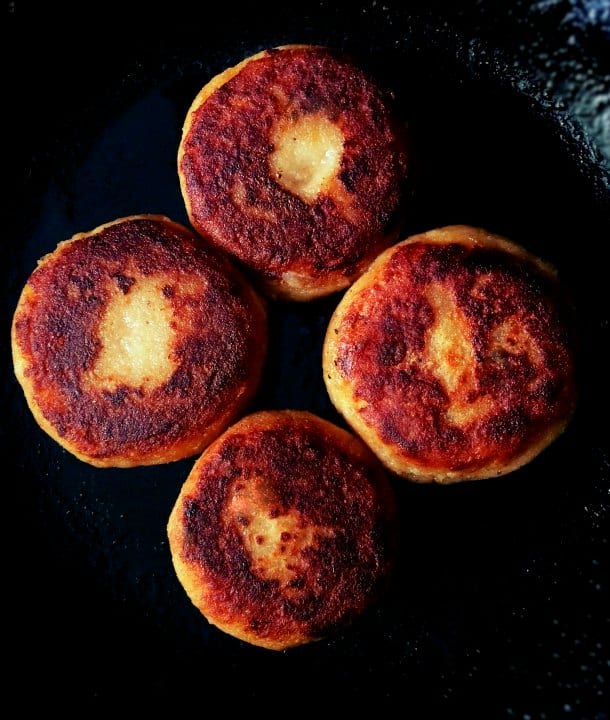 :: Pro TIP for the Perfect Dahi ke Kabab Everytime ::
1. The potatoes in this recipe need to be kneaded (by hand) to form an extremely soft, smooth dough (That's the secret to a melt in your mouth kabob)
2. The yogurt has to be absolute without any water or simply use greek yogurt.
3. I'm using besan (chickpea flour) to bind the dough and it also helps when frying/air-frying as it helps give the kababs a golden crispy outside.
As always, I Looove when you try my recipes and send me pictures & feedback.
You can tag my recipes tried by you using #easycookingwithmolly on any of the social media below:
Connect with Me Here: Facebook / Pinterest / Instagram
:: You May Also Like ::
Yield: 15
Dahi ke Kabab - Potato Yogurt Kebabs - Air Fryer, Baked & Fried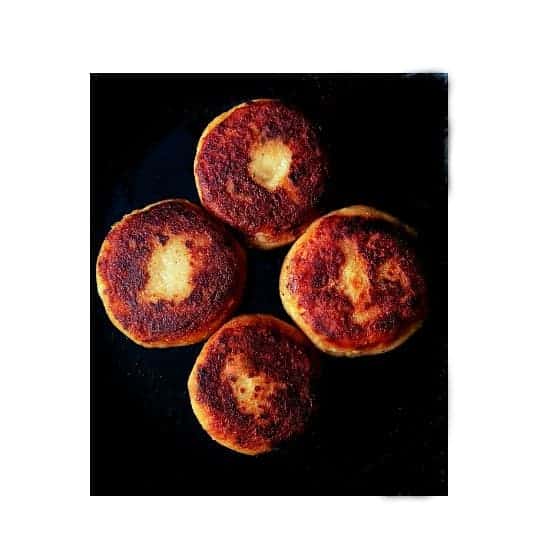 Dahi ke Kabab - Potato Yogurt Kebabs - Air Fryer, Baked & Fried: Learn how to make these melt in your mouth Dahi ke Kabab using yogurt, potatoes & Indian spices. Lightly fried and served with favorite dip.
Ingredients
6 Boiled Potatoes
1 Cup Thick Greek Yogurt - absolutely no water in yogurt
1/2 Tsp Grated Ginger
2 Tbsp Fresh Green Chili - Finely Chopped
1 Tbsp Raisins - thinly chopped
4 Tbsp GramFlour - You can use whole wheat or regular flour as well
3 Tbsp Cornstarch
1/4 Cup Oil - for frying the kebabs (you can use any light oil)
Spices:
1 Tsp Salt - As per taste
1 Tsp Red Chili Powder
2 Tsp Dry Mango Powder - optional
1 Tsp Garam Masala
1 Tsp Cumin Powder
Instructions
Grate Boiled Potato in a large bowl and keep aside.
Add yogurt, besan, ginger, chilies, spices and mix evenly.
Now knead the mixture into a smooth pliable dough (you may use extra flour/besan if you feel the dough is soft)
Form equal sized balls and flatten them a little into a disc shape.
Now add a sprinkle of chopped raisins in-between and mold them into round kabob shapes.
Now pat them evenly(both sides) in cornstarch, place all kabobs on a plate and refrigerate for atleast 10 minutes.

Frying the Dahi ke Kabab:
Heat a pan with 3 tbsp oil for a min, place 4-5 kabobs (depending on the size of skillet) and let it cook for 2-3 minutes (slightly brown).
Turn all the kabobs to the other side and let it cook for another 3 minutes.
Once, your kebabs are evenly brown on both sides, transfer them to a serving dish.
Air Fryer Dahi ke Kabab - Baked
Preheat air fryer for 5 minutes at 180C
Remove the air fryer basket and spray some oil.
Place 3-4 kababs as per the size of your basket.
Spray oil on each kabab and air-fry for 15 minutes (or until golden brown).
Serve the hot daho ke kabab along with dip/chutney/sauce/ketchup.
Notes
The mixture can be made overnight but the kebabs need to be fried just before sering for that fresh taste.
Nutrition Information:
Yield:
15
Serving Size:
2
Amount Per Serving:
Calories:

174
Total Fat:

5g
Saturated Fat:

1g
Trans Fat:

0g
Unsaturated Fat:

4g
Cholesterol:

4mg
Sodium:

80mg
Carbohydrates:

28g
Fiber:

3g
Sugar:

4g
Protein:

7g