Vodka Pani Puri – (Vodka Infused Savory Indian Snack): crunchy, sweet, savory and filled with this fresh spicy vodka mint water mix.
The Vodka Pani Puri recipe makes you crave one after the other.
Ready in 15 minutes and feeds a big crowd (it can be prepped the night before and served the next day).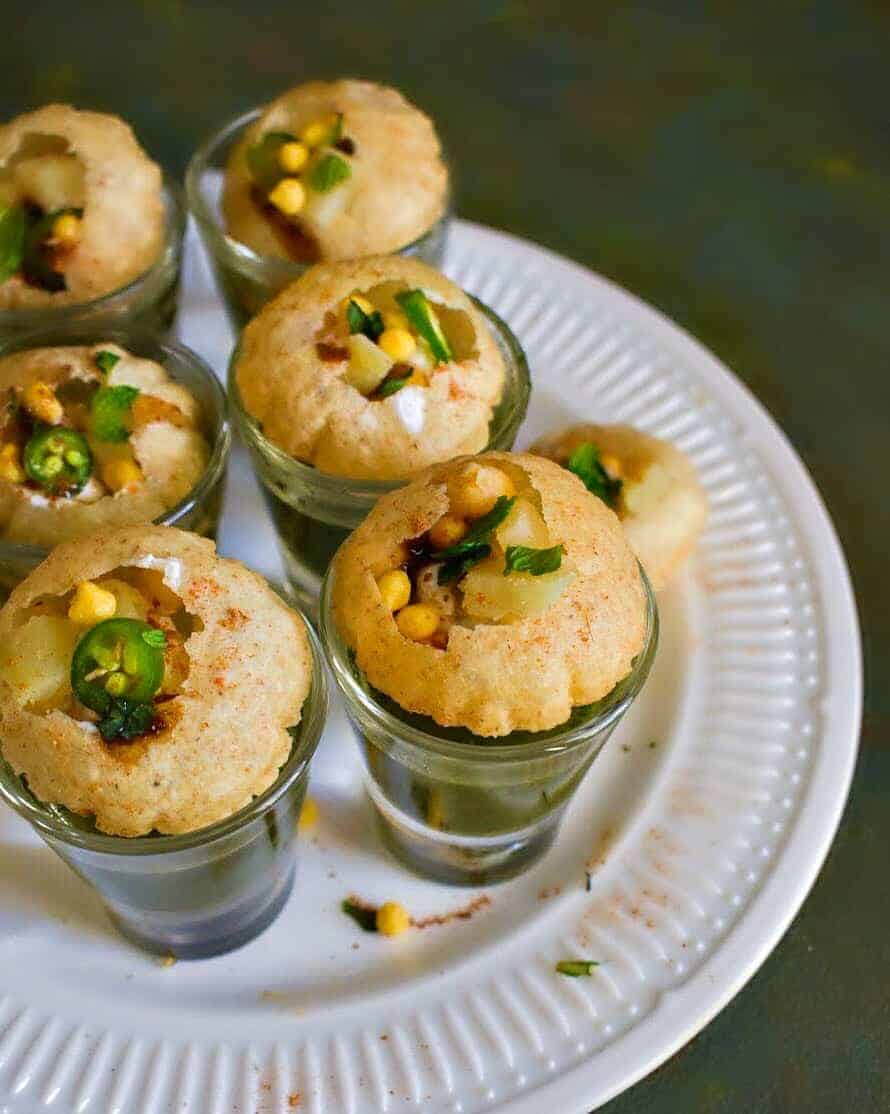 Hey Everyone, as I mentioned in my previous post as well, " Holi ", is one of the Biggest Indian Festival.
It's also known as Festival of Colors and is just around the corner, so I'm busy planning for our Holi party, food, and decoration.
And these Vodka Pani Puri – (Vodka Infused Savory Indian Snack) are hands down our (family/friends/everyone in our parties) FAVORITE snacks for Holi parties.
What makes it everyone's favorite is the taste and how easy it is to prepare.
Also, since this festival is celebrated mostly during the daytime involving all sorts of colors, water, etc, you want the snacks to be light and equally fun to grab n go.
Hence Indian Chaat (popularly known as street food) is the most commonly served item.
These Vodka Pani Puri are a part of the 'chaat food category'.
Now, in the streets, you will only get the Pani-Puri version of this minus the vodka 😉 Please don't go looking for Vodka Pani Puri in the streets..lol !!
We get these
Gol-Gappa – puffed wheat snacks
at literally all Indian grocery stores in the USA and most of the countries.
All you do is make the Spicy Vodka-Mint water mix + fillings at home and you are good to go.
Since the puffs/gol-gappa are extremely prone to breakage easily, you don't want to overfill them nor fill them with heavy stuff.
Hence the fillings are usually boiled garbanzo beans, potatoes with thick chutneys and yogurt.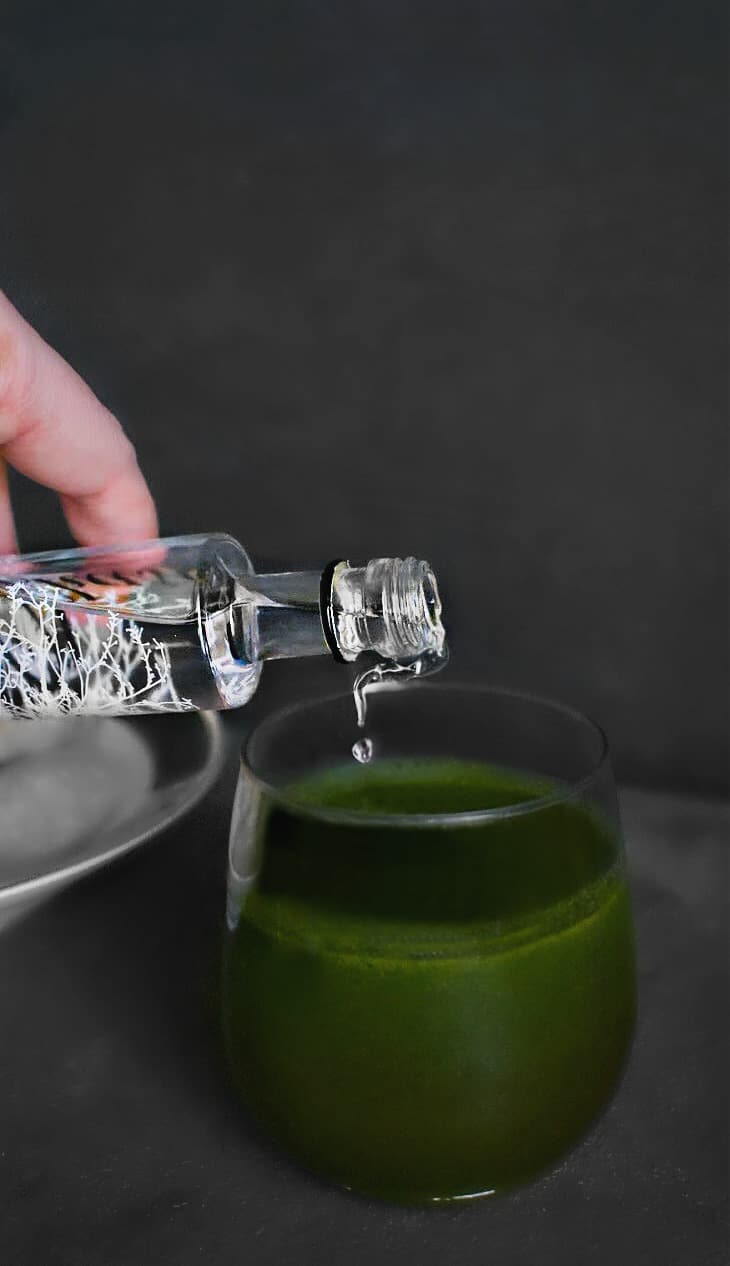 Hence it's really easy to put together with minimal cooking (you only need to cook garbanzo beans + potatoes).
Rest everything can be bought from Indian store including the mint water mix, popularly known as 'Pani Puri Mix' (small packet and can last upto 6 months).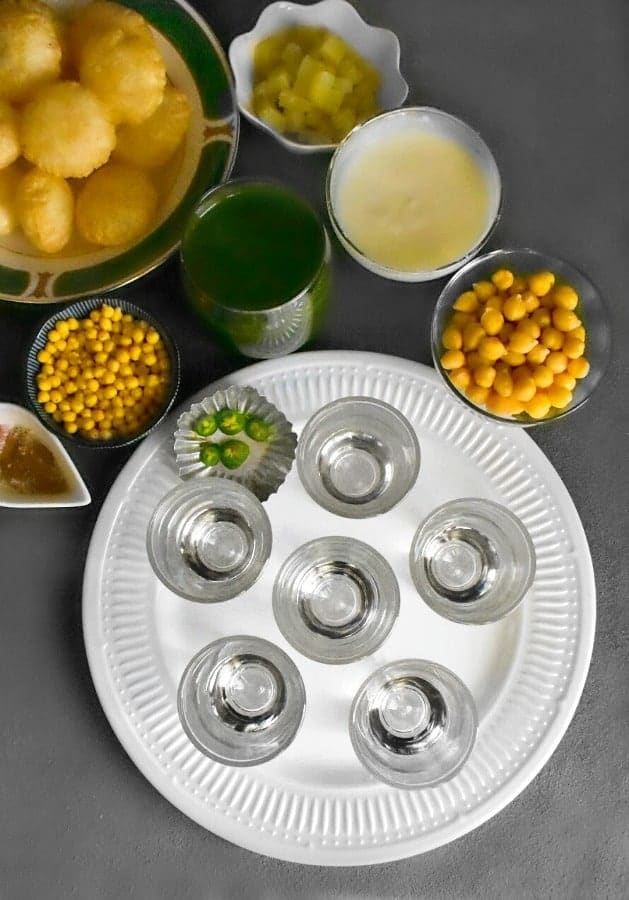 But I like making my own Pani Puri mix at home and then add vodka in the end for the Vodka Pani Puri.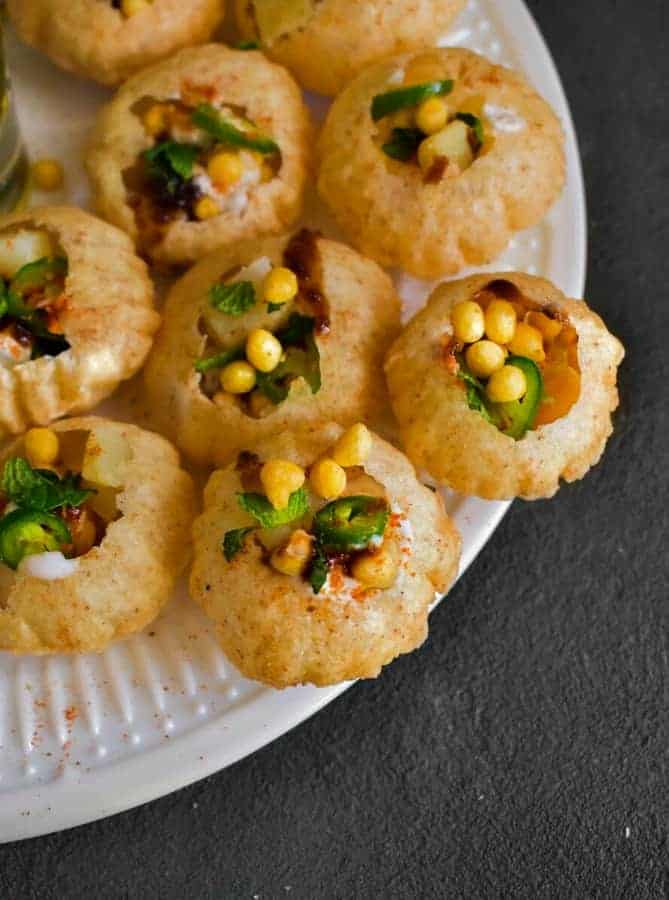 Here's a platter of gol-gappa's filled with:
Chutney
Yogurt
Cooked Garbanzo Beans
Potatoes
All ready to be served with the vodka mint mix.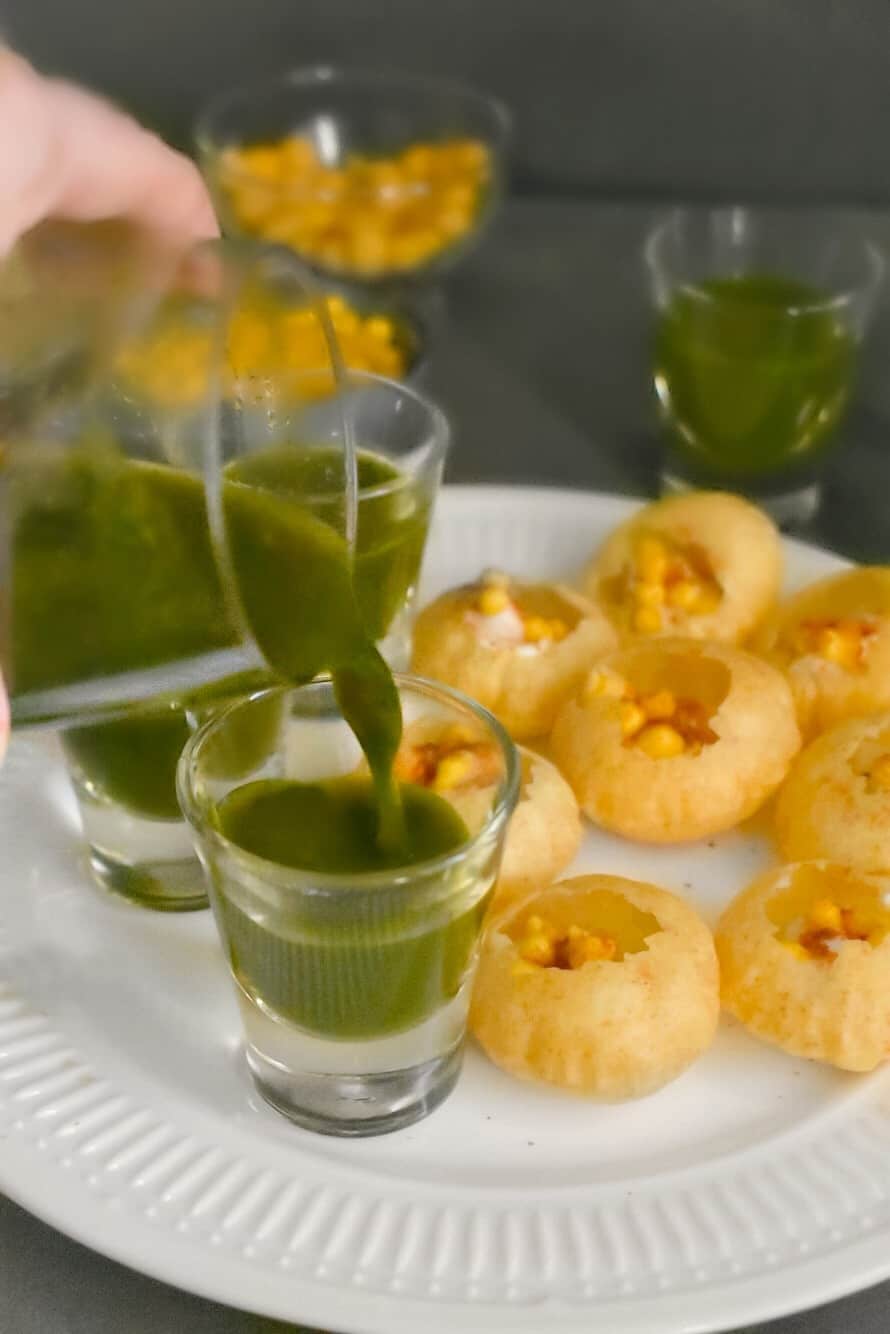 EXTREMELY IMPORTANT TIP (Serving this Recipe)
You don't want to fill the water in the gol-gappas (wheat puffs) and keep for more than 5 minutes as they'll turn soggy and break.
They are usually filled and served immediately.
BEST: Keep a tray filled with gol-gappa and mint water separately and have your guests fill them and eat as per their choice.
The platter below is ready to be served and trust me, it's gone the minute it's served.
What I Usually Do:
Add the stuffed gol–gappa on top of these shot glasses filled with vodka-mint water.
Then you just eat the gol–gappa and drink the water right after or
Pour a little water in your gol–gappa and munch.
Whichever, way you like to eat them, these Vodka Pani Puri are going to make you a fan and you'll definitely find ways to keep them in your parties.
They also make GREAT Gameday party snacks too ….
" Who doesn't like munchies filled with little vodka 😉 "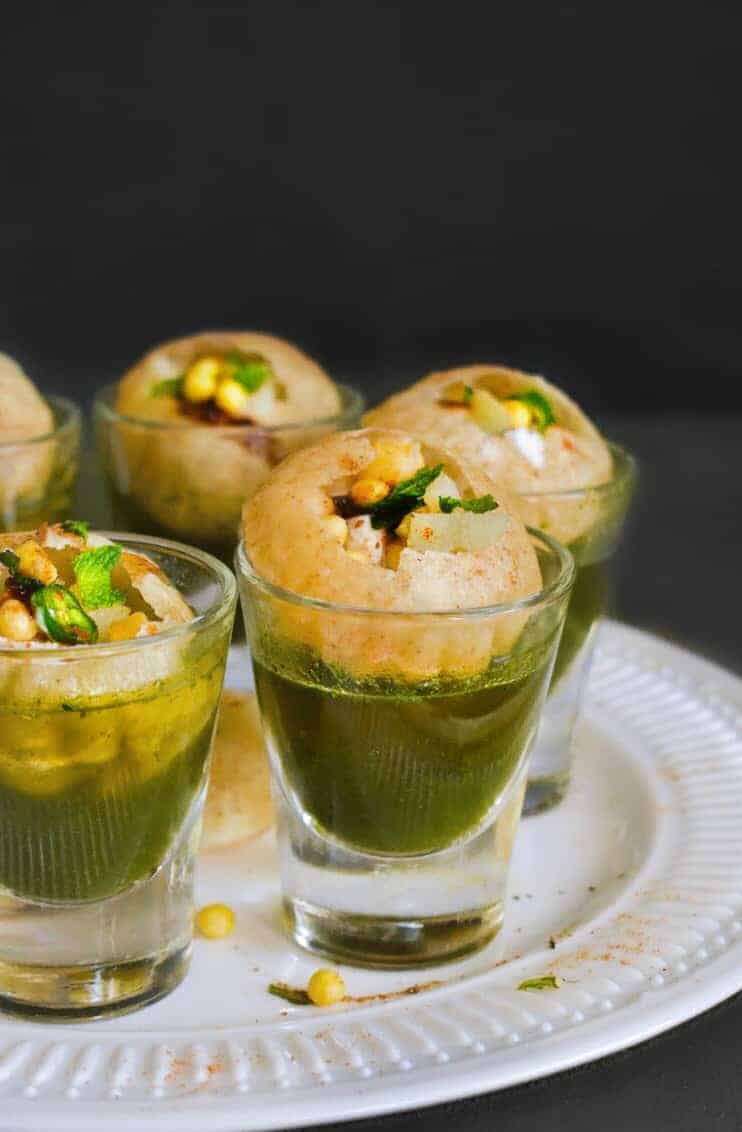 Go ahead and enjoy them and Wish You a Happy & Fun Holi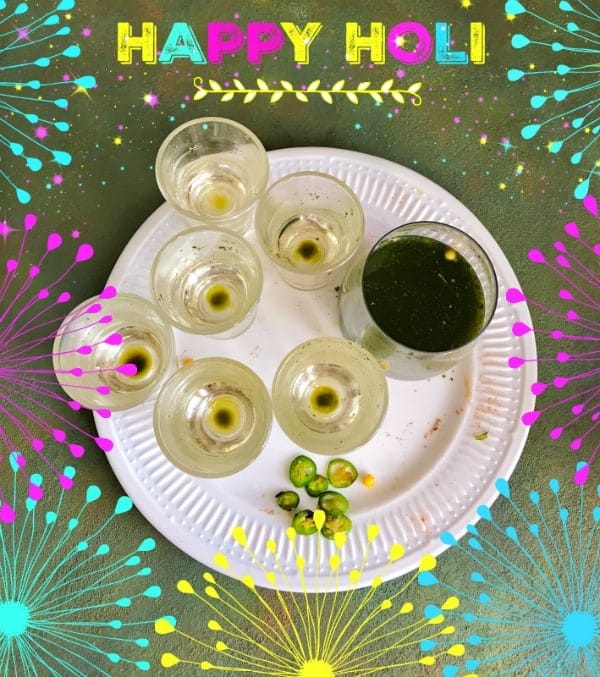 ---
:: You May Also Like ::
Other Holi Recipes:

Tried Our Recipe – AWESOME!!!
Now Quickly SNAP A PICTURE & TAG :
#easycookingwithmolly + @easycookingwithmolly on Instagram –>
Connect with Me Here: Facebook / Pinterest / Instagram

Yield: 24
Vodka Pani Puri - (Vodka Infused Savory Indian Snack)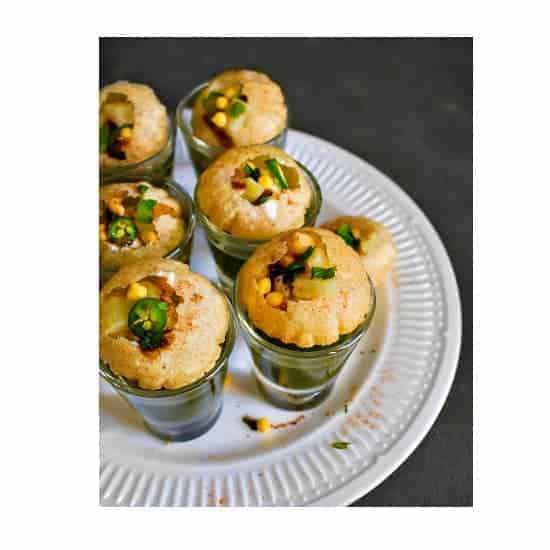 Vodka Pani Puri - (Vodka Infused Savory Indian Snack): They are crunchy, sweet, savory and filled with this fresh-n-delicious spicy vodka mint water mix.
Ingredients
2 Box/Bags of Golgappa (About 24) - Can be homemade or Store bought (easily available in any Indian stores)
Golgappa Stuffing:
1/4 Cup Plain Yogurt - Whipped - Any kind can yogurt can be used
1/2 Tsp Tamarind Chutney  (Available in any Indian grocery store)
 2 Large Boiled Potato - Cut into tiny bite size pieces
1/2 Cup Large Can of Cooked Garbanzo - Mashed OPTIONAL
4 Tbsp Boondi - available in Indian stores OPTIONAL
For the Vodka Infused Water/ Pani-Puri Water:
5 Cups Water - Chilled
1 Cup Plain Vodka - You can use any brand & increase or decrease the quantity per taste
1.5 Cups Fresh Mint Leaves - Cleaned and washed
1/2 Tsp Green Chili Sauce / Paste - (Depending on availability & taste) - OPTIONAL
1/4 Tsp Ginger Paste
1 Tbsp Jaggery or Brown Sugar or Regular Sugar
1/2 Tsp Tamarind Chutney - (Available in any Indian grocey store)
 
Powdered Spices: 
1 Tsp Cumin Powder
1 Tsp Red Chili Powder - Optional
2 Tsp Salt (As per your taste)
1 Tsp Pink Himalayan Salt
Instructions
Note: The Gol gappa are stuffed just before serving. (Doing this earlier will result in soggy product)
Process of Making the Vodka Pani-Puri Water:
In a food blender, add all the "Pani-Puri Water" ingredients except Vodka and blend until the leaves are evenly mixed into a fine paste.
Take a large bowl and pour the blended water using a strainer (strain any residue).
Now add all the powdered spices and give it a good stir (Taste the water to make sure it's the right blend of sweet n spicy).
Add Vodka and stir lightly to mix everything.
Process of Stuffing the Golgappa & Serving :
In a serving plate, place the golgappa and crack them lightly on top, removing then shell and making a well in-between for the filling.
Now take few pieces of boiled potato, garbanzo beans, boondi and add it in the already created space in golgappa.
Pour 2-3 Tbsp of Vodka Pani-Puri water over the stuffed golgappa and drizzle with yogurt and tamarind?sauce.
Sprinkle some mint leaves on top and serve.
Nutrition Information:
Yield:
24
Serving Size:
4
Amount Per Serving:
Calories:

66
Total Fat:

1g
Saturated Fat:

0g
Trans Fat:

0g
Unsaturated Fat:

1g
Cholesterol:

1mg
Sodium:

283mg
Carbohydrates:

7g
Fiber:

1g
Sugar:

2g
Protein:

2g
This recipe was originally posted on my blog in 2014 and here are the old pics 😉