Instant Thandai Mousse (Indian Yogurt Mousse): Filled with the sweet flavors of saffron, pistachio, almonds, rosewater, this mousse is a perfect showstopper recipe to serve on Festive Occasions.
Instant Thandai Mousse also known as Shrikhand in India
extremely easy, light, delicious and flavorful mousse recipe that literally melts in your mouth with every bite.
This Instant Thandai Mousse is my showstopper recipe for this years Holi celebrations.
Holi is famous for its dessert and snacks recipe and none of your Holi parties are complete without a 'MUST Have' Thandai recipe (popular Milk-based Indian drink).
Thandai is an extremely popular milk-based Indian drink made using dry fruits (almonds, pistachio, cashews, watermelon seeds, poppy seeds, etc), sugar, saffron, cardamom, etc.
It does have a couple of ingredients which when mixed together gives this sweet-scented and extremely flavorful drink.
Because it's so popular, the Thandai Mix is available in every Indian store (liquid or powder form) and is you would also see it appearing throughout summers in many North Indian homes.
So, I definitely serve Thandai in my Holi party, however, I decided to create this special Instant Thandai Mousse too as the main dessert for the event.
Now, this yogurt mousse is unlike any of the mousse recipes you would have come across.
Most mousse recipes use a thickener to set the mousse-like gelatin/ chocolate/agar-agar (vegan gelatin), etc, however, many a time we don't have any such thickener at home.
So, I'm using two very basic ingredients (found mostly at home) like yogurt and cream to create this mousse-like consistency.
It's not as hard as your typical mousse but somewhere between a mousse and a whip or fluff.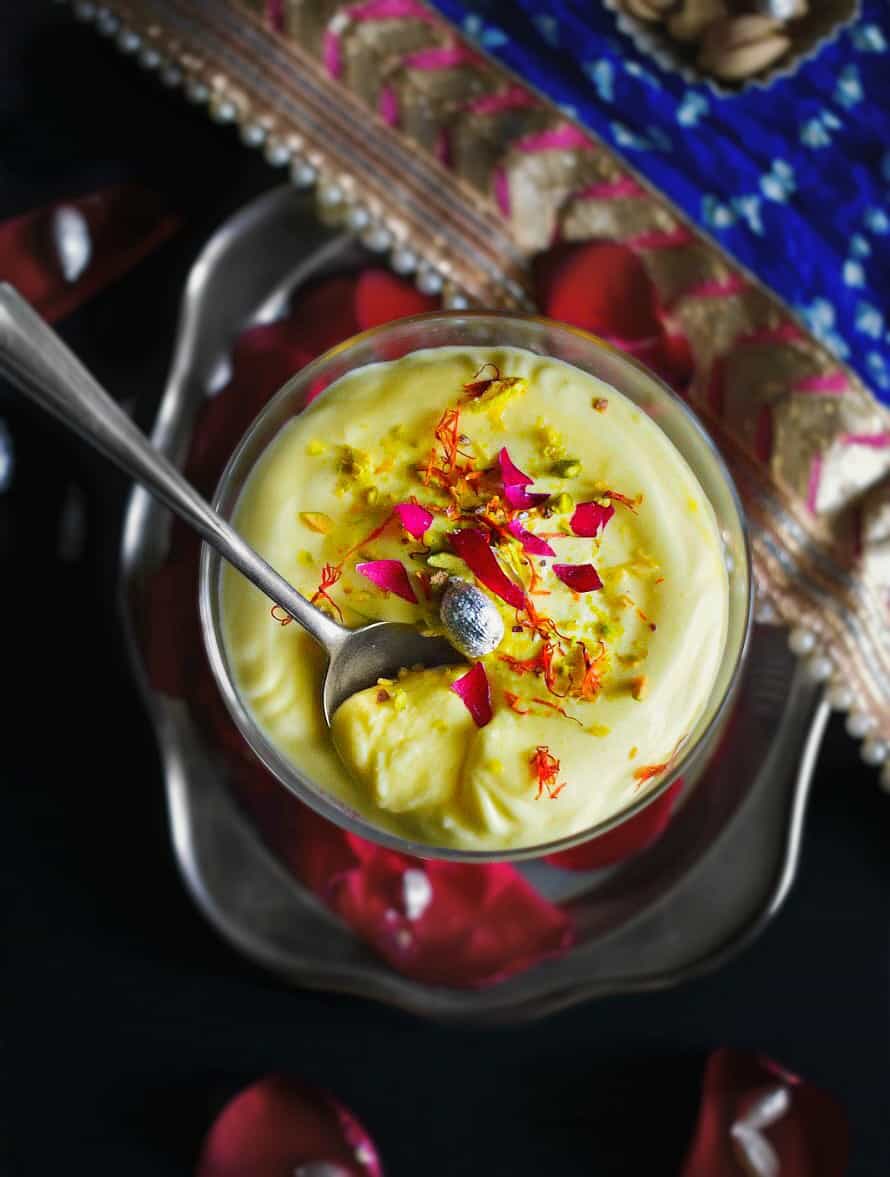 Once you mix the required quantities and keep them in the fridge for a minimum of 15 minutes, the mousse sets amazingly.
Once served, they stay thick (just like icing but slightly thicker).
Because, there is no extra thickener added, the mousse is extremely light or airy in its texture.
You can literally have 2-3 bowls of it and still feel light. I HIGHLY recommend making EXTRA as this goes out really soon when served.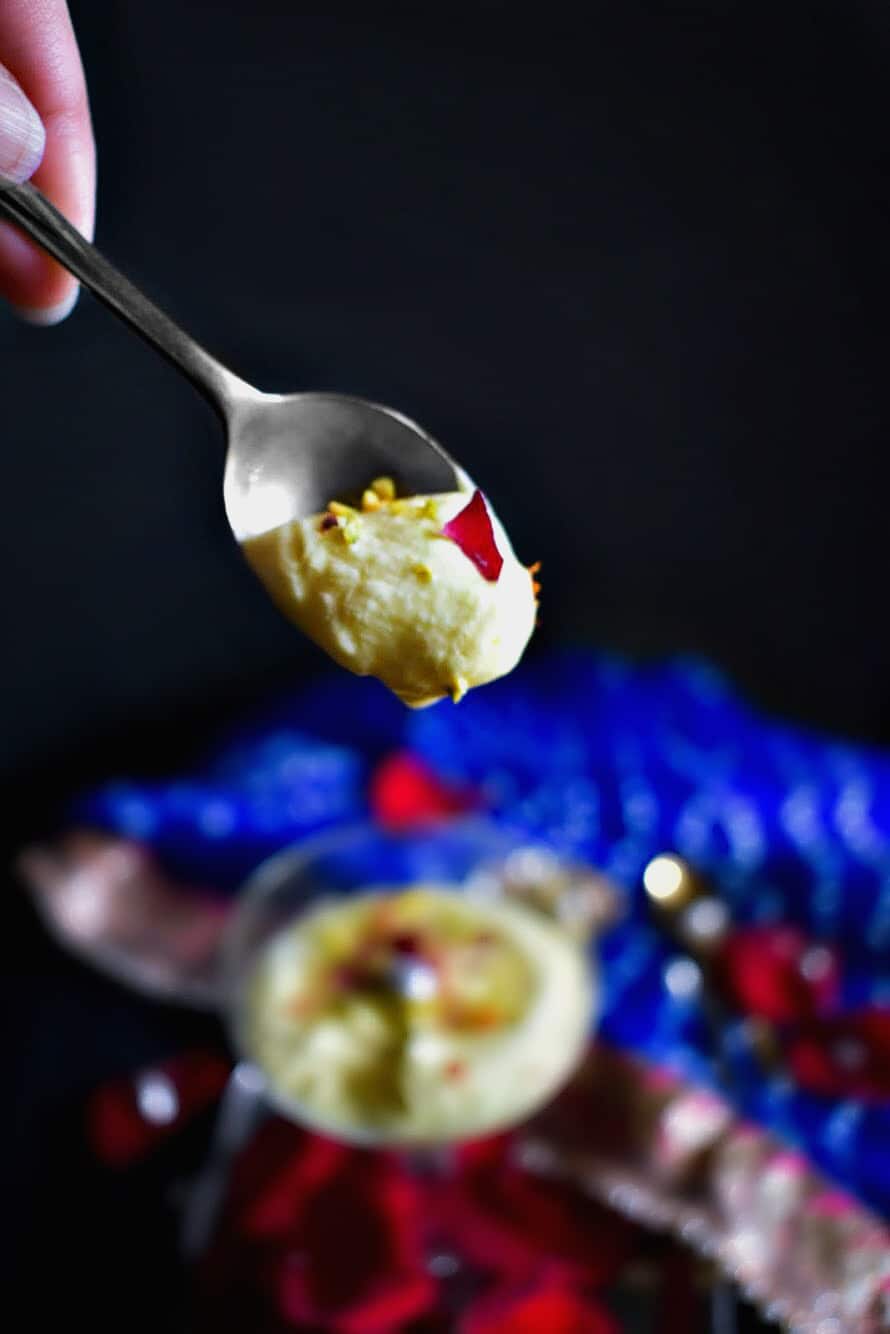 As you can check the picture above, I did scoop a spoonful of the Instant Thandai Mousse and it stays on the spoon instead of falling.
Once the mousse is set, I decorated it with some crushed cardamom, saffron, and pistachio.
This is one dessert that literally screams Indian flavors and it gives you this slightly sweet scent in every bite because of all the ingredients.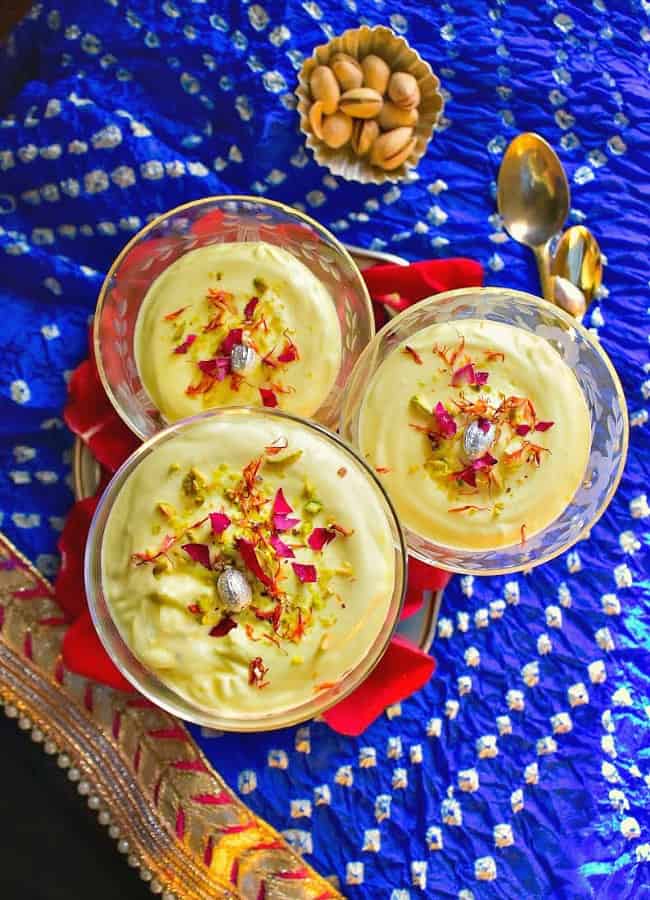 It's also my favorite easy-peasy Indian dessert as what can be easier than just whipping 2-3 ingredients and serving instantly?
You can serve this Instant Thandai Mousse as soon as it's made, however, it will be extremely soft (as it needs a minimum of 15 minutes to set).
So this Holi season, I urge you to try this mouthwatering Instant Thandai Mousse and surprise your loved ones with this sweet-scented dessert.
It's especially PERFECT to serve with heavy snacks/food as the mousse is extremely light.
Here are Our Reader's FAV Holi Recipes:

***** Wish You'll a Happy & Fun Holi *****
---
Tried Our Recipe – AWESOME!!!
Now Quickly SNAP A PICTURE & TAG :
#easycookingwithmolly + @easycookingwithmolly on Instagram –>
Connect with Me Here: Facebook / Pinterest / Instagram
Yield: 10 Medium Serving Bowls
Instant Thandai Mousse (Indian Yogurt Mousse)
Instant Thandai Mousse (Indian Yogurt Mousse): Extremely flavorful, delicious and light dessert mousse recipe filled with Indian flavors.
Ingredients
2 Cups Thick Greek Yogurt*
1 Cup Heavy Cream
2 Tbsp Thandai Mix - store-bought or homemade
1 Tsp Rosewater - optional
2 Pinches Yellow Food Color
1 Tbsp Sweetener of Choice - could be sugar / honey or sugarfree
Decoration:
3 Tbsp Chopped Pistachios
1 Tsp Crushed Saffron
1 Tbsp Dry Rose Petals
*** Incase You Want to Make a Quick Thandai Mix at Home - (Just GRIND these Ingredients Together ***
You can make your own Thandai Mix at home, just mix these:
1 Tbsp Almonds
1 Tbsp Pistachio
1 Tbsp Cashews
1/2 Tbsp Poppy Seeds
1/2 Tbsp Watermelon Seeds
1/8 Tsp Saffron
1 Tsp Cardamom
2 Black Pepper Corns
1 Tsp Dry Sweetener or Choice
Instructions
In a large bowl, whisk greek yogurt, thandai mix, sweetener, yellow food color and rosewater for a minute or until everything is combined.
In another bowl, whisk heavy cream to form stiff peaks.
Now, add the whisked cream in the yogurt mix.
Whisk for another minute till everything is fully incorporated.
Transfer the mousse in serving bowls and keep in fridge for a minimum of 15 minutes (it can stay in fridge for 24hrs).
Once ready to serve, decorate with pistachios, saffron and rose-petals.
Serve immediately.
Nutrition Information:
Serving Size:
6-7 People
Amount Per Serving:
Calories:

169
Total Fat:

8g
Saturated Fat:

3g
Cholesterol:

20mg
Sodium:

71mg
Carbohydrates:

15g
Sugar:

11g
Protein:

9g