Overnight Apple Pie Oats : extremely delicious and absolutely no-cook healthy breakfast recipe that tastes like the best pudding you've ever had!!!
It's a mix of rolled oats with warm spices, apples, pecans and Left Field Farms coffee creamer.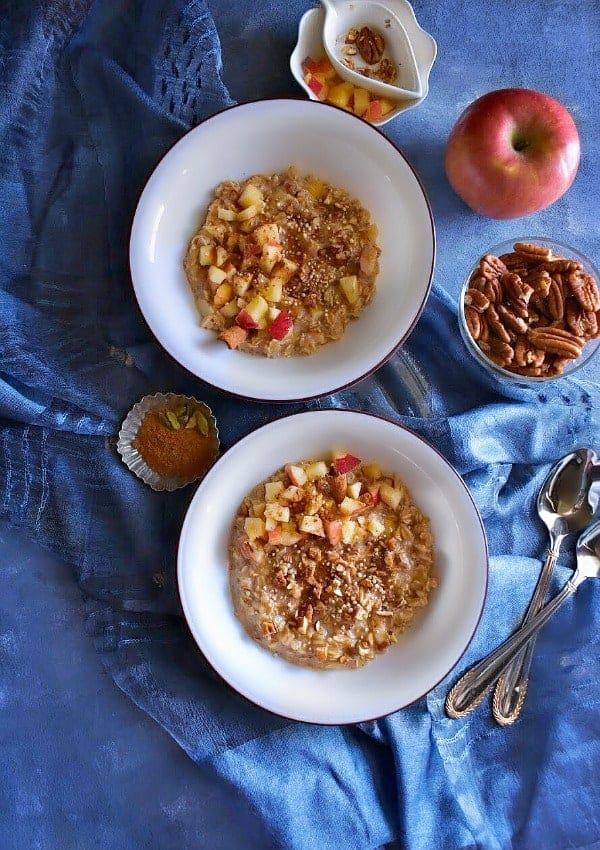 Who doesn't love Pie's for Breakfast but what if I say this one is actually light, filled with warm flavors, involved apple and is good for you???
Today I'm sharing the recipe of these Overnight Apple Pie Oats that combines the comforting apple pie spices (recipe below to make some), oats and coffee creamers!
Have you tried making oats using coffee creamers? If you haven't then you're definitely missing out on an extremely delicious yet easy recipe.
These Overnight Apple Pie Oats are one of our favorite breakfast recipes as they are extra creamy and filled with delicious flavors.
I recently came across these 'Left Field Farms' coffee creamers at Walmart and have completely fallen in love with their taste and flavor offering (Vanilla, Caramel and Sweet & Creamy). These creamers are :
Non-GMO-Project Verified
From cows not treated with rBST ‡
No Artificial Flavors
Made with real cream and real sugar
So after using it as a creamer for a couple of days, I thought why not add it to our everyday breakfast too.
So I decided to add them to our Overnight Apple Pie Oats recipe (instead of a splash of cream).
The result was 2 empty bowl in less than 5 minutes 🙂 and a request to make them again soon.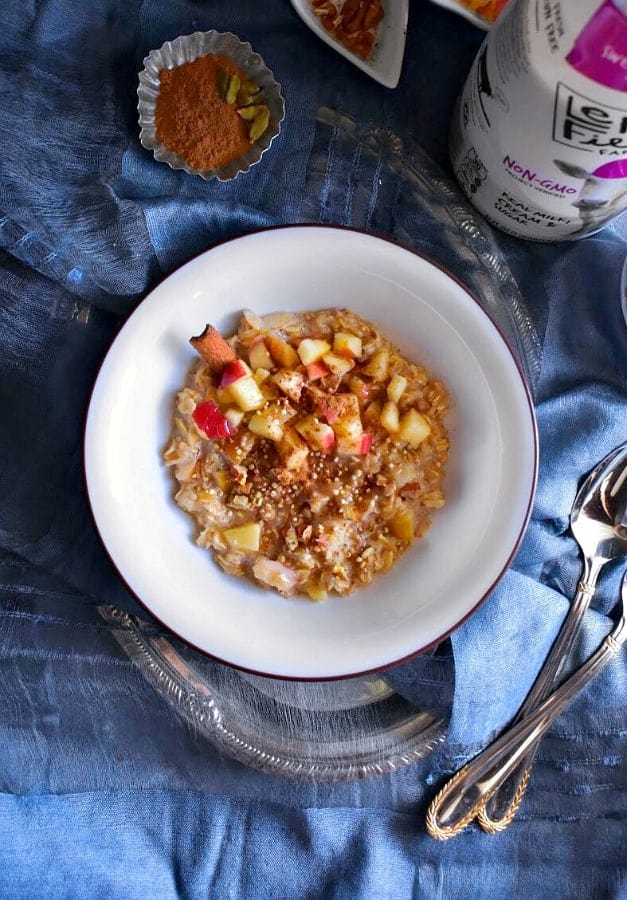 Now, before we begin our recipe, I have to tell you that I have a confession – 'Overnight Oats' was the next best thing I discovered after sliced bread that !!!
It was like Eureka as anything that makes breakfast so effortlessly simple and delicious is a keeper forever!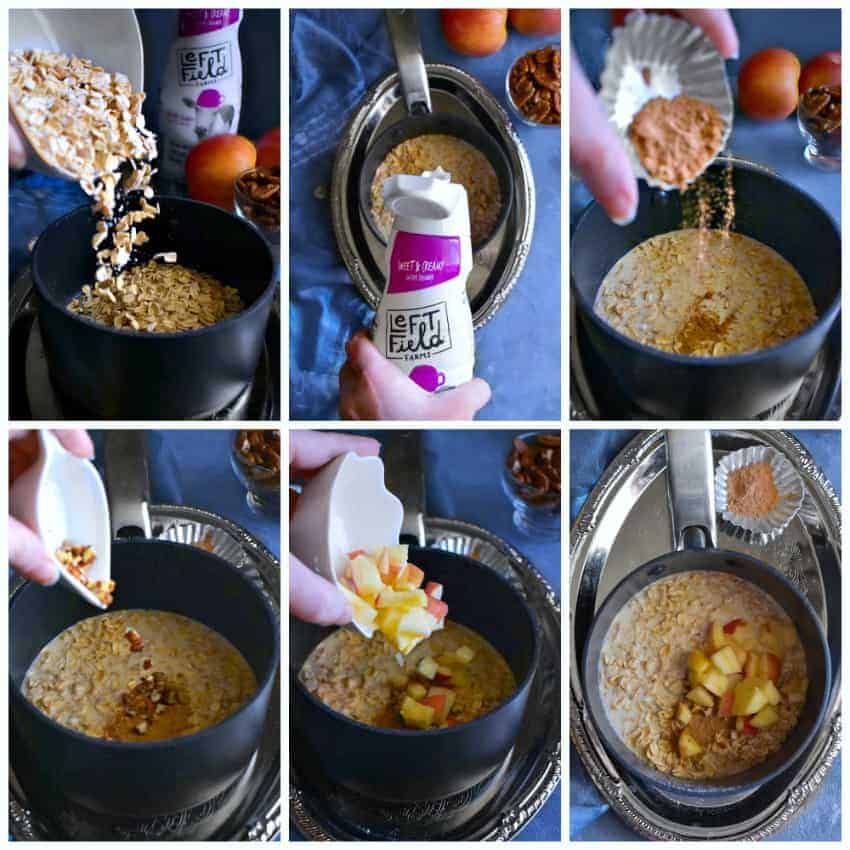 If any of you are wondering – What is this Overnight Oats?
Well, they are nothing but thick oats (also called old-fashioned / rolled oats) soaked in liquid (could be milk or yogurt or even cream) overnight.
There is absolutely no cooking involved of any kind, simply soak, stir and once 5-6 hrs have passed, you can serve the oats with your favorite toppings.
I mean they are so simple that I never thought of sharing a recipe of it until a friend suggested.
She really liked this version of the 'Overnight Apple Pie Oats' using creamer and said it HAS to go on the Blog!
So here is the recipe (pretty simple) and given above are the steps in the pictorial.
They infact make an excellent snack or even packed breakfast. We even make them in mason jar and take with us on early morning walks.
Just sit by the park or lake and enjoy homemade breakfast with friends and family.
I've also added some cardamom in it, however, it's completely optional.
So, go ahead and grab these Left Field Farms coffee creamers from Walmart and enjoy with your favorite beverage or add in such recipes.
Here's a Quick Overnight Apple Pie Oats Video:
---
Tried Our Recipe – AWESOME!!!
Now Quickly SNAP A PICTURE & TAG :
#easycookingwithmolly + @easycookingwithmolly on Instagram –>
Connect with Me Here: Facebook / Pinterest / Instagram / Twitter / Subscribe to our Newsletter / Google+
Some Other Breakfast Recipes To Try: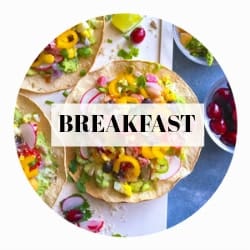 Yield: 4 Large Bowls
Overnight Apple Pie Oats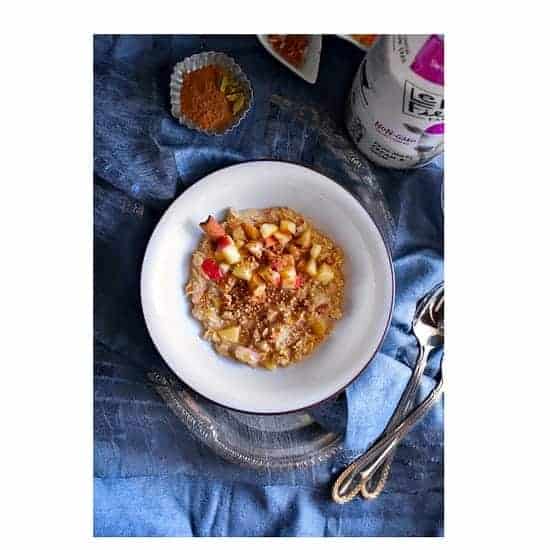 extremely delicious and absolutely no-cook healthy breakfast recipe that tastes like the best pudding using coffee creamer.
Ingredients
1 Cup Rolled Oats - old-fashion oats*
1 Large Red Apple - chopped into tiny pieces
1 Cup Plain Milk
1/2 Cup Left Field Farms - Sweet & Creamy Coffee Creamer
1/2 Tsp Honey - use any sweetener of choice **
Apple Pie Spice:
1/2 Tsp Ground Cinnamon
1/8 Tsp Ground Nutmeg
Tiny pinch ground ginger
Tiny pinch ground cloves
2 Green Cardamoms - optional
Tiny pinch of Salt
Toppings - Optional:
Chopped Pecans
Cinnamon Powder
Roasted Quinoa
Chopped Apple
1/2 Tsp Honey
Instructions
Take a large bowl.
Add rolled oats, spices, pecans, chopped apple, milk and creamer in the bowl.
Stir and cover.
Keep this overnight or minimum 5hrs outside on slab (if weather is cold) or in fridge (if weather is hot).
When ready to serve (after 5 hrs or Overnight):
Simple stir everything together to loosen the thickened oats.
Transfer to serving bowl and top with your choice of add ons.
Serve immediately or pack in takeaway for office/exercise.
Notes
old-fashion oats* - you can use any thick oats as this will be soaked overnight and regular oats would completely mush.
use any sweetener of choice ** - since i'm using coffee creamer along with milk, which also has sugar. So you can taste test before adding sugar.
Nutrition Information:
Yield:
2
Serving Size:
1
Amount Per Serving:
Calories:

450
Total Fat:

59g
Saturated Fat:

17g
Trans Fat:

0g
Unsaturated Fat:

38g
Cholesterol:

10mg
Sodium:

70mg
Carbohydrates:

112g
Fiber:

19g
Sugar:

15g
Protein:

21g
You can find the creamer at the Dairy Section in Walmart: