Instant Savory Oats Crepe – Oats Chilla: is a delicious and healthy breakfast option that's ready in 10 minutes, made using oats, flour, and mixed veggies & Perfect for weekday or brunch too.
These Instant Savory Oats Crepe – Oats Chilla are an absolute favorite breakfast menu for us and you can definitely see it once a week made at our home.
This post has been so old that I've been wanting to update it with some new pictures but the recipe remains the same.
I'm using regular instant oats and simply pulsed them in a hand blender to create 'Oats Flour' at home.
But if you're glutenfree, please feel free to use glutenfree oats for the same.
Similarly, I'm using plain yogurt for the batter, however, if need be or vegan, please use a vegan yogurt.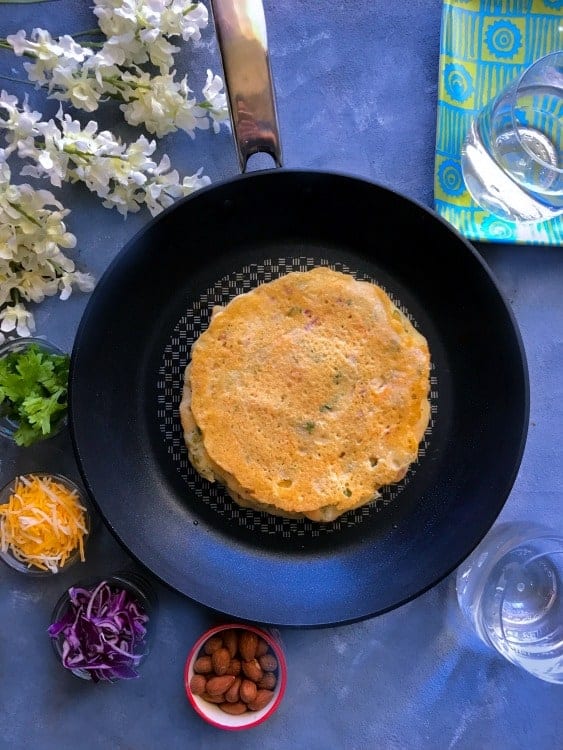 So, hope you try and enjoy these crepes/chilla as much as we do 🙂
… (Below is the Old Post, posted on Jan 2015) …..
Hello Everyone, We are almost by the end of January 2015….and I'm hoping a lot of you might be still holding on to your Eating Healthy resolution.
I'm trying to stick to my "Eat Breakfast Everyday" resolution too.
Now, being a non-breakfast person, it's REALLLLLLY Hard for me…..
there are day's when I do get tempted to not eat any breakfast or just grab some cookies and tea instead
(To which few might say, that's fine…but trust me, our body needs more than that in the morning).
So, most of the day's I go with my green smoothie/juice breakfast, along with some nuts but every now-then I try to incorporate healthy, quick and easy breakfast recipes too.
Now, in the past I've also mentioned, my not so much liking for oatmeal but I try different way's to incorporate it like in these Instant Savory Oats Crepe cause:
A. It's Easy to make, like 5 mins
B. Healthy and fills tummy for longer.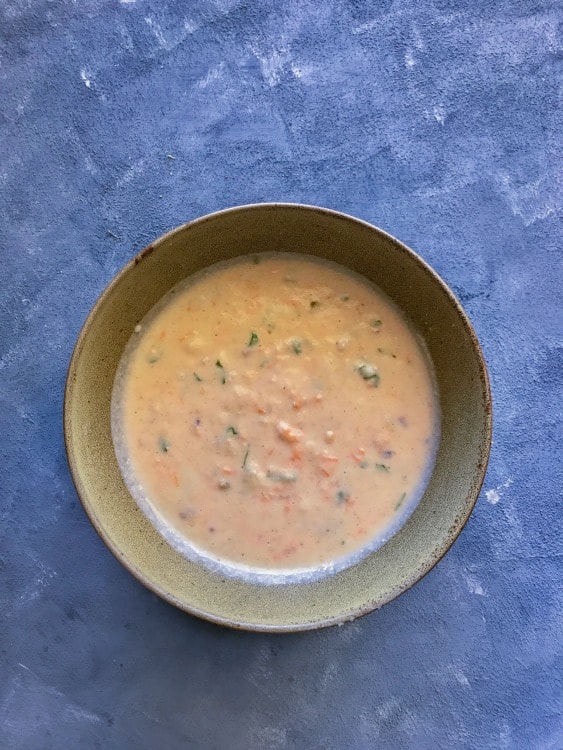 So, Today, I'm going to share an extremely easy recipe of Instant Oats Crepe / Chilla.
It's a savory version and you can add any other veggie/meats to it (as per choice).
It's become one of my "favorite" goto recipes these days cause it's made like in 5 minutes and taste awesome…
And Yes, someday's even food blogger's wants to just be lazy 🙂
:: You May Also Like ::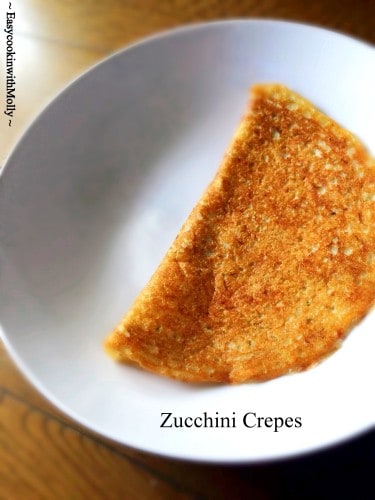 ---
As always, Iooove it when you try my recipes and send me pictures & feedback.
You can tag my recipes tried by you using #easycookingwithmolly on any of the social media below:
Connect with Me Here: Facebook / Pinterest / Instagram / Twitter / Subscribe to our Newsletter / Google+
Yield: 8 Crepes/Chilla
Instant Savory Oats Crepe – Oats Chilla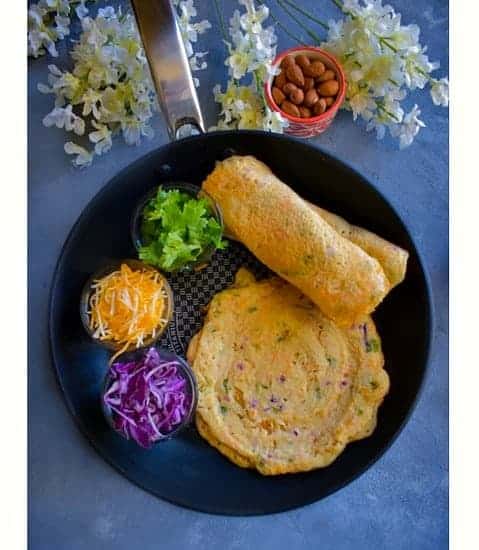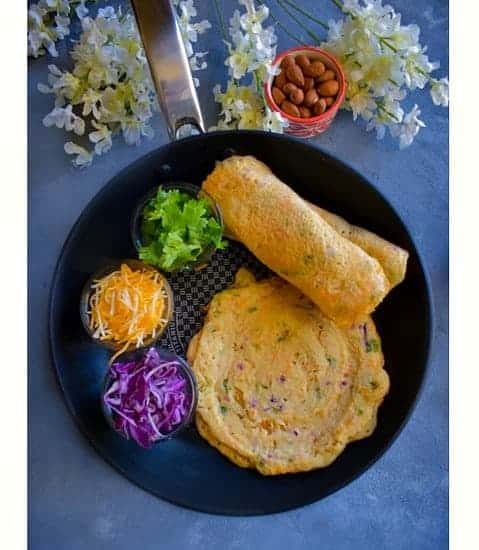 A delicious and healthy breakfast option that's ready in 10 minutes, made using oats, flour, and mixed veggies & Perfect for weekday or brunch too. 
Ingredients
1 Cups Instant Oats Flour - use glutenfree oats if need be
1/2 Cup Flour
1/4 Cup Rice Flour
1 Cup Plain Yogurt - use vegan yogurt if need be
1 Tsp Grated Ginger
2 Tbsp Grated Carrot
2 Tbsp Thinly Chopped Cabbage
1 Tbsp Thinly Chopped Onion
1 Tbsp Thinly Chopped Red Cabbage
2 Large Green Chilies – thinly chopped - optional
½ Tsp Cumin Powder
1 Tsp Salt (As per your taste)
½ Cup Water
¼ Cup Olive Oil (U can use any other oil) – For making crepe/chilla
Instructions
In a large bowl, add all 3 flour, salt, cumin and whisk everything once.
Now add water and whisk to form a lump-free batter (resembling pancake batter).
Add all the chopped veggies, ginger and stir everything.
Heat a nonstick pan over high flame and apply 1 tsp of oil.
Pour 1 heaping ladle of the batter over the pan, swirl it using ladle to form a round shape.
Reduce flame, cook the chilla/crepe for 1-2min, flip side.
Pour ¼ tsp oil and cook the other side for 1-2min. (Depending on how brown/crisp you?want – For more crisper or brown look, cook an extra minute)
Increase the flame to high and cook for 1min.
Follow the steps above to make all the remaining crepes/chilla.
Serve Hot or Cold as per preference.
Nutrition Information
Yield
8
Serving Size
2
Amount Per Serving
Calories

160
Total Fat

9g
Saturated Fat

2g
Trans Fat

0g
Unsaturated Fat

7g
Cholesterol

3mg
Sodium

200mg
Carbohydrates

37g
Fiber

3g
Sugar

5g
Protein

8g