Quick and Lighter Chicken Biryani: aromatic, flavorful and extremely easy chicken biryani recipe that's made using oil, brown rice, and yogurt. A perfect 'Guiltfree' version of your traditional biryani recipe.
'Quick and Lighter Chicken Biryani' is one of our all-time favorite recipes!
Friends, family, neighbors, you name it and everyone loves it but there's just one catch, we don't get to devour it as frequently because:
First of all, it takes really long to make it.
Secondly, it's too heavy to eat on a regular basis (all that ghee, rice, and cream).
A
clinical study showed reduces cholesterol 2x more than extra virgin olive oil. To learn more about this claim, see
Mazola.com
.
That exactly what I started using and turned the traditional biryani into a Quick and Lighter Chicken Biryani a.k.a ' "Better-For-You" version – which also means a more frequent appearance in weekly meals.
Ingredients for Lighter Chicken Biryani:
Now, here are the 3 Ingredients we swapped in our Lighter Chicken Biryani from the Traditional Biryani –
Mazola® Corn Oil instead of ghee.

Yogurt instead of cream+butter.

Brown Rice instead of regular rice
Once we made that switch to Mazola® Corn Oil, we have not looked back and I've been using it in my everyday cooking.
It also has a smoke point (450°F) higher than most cooking oils and hence can be used for multiple types of cooking like stir-frying, sautéing, grilling or even baking.
Also, one very important factor for me using Mazola® Corn Oil is that it has a neutral taste and doesn't impact the taste of any other ingredients used together.
Hence I get the best flavors out of every recipe and it can be used in both sweet or savory recipes which is such a relief.
How to Make Lighter Chicken Biryani
The pictorial below from the start to finish
Now, coming back to our Quick & Lighter Chicken Biryani, it's extremely easy to make and tastes so flavorful, that you won't miss swapping the brown rice.
Biryani can be made in many different ways and here I'm discussing two very simple methods, however, the 'Chicken Mix/Curry' part remains the same in both.
So once the Chicken curry/spice mix is read, then you follow either of the methods:
Chicken Biryani Method 1: – Layering –
This is pretty simple, you take the cooked chicken mix and add a layer of it in a deep pan.
Then you layer some cooked rice over this chicken mix and sprinkle some nuts too (optional).
Then you layer the chicken again and then layer the rice again till you reach the top.
Finally, sprinkle some nuts, sautéed onions, fresh mint leaves and keep it covered for 10 minutes.
Serve & Enjoy.
—————————
Chicken Biryani Method 2: – Sauteeing –
This is the easiest of the two and all you have to do is take a large pan and add the cooked chicken.
Then, add the cooked rice, nuts, sautéed onions, mint leaves and saute everything until its mixed evenly.
You NEED to remember that this has to be done very lightly as you don't want to break the rice or the chicken.
Saute everything for 5-6 minutes and then turn off the heat.
Serve & Enjoy.
Serving the Chicken Biryani: (Optional)
As Biryani is a complete meal, you don't want any heavy sides with it, but any of these would do:
Light Salad
Indian Raita (Yogurt Dip)
Mint / Coriander Chutney
Papad / Poppadoms
Pickles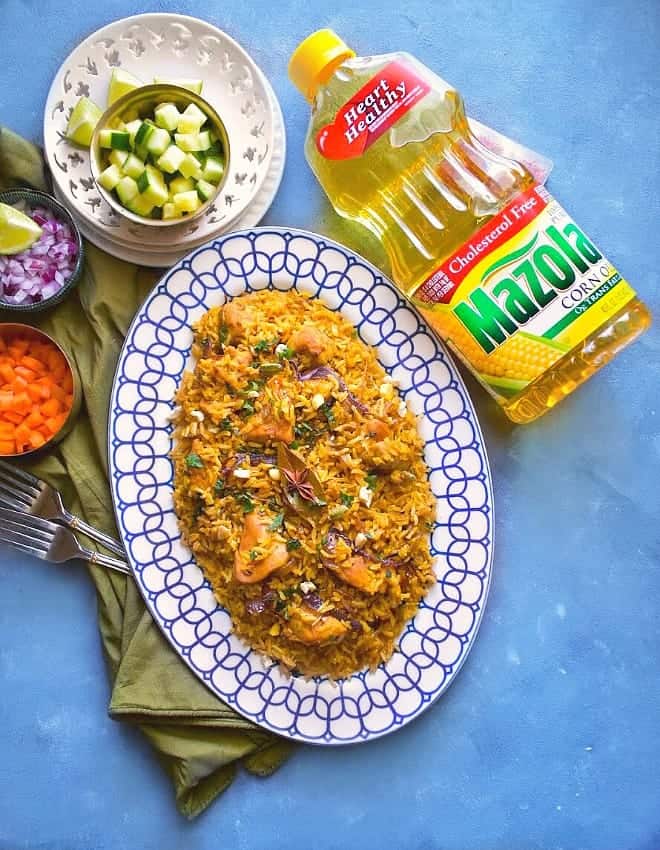 No matter which method you pick or choose, the results are going to be Fingerlicking Good every time!
So go ahead, make this Quick and Lighter Chicken Biryani using the Mazola Corn Oil, which is a 100% pure oil with no additives.
I'd also recommend using it for your day to day cooking as it brings out the great flavors of your food.
————————–
Tried Our Recipe – AWESOME!!!
Now Quickly SNAP A PICTURE & TAG :
#easycookingwithmolly + @easycookingwithmolly on Instagram –>
Connect with Me Here: Facebook / Pinterest / Instagram
– You May also Try –
Yield: 4 Cups
Quick and Lighter Chicken Biryani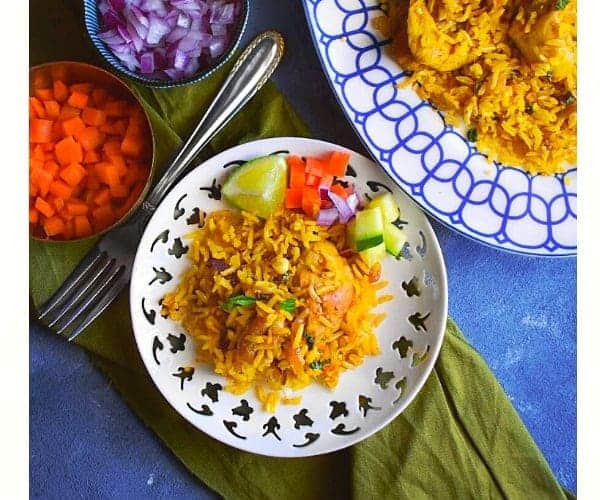 Quick and Lighter Chicken Biryani: aromatic, flavorful and extremely easy chicken biryani recipe made using oil, brown rice, and yogurt.
Ingredients
For Cooking the Rice:
2 Cups Brown Rice - you may use any other rice too
4 Cups Water - to make the rice
Pinch of Turmeric
Few Strands of Saffron
3 Tbsp Milk - to soak the saffron
4 Cloves
For Preparing the Chicken:
1/3 Cup Mazola® Corn Oil
1/2 lb Chicken - cleaned and cut into bite-size pieces
1 Cup Onion - thinly sliced
1 Tbsp Ginger Paste
1 Tbsp Garlic Paste
1 Cup Plain Yogurt
'1/2 Cup Water
Spices:
1/8 Tsp Black Pepper Powder
1 Tbsp Coriander Powder
1 Tbsp Cumin Powder
1 Tbsp Garam Masala
1/2 Tsp Turmeric - optional
1 Tsp Red Chili Powder - optional
1/8 Tsp Crushed Saffron - optional
Salt - as per taste
10 Fresh Mint Leaves
Instructions
Cooking the Rice:
In a large pot, add water, rice, turmeric, cloves and place on burner on high heat.
Let this boil on high heat for 2 minutes, then reduce the heat to low and cook for 15 minutes.
In a small bowl, heat 3 tbsp oil and add the saffron strands, keep aside.
Check rice after 15 minutes, it should have cooked 90% hence turn off the heat.
Strain the rice of water and keep aside.
Add the saffron mixture and fluff the rice (to evenly mix saffron).
Cooking the Chicken **
In a large non-stick pan, heat 1/3 cup Mazola Corn Oil
Add onions and saute till they are cooked and light golden in color.
Remove the cooked onions.
Add ginger + garlic paste and saute on medium heat till they turn golden in color (about 2 minutes).
Add turmeric, salt, coriander powder, cumin powder, garam masala, red chili powder and saute everything together.
Add chicken and saute for a minute.
Cover and cook this mixture for 5 minutes on low heat.
Add yogurt, water, mint leaves and cover cook for another 5 minutes.
Once the chicken is cooked, turn off the heat.
Making the Biryani:
Use the same pan in which chicken is cooked.
Add the cooked rice to the cooked chicken.
Saute on low heat for 5-6 minutes (lightly mix to prevent rice from breaking).
Once everything is evenly mixed, cover the lid and cook for 2 minutes on low heat.
Turn off the heat.
Transfer the light chicken biryani in the serving bowl.
Decorate with sauteed onions or other toppings of choice (nuts/mint leaves/cilantro leaves).
Serve hot with choice of side (salad/raita/pickle).
Nutrition Information:
Yield:
4
Serving Size:
1
Amount Per Serving:
Calories:

634
Total Fat:

32g
Saturated Fat:

6g
Trans Fat:

0g
Unsaturated Fat:

24g
Cholesterol:

58mg
Sodium:

413mg
Carbohydrates:

64g
Fiber:

7g
Sugar:

7g
Protein:

24g
This shop has been compensated by Collective Bias, Inc. and Mazola® Corn Oil. All opinions are mine alone. #simpleswap #CollectiveBias