Healthy Digestive Biscuit Recipe (Oats, Almond, and Sesame): Easy to make and healthy digestive biscuits or cookies made using oats, almonds, and sesame seeds. They are absolutely delicious and can be served with a hot beverage or makes a healthy snack.
Happy Monday Everyone and I'm here with an easy Healthy Digestive Biscuit Recipe (Oats, Almond, and Sesame) to share with all of you.
As I've mentioned a couple of times in my previous posts that I'm a big-time snacker hence, always trying to make a healthier or easier recipe for a quick bite.
These digestive biscuits are hands down my favorite tea/coffee companion.
I always have a batch ready at home and sometimes you might even find them in my bag especially if I'm running an errand or going shopping….do provide some serious energy for shopping 😉
Growing up in India, most of the household followed a simple to elaborate tea-time ritual for an afternoon or evening tea.
It was either a couple of ladies sitting together and enjoying a relaxing cup of tea with these biscuits or it was the whole family sitting in the evening discussing the day over a cup of hot tea.
No matter which scenario, there were two things common – tea and this Healthy Digestive Biscuit.
If it was the evening tea, you might even find petite veggie sandwiches and some light savory mix which we call 'namkeen'. Go anywhere in India and you can find this setting.
Although as a child, I was never allowed tea or coffee but these teatime snacks were my favorite, especially when mom made these Healthy Digestive Biscuit Recipe.
Also, that time, ovens were not that common in every home, so some of them had these clay pot ovens made in some nook of the open verandah or even rooftop and the whole house would smell like a bakery.
Trust me, the biscuits made in clay-pot had even a richer aroma cause of that earthy feel.
Now, they are called 'Digestive Biscuits/Cookies' because of the main ingredients like whole wheat flour, oats and seeds, that helps in digestion or as we call it 'gut health'.
The recipe that I'm sharing today, has been made as is since last 20 years or so and the only thing that I've added more are ingredients like chia seeds and oats.
Also, at times, I do eat these biscuits/cookies with a fruit-flavored yogurt, sprinkled with lemon zest and trust me it tastes absolutely delicious.
So, go ahead and make these Healthy Digestive Biscuit Recipe and try them with your favorite hot beverage or as it.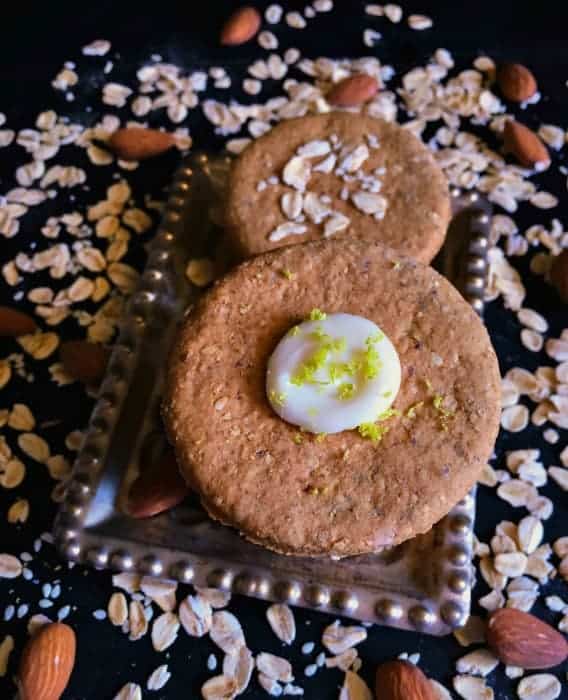 :: You May Also Like ::
---
As always, I Looove when you try my recipes and send me pictures & feedback.
You can tag my recipes tried by you using #easycookingwithmolly
Connect with Me Here: Facebook / Pinterest / Instagram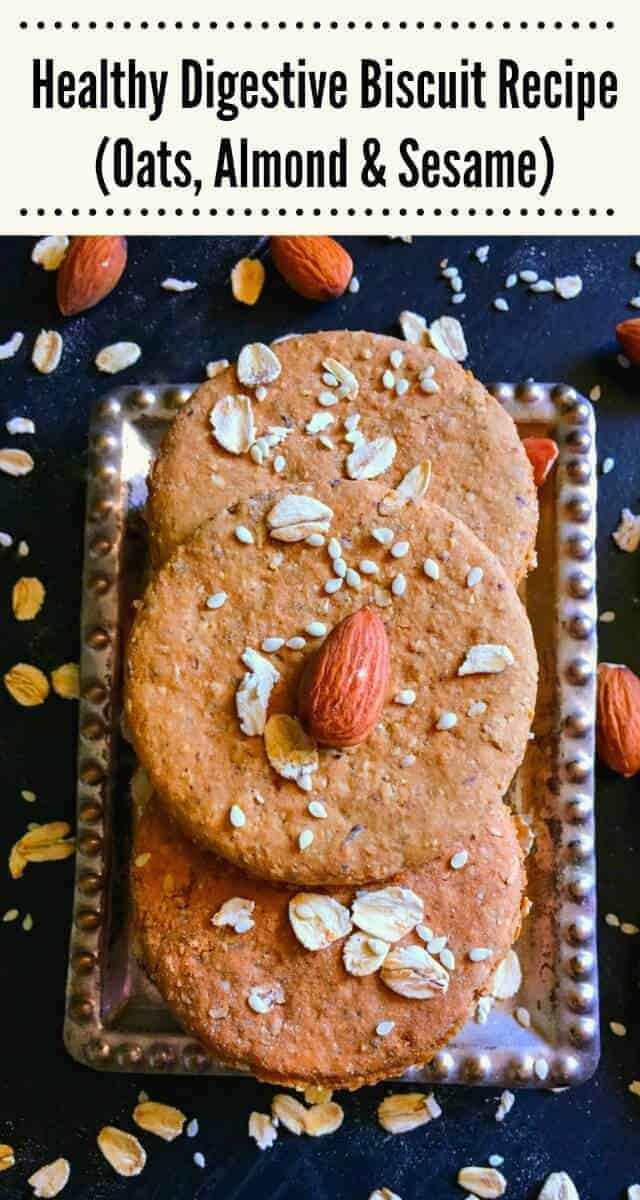 Yield: 15 Medium Biscuits
Healthy Digestive Biscuit Recipe (Oats, Almond & Sesame)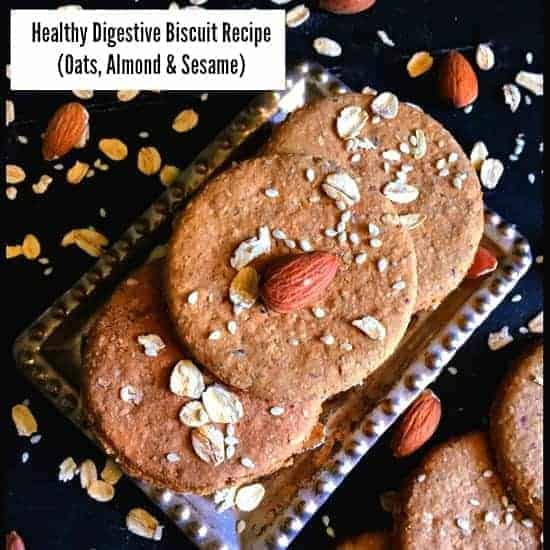 Healthy Digestive Biscuit Recipe (Oats, Almond and Sesame): (No-Egg Recipe) Easy to make digestive biscuits or cookies made using oats, almonds and sesame seeds.
Ingredients
1/2 Cup Whole Wheat Flour
3/4 Cup Oat Flour : Grind quick oats
1/2 Cup Brown Sugar
2 Tbsp Honey - optional
1/2 Stick Unsalted Butter : about 4tbsp
1/2 Tsp Baking Soda
4 Tbsp Olive Oil
4 Tbsp Milk
4 Tbsp Ground Almond
3 Tbsp Sesame Seeds
2 Tbsp Flax Seeds - optional
2 Tbsp Chia Seeds - optional
Instructions
In a large bowl, mix together flours, sugar and baking soda.
Add in the room temperature butter and mix using fingers or fork to form a bread crumb kind of a texture.
Now add ground almonds, sesame, flax and chia seeds along with milk and knead to form a smooth dough (Don't over-knead).
Cover the dough with a cling wrap and keep it in the refrigerator for 10 minutes. Doing this will make the dough workable and you can easily roll it.
Take the dough out and roll it thin (approx 1/4 cm) and cut it into circular or desired shapes.
Place them on a baking tray lined with Baking paper/silicon mat.
Bake them into a preheated oven at 180°C for 15-18 minutes (depending on the oven).
Once baked, place them on a cooling rack and let them cool completely.
Store in an air tight container or serve with favorite beverage.
Nutrition Information:
Yield:
15
Serving Size:
2
Amount Per Serving:
Calories:

122
Total Fat:

7g
Saturated Fat:

3g
Trans Fat:

0g
Unsaturated Fat:

7g
Cholesterol:

8mg
Sodium:

65mg
Carbohydrates:

11g
Fiber:

2g
Sugar:

8g
Protein:

3g