This Vegan Chocolate Cake is an eggless chocolate cake using curd/yogurt which is rich, flavorful and super moist in every bite.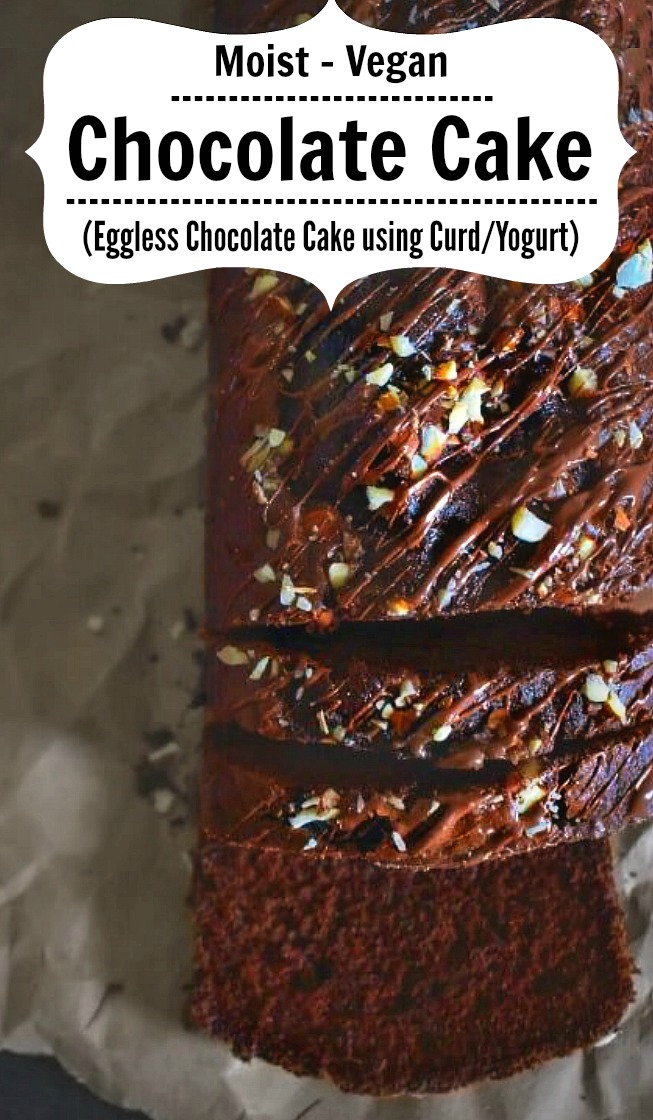 This Moist Vegan Chocolate Cake – Eggless Chocolate Cake using curd is everything you'd have ever wanted (in terms of chocolate 😉 – our savior this weekend.
This labor day weekend had been planned so much in advance that when we came to know of this sudden:
'Extreme Hot Weather with absolutely No-Grilling' Warnings
The world came to a standstill…atleast for a moment!!!
We had everything planned for a fun beach day to grilling at our friend's place who just bought a new swanky grill…such a bummer !!!
But anywho, let's start afresh with the weekend plans and topping the list is this moist, rich and flavorful cake.
Eggless Chocolate Cake Ingredients
The ingredients are extremely simple and can be found in most kitchen.
All-Purpose Flour
Dairy-Free Chocolate – you can use cocoa powder too
Instant Coffee Powder – optional
Plain Vegan Yogurt/Dahi/Curd
Water
Olive Oil
Vinegar
Sugar – or any sugar substitute of choice
Baking Powder
Baking Soda
Vanilla Extract
Chopped Almonds – optional
We were dreaming of chilled Mango Jalapeno Margarita's with Sweet-Spicy Thai Basil Tofu Skewers which I was supposed to take.
Lounging in the gazebo with our favorite music, cool California weather in late 70's Fahrenheit ..
But everything changed as we are going through drastic weather change and it's expected to be 110F over the weekend…Seriously WHYYYY!!!!

So anyway, since everyone is so sad especially our dear friend who bought the new grill.
We all thought to cheer him up and do a surprise party at our place.
The menu is absolutely simple, we are doing everyone's fav pizza (actually getting it delivered) with lots of drink and I volunteered to make dessert at home.
And what better way to cheer someone than an ooey-gooey, moist chocolate cake !!!
Since some of our friends who are are attending the party are vegan, so I decided to make my Vegan Chocolate Cake or the Eggless Chocolate Curd Cake.
And trust me, no-one ever comes to know it's vegan until I tell them hence the name Ultimate Vegan Chocolate Cake.
This recipe has been tried n tested on so many non-vegan friends.
They have devoured the cake every-time without doubting that it's vegan and that for me is a real test of a cake recipe!
How to Make Vegan Cake Extremely Moist?
The Answer is ——> 'Yogurt + Vinegar'
Now I'm using a dairy-free plain yogurt, but if you are not a vegan and still want to make it, you can use regular plain yogurt too.
Also, I wanted to mention that every time I make a Chocolate cake, I always add a pinch of instant coffee to it.
It enhances that rich chocolate flavors further and definitely gives it this rich-intense chocolate look which to me is always so gorgeous!
The rest of the ingredients are the same as of any cake and yes, I'm using olive oil.
Hence the cake is actually very light to eat – One bite of this cake and you'll know why I call it so.
Keeping with the moist, light, and fluffy theme of our cake, I wanted to keep the icing minimal.
You can definitely serve the cake as is and you'd still love it.
But if for you a party cake is not complete unless there is icing, then I got you covered my friend.
The icing, I'm making is good enough to cover the entire cake (top of it).
But I'm just drizzling it ever so lightly and then sprinkling some chopped roasted almonds on top.
I can guarantee that one bite of this cake and you'll be in love with its rich and moist flavor without actually adding too much of anything.
So this weekend, go ahead and spoil your loved ones with this Vegan Chocolate Yogurt Cake Recipe.
And I'll guarantee you happy contented faces in return 🙂
That's it for now & Have a Great Weekend Ahead ~ Hugs 🙂
DID YOU TRY MY RECIPE – AWESOME!!!
Now Quickly SNAP A PICTURE & TAG :
#easycookingwithmolly + @easycookingwithmolly on Instagram –>
Connect with Me Here: Facebook / Pinterest / Instagram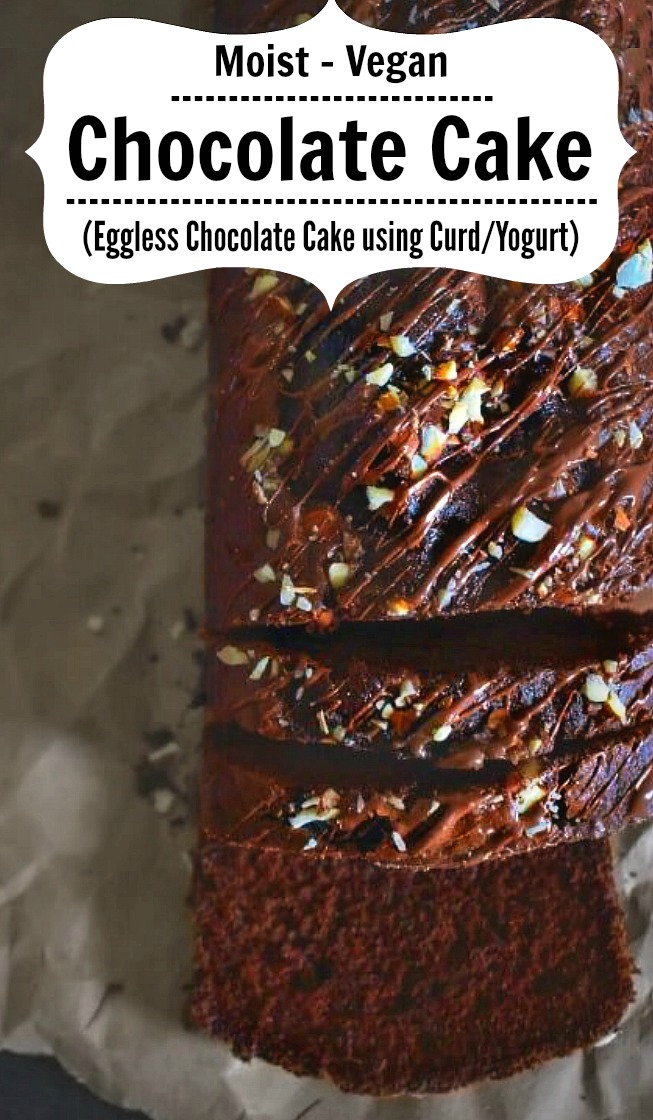 :: You May Also Like ::
Yield: 4 People
Moist Vegan Chocolate Cake - Eggless Chocolate Cake using curd
This Vegan Chocolate Cake is an eggless chocolate cake using curd/yogurt which is rich, flavorful and super moist in every bite.
Ingredients
1.5 Cup All-Purpose Flour
1/4 Chocolate - melted
1/2 Tsp Instant Coffee Powder - optional
1/2 Cup Plain Vegan Yogurt (curd)
1/4 Cup Water
1/2 Cup Olive Oil
1 Tsp Vinegar
1/2 Cup Sugar - or any sugar substitute of choice
1/2 Tsp Baking Powder
1/2 Tsp Baking Soda
Pinch of Salt
1/2 Tsp Vanilla Extract
1/4 Cup Chopped Almonds – chopped into bite-size pieces - for decoration (Optional)
Chocolate Icing:
1/4 Cup Dairy-Free Chocolate - chopped
Pinch of Coffee
5 Tbsp Almond Milk
1 tsp pure vanilla extract
2 Tbsp Powdered Sugar
1 Tsp Vegan Butter - or can use any butter of choice
Instructions
To Make the Cake:
Pre-heat oven - 375f or 190.5c
In a bowl, sieve together flour, coffee powder, baking powder, baking soda, salt and keep aside.
Take a large bowl, add oil, sugar, yogurt, water, vanilla extract and whisk for 2 minutes to form a smooth batter.
Now add the melted chocolate, vinegar, and whisk for another minute or till chocolate is evenly mixed in the batter.
Using a spatula, fold 1/4 cup dry ingredients to the whisked batter.
Follow the above step to mix the rest of the dry ingredients into the batter. (Please fold the dry ingredients slowly to incorporate air. This will result in lighter and fluffy cake).
Pour the batter into the baking pan and bake for 25 minutes.
After 25 minutes, poke a toothpick into the center of the cake and remove it instantly. If the toothpick comes out clean, it means the cake is cooked completely.
Remove the cake from the oven and keep on a cooling rack for 10-15 minutes.
Making Chocolate Icing:
In a microwave-safe bowl, add chocolate, butter, milk, and microwave for 40 seconds.
Remove from microwave, whisk and microwave it again for 30 seconds.
Remove from microwave and by now the chocolate will be melted.
Add the rest of the ingredients and whisk to a smooth pourable consistency.
Decorating the Cake:
Once the cake is completely cooled, transfer it to a serving plate.
Drizzle the chocolate icing using a fork OR you can use a butter knife to spread it like regular icing.
Sprinkle with chopped almonds.
Serve immediately or store in the fridge in an air-tight container.
* This cake freeze well without the icing.
Notes
Chocolate - I'm using a dairy-free version. You can also use cocoa powder or any other chocolate as per taste.
Yogurt - I'm using plain vegan yogurt but if not vegan, you can use any plain yogurt/curd.
Nutrition Information:
Yield:
8
Serving Size:
2
Amount Per Serving:
Calories:

245
Total Fat:

17g
Saturated Fat:

4g
Trans Fat:

0g
Unsaturated Fat:

14g
Cholesterol:

7mg
Sodium:

175mg
Carbohydrates:

39g
Fiber:

1g
Sugar:

19g
Protein:

4g