Crab Cakes with Mango Salsa: These crab cakes are soft, flavorful and have fewer fillers, which means you get more crab in every bite and the mango salsa adds a fresh fruity flavor that goes perfectly with them. This is a healthy crab cakes recipe.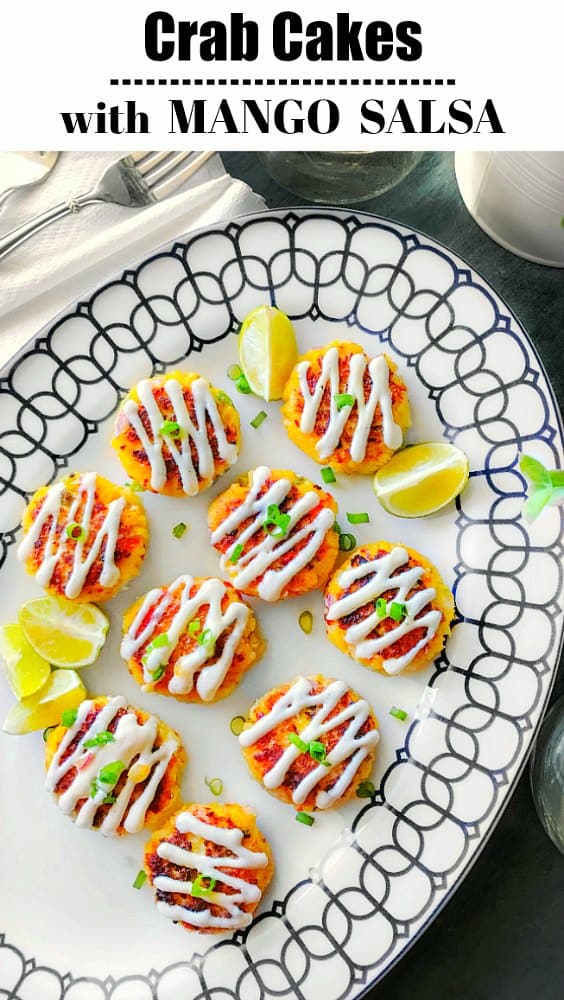 Crab Cakes with Mango Salsa is our favorite snack and we always make extra as they tend to disappear as soon as served.
My recipe is super easy and perfect to learn How to make Crab Cakes?
We recently came across these '
Beaujolais
Wine' from Eastern France, they are so versatile, fresh and easy to pair with a variety of foods.
In other words, they're about to be your go-to wines for the summer or transition to fall.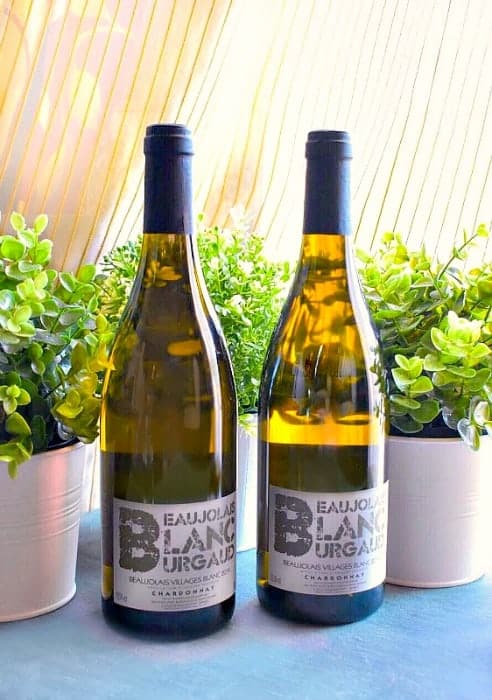 So we had a perfect reason to throw a small get-together at our place with our wine enthusiast friend (something we all keep doing within friends when we find new wines).
Now, did you know that 'Beaujolais' is one of the oldest wine regions in the world?
And since only manual harvesting is allowed in that region, that means entire bunches are sorted to remove any bad grapes.
Hence resulting in fine quality and aroma but at the same time being very attainable wine that can be enjoyed at all times.
How to Make Crab Cakes with Mango Salsa


Now, because of its light, fruity, aromatic flavors, these Beaujolais wines are a perfect pairing with my Crab Cakes with Mango Salsa.
Coming back to our recipe, where I'm using more crab meat than other fillers as I want each bite to have more of the delicious crab meat.
Also, including more meat results in juicy and soft crab cakes than adding too many other ingredients or even breadcrumbs (which will make them dense).
As the crab cakes are filled with all this crab meat, mayo, mustard, etc, they tend to become slightly more creamy hence pairing it with a fresh mango salsa adds a nice lightness.
I'm also adding a thin layer (any design you please) of light mayo on top of the crab cake to make them look even prettier and delicious …. Don't we eat with our eyes first 😉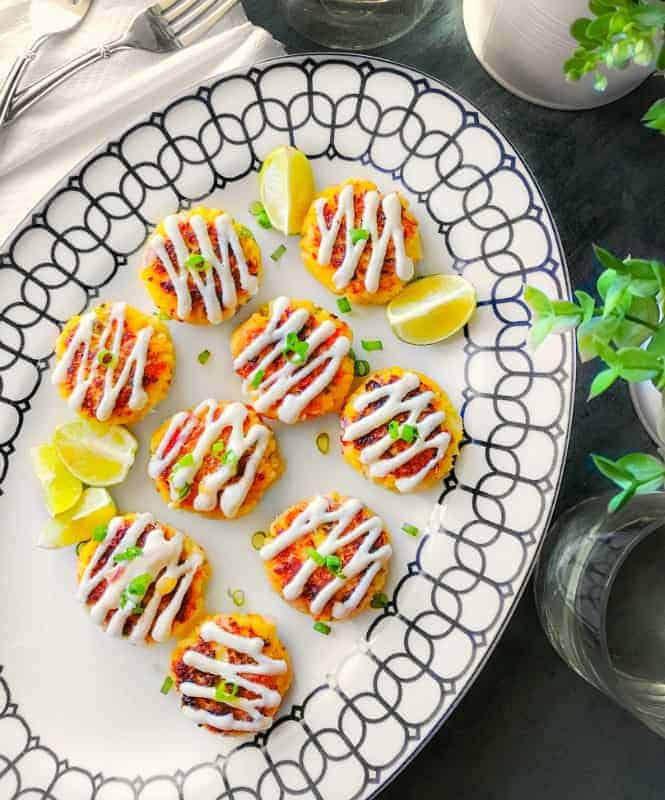 So go ahead and make these Crab Cakes with Mango Salsa and remember to serve them along with these delicious Beaujolais wines.
Infact, they come in all colors (red, white & rosé).
They are also running a fun giveaway where you can win a gorgeous wine picnic set valued at $119 :
a Rafflecopter giveaway
You can also enter to win on Beaujolais Instagram post that will be live on 8/25.
---
Tried Our Recipe – AWESOME!!!
Now Quickly SNAP A PICTURE & TAG :
#easycookingwithmolly + @easycookingwithmolly
Connect with Me Here: Facebook / Pinterest / Instagram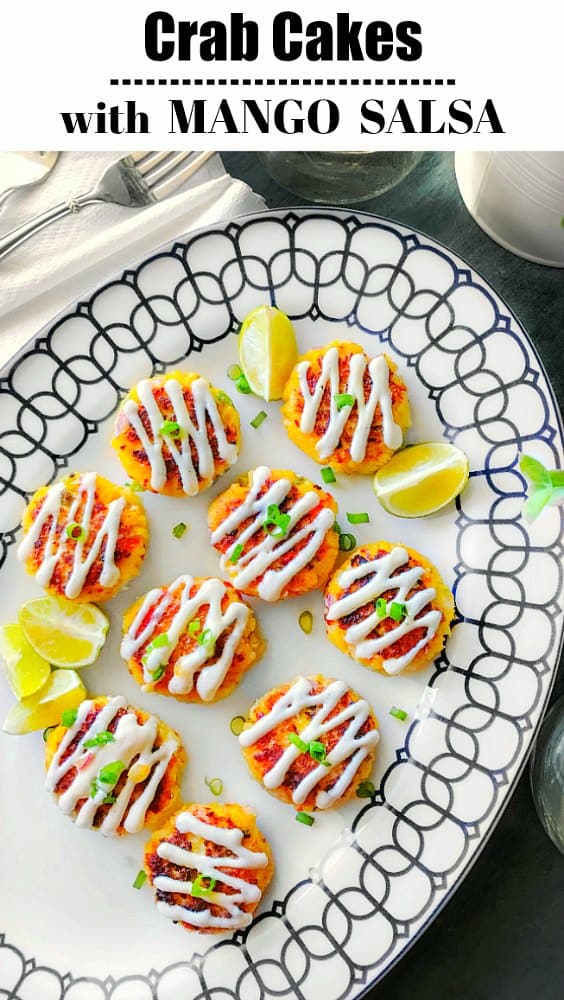 :: You May Also Like ::
Yield: 12 Medium Crab Cakes
Crab Cakes with Mango Salsa : How to make Crab Cakes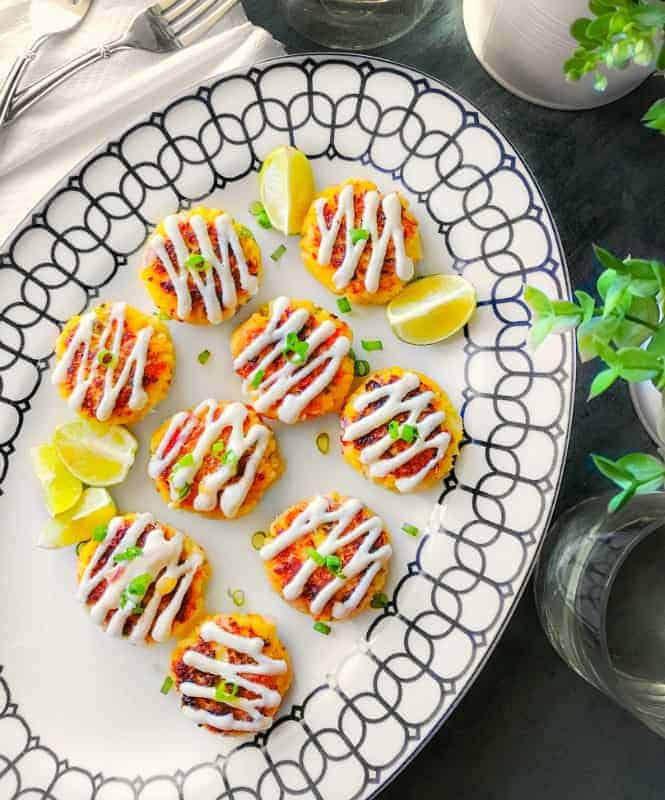 Crab Cakes with Mango Salsa: These crab cakes are soft, flavorful and have fewer fillers, that means you get more crab in every bite with the mango salsa.
Ingredients
1/2 Pound Lump Blue Crabmeat
1/2 Medium Red Onion - thinly chopped
1/4 Medium Green Bell Pepper - thinly chopped
1/2 Small Jalapeno - thinly chopped - optional
1/3 Cup Mayonnaise
1/3 Cup Panko Bread Crumbs
1 Large Egg - whisked
1 Tbsp Dijon Mustard
2 Tsp Worcestershire Sauce
1/2 Tsp Tabasco
1/2 teaspoon paprika
1 Tsp Salt
3 tablespoons vegetable oil plus more as needed
Lemon wedges, for serving
4 Tbsp Tartar Sauce - in a small ziploc bag
Mango Salsa
1/2 Ripe Mango - chopped
1/2 Jalapeno - chopped
1/4 Red Onion - chopped
1 Tbsp Vinegar
Salt - as per taste
Instructions
In a large mixing bowl, combine all the ingredients and stir until thoroughly combined.
Gently, form into patties and arrange on a parchment lined plate.
Heat a non-stick pan and add 3 tbsp oil.
Add patties and cook, rotating and flipping occasionally until evenly browned and crispy on both sides (takes about 10-12 minutes). Lower heat at any point to prevent burning, and add more oil or butter as needed if pan goes dry.
Transfer the cooked crab cakes to serving plate.
Now take the ziploc bag (filled with tartar sauce) and snip it on one end.
Pipe the tartar sauce over the crabcake.


Make the Mango Salsa:
Combine all the ingredient in a bowl and stir evenly.
Transfer to serving bowl.


Place the mango salsa bowl along with the crabcakes and serve immediately.
Nutrition Information:
Yield:
12
Serving Size:
3
Amount Per Serving:
Calories:

130
Total Fat:

10g
Saturated Fat:

1g
Trans Fat:

0g
Unsaturated Fat:

8g
Cholesterol:

37mg
Sodium:

463mg
Carbohydrates:

7g
Fiber:

1g
Sugar:

3g
Protein:

5g