Masala Palak Paneer (Sauteed Spinach with Cheese): fingerlicking delicious and easy spinach recipe with paneer (cottage cheese) in mild Indian spices. It can be eaten with Indian bread, rice or any other grain of choice.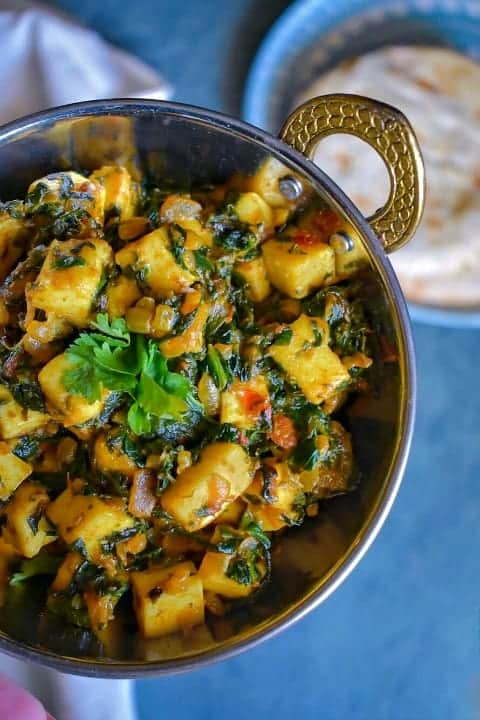 This Masala Palak Paneer or Sauteed Spinach with Cheese recipe is my favorite goto spinach recipe.
It's an old recipe that I'm refreshing with new pictures today and this post was published in 2015 🙂
I'm very much/Pro for eating local-fresh food, it's always great to know where your produce is coming from and interact with the local farmers…
trust me, they give some awesome tips on how to preserve/keep produce at home.
So we were sailing through these row's of colorful, fresh, yummy looking veggies, baked and many other goods when we came across a cute little boy enthusiastically selling fresh greens with his family.
Imagine, a boy of 10yrs selling you greens and telling you how beneficial they are for you (our hearts just totally melted) …
He's was soooo adorable and of course, we had to buy from his stall, so we ended up buying lots of greens and fruits.
Hence, the Sauteed Spinach with Cheese a.k.a Palak Paneer.…It's so delicious….
I'm almost drooling writing about it (And we finished the entire big serving bowl of it, all by our-self)
There's something very magical about this combination, it's like they are made for each other Spinach n Cheese 🙂 – Cheese we are talking about is "Cottage Cheese/Paneer"
Now, this is a very common and famous recipe prepared in most of the houses in India
What I'm sharing today is One of the versions (How it can be prepared) …. Trust me, there are tons of ways…It's such an easy recipe with flavorful impact.
All you need is spinach, onion, cheese and salt pepper and a secret ingredient – Flour ….
Yes, the flour soaks up the water from spinach and cheese and makes it absolutely delicious, giving it a nice dry texture.
So, go ahead and try this Sauteed Spinach with Cheese – Masala Palak Paneer recipe soon.
It's also a great way of feeding greens to kids along with cheese.
If you don't eat cheese, you can skip it or add any veggie like potato/carrot to it and it tastes equally amazing.
NOTE:
Flour is added when the spinach is nicely cooked and it has to be stirred in continuously till it properly mixes with the greens and you don't see any of it.
~ Here's the recipe, Enjoy ~
Tried Our Recipe – AWESOME!!!
Now Quickly SNAP A PICTURE & TAG :
#easycookingwithmolly + @easycookingwithmolly on Instagram –>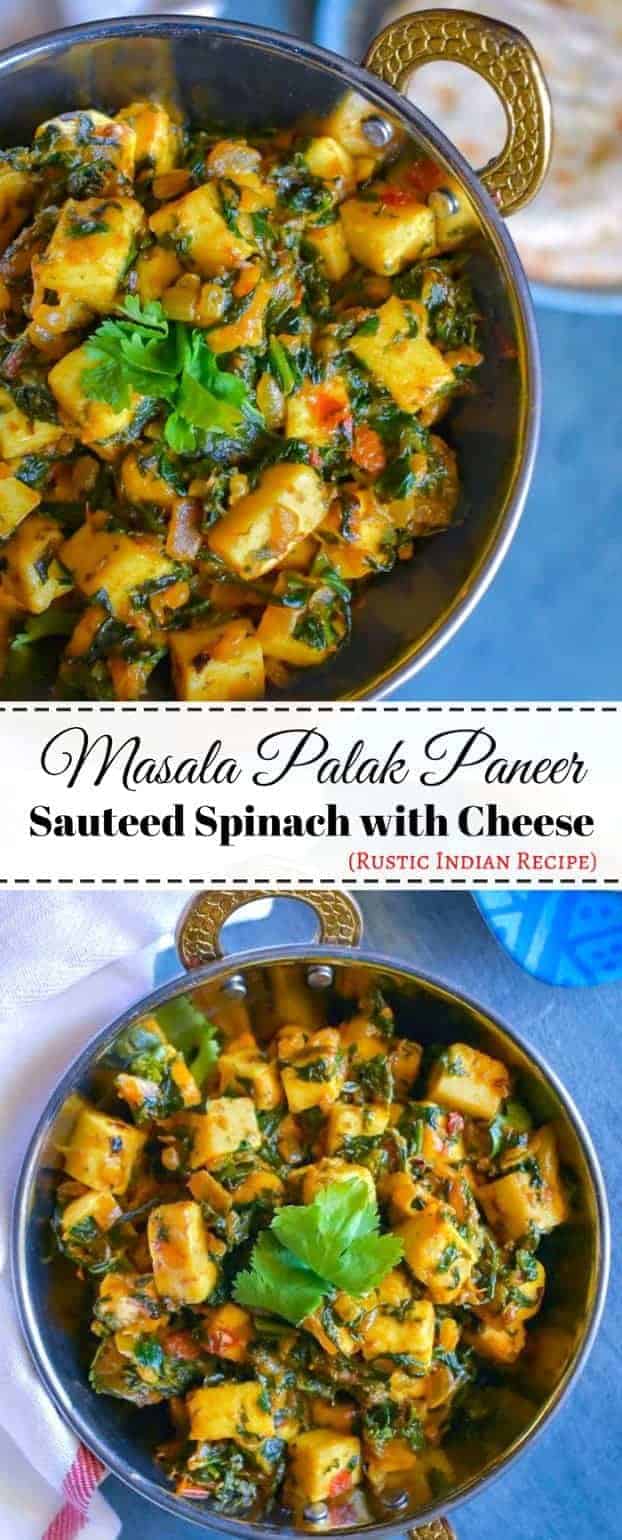 Yield: 2 People
Masala Palak Paneer (Sauteed Spinach with Cheese)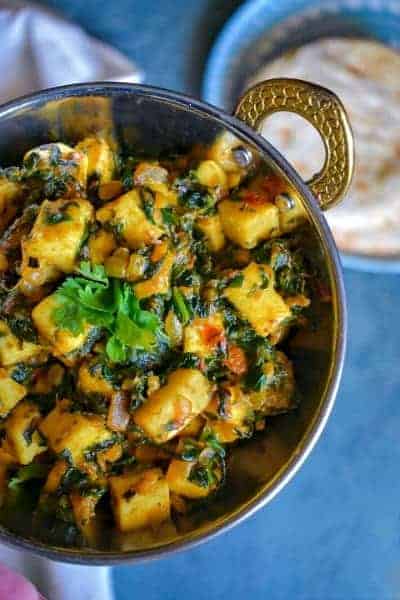 Masala Palak Paneer (Sauteed Spinach with Cheese): Fingerlicking delicious and easy spinach recipe with paneer (cottage cheese) in mild Indian spices.
Ingredients
1 Big Bunch Of Spinach– Coarsely Chopped
1 Cup Chopped Paneer - Indian Cottage Cheese
1 Large White Onion – Finely Chopped
1 Garlic Clove – Finely Chopped
1 Small Piece Ginger – Grated
2 Tomatoes – Coarsely Chopped (You may use fresh or canned chopped tomatoes)
3 Tbsp of Gram Flour – you can use plain flour too
3 Tbsp Olive Oil – You may use any flavorless oil of choice
Spices:
½ Tsp Turmeric
2 Tsp Coriander Powder
1/2 Tsp Garam Masala Powder
1 Tsp Red Chili Powder
1 Tsp Salt (As per your taste)
Instructions
Heat oil in a large pan add chopped onion and sauté for 1minute.
Now add ginger, garlic, stir evenly and cook on low heat for 2-3mins (Cook covered with lid).
Add chopped spinach, stir everything evenly, cover the lid and cook for another 4mins or till spinach
has left all the water and looks cooked. (Keep stirring every 2min and making sure?that the spinach doesn't stick to bottom)
Once the spinach is cooked, add chopped tomatoes, paneer and cook on medium for another 2mins.
Now sprinkle flour on the cooked dish, stir everything evenly and cook for another 2mins.(Making sure no lumps are formed by he flour)
Turn off the heat, transfer in serving dish and serve hot.
Nutrition Information:
Yield:
3
Serving Size:
1
Amount Per Serving:
Calories:

393
Total Fat:

20g
Saturated Fat:

2g
Trans Fat:

0g
Unsaturated Fat:

16g
Cholesterol:

0mg
Sodium:

180mg
Carbohydrates:

47g
Fiber:

6g
Sugar:

5g
Protein:

9g
Here's the old picture …. taken almost 2 years back 🙂