Cardamom and Mint Lemonade (2 Ways): The flavors of the cardamom and mint are made for each other especially in this aromatic – flavorful lemonade. You get to make this deliciousness two ways (for kids and adults).

This Cardamom and Mint Lemonade (2 Ways) recipes are definitely one of those recipes that scream summer but in very subtle and exotic ways.
Summer is incomplete without your favorite lemonade recipe and this one will surely tantalize your taste buds and leave you wanting an endless supply.
Don't go by its simple looks as every sip is power packed and will take you to this exotic land of sweet fragrance.
I'm a sucker for flavorful lemonade recipes and my summers are all about some kind of lemonade craze every year but this one always tops the list.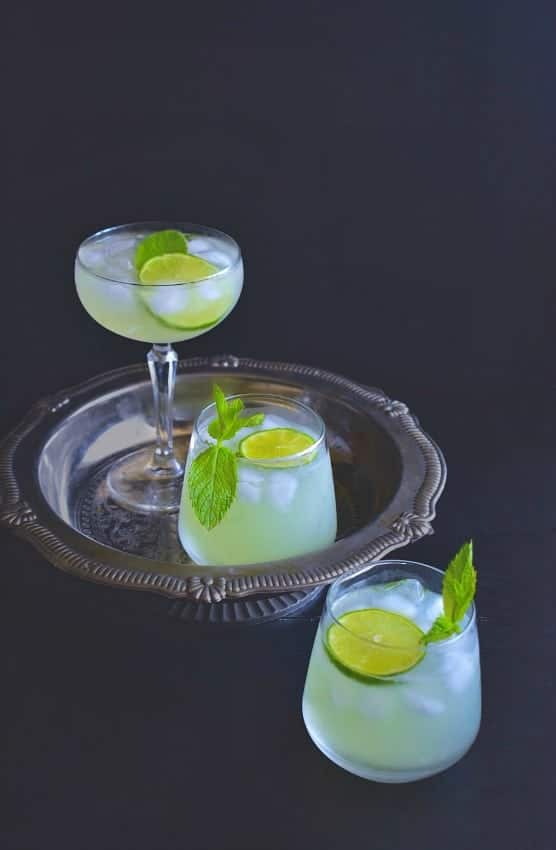 So, when one of our friends decided to drop by during a weekday with one hour notice as they were running some errands near our home and we haven't seen each other for quite some time now.
So, these cuties (Cardamom and Mint Lemonade) were the first thing that came to my mind as along with this:
'Texas Caviar with Grilled Pineapple Salsa'
'Best Homemade Chicken Curry Pizza Recipe'
(as we were already having that for dinner that night).
While the pizza was baking, I started with the simple syrup for the lemonade using whole cardamom pods, sugar, and water (you can use sugar substitute if need be).
It just takes 5 minutes to make the cardamom-mint simple syrup (you just add the fresh mint leaves once you switch off the heat).
Then let the whole thing come to room temperature and sieve everything into a glass jar/bottle.
This syrup can stay in the fridge for a month.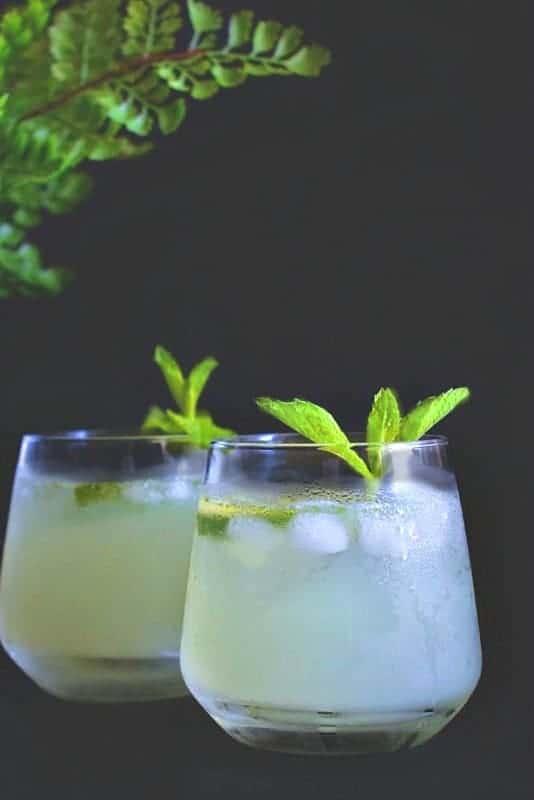 That's all the cooking required in this recipe, then you just squeeze some fresh lemon juice, get some ice, water, and mix as per taste.
Now, this is the 1st way of making the Cardamom and Mint Lemonade.
The 2nd way is kinda fun as we are going to spike it with your choice of liquor, be it gin/vodka or rum.
Just add once the lemonade is ready, stir and serve over chilled ice.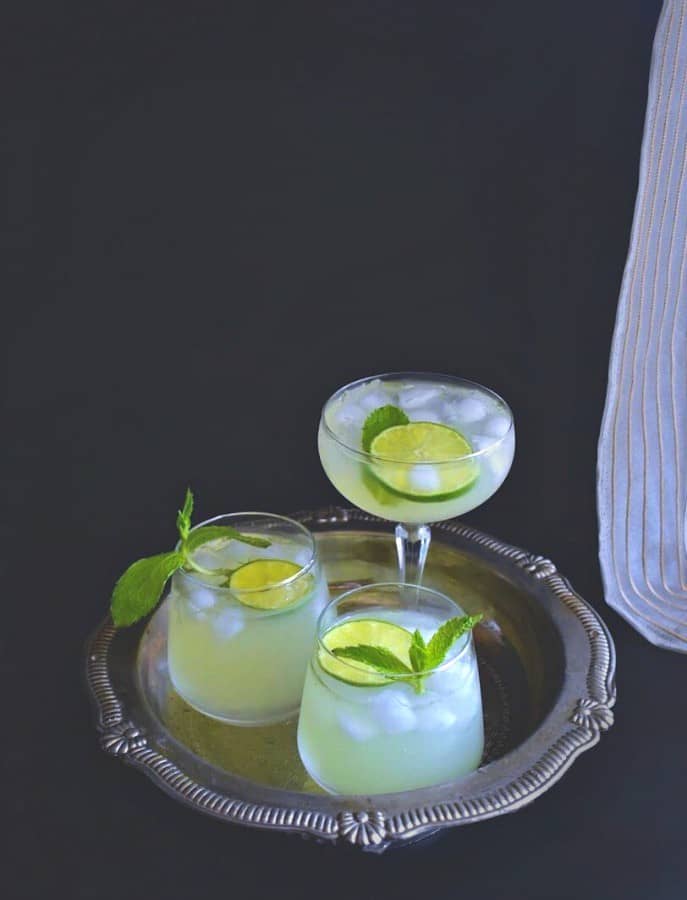 So whatever be your choice – The 1st Way or 2nd Way, I can guarantee, you've never tasted something like this before and it will definitely be on your favorite recipe list.
So, go ahead and enjoy them with friends and family.
:: Other Drink Recipes ::
---
As always, I Looove when you try my recipes and send me pictures & feedback.
You can tag my recipes tried by you using #easycookingwithmolly on any of the social media below:
Connect with Me Here: Facebook / Pinterest / Instagram / Twitter / Subscribe to our Newsletter
Yield: 6 Medium Glasses
Cardamom and Mint Lemonade (2 Ways)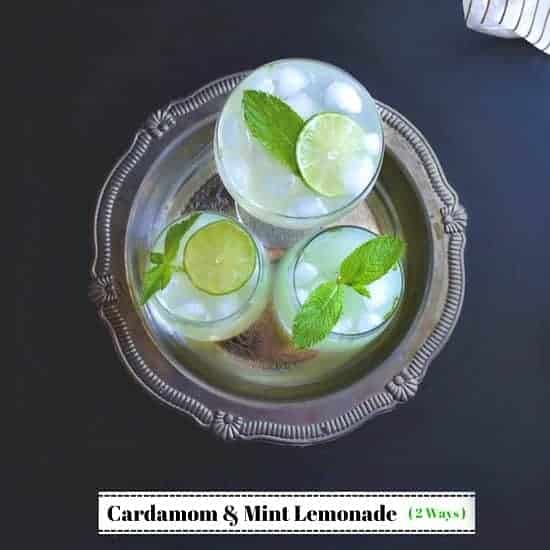 Ingredients
Cardamom - Mint Simple Syrup:
10 Whole Green Cardamom Pods - crushed slightly
3 Sprigs Fresh Mint Leaves
1 Cup Sugar
1.5 Cups Water
1 Cup Lemon Juice - fresh is always better
3 Cups Chilled Water
2 Cups Ice
Pinch of Salt
4-5 Mint Leaves for decoration
1 Lime - thinly sliced for decoration
Instructions
Cardamom - Mint Simple Syrup:
In a medium pot, add crushed cardamom pods, sugar and water.
Stir occasionally till the sugar dissolve (over low heat).
Simmer for a minute once the sugar is dissolved and then turn off the heat.
Now add the ming leaves and let everything cool down.
Strain this syrup in a glass jar or bottle and keep aside.
Make the Lemonade: (1st Way)
Pour half the bottle of syrup in a large glass jar.
Add some thinly chopped mint leaves some mint and salt.
Add ice cubes and fill up with cold water.
Stir and pour in serving glasses.
Top with fresh mint leaves, sliced lemon and serve immediately.
Make the Lemonade: (2nd Way) - For Adults
Follow the process to make the lemonade above.
Just before serving add 1/4 Cup of choice of liquor (rum/gin/vodka) and stir everything.
Pour in serving glasses.
Top with fresh mint leaves, sliced lemon and serve immediately.
Nutrition Information:
Serving Size:
1
Amount Per Serving:
Calories:

681
Sodium:

2511mg
Carbohydrates:

200g
Sugar:

183g
Protein:

1g