Blueberry Masala Soda (Indian Blueberry Lemonade): refreshing sparkling lemonade recipe that's a mix of fresh blueberries, soda, mint, and masala (Indian spice mix). It's perfect for summer party or picnic.
Blueberry Masala Soda recipe is everything you want in a summer drink.
Easy to make, refreshing and liked by everyone or you can say it's always in demand especially when friends visit.
It takes less than 5 minutes to make them and what can be better than a homemade refreshing drink that's a perfect mix of sweet, salty and a hint of tartness.
Growing up in India, we had a fresh produce market in every community, so we're so used to of eating organic, wholesome meals every day that I always used to wonder if I'll have this option when I move away.
But thankfully, that's actually the first thing I saw when I moved to California as we used to have this farmers market right across our place.
It was always filled with fresh fruits from nearby farms and they are my Favorite!
So this weekend, we visited that old farmer's market (which is quite far away from our present home) and relived some of those memories and also came home with 5 pounds of berries 😉
So as soon as we stepped into home, I made these Blueberry Masala Soda (Indian Blueberry Lemonade) as we were literally feeling toasted being almost 3hrs in the open market and the temperature was rising even beyond 95f (phew).
How to Make Blueberry Masala Soda (Indian Blueberry Lemonade)
The recipe is extremely easy to make, just need some:
Fresh Blueberries (you can use frozen too)
Plain Soda (Sparkling Water is fine too)
Masala (mix of Indian spices+herbs).
Serving Suggestion for Blueberry Masala Soda :
Just place everything in a blender and pulse till everything is smooth and mixed. Now you can serve it in two ways:
First Serving Suggestion:
Directly pour the blueberry+masala mix in a glass and pour chilled soda on it.
Now, this method is with all the pulp. (first picture)
Second Serving Suggestion:
Once the blueberry+masala mix is ready, sieve everything in a bowl.
Then pour this mix into glasses and add soda on top. (second picture from top)
So go as per your choice when serving this drink, however, the taste remains unchanged – it's still as delicious no matter how you serve.
Also, on another note and many of my friends growing up in India would remember a drink called 'Kala Khatta' or Jamun Banta'.
Which was basically a mix of sweet-salty fruit syrup (made using a seasonal summer fruit – Jamun ….blue-pink in color & oval in shape) and served in a clear glass bottle with a marble on top.
It was such a craze as this was one of the initial local drinks introduced in India and everyone-anyone wanted one.
You just need to push the marble inside the bottle so that it elevated that fizz + fruity flavor.
I still cannot forget the drink and many times during my India visit, try to find it but it's hardly available in the market.
So, this Blueberry Masala Soda (Indian Blueberry Lemonade) is the closest you'll get to make it at home without the real jamuns but the same taste and color.
So, whenever we have friends who also miss that 'jamun banta' just like we do, this drink is always made.
So, go ahead and make this drink soon and enjoy with your loved ones.
:: You May Also Like ::
Iced Mango Mint Turmeric Green Tea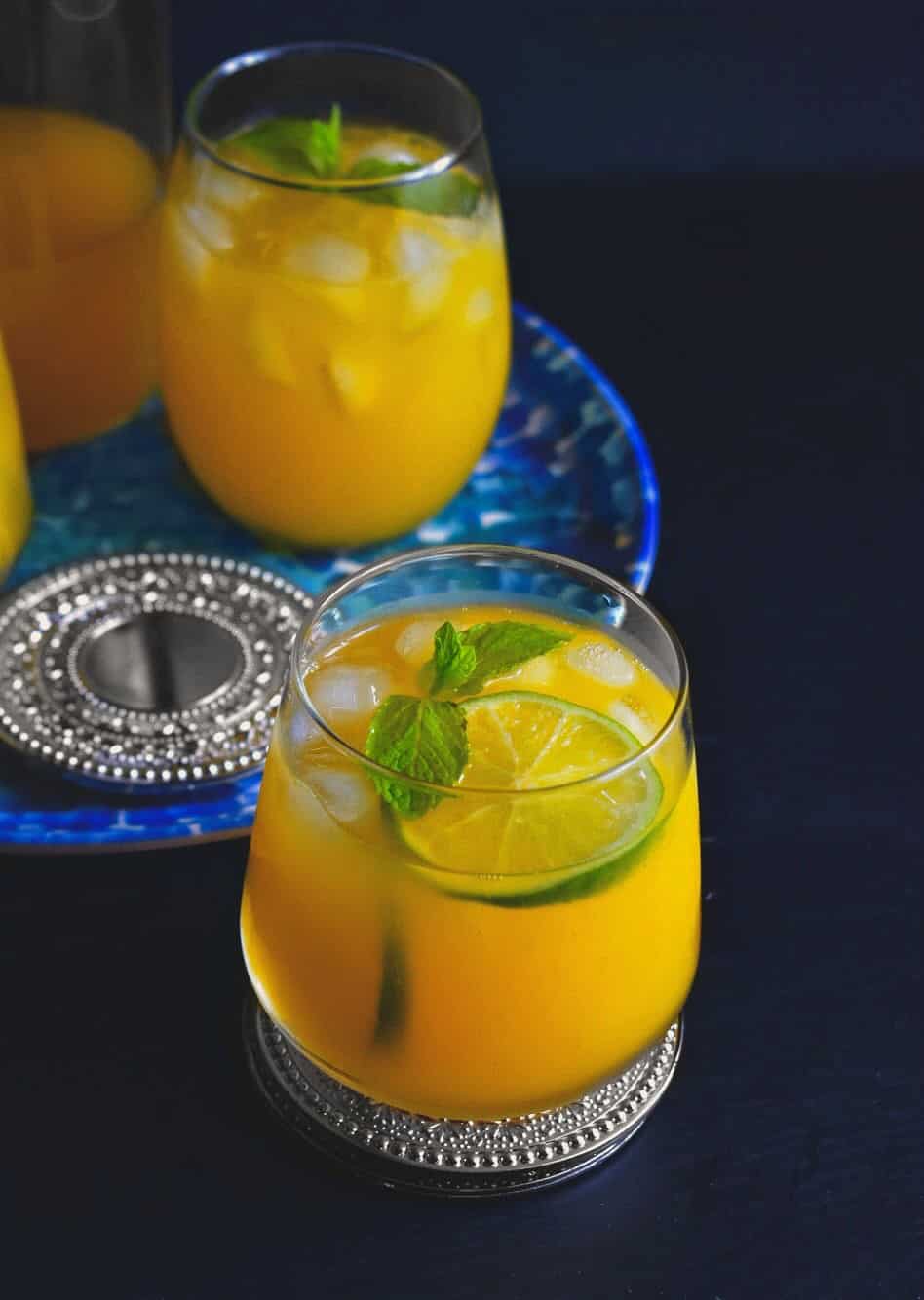 Cardamom and Mint Lemonade (2 Ways)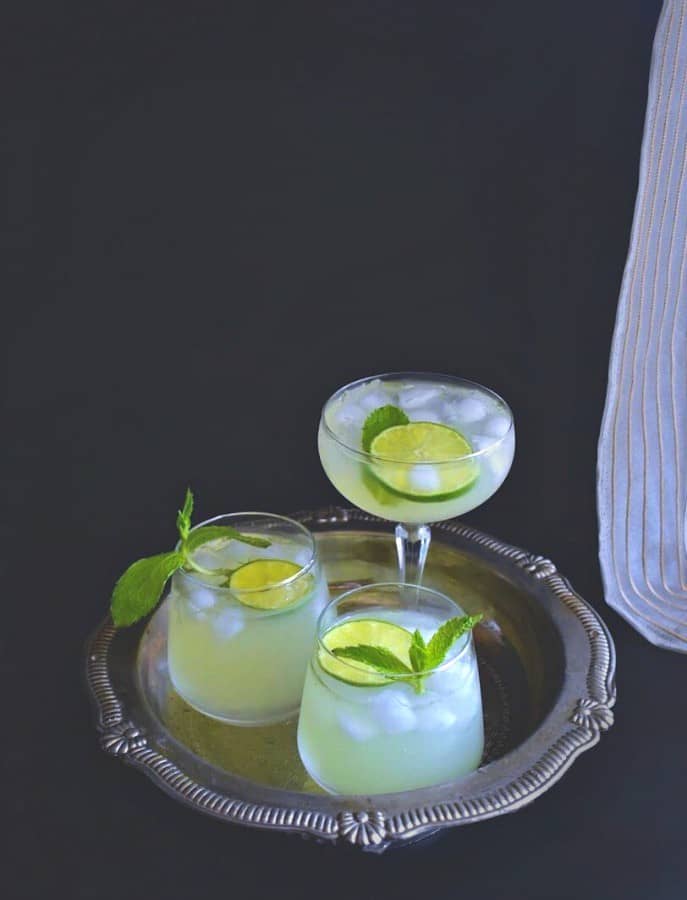 ---
As always, I Looove when you try my recipes and send me pictures & feedback.
You can tag my recipes tried by you using #easycookingwithmolly on any of the social media below:
Connect with Me Here: Facebook / Pinterest / Instagram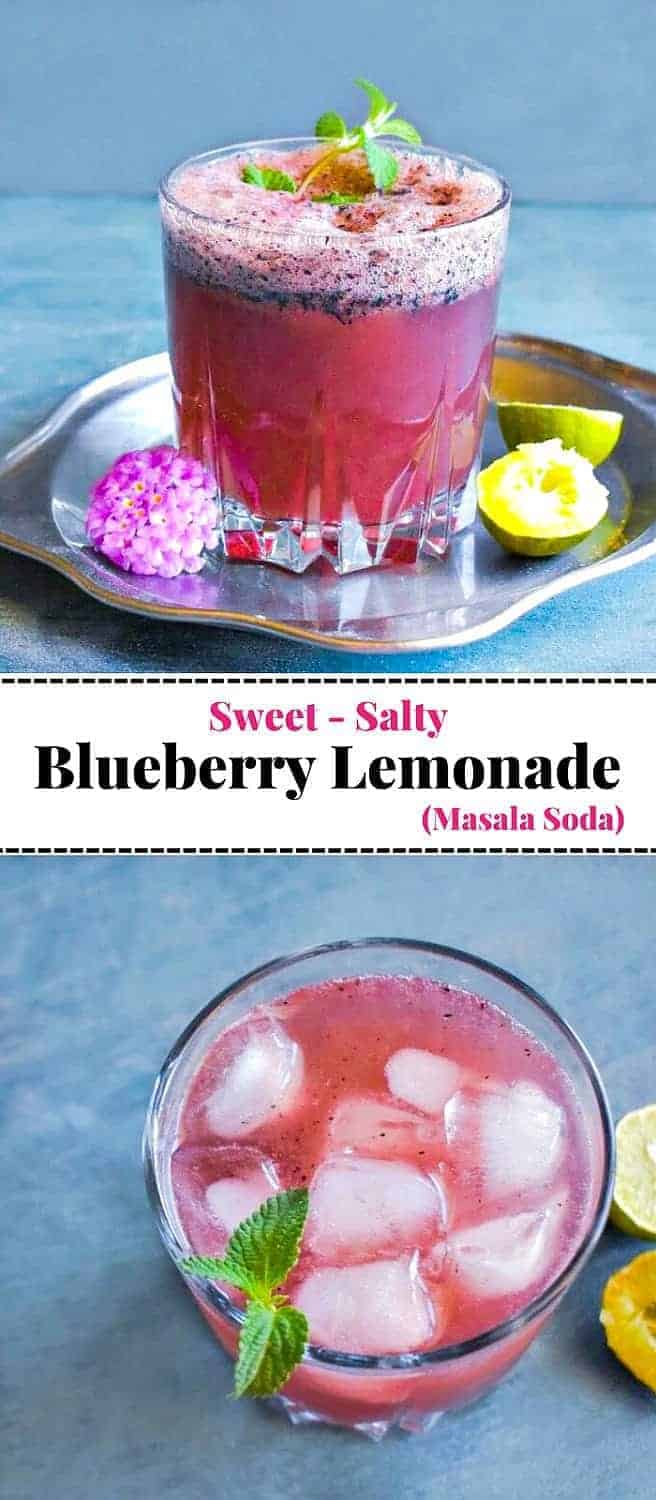 Yield: 4
Blueberry Masala Soda (Indian Blueberry Lemonade)
Blueberry Masala Soda (Indian Blueberry Lemonade) 5 minutes recipe to this delicious mix of fresh blueberries, soda, mint and masala (Indian mixed spice)
Ingredients
1/2 Cup Fresh Blueberries - fresh is preferred but frozen thawed blueberries can be used too.
2 Cans of Plain Soda
1/2 Inch Ginger Stalk
Juice of 1 Lemon
7-8 Fresh Mint Leaves
2 Tbsp Brown Sugar - use any sweetener of choice
1/4 Tsp Cumin Powder
1/8 Tsp Himalayan Salt
1/4 Tsp Chaat Masala - optional - available in most Indian store
Instructions
Add all the ingredients in a blender except soda.
Pulse to form a smooth mixture.
Method 1:
Pour 3-4 Tbsp of Blueberry Mix in a serving glass.
Add Ice and top with soda.
Serve Immediately


Method 2:
Sieve the blueberry mix and remove all the pulp.
Pour 3-4 Tbsp of Blueberry Mix in a serving glass.
Add Ice and top with soda.
Serve Immediately
Nutrition Information:
Yield:
4
Serving Size:
1
Amount Per Serving:
Calories:

137
Total Fat:

1g
Saturated Fat:

0g
Trans Fat:

0g
Unsaturated Fat:

0g
Cholesterol:

0mg
Sodium:

62mg
Carbohydrates:

34g
Fiber:

2g
Sugar:

29g
Protein:

1g