Instant Multigrain Pesto Dosa (Savory Indian Crepes) vegan and gluten-free dosa (crepes) make a healthy, delicious and quick breakfast or meal recipe.
I've mixed some of our favorite flours along with pesto for a perfect crispy delight.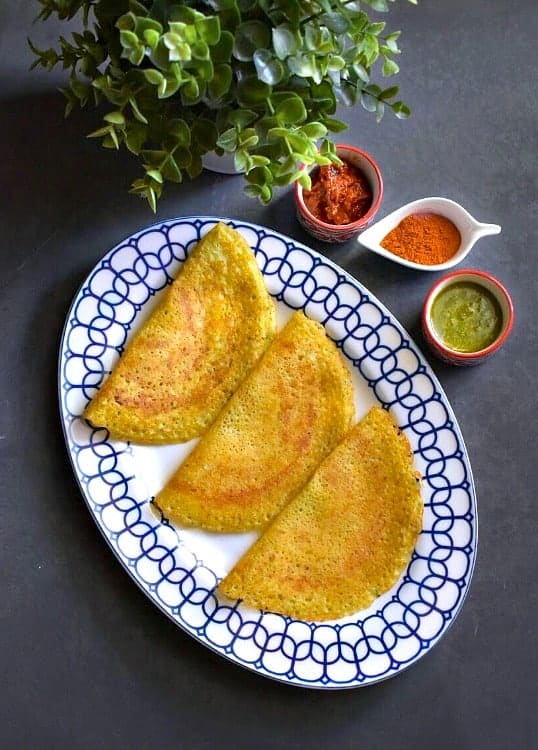 We are starting our Monday with these Instant Multigrain Pesto Dosa (Savory Indian Crepes) recipe as they are a perfect combination of healthy+deliciousness.
Dosa or Indian Crepe as many of you might know it is a famous recipe from the Southern part of India.
It's usually a mix of lentil and rice, which are fermented together and then crepes are made and sometimes stuffed with potato mixture.
Growing up, they were our favorite weekend brunch menu, whether made at home (if mom fermented the batter before) or at our favorite Indian restaurant.
It was "THE Thing" as our usual breakfast was mostly cornflakes, eggs and toast…so definitely something to look forward to over the weekends.
But after eating the same dosa for ages (with variations like tomato, cheese, meat or other options), I decided to try a fusion of Indian Dosa with Italian Pesto and Oh My Goodness –
It was a Clear Winner!! Just like all my recipes, I tried and tested this on many people for over 2yrs.
Finally, here I'm sharing it with you today (my biggest reason for not sharing it earlier was because I could never take the pictures before it was gone 😉 .
But finally, instructions were passed to not touch any dosa unless I've clicked some pictures for you'll and then they were gone in 60 seconds as if they never existed – lol.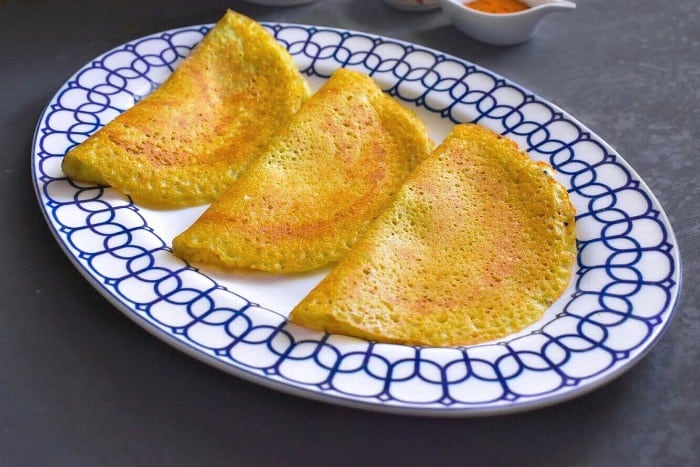 It's also a great recipe to have on hands when you don't have enough time to ferment dosa batter but want to eat it right away.
What I usually do, is make a large batch of the flour mix and keep it in an air-tight container in my kitchen pantry.
So next time, all I have to do is decide the flavor of dosa or dosa stuffing and make them asap, no waiting and definitely no time-consuming fermentation.
Now, the pesto that I used in it is a vegan variety (sent from a friend) but if you want, you can use any regular pesto or your homemade pesto would also be excellent in this.
(Here's how our batter looks when mixed):
I usually eat dosa/crepe with some kind of pickle, coconut chutney or a lentil mix called Podi, but this time I didn't have any coconut chutney.
So I'm serving them with the pickle, pesto, and lentil powder but you don't have to.
The pesto gives it a great taste and you can even serve it without any condiments.
It's also one of the easiest ways to add healthy and different kind of flours in our everyday diet as it's logically not possible to eat all the flours at the same time.
But whenever I can, I try my best to add more and more nutritional ingredients in our everyday meal.
I usually try to make our Monday breakfast slightly more interesting/delicious or you can say exciting than other days, cause we all need that extra Monday loving 🙂
So, go ahead and try this Instant Multigrain Pesto Dosa (Savory Indian Crepes) and enjoy these crispy delights.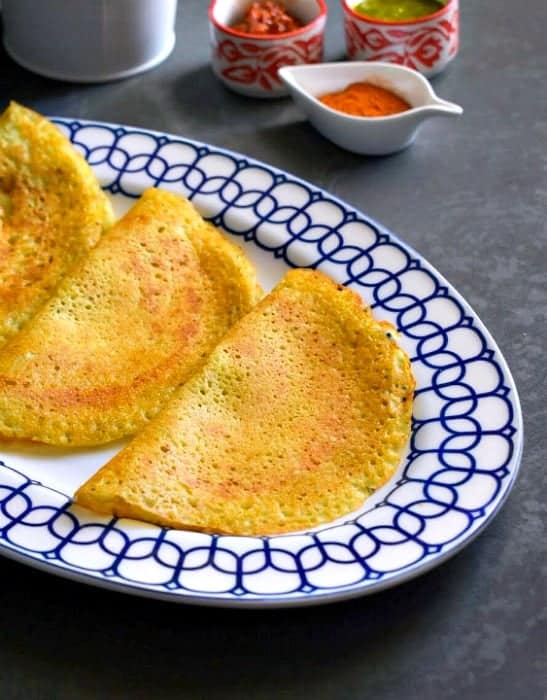 :: You May Also Like ::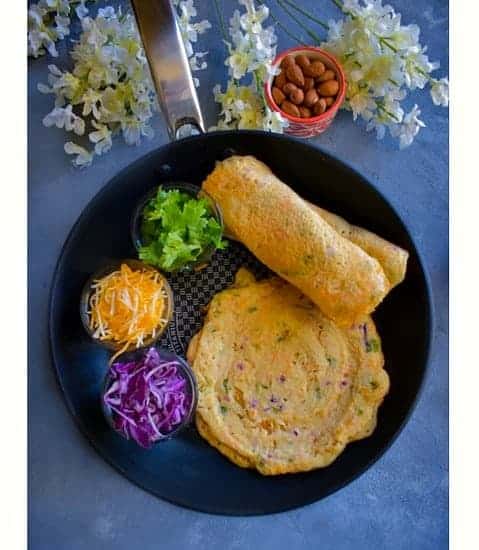 ---
Tried Our Recipe – AWESOME!!!
Now Quickly SNAP A PICTURE & TAG :
#easycookingwithmolly + @easycookingwithmolly on Instagram –>
Connect with Me Here: Facebook / Pinterest / Instagram
Yield: 10 Medium Dosa
Instant Multigrain Pesto Dosa (Savory Indian Crepes)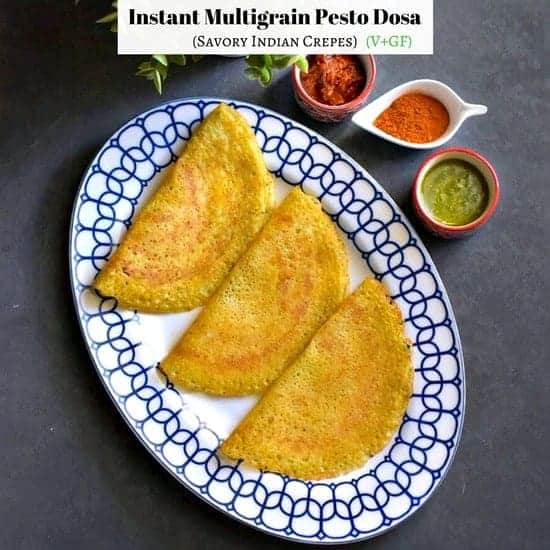 This Instant Multigrain Pesto Dosa (Savory Indian Crepes) makes an excellent breakfast recipe which is healthy and delicious.
Ingredients
MultiGrain Flour:
1/4 Cup Quinoa Flour
1/4 Cup Rice Flour
1/2 Cup Oat Flour - I'm using glutenfree variety but you can use any
1/2 Cup Buckwheat Flour - (kuttu ka atta)
1 Cup Millet Flour - (bajre ka atta)
2 Tbsp Black Gram Flour - urad dal atta
3 Tbsp Moong Flour - moong dal flour
Other Ingredients:
1 Tbsp Pesto - I'm using a vegan pesto but you can use any variety.
1/4 Tsp Green Chili Paste - optional
1/4 Cup Plain Yogurt - I'm using a vegan yogurt, but you can use any plain yogurt
2 Cups Water
Salt - as per taste
Pinch of Turmeric
5 Tbsp Olive Oil - to make the dosa/crepes
Instructions
In a large bowl, add all the different flours and mix together.
Heat a flat pan/ griddle on medium heat.
Now, add all the other ingredients (except olive oil) and mix using a whisk to form a lump-free, pouring consistency batter (should not be very thin).
(Your pan should be heating for atleast 2 minutes and hot before you start making dosa)
Pour a ladle of batter in the center and quickly spread into a circle. (you can make it thin or thick as per choice).
Add 1/4 tsp of olive oil around the entire dosa and let it cook for 1/2 minute or till you can see the edges leaving the pan.
(Usually the dosa is golden brown in the bottom by this time.)
Flip over and cook the other side for 1/2 minute.
Transfer to a serving plate and serve immediately.
(Similarly, make all the dosa/crepes)
Notes
* The Dosa needs to be served asap once made or they get soggy.
** The Dosa batter can be kept in fridge for 2 days in an air-tight container.
*** The Dry MultiGrain Dosa Flour Mix can be kept in an air-tight container for upto a month.
Nutrition Information:
Yield:
5
Serving Size:
2
Amount Per Serving:
Calories:

765
Total Fat:

27g
Saturated Fat:

5g
Trans Fat:

0g
Unsaturated Fat:

21g
Cholesterol:

9mg
Sodium:

457mg
Carbohydrates:

106g
Fiber:

11g
Sugar:

9g
Protein:

25g