Vegan Rose Mango Lassi Popsicles (V+GF): These flavorful, easy & delicious popsicles made using mango pulp, coconut, and a few ingredients. Stays in the freezer for a week or two.
Summer is in full swing and we had a very hot weekend but thanks to these Vegan Rose Mango Lassi Popsicles that we were able to maintain our sanity 😉 .
For the past few days, it goes in the upper 90's and the weekend become especially hot, so we are definitely looking at a lot of indoor time and activities.
And the extremely sunny weekends either means lots of tv time (which we are not much keen on) or the best thing is to call friends over and enjoy the day.
That's exactly what we did this Sunday and made tons of these popsicles to share.
Now, Mango Lassi is all of our favorite summer drink and these popsicles were the next best thing that you can make using the lassi!!
And to take things a notch higher, we are adding Nielson Massey rose-water to even further highlight the flavors.
There rose water is my all-time favorite and I've used it in so many of my earlier recipes like these:
Cardamom, Pistachio, and Rosewater Eggless Cake
Zarda – Indian Sweet Rice Pilaf with Saffron and Nuts
Gulabi-Kalakand' (rose milk fudge)
So, no matter how hot it is outside, you don't have to sweat a ton to make these delicious Vegan Rose Mango Lassi Popsicles as the recipe comes together in 3-4 minutes.
The only thing you've to decide is what to do for the next 2hours that it takes to freeze them.
Or unless you're going to check on them again and again which might just increase the freeze time further.
(hehhehe, trust me, we have done that in the past and it DOESN't Help at all) 😉
Here's the picture of how the popsicles actually look once they are finally frozen and been un-molded.
The trick to un-molding them without any trouble is to take a large bowl full of warm water and dip the frozen ice-cream molds in it for 3-4 seconds.
Then gently take out the molds, twist the cap and little and pull out the ice-creams ever so gently.
They come out really easily without breaking any part of the ice-cream.
(do give it a try next time you need to unmold one or when you try this recipe).
Once these Vegan Rose Mango Lassi Popsicles were out, I simply sprinkled some chopped dry rose-petals and pistachio over it.
Press it gently into the popsicles and then serve immediately – and that's it, this is exactly how easy it is to make these fragrant and flavorful pops.
The only problem I have with them is trying to stop at after eating just one.
Since we were serving these to our friends too for dessert, I actually made a couple of extra and they were all gone 😉
Apart from this friend's whom we met in the afternoon, I'm also meeting my girlfriends at my other friend's house to watch the new season of 'Game of Thrones' ;).
So go ahead and beat the heat in total deliciousness and fun way by making these Best Ever Vegan Rose Mango Lassi Popsicles and sharing with your loved ones.
:: You May Also Like ::
---
As always, I Looove when you try my recipes and send me pictures & feedback.
You can tag my recipes tried by you using #easycookingwithmolly on any of the social media below:
Connect with Me Here: Facebook / Pinterest / Instagram

Yield: 6
Vegan Rose Mango Lassi Popsicles (V+GF)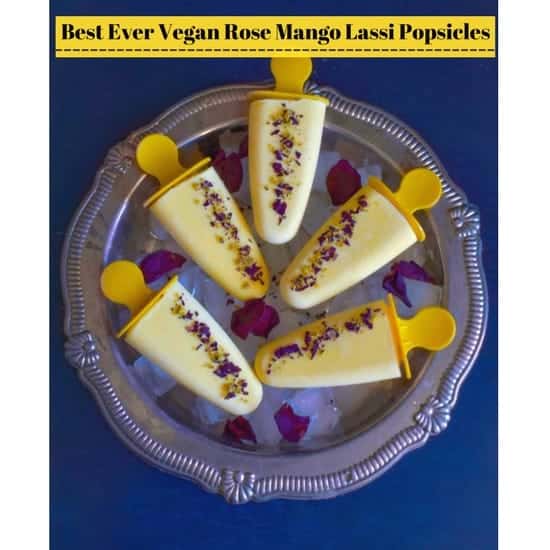 Vegan Rose Mango Lassi Popsicles (V+GF): These flavorful, easy & delicious popsicles made using mango pulp, coconut and few ingredients.
Total Time
2 hours
4 minutes
Ingredients
2 Medium Mangoes - peeled and chopped (can be fresh or frozen)
2 Cups Plain Vegan Yogurt
1/2 Cup Coconut Milk
1 Tbsp Rose Water - you may increase or decrease as per taste
1/4 Tsp Cardamom Powder
12 Medium Ice-Cream Molds with Sticks
1 Large Bowl of Warm Water - to help un-mold the ice-creams - optional
For Decoration: (optional)
1 Tbsp Dry Rose Petals - crushed
1 Tbsp Chopped Pistachio
Instructions
In a blender, add mango, yogurt, milk, rose water, cardamom and blend till smooth.
Pour the lassi in ice-cream molds, filling to the top.
Place ice-cream stick or cover and place in freezer for 2hours or till popsicles are completely frozen.
Once frozen, remove from fridge and immediately place the molds in warm water bowl (2-3 seconds).
Remove the molds from the bowl and lightly open the cover and pull the popsicles out. (This method will gently remove the ice-cream).
Sprinkle the crushed rose petals + chopped pistachio on each popsicle and press it gently for it to stick to the bars.
Serve Immediately


Notes
It takes 4 minutes to make the rose-mango lassi and about 2-3 hours to freeze them.
Nutrition Information:
Yield:
6
Serving Size:
1
Amount Per Serving:
Calories:

340
Total Fat:

38g
Saturated Fat:

24g
Trans Fat:

0g
Unsaturated Fat:

11g
Cholesterol:

130mg
Sodium:

295mg
Carbohydrates:

91g
Fiber:

4g
Sugar:

82g
Protein:

16g