Baked Mango Cardamom Donut: super fluffy, light cake batter donuts that are filled with mango and cardamom flavors. This recipe makes 24 mini donuts.
These Baked Mango Cardamom Donut + a fresh cup of piping hot coffee is my perfect start to any day … especially on Mondays!
Last year I finally bought a donut baking tray as my love for donuts is kinda insane but I couldn't muster the courage to make one at home cause:
The time it takes to proof the dough (I just can't wait that long)
the amount of oil you need to fry those pillowy soft balls of sweet heaven (ahhhhhhhh)
Seriously, I can eat them at the bakery, although I know they are fried but still atleast I'm not doing the frying part myself and feeling guilty all the time.
So Finally, Yes Finally after 1year of that donut tray looking at me everytime I opened the pantry, I finally decided to make these Baked Mango Cardamom Donut.
They are literally the softest donuts you'd bite into and they vanish in like 10 seconds 😉
Since they are baked, I gobbled 3-4 of them instantly and burned my tongue too as I just couldn't wait (remember insane donut love mentioned above).
Now, let's talk a little about the delicious 'Mango-Cardamom' flavoring as it's not your usual donut flavor.
I'd definitely call it my Indian Summer inspired donut recipe and one that you ABSOLUTELY Need to TRY!
The sweet mango pulp (fresh or store-bought) along with freshly ground cardamoms adds such a different tropical-summer feel to the donuts.
Also, if you're a donut fan like me, you should definitely give these a try soon as they are not only easier to make at home but since they are mini, you can have more than 2 or 3 or even 4 😉
Enjoy them and add these Baked Mango Cardamom Donut to your Dessert or Breakfast menu and surprise your loved ones with this Summer inspired version.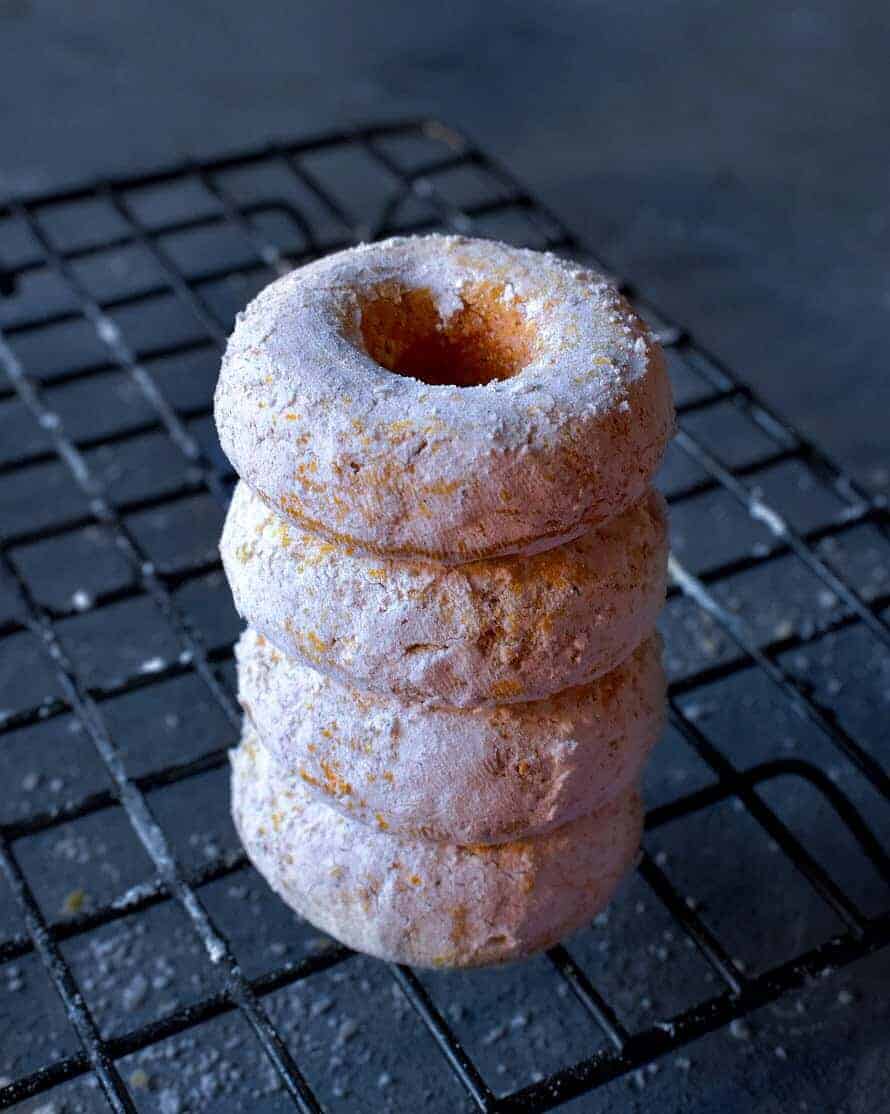 :: You May Also Like ::
---
Tried Our Recipe – AWESOME!!!
Now Quickly SNAP A PICTURE & TAG :
#easycookingwithmolly + @easycookingwithmolly on Instagram –>
Connect with Me Here: Facebook / Pinterest / Instagram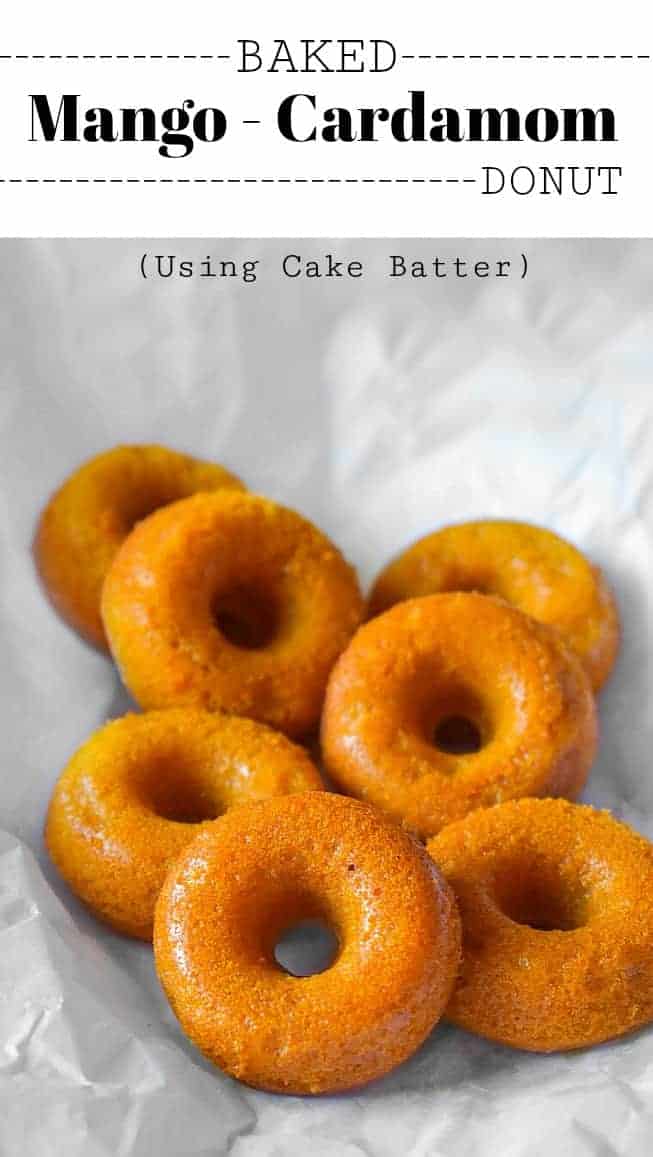 Yield: 6-7 People
Baked Mango Cardamom Donut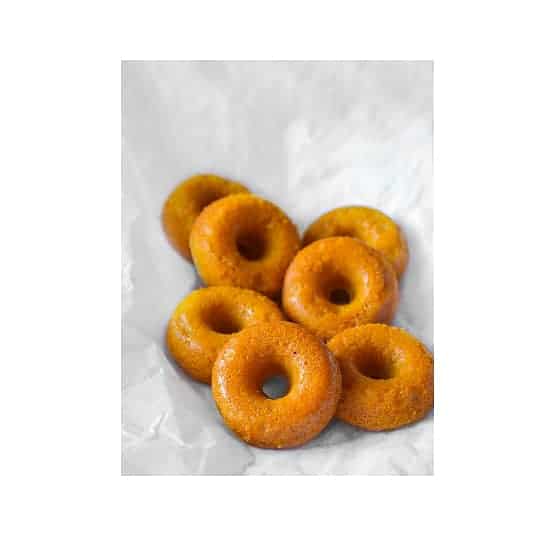 Baked Mango Cardamom Donut: super fluffy and light cake batter donuts that are filled with mango and cardamom flavors. #mango #mangodonut
Ingredients
1 Cup All Purpose Flour
5 Tbsp Mango Pulp - fresh or store-bought (available in any Indian store)
1/2 Tsp Ground Cardamom Powder
1 Egg
1/4 Cup Plain Yogurt - any vegan or non-vegan brand
1/4 Cup Vanilla Milk - you can vegan or non-vegan brand
1/3 Cup Olive Oil
1/3 Cup Sugar - optional as mango pulp is sweet enough
1/2 Tsp Baking Powder
1/2 Tsp Baking Soda
Pinch of Salt
Optional - Coating the Mango-Cardamom donut with Powdered Sugar:
Instructions
In a bowl, sieve together flour, baking powder, baking soda, salt and keep aside.
Take a large bowl, add oil, sugar (if using), mango-pulp, cardamom, yogurt, vanilla extract and whisk for 2 minutes to form a smooth batter.
Using a spatula, fold 1/4 cup dry ingredients to the whisked batter.
Follow the above step to mix rest of the dry ingredient to the batter. (Please fold the dry ingredients slowly to incorporate air. This will result in lighter and fluffy cake).
Spray a donut pan evenly with cooking spray.
Take a large Ziploc bag and transfer the batter in it.
Cut off one of the corner of the ziploc bag and pipe the batter into the donut pan ( Fill each donut hole about 2/3 full) [You can also use a pipping bag or spoon to pipe the batter].
Bake the donuts for 10-14 minutes, or until a toothpick comes out clean.
Remove the donut tray from the oven and let the donuts sit in the pan for 10 minutes.
Remove the donuts from the donut pan and place them on a wire rack to cool.
Serve Fresh.
Optional: Coat with Powdered Sugar:
Once the donuts are completely cool, you can coat them with powder sugar on both sides.
Serve Fresh.
Nutrition Information:
Yield:
12
Serving Size:
2
Amount Per Serving:
Calories:

176
Total Fat:

7g
Saturated Fat:

1g
Trans Fat:

0g
Unsaturated Fat:

5g
Cholesterol:

16mg
Sodium:

97mg
Carbohydrates:

28g
Fiber:

1g
Sugar:

19g
Protein:

2g