Spicy Masala Egg Roast with Harissa: Perfect combination of Indian and North African flavors that results into this amazingly flavorful, spicy and delicious recipe that makes for a perfect weeknight meal or weekend brunch.
This Spicy Masala Egg Roast with Harissa recipe is what I call a stress free weeknight dinner or a perfect brunch menu.
For me, weeknight dinners are much more stressful than party planning.
So whenever this Spicy Masala Egg Roast with Harissa recipe is made, I actually make a huge batch that can work for my next day lunch.
Or a side in our next day dinner too. As we usually have boiled eggs in the fridge most given days, this is an easy peasy breeze.
Infact, if you've visited any of my curry recipes before, you know that we truly love egg curries like "Bengali Egg Curry in Coconut Milk (Dimer Malai Curry)" and "Egg Vindaloo – Spicy Egg Curry" but most of the time they are such a last-minute preparation that I hardly got time to take pics and share with you'll.
So this time, I made it a point that I make it slightly earlier than our dinner time and have some pics for you 🙂
Now getting back to the recipe, this is also a perfect 'kitchen sink' recipe when you don't have literally many ingredients but the very basic eggs, onions, etc and yet you crave a scrumptious meal.
How to Make Spicy Masala Egg Roast with Harissa
I guess the only time-consuming part is sautéing the onions to this lush pink color which takes about 5-6 minutes.
Once that's done, then it all about adds this and that, sauté and cover cook for 5 mins and within 20 minutes of total time, you have a recipe that's gonna knock the socks off – literally !!
I usually serve them with hot steamed rice but you can use any side of choice (bread, rotis, quinoa, etc).
I'm serving it along with these beans recipe however they are good to go as it is too.
So, I insist that you give this Spicy Masala Egg Roast with Harissa recipe a try this week and take your regular weeknight dinners to extra fab !!
As always, I Looove when you try my recipes and send me pictures & feedback.
You can tag my recipes tried by you using #easycookingwithmolly on any of the social media below:
Connect with Me Here: Facebook / Pinterest / Instagram
Yield: 2 People
Spicy Masala Egg Roast with Harissa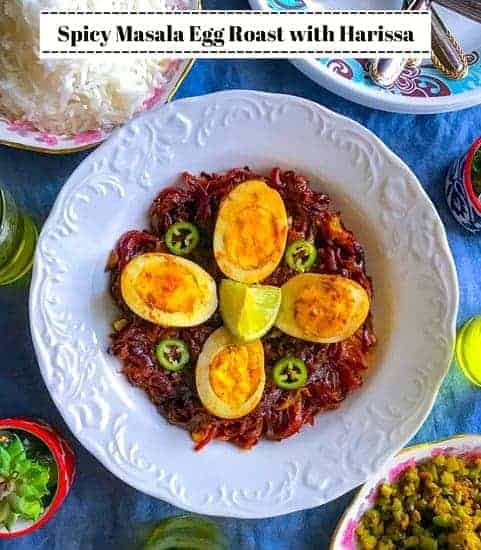 Spicy Masala Egg Roast with Harissa: Perfect combination of Indian-North African flavors that results in this amazingly flavorful, spicy & delicious recipe.
Ingredients
4 Hard Boiled Eggs - cut into half
1 Large Red Onion - peeled and thinly sliced into long strands.
1 Tsp Harissa Paste
1/2 Tsp Tomato Paste
1/4 Tsp Ginger+Garlic Paste
1/4 Cup Water
3 Tbsp Olive Oil
Sliced Lemon Wedges - for decoration
Spices:
1/2 Tsp Turmeric
1/2 Tsp Cumin
1/2 Tsp Paprika
1/2 Tsp Honey
1/4 Tsp Vinegar
Salt & Pepper - as per taste
Instructions
Heat the olive oil in a non-stick pan over medium high heat.
Add onions and cook, stirring occasionally until they are dark pink (about 6 minutes).
Add the ginger+garlic paste and cook for 1 minute more.
Add the tomato paste, harissa, all the spices and stir till everything is mixed together well.
Now, add water and let this cook for about 6 minutes, stirring occasionally (every 2 minutes).
Finally add the eggs and gently stir it along the entire masala.
Cook for another 3-4 minutes over lower heat.
Turn off the heat and transfer the dish to a serving bowl.
Place lemon wedges on top and serve hot with choice of sides.
Notes
This can be kept in an air-tight container in the fridge for upto 2 days.
Nutrition Information:
Yield:
2
Serving Size:
1
Amount Per Serving:
Calories:

395
Total Fat:

32g
Saturated Fat:

6g
Trans Fat:

0g
Unsaturated Fat:

23g
Cholesterol:

373mg
Sodium:

316mg
Carbohydrates:

15g
Fiber:

3g
Sugar:

7g
Protein:

14g