Berry Cherry Protein Chia Pudding: Super healthy, delicious, vegan and glutenfree pudding that works great as breakfast, snack or dessert. Ready in 5 minutes using a mix of berries, cherry, coconut milk, plant protein and hemp seed heart.
Berry Cherry Protein Chia Pudding is my go to breakfast these days (post BBQ parties…read total gluttony) and makes me fall in love with summer over and over again!
It what I call a 'SHOW Stopper OR A 10/10 Recipe' – divinely delicious, extremely easy to make, absolutely stunning (have wowed almost all my friends/family)
And super-duper nutritious… what more can we ask in a recipe!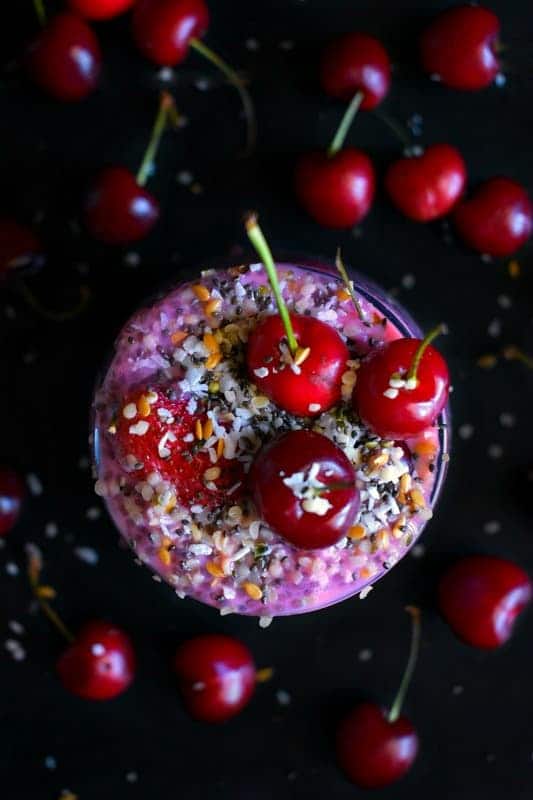 I literally love smoothies and chia puddings for that delicious+nutricious combo and I'm always trying to come up with recipes that not only taste yummy but makes our heart smile with joy 🙂
and this one goes a step further and makes your soul dance.
You literally have to make it once and you'll be hooked on the taste. It's like summer in a bowl with added taste + nutrition:
Vegetarian Protein: has pea protein along with chicory root fiber, monk fruit, etc.
Wholesome ingredients – so you can get a quick and easy dose of protein, fiber, and probiotics, without a bunch of extra junk.
———–
Hulled Hemp Seed Hearts – a superfood providing a perfect balance of omega-3 and omega-6 essential fatty acids in each serving.
These fatty acids promote heart health, lower triglycerides, work to reduce inflammation, promote brain health, and support the immune system.
Low in carbohydrates, hemp seeds are ideal for those following the paleo diet or who need to be carb conscious for their health.
Now, as you must have seen in my previous recipes like Loaded Vitamin C Immune Booster Smoothie, Mango Matcha Chia Layered Smoothie or the Chocolate Goddess Smoothie Bowl,
I'm always adding that extra nutrition to help us get that much-needed energy and vitamins to start the day or even when that 2 pm slump happens.
So, my Berry Cherry Protein Chia Pudding has the added benefits of the Protein Nutritional Boost along with Hemp Heart.
Now, apart from the above two products, you'll need some pre-soaked chia seeds (preferably soaked in milk but water will also do), some frozen berries, cherries and milk.
You can use overnight soaked chia seeds or if you don't have any pre-soaked ones, then soak them for 15 minutes.
I kept the color slightly more towards pink, however, you can add more red or blueberries to give it a color of your choice.
Also, I'm using coconut milk in this smoothie but you can use any vegan or non-vegan milk too.
So go ahead and make this delicious Berry Cherry Protein Chia Pudding to jump-start your day with not only yumminess but total gorgeousness.
It's super easy and can be even made a night before.
:: You May Try These Recipes ::
Delicious Chia Pudding Recipes
---
As always, I Looove when you try my recipes and send me pictures & feedback.
You can tag my recipes tried by you using #easycookingwithmolly on any of the social media below:
Connect with Me Here: Facebook / Pinterest / Instagram
Yield: 4 Glasses
Berry Cherry Protein Chia Pudding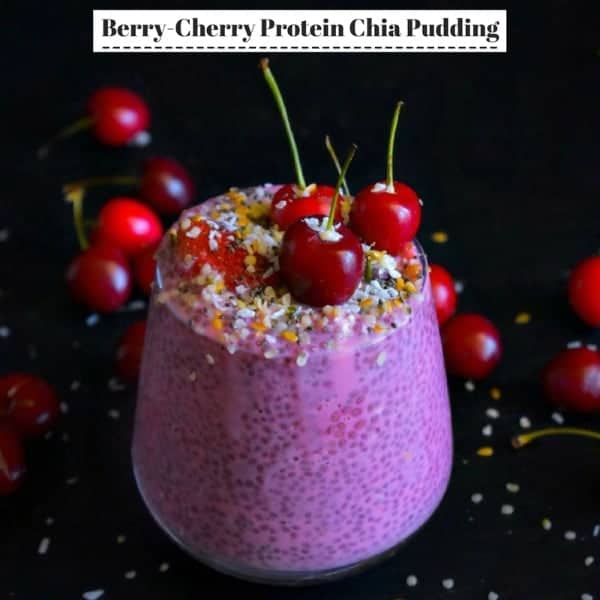 Berry Cherry Protein Chia Pudding: Super healthy, delicious, vegan and glutenfree pudding that works great as breakfast, snack or dessert. (V+GF)
Ingredients
1 Cup Soaked Chia Seeds - overnight or soak for 15 minutes. (soaked in milk preferred but water will be fine too).
For Berry - Cherry Blend :
1 Cup Frozen Berry Mix
1/2 Cup Cherry - clean and pitted
1 Cup Coconut Milk
1/2 Cup Water - you may use coconut water too
1 Tbsp Bob's Red Mill Protein Powder Nutritional Booster Vanilla
1 Tbsp Hulled Hemp Seed Hearts
Decoration:
7-8 Cleaned Fresh Cherries
1 Tbsp Hulled Hemp Seed Hearts
Instructions
Make the Berry-Cherry Blend:
Add all ingredients in a blender and pulse to form a smooth consistency.


Make the Pudding:
Transfer the berry-cherry blend in a large bowl.
Add soaked chia seeds and mix to form an even thick pudding.
Transfer the pudding to serving bowls/glasses.
Top with fresh cherry and hulled hemp seed hearts.
Serve immediately.
Nutrition Information:
Yield:
4
Serving Size:
1
Amount Per Serving:
Calories:

107
Total Fat:

47g
Saturated Fat:

24g
Trans Fat:

0g
Unsaturated Fat:

21g
Cholesterol:

74mg
Sodium:

200mg
Carbohydrates:

80g
Fiber:

20g
Sugar:

8g
Protein:

47g
* I was given some samples from Bob's Red Mill and all opinions are my own.