Watermelon Mint Chia Popsicles: Super easy and refreshingly delicious popsicles made with all natural ingredients. This recipe makes 10 medium popsicles and works as a great detox too (minus the sprinkle 😉
This weekend was extremely hot and I literally must have had 5-6 of these Watermelon Mint Chia Popsicles.
Come summertime and all I want to do is eat mostly cold food, drinks and lots of ice-creams.
My favorite is fresh, fruity ice lollies or popsicles that are so easy to make at home and packed with health benefits.
More than me, my friends and their kids love it…and yes, you read it right, the kids love it as they can only see 'sprinkles' in these cuties as the chia seeds are hidden deep within the bright red-orange color.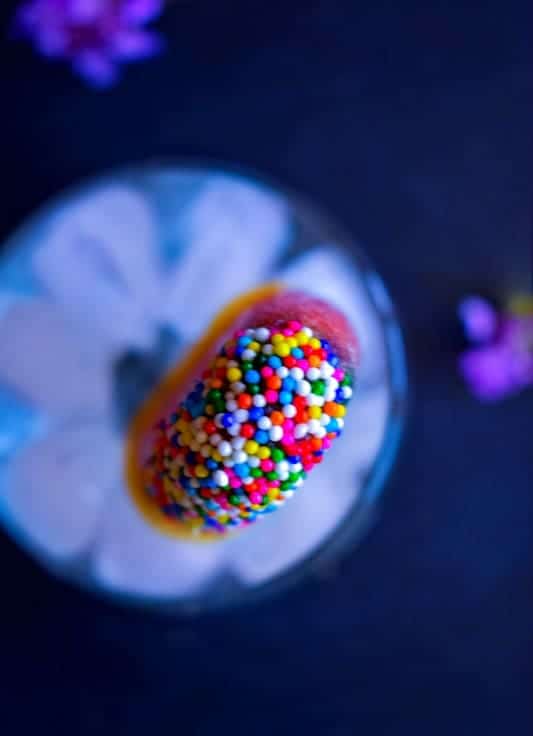 Now, who doesn't love a nice, fresh watermelon and it's one of my favorite fruit to use in summer recipes, like this
Quick Watermelon Salad with Feta-Mint and Basil'
2 Ingredients Watermelon Vodka Slushie'
And I do have many more recipes coming soon.
These Watermelon-Mint-Chia Popsicles are so easy and also makes for a great dessert for your summer parties.
I totally eat them for a light dessert after a heavy meal and since watermelon and mint have both detoxing effects, it actually cools down the tummy and also helps in the digestion system.
They are a hit with all age group and especially kids because of the sprinkles.
Now, I didn't add any sweetener or sprinkle as a part of the ingredient.
The sprinkle is only added once the popsicles are ready to serve.
Infact, this time, we made them with one of my ex-work colleague and her daughter and the kiddo absolutely loved the whole experience.
Also, as some of your kid's summer vacation would have started or started soon and this could be a fun daytime activity to do with them.
Just get their favorite sprinkles and enjoy these Watermelon Mint Chia Popsicles together.
As I always request, please do send me pictures of my recipes that you tried or you can use #easycookingwithmolly
to post them on Facebook/Instagram or Twitter and I'd definitely share them over my social media.
Until Next Time ~ XoXo
Yield: 10 Medium Popsicles
Watermelon – Mint – Chia Popsicles (V+GF)
Watermelon Mint Chia Popsicles: Super easy & refreshingly delicious popsicles made with all natural ingredients. Makes 10 medium popsicles #watermelon
Ingredients
2 Cups Chopped Watermelon Cubes - peeled and deseeded
1 Tbsp Chia Seeds
1 Sprig of Fresh Mint (7-8 leaves)
1/2 Cup Coconut Water - optional
2 Tbsp Sprinkles - any color or size
Instructions
Add watermelon cubes and mint leaves in a blender.
Pulse to form a smooth / clear juice.
Add coconut water (if using) and chia seeds.
Mix the juice with a large spoon.
Pour the juice into 10 medium size popsicles molds.
Place the popsicles molds in the freezer for 2-3 hrs (or till popsicles freezes up).
(Step below 'NEEDs to be DONE' only when ready to serve the popsicles)
Once Frozen, remove the popsicle from the mold and dip it in sprinkle as per choice.
(Cover all remaining popsicles with sprinkle).
Serve Immediately.
Nutrition Information:
Yield:
5
Serving Size:
2
Amount Per Serving:
Calories:

60
Total Fat:

2g
Saturated Fat:

0g
Trans Fat:

0g
Unsaturated Fat:

2g
Cholesterol:

0mg
Sodium:

27mg
Carbohydrates:

10g
Fiber:

2g
Sugar:

7g
Protein:

1g
Connect with Me Here: Facebook / Pinterest / Instagram