Mango Matcha Chia Layered Smoothie: Packed with antioxidants and absolutely delicious, this is a perfect smoothie to kick-start your day.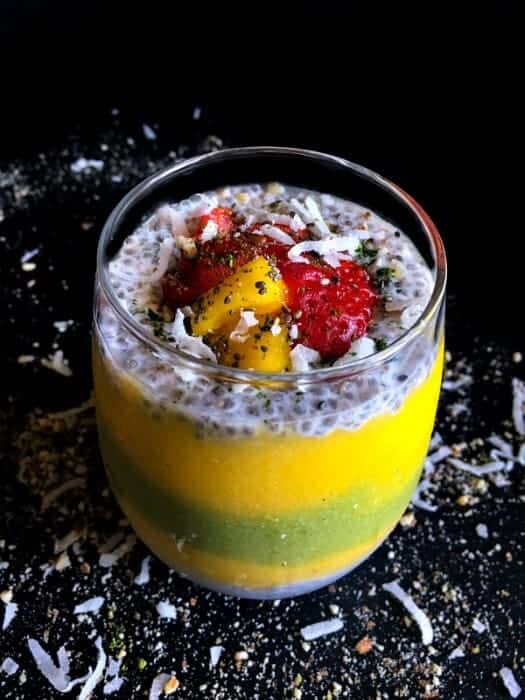 This post was long due and I'm so excited to finally share the Mango Matcha Chia Layered Smoothie with you'll today.
I'm a BIG smoothie fan …Who Isn't right? I mean give me a bog bowl of fruits and I might sit with it the whole day but give me a smoothie and I'm all done in 5 minutes –
This is the reason why I love smoothies so much !!!
And with all the morning chaos, they make such a quick and yum breakfast unless we are craving a huge stuffed omelet or french toast (which altogether is a different zone 😉 )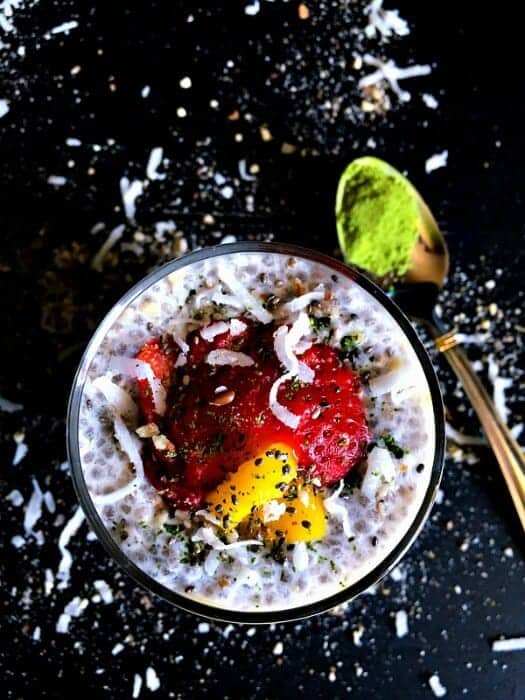 So, I'm always looking at new products to try in my smoothies or new kind of yogurt as a base and that's how I recently came across Cacique Yogurt Smoothie.
They have 8 gms of proteins, 25% of our daily calcium and probiotics.
All their yogurt smoothies are gluten free with the exception of the three with cereal:
Strawberry Banana w/cereal,
Prune w/cereal
and Pecan w/cereal.
With so many awesome flavors, I decided to first try all the fruit flavors smoothie and they taste amazing.
So I've decided to try their mango yogurt smoothie to make my Mango Matcha Chia Layered Smoothie. (Pic of ingredients below)
I've made this smoothie a number of times and the most exciting part about it is making the layers.
It's so much fun that we have gone absolutely bonkers creating layers after layers and literally landed with more smoothie than we can consume in a day.
(Seriously, the top shelf of the fridge was stacked with cups of layered smoothie in see-through glasses wrapped on top – lolz).
That being said, let's get back to HOW you can make them?
The only thing that takes 2-30 minutes to fluff up is Chia seeds (unless you want to use them as powder).
So just soak the chia seeds in milk or coconut milk (as I did) and as soon as they are fluffed up, you are good to go.
The rest of the process is explained in the recipe section below.
There is no definite rule of layering this smoothie, you can add mango/matcha or chia whatever layer you want at top/ bottom or in-between.
I decorated it with some coconut flakes, chia seeds, crushed almonds and a sprinkle of matcha powder and it looked absolutely GORGEOUS!!!
The colors were brilliant when paired together and the taste was yummylicious!
So, definitely give this smoothie a try and get more information about Cacique -> Here .
---
Tried Our Recipe – AWESOME!!!
Now Quickly SNAP A PICTURE & TAG :
#easycookingwithmolly + @easycookingwithmolly on Instagram –>
Connect with Me Here: Facebook / Pinterest / Instagram / Twitter / Subscribe to our Newsletter / Google+

Yield: 3
Mango Matcha Chia Layered Smoothie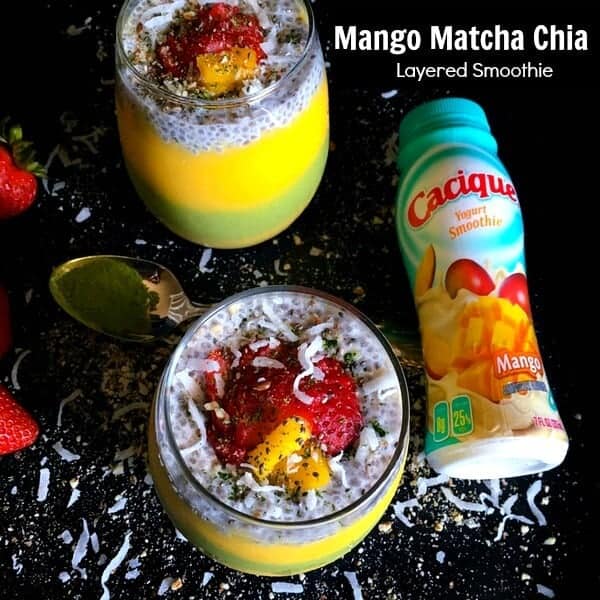 Mango Matcha Chia Layered Smoothie: Packed with antioxidants and absolutely delicious, this is a perfect smoothie to kick-start your day.
Ingredients
2 Bottles Cacique Yogurt Smoothie (Mango)
1 Cup Water
2 Tbsp Coconut Milk
1 Cup of Frozen Mangoes
1/2 Cup Chia Seeds
1 Cup Coconut Milk - you can use any other milk too
1 Tsp Matcha Powder
Decoration
3 Strawberries - sliced
1 Tbsp Coconut Flakes
1 Tbsp Crushed Almond - use 3 raw almonds to make them
1/2 Tsp Chia Seeds
1/4 Tsp Matcha Powder
Instructions
Add mangoes, water, coconut milk and cacique mango smoothie in a nutribullet and pulse to form a creamy mixture.
Remove half of the content in a bowl.
Add 1 tsp matcha powder to the remaining mango mixture in jar and pulse to form the matcha mixture.
Transfer the matcha mixture to a bowl.


Assemble The Smoothie
Take a serving glass and layer the bottom of the glass with 2 tbsp of soaked chia seeds.
Now, slowly add 3 tbsp of the mango layer and spread evenly.
Add 2 tbsp of matcha layer and spread evenly.
Repeat with a layer of 3 tbsp of mango and spread.
Top with soaked chia seeds on the top.
Similarly, create all the layered smoothie glasses.
Place a sliced strawberry on top of each smoothie with sprinkle with coconut flakes, crushed almond, chia seeds and matcha powder.
Serve Fresh or Chill for later use.
Nutrition Information:
Yield:
3
Serving Size:
1
Amount Per Serving:
Calories:

645
Total Fat:

35g
Saturated Fat:

20g
Trans Fat:

0g
Unsaturated Fat:

13g
Cholesterol:

14mg
Sodium:

159mg
Carbohydrates:

73g
Fiber:

18g
Sugar:

41g
Protein:

19g
* This Post is sponsored by Cacique. All opinions are mine.