Quick Thai String Bean and Chicken Recipe: an easy and delicious recipe bursting with Thai flavors.
Quick Thai String Bean and Chicken can be paired with steamed rice/grain or noodles.
It can be stored in the fridge for 2-3 days.
Finally, it's Friday and I'm so ready to curl up on the sofa and eat large bowls of this Quick Thai String Bean and Chicken with steamed rice.
Although, we shouldn't be complaining as this week was such a breeze due to a long weekend (holiday on Monday and Tuesday).
But I guess all that long weekend partying, food and lack of sleep are making me so tired and restless.
So, we are planning to keep the coming weekend really relaxed…..maybe watch a new movie or stroll through our favorite farmers market…
Whatever we end up doing, the food is going to be really simple yet comforting.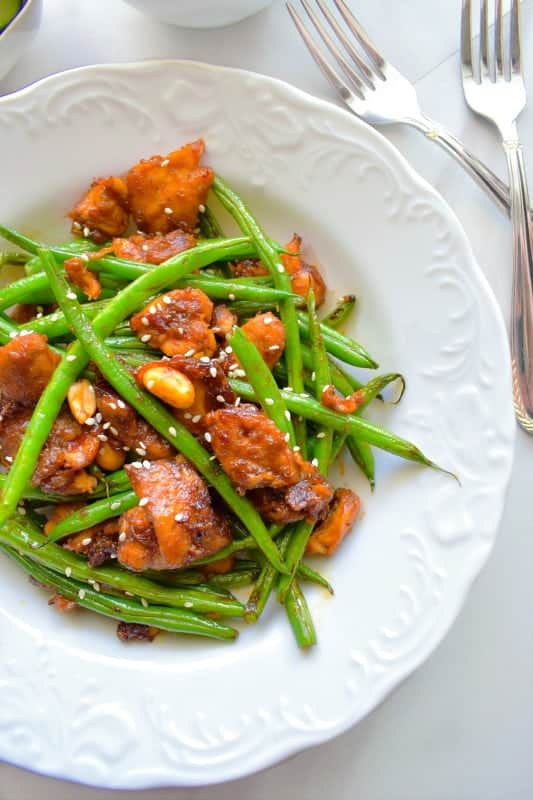 Infact, the whole long weekend, we had so much of BBQ meat/drinks and dessert that we have been mostly eating cold soup or sandwiches for past 3 days now.
So, I'm going to surprise 'D' with his favorite Thai String Bean and Chicken, seriously, I feel I've fed him too many sandwiches this week ;).
And as we both love Thai food, this is a perfect combination of taste+ease.
It has crunchy beans, juicy chicken with Thai flavors and I'm also adding some dry roasted peanuts for that buttery taste – Total #nomnomnom !
The recipe is really simple but you do have to follow a few tips/tricks to make it even more flavorful.
Here are a few TIPS that I recommend for that perfect crunchy Thai Flavor:
1. Use Thin Green Beans – the thinner, the crunchier and takes less time to cook.
2. Cut the Chicken Really Thin – so that it cooks quickly and evenly.
3. Cook the Chicken First and Then the Beans in Chicken Fat/Oil – this gives maximum flavor.
4. Always Cook Thai food in Deep Pans/Wok – for even and quick cooking.
5. Use Homemade Curry Paste – the most important.
That's it, these are the 5 Quick Tips for the perfect Quick Thai String Bean and Chicken.
And you can pair it with any choice of side or just have it as is.
You can even try some of my other Thai Recipes:
Go ahead and make this crunchy recipe and treat your loved ones to this deliciousness.
I'll see you with a fun and delicious recipe on Monday. Till then ~ Have a Great Weekend!
---
As always, I Looove when you try my recipes and send me pictures & feedback.
You can tag my recipes tried by you using #easycookingwithmolly on any of the social media below:
Connect with Me Here: Facebook / Pinterest / Instagram / Twitter / Subscribe to our Newsletter / Google+

Yield: 2 People
Quick Thai String Bean and Chicken Recipe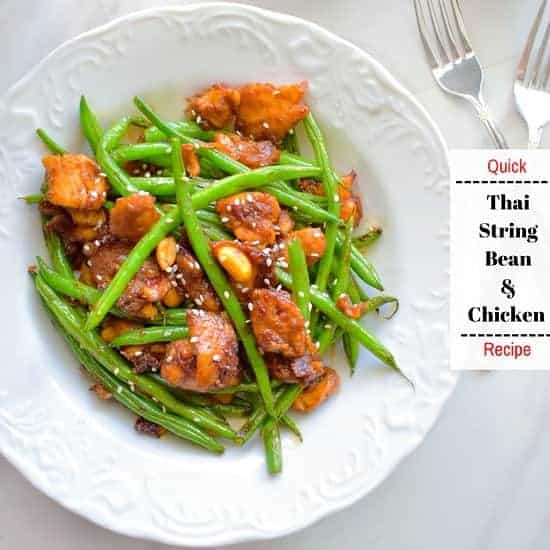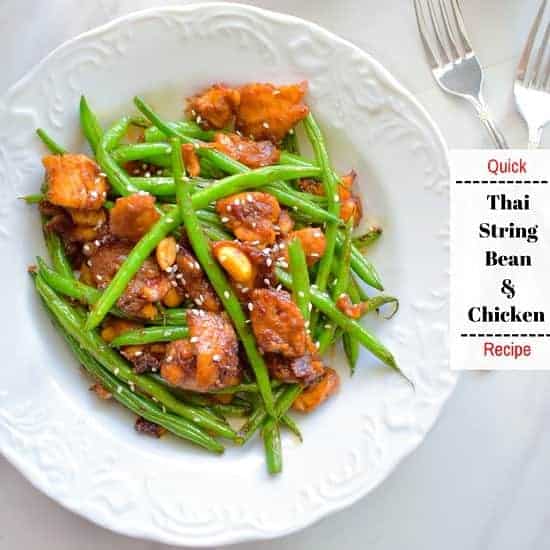 An easy and delicious string beans recipe sauteed with chicken, bursting with Thai flavors.
Ingredients
1 Chicken Breast - cut into thin strips
1/4 lb Green Beans - trimmed
2 Kefir Leaves - optional
2 Tbsp Roasted Peanuts - optional
2 Tbsp Sesame Seed Oil - for frying?
1 Tsp Sesame Seeds - for decoration
Thai Curry Paste: (you may use store bought paste too)
1 Clove of Garlic
½ Inch Thai Ginger - you may use regular ginger too
2 Thai Chilies - you may use 1/2 tsp chili paste
1 Cube of Frozen Basil - or use 3-4 fresh Thai Basil
½ Tsp Palm Sugar - you may use Honey or Brown Sugar
1 Tsp Soy Sauce
Salt to taste
Pepper to taste
Instructions
! Make Thai Curry Paste
Take Morter Pestle and add the 'Thai Curry Paste' ingredients in it.
Crush to form a rough paste.


! Make Quick Thai String Bean and Chicken Recipe
In a large skillet or wok, heat oil over medium-high heat.
Add the 2 Kefir leaves and saute for 10 seconds. (Remove the leaves then - it's only used for flavoring).
Add 1 Tsp of the Thai Curry Paste and saute for 1/2 minute or until fragrant.
Now add the chicken strips and saute for a minute over high heat.
Reduce the heat to medium and continue cooking the chicken for 4 to 5 minutes or until cooked.
Remove the cooked chicken.
Add the green beans and saute for 2 minutes (lightly cooked).
Now, add the remaining Thai curry paste and saute for another minute over medium heat.
Add the cooked chicken, peanuts and stir everything evenly.
Saute cook for 2 more minutes and then turn off the heat.
Transfer to serving bowl and serve immediately.
Nutrition Information
Yield
2
Serving Size
1
Amount Per Serving
Calories

230
Total Fat

21g
Saturated Fat

4g
Trans Fat

0g
Unsaturated Fat

15g
Cholesterol

30mg
Sodium

200mg
Carbohydrates

36g
Fiber

5g
Sugar

12g
Protein

35g