Spicy Breakfast Taco (Quick and Easy Recipe) : absolutely delicious and super easy to make with 4 basic ingredients. These are baked in the oven and makes 8 taco's in one batch. Perfect breakfast and brunch recipe for on the go you.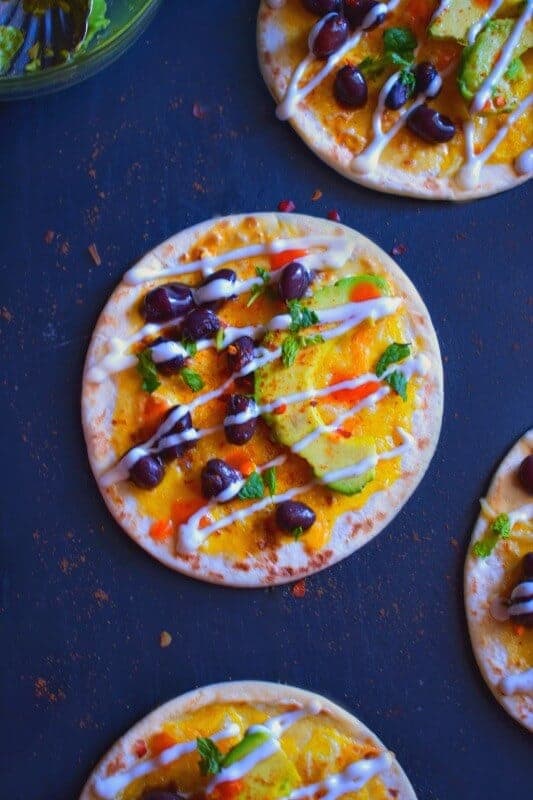 These Spicy Breakfast Taco (Quick and Easy Recipe) are just the thing you need on a busy morning or when you're on the go with no time to prep.
These are my get-go breakfast on days when we have to just grab, eat and run and trust me they taste so good that you always wish to carry an extra one for the car.
As per me and I'm sure many of you'd also agree that breakfast is always one of the most challenging meal of the day as you want to make a recipe that pleases everyone yet is healthy, quick and looks pretty at the same time (ughhh…too much pressure at times).
Especially, when you have friends/family over and you that one extra recipe to go along with your regular breakfast essentials and also doesn't disturb the budget.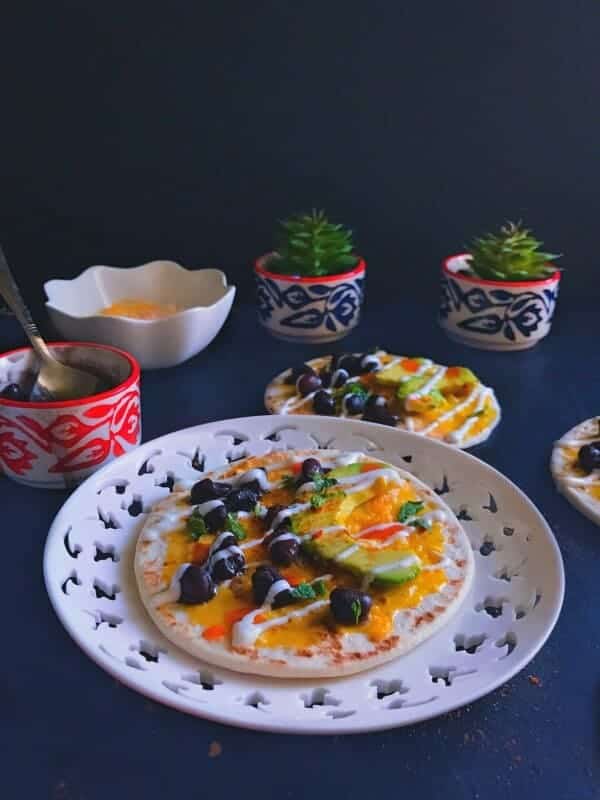 These Spicy Breakfast Taco (Quick and Easy Recipe) does just that, it's a great addition to your breakfast theme, absolutely colorful – healthy and the best part, you'd mostly have all the ingredients in your kitchen anyway.
I usually bake these cuties cause first you can make 8-9 of them in one go and second, baking gives the taco's an even crunch and melts everything perfectly without creating any extra messes.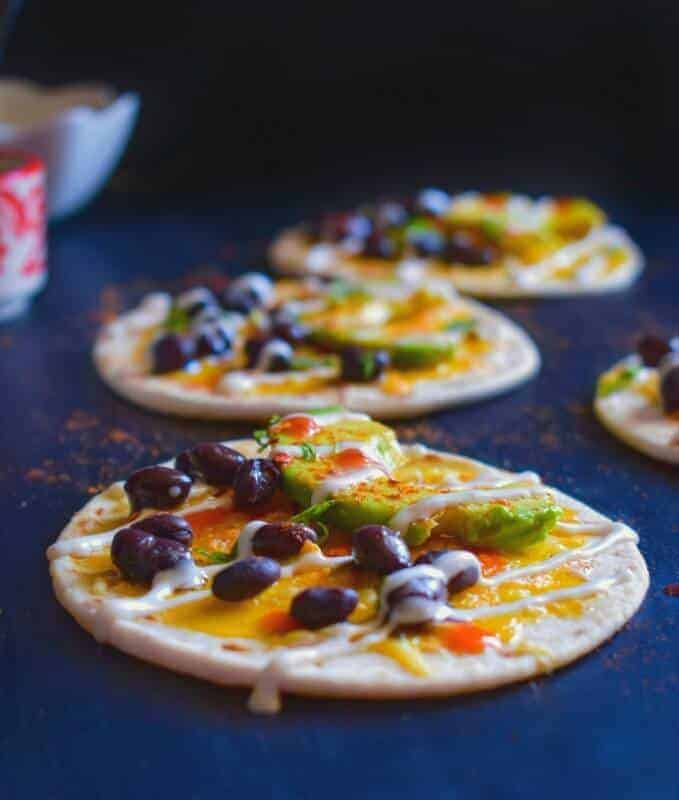 To keep the recipe quick and for the breakfast menu, I'm only using 3 toppings (avocado, black beans, and eggs) however, if you want, you may add any other topping of choice.
The recipe is easy and infact its lot of fun to try to make them with kids. I've actually tried this recipe with a couple of friend's kids and they loved adding toppings to the taco.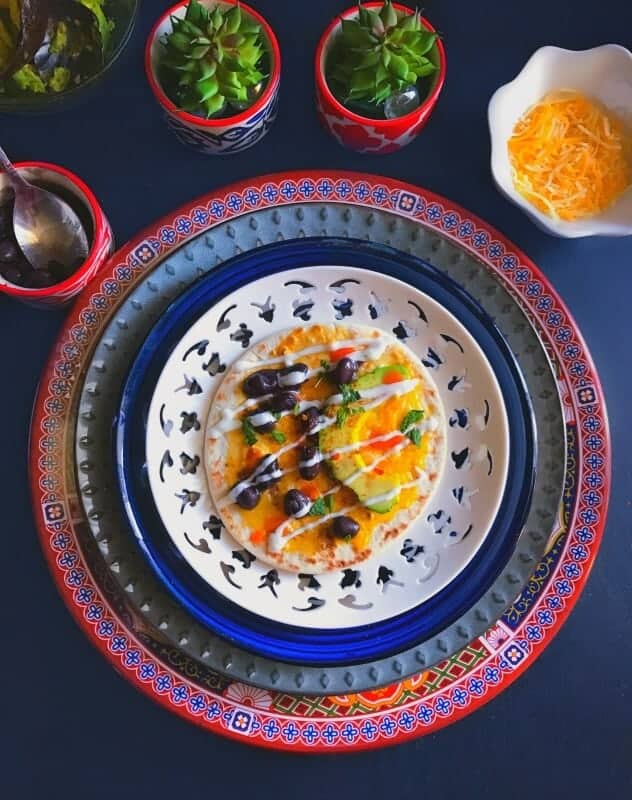 To make the taco spicy, I'm using taco seasoning and hot sauce, however, if you don't like spicy, you can totally skip the hot sauce and just eat them as is.
So, I hope you try the Spicy Breakfast Taco (Quick and Easy Recipe) easy recipe this weekend as they are absolutely delicious and a family favorite.
---
DID YOU TRY MY RECIPE – AWESOME!!!
Now Quickly SNAP A PICTURE & TAG :
#easycookingwithmolly +  @easycookingwithmolly on Instagram –> As I Loooove to see you recreate my recipes.
Connect with Me Here:  Facebook / Pinterest / Instagram / Twitter / Subscribe to our Newsletter / Google+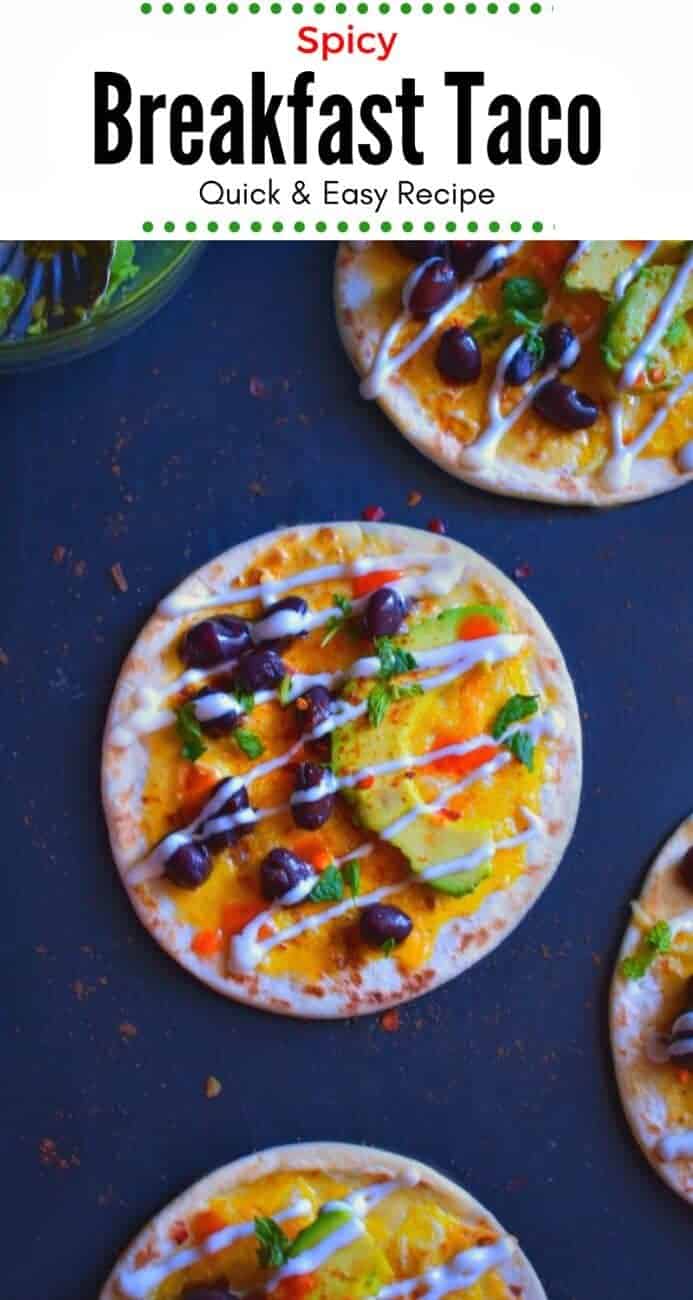 ---
Yield: 8 Tacos
Spicy Breakfast Taco (Quick and Easy Recipe)
Ingredients
8 Mini Flour Tortilla - homemade or store bought
3 Eggs - whisked
1 Avocado - sliced
1/2 Cup Black Beans - cooked
1/2 Cup Mexican 5 Cheese Mix - you can use any cheese
1 Tbsp Taco Seasoning
2 Tbsp Hot Sauce
1/2 Cup Sour Cream - for topping
Mint or Cilantro - for sprinkle
Instructions
Preheat oven at 190F
In a baking tray, lay 8 mini tortilla.
Brush 1-2 tbsp whisked egg over each tortilla (you may use spoon to spread the egg).
Add 1-2 tbsp cheese over it and bake for 7 minutes.
Remove the tray from oven.
Add sliced avocado on each tortilla and sprinkle 1tbsp black beans.
Drizzle Sour cream over the mini taco.
Sprinkle taco seasoning and hot sauce.
Finally sprinkle some chopped cilantro or mint (as per choice).
Serve Fresh.
Nutrition Information:
Serving Size:
3-4 People
Amount Per Serving:
Calories:

213
Total Fat:

14g
Carbohydrates:

13g
Protein:

11g