Avocado Tomato Grilled Cheese Sandwich: Bite into this perfectly golden crusted sandwich filled with avocado, tomato, and French cheese.
It's delicious in every bite and makes for a great gourmet breakfast or anytime snack.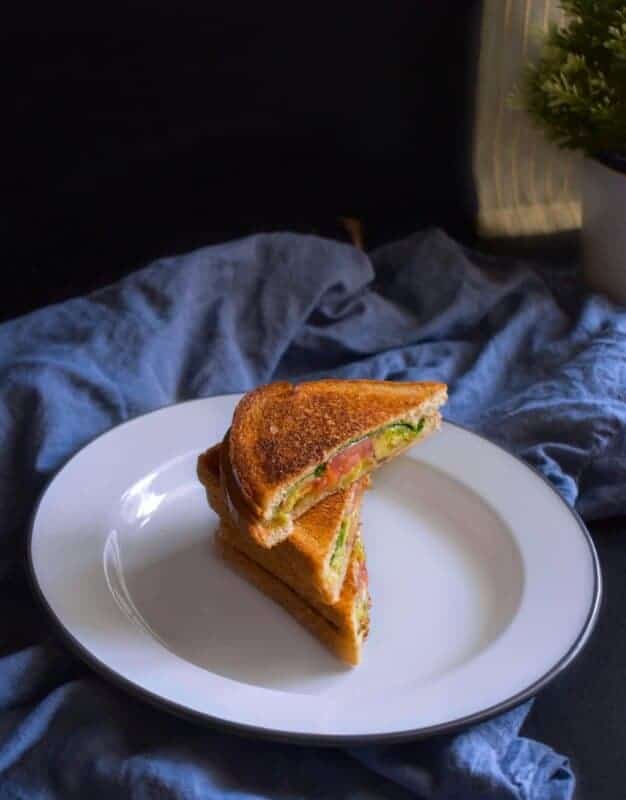 These Avocado Tomato Grilled Cheese Sandwich has been our staple breakfast for last few days and we are totally loving it.
For us, if you talk about a great breakfast or breakfast brunch, it has to include a grilled sandwich along with few other breakfast essentials.
Also, the grilled sandwich should have that 'Perfect & Even Golden Crust' !!!
Trust me, after making tons of sandwiches, I've literally come to a conclusion that nothing gives you a better and even golden crust than an 'iron skillet'.
The next most important thing in your grilled cheese sandwich is 'Cheese' :)!!!
For us, it's about a mixture of cheese that gives me that buttery, cheese flavor with a slightly sour flavor yet not overpowering as I want to taste all the flavors in my sandwich and not just a strong cheese.
We recently got to try some 'French Cheeses – Emmental, Comte and Mimmolette' and after trying them.
I decided to use two of them (Emmental and Comte) in my Avocado Tomato Grilled Cheese Sandwich as both the cheeses go really well with the other ingredients.
Before we proceed with the sandwich recipe, here's some details on the French Cheese:
French Emmental: is from the pasteurized milk of grass-fed Normandy cows. Smooth and creamy, it's striking feature is in it's distinct "holes" or "eyes".
Mimmolette: hails from the Normandy region of France. Its delicious semi-firm cheese has a sharp and nutty flavor.

Comte: is a French cheese made from unpasteurized cow's milk in the France-Comte region of eastern France. Comte has the highest production of all French AOC cheeses.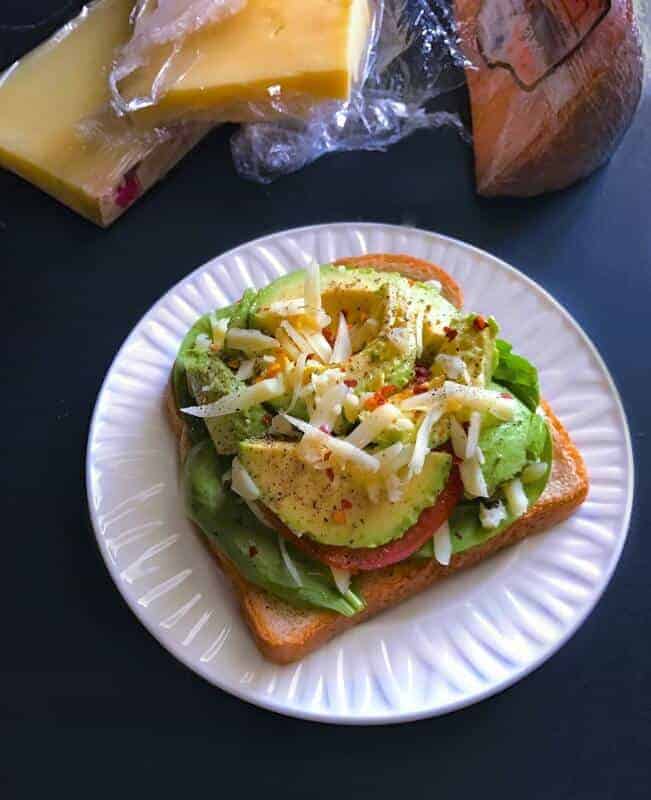 Once we got our cheese and grilling technique sorted, we just dived straight into making these delicious Avocado Tomato Grilled Cheese Sandwich.
The recipe is absolutely easy, however, you do need to remember few things for that perfect sandwich:
Skillet should be medium Hot:
if the skillet is too hot, you'll burn the sandwich while the inside is not cooked and if it's not warm enough, your sandwich will take hours to make 😉
Oil or Butter:
You can use either but if you're using oil, use a slightly dense/thicker oil as the lighter oil will burn quickly while your sandwich is still heating.
Avocado:
You need slightly unripe avocado as heating them in a sandwich would make them further mushy.
So, that's it !! These were my quick tips on that perfectly grilled sandwich and I'm hoping you try this version soon.
It's the blend of avocado, tomato, and cheese that makes it super delicious …. almost made for each other kind delicious 🙂
---
DID YOU TRY MY RECIPE – AWESOME!!!
Now Quickly SNAP A PICTURE & TAG :
#easycookingwithmolly + @easycookingwithmolly on Instagram –> As I Loooove to see you recreate my recipes.
Connect with Me Here: Facebook / Pinterest / Instagram / Twitter / Subscribe to our Newsletter / Google+
——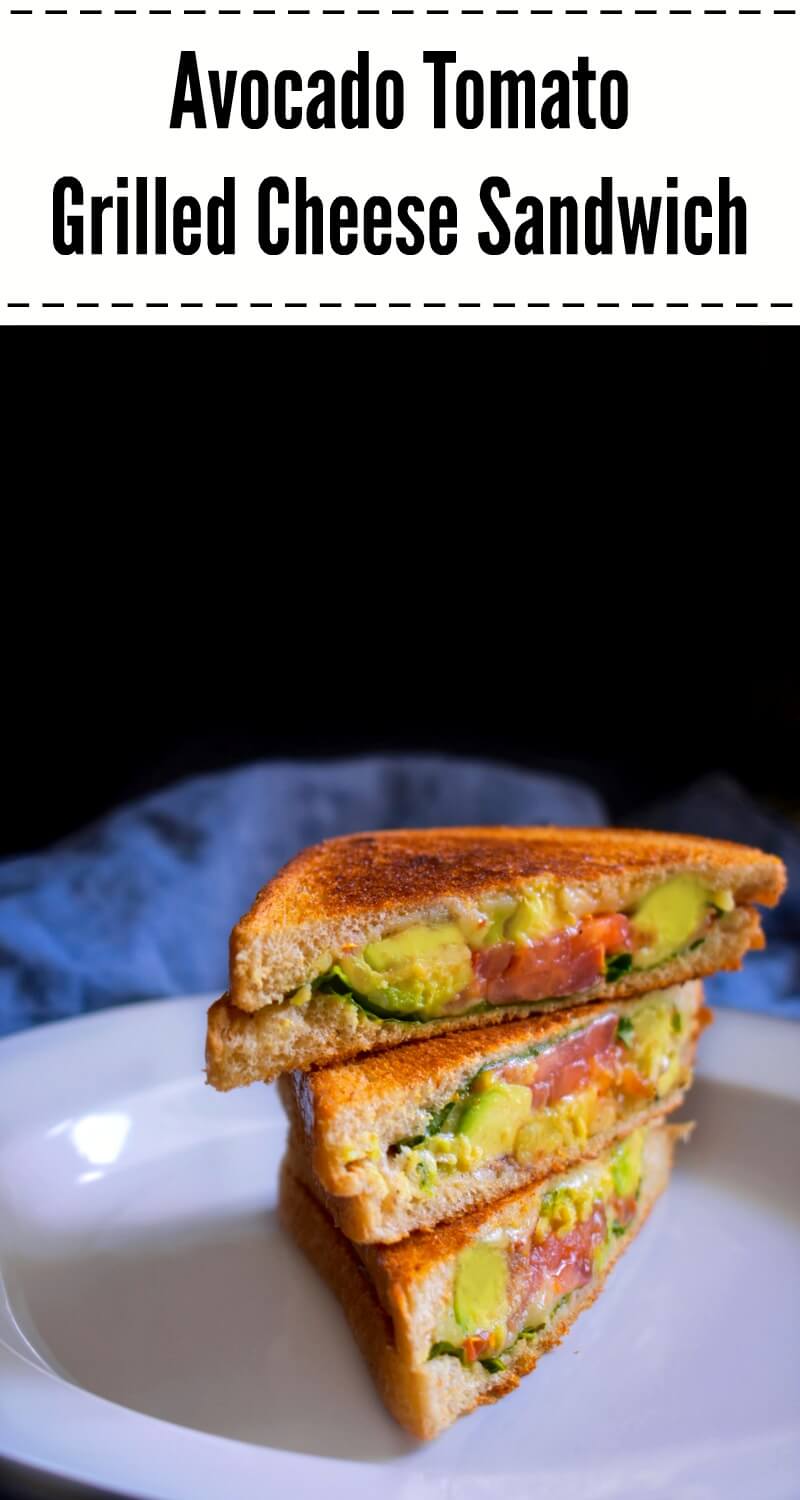 Yield: 2 People
Avocado Tomato Grilled Cheese Sandwich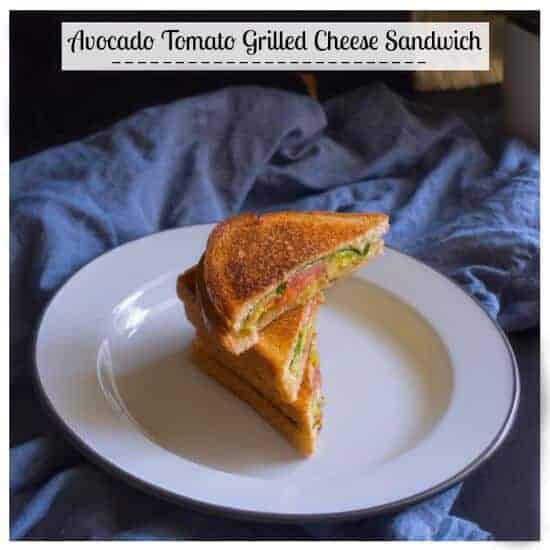 Avocado Tomato Grilled Cheese Sandwich recipe
Ingredients
8 Slices Whole Wheat Bread - you may use any bread as per taste
3 Avocados - peeled and thickly sliced
2 Medium Tomatoes - sliced in thin circles
1 Cup Emmental Cheese
1/2 Cup Comte Cheese
2 Tbsp Butter - you may use oil too
Salt - as per choice
Crushed Red Peppers - as per taste - optional
Instructions
Mix both the cheeses together and keep aside.
Take a slice of bread and sprinkle 2 tbsp cheese on it.
Now, add 3 tomato slices filling the entire slice.
Place 3 avocado slices all over the slice.
Sprinkle 1tbsp cheese and cover with another slice of bread.
Similarly, make all the sandwiches.
Heat a skillet and add 1/2 tbsp butter.
Place 1 sandwich over it and turn heat to low-medium.
Slightly press the sandwich to help seal both the slices together.
Let cook for a minute and then turn the sandwich to another side.
Cook till golden brown and then remove the sandwich.
Similarly, grill the other sandwiches too.
Serve Hot with fav sauce or enjoy as is.
Nutrition Information:
Yield:
4
Serving Size:
1
Amount Per Serving:
Calories:

245
Total Fat:

43g
Saturated Fat:

15g
Trans Fat:

1g
Unsaturated Fat:

23g
Cholesterol:

62mg
Sodium:

400mg
Carbohydrates:

46g
Fiber:

12g
Sugar:

6g
Protein:

23g
This is a sponsored post but all opinions are mine