Falafel Recipe (V+GF): a quick step by step easy recipe to make falafel using garbanzo beans, mint, garlic and few other ingredients. It tastes absolutely delicious, the mixture can be made and frozen for upto a month.
Who's ready for some delicious and hot homemade falafel's or as I call them my Best Falafel Recipe (Vegan and Glutenfree).
If you haven't tried making falafel at home then you're definitely missing on a very simple yet addicting recipe.
It may look or sound difficult but it's absolutely simple. Easy-peasy ingredients that I'm sure most of you have in the kitchen pantry.
I still remember the first time we made them at home, Oh My Gosh, I don't know about D, but I definitely went slightly crazy with excitement!!
The falafel came out perfectly golden in color, evenly crispy on the outside and moist inside – just the way you'd love it.
Infact, the falafel balls make an excellent snack for events as these can be made beforehand.
You can make the batter a month or so before and just thaw them overnight.
Fry the falafels the day you need to serve them and trust me everyone would think they are from the restaurant as they look exactly the same.
How to Make Falafel at Home
There are a few tips and tricks to make the best homemade version.
And the what I like the most here is we have an option of changing any ingredients as per our choice (except garbanzo/chole beans; – which is the main ingredient 😉 ):
Tips For Making the Best Falafel (Step by Step Process)
1. They need to be made from soaked garbanzo beans and not canned or boiled.
2. The mixture needs to sit for 20-30 minutes for the flavors to mix together.
3. Always fry them on medium heat and use oil with high smoke point like olive oil, canola, peanut, etc
4. Use a spoon or scoop to make same size falafels every time.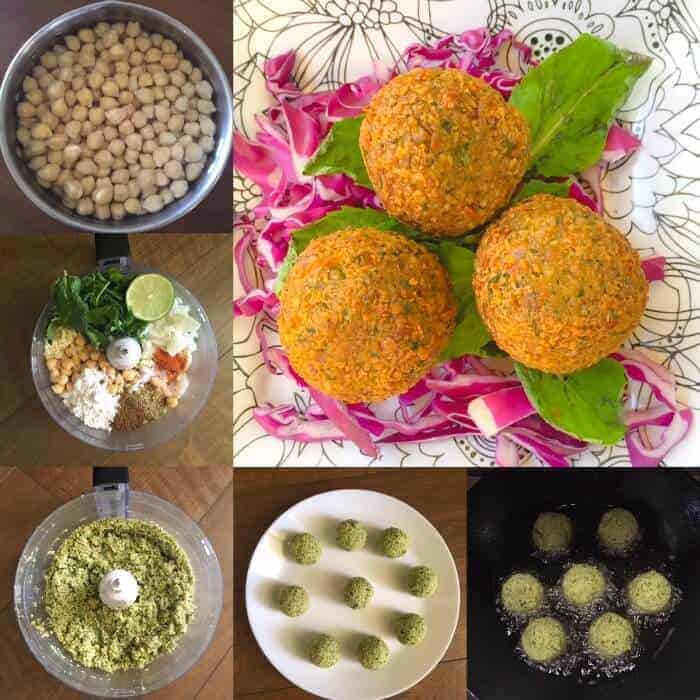 Now, that you have the tips, the process is really simple. All you have to do it soak the garbanzo beans overnight or a good 7-8hrs in cold water.
Once, the beans are properly soaked, simply drain the liquid as you don't want to use that liquid. If you're wondering why?
Then the answer is because once the beans are soaked, they release indigestible sugars that cannot be digested well by our system and results in flatulence.
Hence, it's best to discard that water to reduce any unwanted situations or tummy aches after consuming beans 😉
So, once the beans are soaked, washed and ready, go ahead and mix all the ingredients in food processor.
Keep this mixture in the fridge for 20-30minutes (if making the falafel that day) or freeze this mixture upto a month.
Once, you're ready to make the falafels, then just make round balls of big or medium size and fry until golden brown. That it, you have the falafels ready !!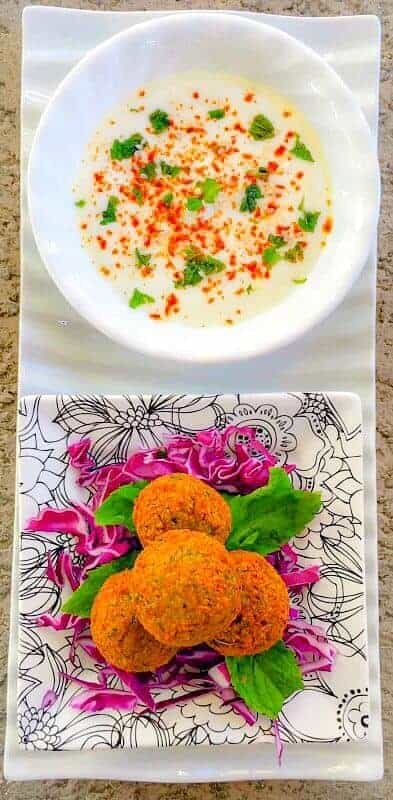 Seriously, it's this simple and you got to try these Best Falafel Recipe soon as the homemade ones are better than anything you might have eaten outside.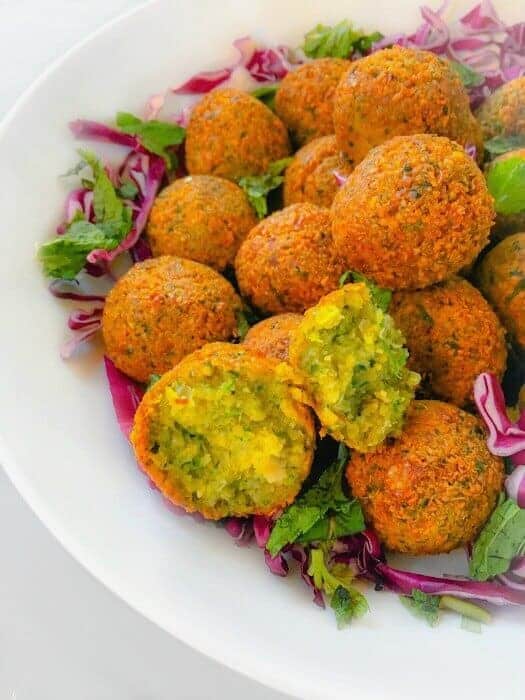 You can also try:
---
As always, I Looove when you try my recipes and send me pictures & feedback.
You can tag my recipes tried by you using #easycookingwithmolly
Connect with Me Here: Facebook / Pinterest / Instagram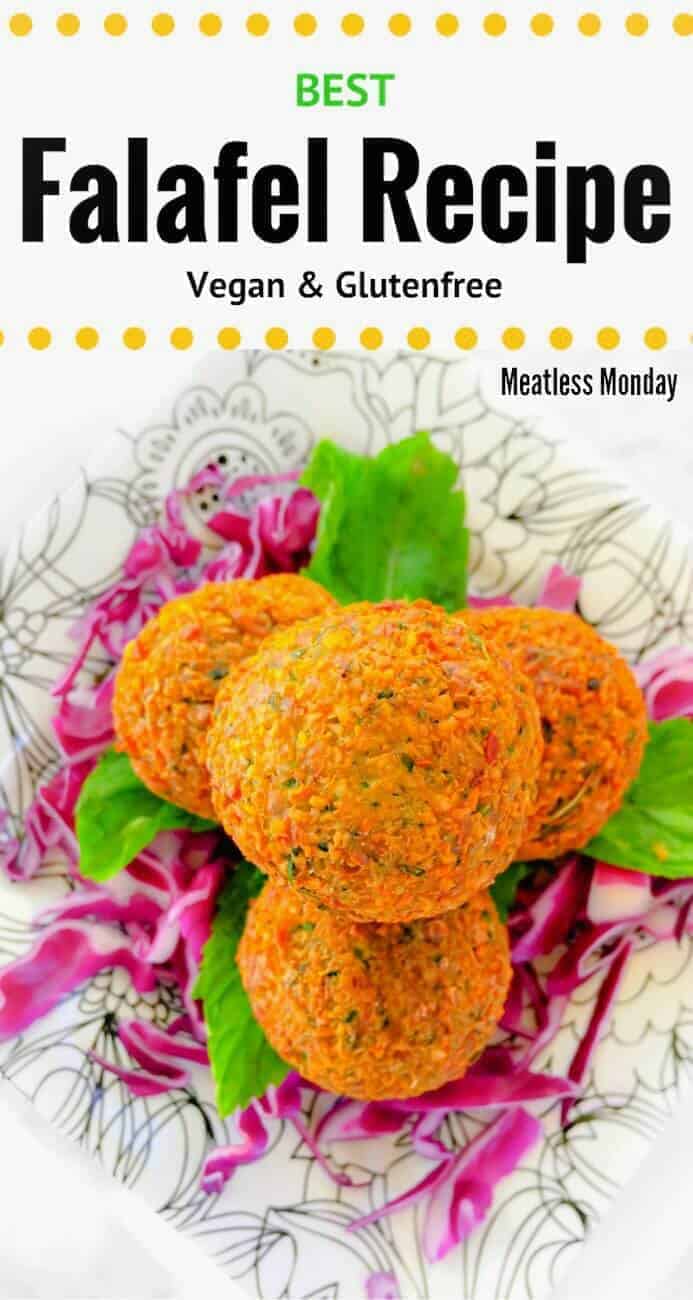 Yield: 15 Falafels
Falafel Recipe | Step by Step Falafel Recipe
Falafel Recipe (V+GF): a quick step by step easy recipe to make falafel using garbanzo beans, mint, garlic and few other ingredients. It tastes absolutely delicious, the mixture can be made and frozen for upto a month.  
Ingredients
1 Cup Dry Garbanzo Beans
6 Cups Cold Water
1/2 Large Onion - any colored onion would do.
1/2 Cup Parsley
3 Medium Garlic Cloves - chopped
2 Sprig Fresh Mint Leaves
1/4 Tsp Baking Soda
1 Tsp Sesame Seed
1 Tbsp Lemon Juice
2 Tbsp Glutenfree Flour - you may use all purpose flour too
1 Tsp Cumin Powder
1 Tsp Coriander Powder
1/4 Tsp Red Chili Powder - you may use cayenne
2 Cups Oil - for frying
Instructions
Soak the dry garbanzo beans in 6 cups of water. (Soak overnight or 6-8hrs).
Once soaked, drain the beans and wash with fresh water.
Keep the washed beans aside.
In a food processor, add beans, onion, garlic and pulse till everything is mixed evenly.
Now, add all the other ingredients (except oil) and pulse to form a smooth course mixture.
Remove the mixture in a large bowl, cover with plate and put in fridge for 20 minutes.
After 20 minutes, remove the mixture from fridge.
Using a spoon or scoop, make equal size balls (big or small as per choice).
Properly shape the balls into a circular shape, making sure there are no cracks.
Heat the oil in a deep pan and heat it for 2 minutes.
Turn the heat to medium and add 3-4 falafel balls at a time in the hot oil.
Fry each side on medium to low heat till falafels have an even golden brown color (takes 2-3 minutes).
Remove from oil and place the cooked falafel balls on kitchen towel to soak excess oil.
Similarly, fry all the falafels.
Serve with freshly chopped purple cabbage and mint leaves along with favorite sauce.
Nutrition Information:
Yield:
5
Serving Size:
3
Amount Per Serving:
Calories:

107
Total Fat:

29g
Saturated Fat:

6g
Trans Fat:

1g
Unsaturated Fat:

33g
Cholesterol:

0mg
Sodium:

96mg
Carbohydrates:

24g
Fiber:

7g
Sugar:

6g
Protein:

12g