This post is written in partnership with "Guerrero Baked Tostadas". As always, the opinions here are all my own.
Sweet and Spicy Gourmet Avocado Egg Chorizo Tostada: flavorful, light and absolutely easy to prepare tostada that's perfect for your breakfast, brunches or any time of the day.
The sweet-spicy taste of smoked chorizo topped with sweet peppers and cranberries leaves you wanting more and more.
The days between Christmas and New Year are the most challenging days in terms of work, schedules, and meals!!
As we scramble to complete those last minute chores/work before we step into the new year, while making those new years resolution (hmmmm…I'm still working on it) and grabbing that extra large cup of coffee with a double shot (to survive) and in between all this, there's this sudden urge of eating something light and refreshing.
Especially between this post n pre-festive binge!! That's when I thought of making these 'Sweet and Spicy Gourmet Avocado Egg Chorizo Tostada' which is a perfect balance of light and deliciousness.
To make things even easier, I found these 'Baked Tostadas from Guerrero' at my local grocery store.
These tostadas are definitely healthier than the traditional ones as they are baked instead of fried and it's really hard to stop nibbling on them.
I'm also impressed as to 'How Crisp' they are, as I layered it with guacamole, freshly sliced veggies, eggs, relish, sauces, cheese yet they stayed absolutely firm and crisp!!
                You can also see how thin they are and make for a perfect base for so many recipes.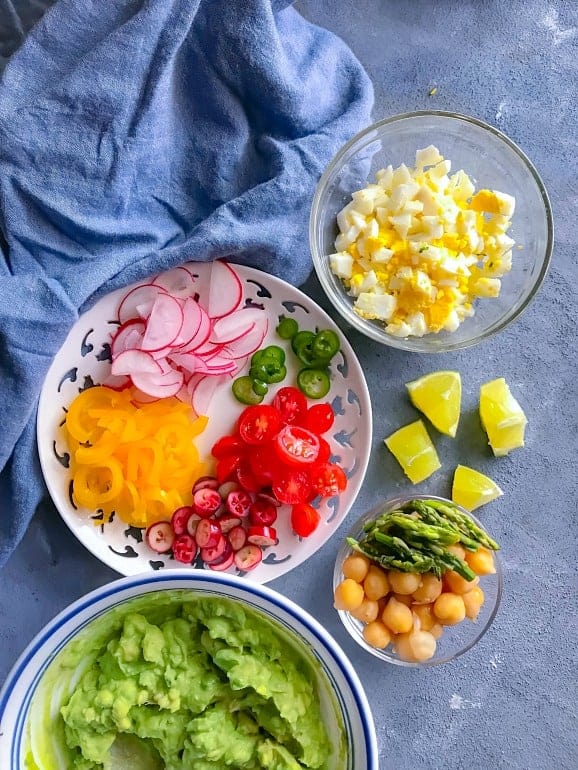 After all that festive Christmas meal, we definitely wanted to eat lighter but that the same time food does move in our house unless it's beautifully decorated or has some color on it…be it any curry, vegetable or even a simple toast…we need some color on it.
So I decided to add not only the smoked – spicy chorizo (that was a part of our Christmas cheese board) but also mix in some sweet-crunchy flavors from mini bell peppers, cranberries, and onion.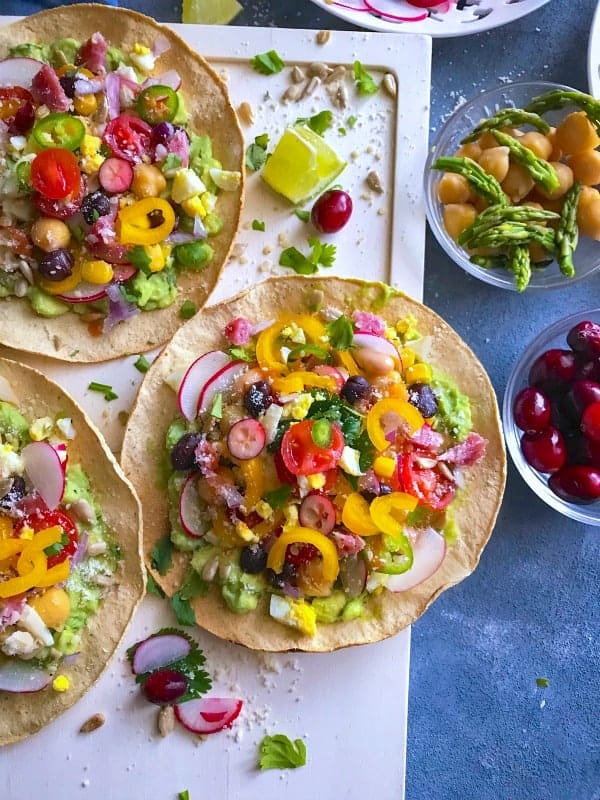 I'm not adding a lot of cheese or sour cream on the tostada (you can definitely do so) but instead, I made this mix of hot sauce + honey and just drizzled it over our tostada.
A few sprinkles of cheese and we are good to go. These Sweet and Spicy Gourmet Avocado Egg Chorizo Tostada were gone in literally half a minute and they have been added on the next gameday menu too 😉
If you're craving a sweeter breakfast/brunch recipe, then try these 'Coconut Matcha Pancakes (Vegan-Glutenfree)' or  'Stovetop Chocolate Chip-Coconut Granola (Glutenfree-Vegan)' or these savory 'Healthy Beetroot Cutlet / Patty'
Enjoy these recipes with your loved ones and if you're looking at some last minute New Years Appetizers, then –> Start Here <–
---
DID YOU TRY MY RECIPE – AWESOME!!!
Now Quickly SNAP A PICTURE & TAG :
#easycookingwithmolly +  @easycookingwithmolly on Instagram –> As I Loooove to see you recreate my recipes.
Connect with Me Here:  Facebook / Pinterest / Instagram / Twitter / Subscribe to our Newsletter / Google+
---
Yield: 8 Tostadas
Sweet and Spicy Gourmet Avocado Egg Chorizo Tostada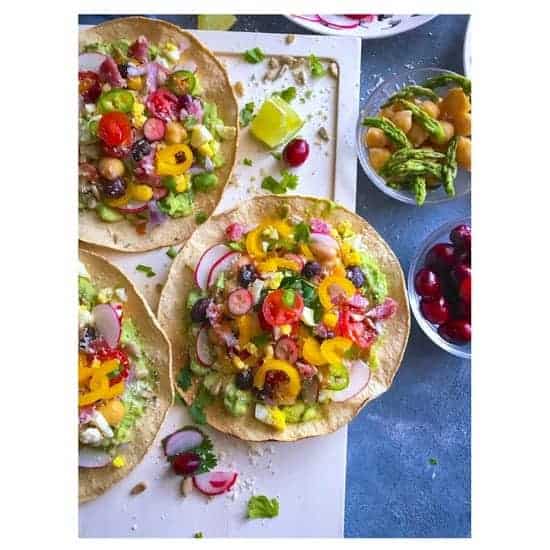 Ingredients
1 Packet Guerrero Baked Tostadas
1/4 Packet Smoked Chroizo - thinly chopped
4 Avocados - scooped and mashed
4 Boiled Eggs - peeled and chopped
Toppings:
4 Mini Colorful Bell Peppers - chopped and thinly sliced
1/4 Cup Cranberries - chopped
6 Mini Radish - thinly sliced
1/2 Cup Mix of Cooked Chickpeas & Beans
1 Medium Red Onion - thinly chopped
1 Jalapeno - thinly chopped
Few Sprigs of Cilantro - chopped
2 Tsp Sun Flower Seeds
2 Tbsp Hot Sauce
1/2 Tsp Honey
Cheese - use any variety as per choice
Instructions
In a small bowl, whisk together hot sauce and honey. Keep aside.
Place the baked tostada on serving platter.
Slather a 1 tbsp of mashed avocado on each tostada.
Now add chopped eggs, smoked chorizo and toppings on each tostada. (sprinkle toppings as per choice).
finally, drizzle hot sauce mix on each tostada and sprinkle with cheese.
Serve immediately and enjoy
Notes
You can use any toppings of choice.
You can replace chorizo with any meat of choice.
Nutrition Information:
Serving Size:
4 Adults
Amount Per Serving:
Calories:

83
Total Fat:

3g
Saturated Fat:

1g
Cholesterol:

3mg
Sodium:

194mg
Carbohydrates:

11g
Sugar:

1g
Protein:

3g