Moroccan Chickpea Stew (Vegan and Glutenfree): This wholesome and rustic stew is made using canned chickpeas, harissa paste, cumin and basic spices. Filled with simple-warm Moroccan spice flavors, it's an absolute comfortfood. Serve with rice or bread.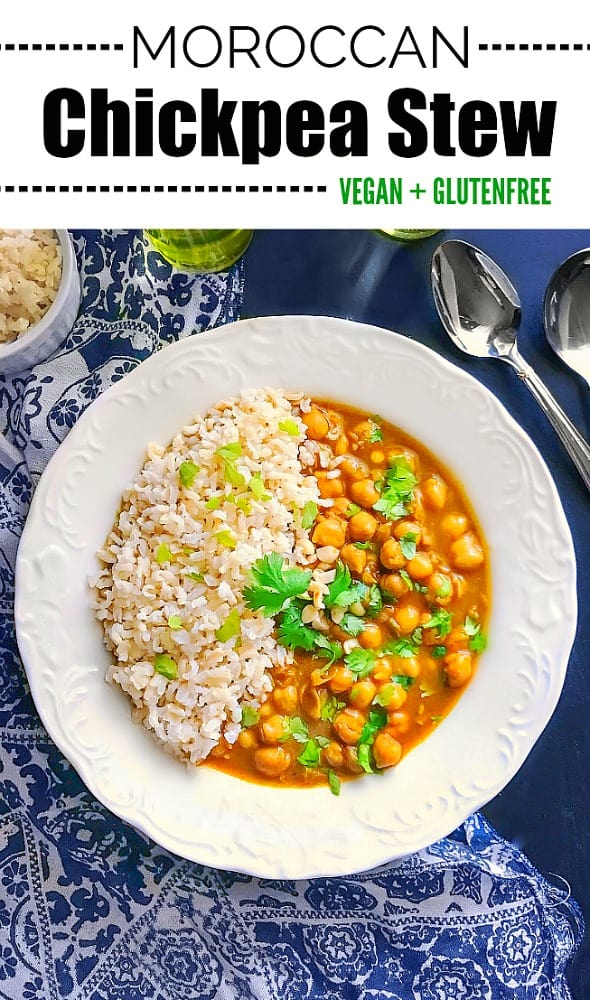 The weekend is approaching and we are definitely looking at a rainy cloudy weekend which is also going to be extremely windy.
That means many of us (in California) would be spending time indoors and what better option than to call some friends over, making this Moroccan Chickpea Stew and enjoy a rustic meal.
Ingredients for the Moroccan Chickpea Stew Recipe:
Chickpea – I'm using canned chickpeas.
Harissa Paste
Cumin Powder
Onion
Basic Spices: turmeric, salt, red chili powder
For anyone, who works from home, would totally understand where I'm coming from.
Just imagine spending the entire week working from home and then if you are forced to spend the weekends home …..ughhh…
Especially when you live in California and all you want to do is go out in the mountains or the beach.
But to feel little better, I've decided to call some of our friends home and just chill with this and warm chai.
Now, there is a small story behind this Moroccan Chickpea Stew and that is we had this last year during our visit to Dubai.
I think Dubai is a city that has something for everyone and for me, it was all about food, spices, and middle-eastern potteries…..
My hubby still laughs when I say this about Dubai, but hey, I'm a foodie and always looking for food inspiration.
So, during our visit, we had food mostly outside (although we were visiting cousins but who eat at home when traveling 😉 !
It was at one of a local street restaurant kind of place, we got to try this amazing Moroccan food spread.
They offered all sorts of Tagine (traditional Moroccan cooking style in a closed clay pot) from chicken, lamb, red meat, seafood to vegetarian option and lots of freshly baked khobz bread (traditional wheat bread).
Since, it was pretty late and we were so tired that we ordered a quick 'Chickpea Veggie Tagine' but trust me, it turned out to be the most amazing chickpea dish that we had ever tasted.
The ingredients were simple, but the flavors were spot on – warm, homely and absolutely rustic.
Once the food was over, I tried talking to the restaurant owner and since it was a family-owned, small place, they were so kind and generous to share details about their recipe and spices.
I was actually pretty surprised to know that their basic spices are also cumin, coriander, chili, turmeric and so on which I felt is very similar to our Indian recipes.
The lady in the restaurant even gave me a glimpse of the kitchen and some details about the stew.
Hence, here I'm adding a slight variation to her recipe and creating this Moroccan Chickpea Stew.
The variation that I'm talking about is 'Harissa paste' which is a red pepper+chilli paste that has some other ingredients like garlic, oil, and tomatoes.
I'm adding a very tiny amount just for that small kick in flavor and color but if you can handle more of its spiciness, please go ahead and add as much as you like.
If you've had traditional Moroccan Stew, then you might have seen an addition of vegetables but I'm keeping it to the basic and making it simply with chickpeas.
I like a slightly thicker stewy texture, hence not adding much water.
I would have traditionally served it with a big bowl of steamed couscous but as many of my friends don't eat it much.
Hence, I'm serving it with steamed brown and white rice, however, please feel free to use any choice of side.
That is for me and I hope you enjoy this rustic bowl of Moroccan Chickpea Stew soon.
Have a great weekend and here's a glimpse of my Moroccan Tea Glasses that I found and would be using for the brunch ~
Tried Our Recipe – AWESOME!!!
Now Quickly SNAP A PICTURE & TAG :
#easycookingwithmolly + @easycookingwithmolly on Instagram –>
Connect with Me Here: Facebook / Pinterest / Instagram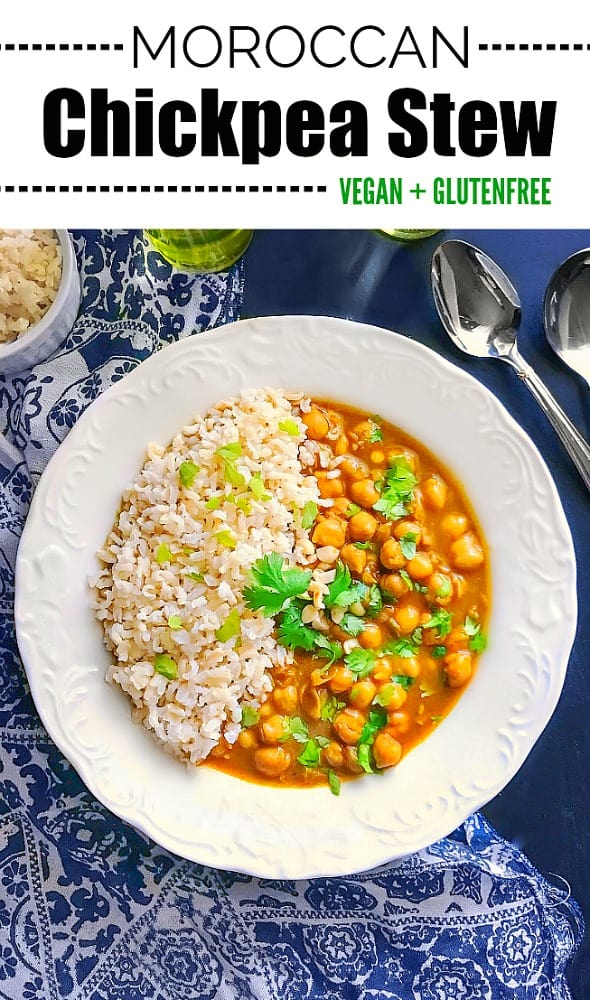 :: You May Also Like ::
Roasted Cauliflower Chickpea Salad
Quick Mediterranean Chicken with Olives Recipe (30 Minutes Recipe)
Chickpea Mushroom Meatballs Recipe – Vegan Meatballs
Yield: 4 People
Moroccan Chickpea Stew (Vegan and Glutenfree)
Moroccan Chickpea Stew (Vegan and Glutenfree): This wholesome and rustic stew is made using canned chickpeas, harissa paste, cumin and basic spices. Filled with simple-warm Moroccan spice flavors, it's an absolute comfortfood. Serve with rice or bread.
Ingredients
2 Cans of Garbanzo beans - 15.oz cans or homecooked garbanzo beans.
1/2 Can Diced Tomato
1 Large Onion - thinly chopped
1 Clove Garlic - thinly chopped
3 Cups Vegetable Broth - I'm using low-sodium option
4 Tbsp Olive Oil
Cilantro - for garnish
Spices
1 Tsp Harissa Paste
1 Cinnamon Stick
2 Tsp Cumin
1 Tsp Salt - use as per taste
1 Tsp Paprika Powder - optional
Pinch of Turmeric - optional
Instructions
How to Make Moroccan Chickpea Stew:
Heat oil in a deep pan or dutch oven.
Add cinnamon stick, onions, garlic and saute for 2 minutes over medium heat (till onions are golden brown).
Now, add diced tomato, garbanzo beans and stir everything evenly.
Cook this over medium heat for 7-8 minutes (till tomatoes+onion completely cook and become pulpy).
Add, all the remaining spices and saute for another 2 minutes.
Finally, add the vegetable broth, stir and cover the pan with lid.
Let this cook over low-medium heat for 25-30 minutes.
After, 30 minutes, remove the lid and stir the pot.
The stew is almost ready and needs to cook without the lid for another 3-4 minutes.
Finally, Turn off the heat and transfer the chickpea stew to a serving bowl.
Garnish with cilantro.
Serve hot with rice or side of choice.
Nutrition Information:
Yield:
4
Serving Size:
1
Amount Per Serving:
Calories:

467
Total Fat:

19g
Saturated Fat:

2g
Trans Fat:

0g
Unsaturated Fat:

15g
Cholesterol:

0mg
Sodium:

1118mg
Carbohydrates:

59g
Fiber:

16g
Sugar:

12g
Protein:

18g