This post was sponsored by S&W Beans as part of an Influencer Activation for Influence Central and all opinions expressed in my post are my own.
Vegetarian Garbanzo Beans and Mushroom Meatballs Recipe: best ever and melt-in-your-mouth meatballs recipe that you'd ever come across.
They are absolutely delicious, vegetarian, rich in proteins and packed with flavors.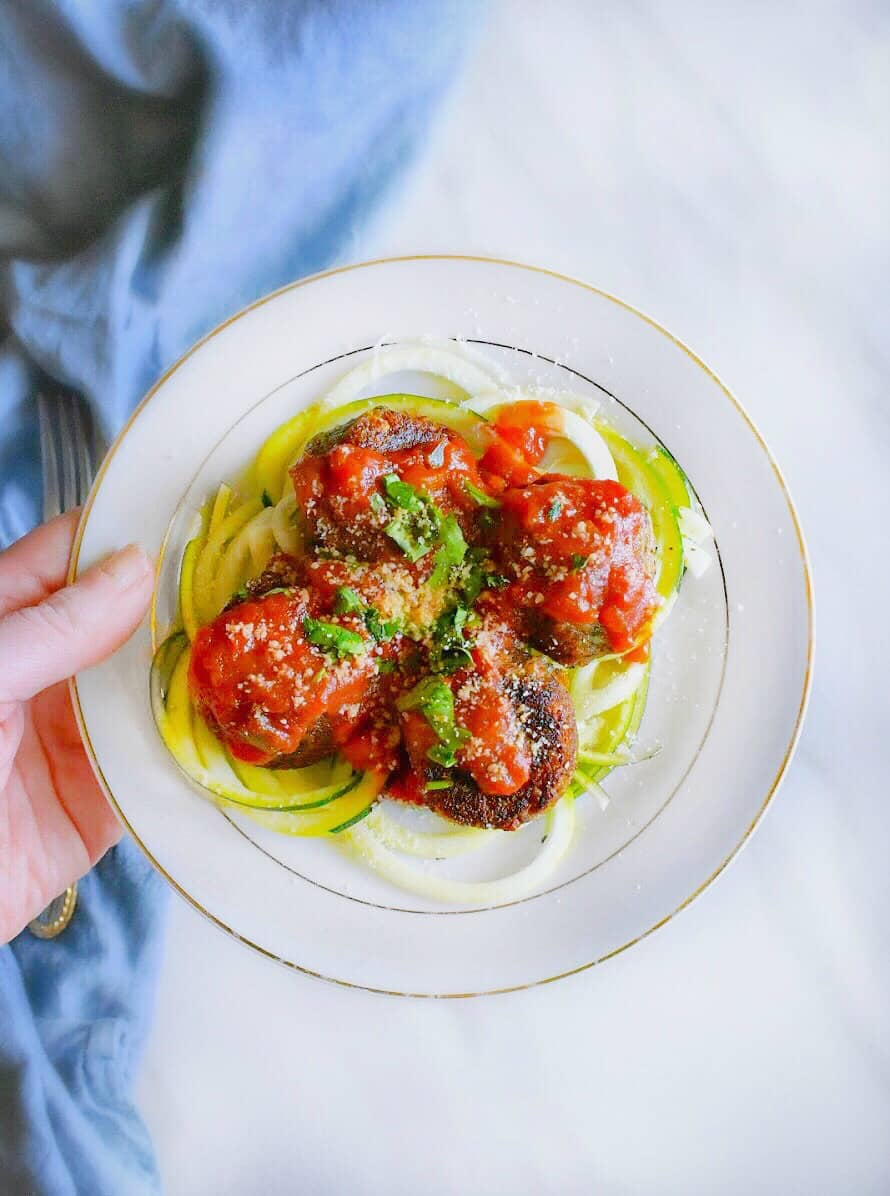 These Vegetarian Garbanzo Beans and Mushroom Meatballs Recipe is our healthier and tastier twist on an Ina Garten's cookbook's 'Classic Meatball' recipe.
Being a complete foodie, we love collecting various cookbooks and this classic meatball recipe has been our favorite for many years.
Although we looooove meatballs, but we rarely eat them frequently as it felt slightly heavy and the process is also tiresome.
So I decided to make a vegetarian option using our favorite S&W 'Organic Garbanzo Beans' and mushrooms, which is healthy and quick.
Infact, if you ever peek into our kitchen pantry, it's stacked with S&W Beans as nobody does beans better than them.
They have a been around for more than 120yrs demonstrating the same premium quality standard!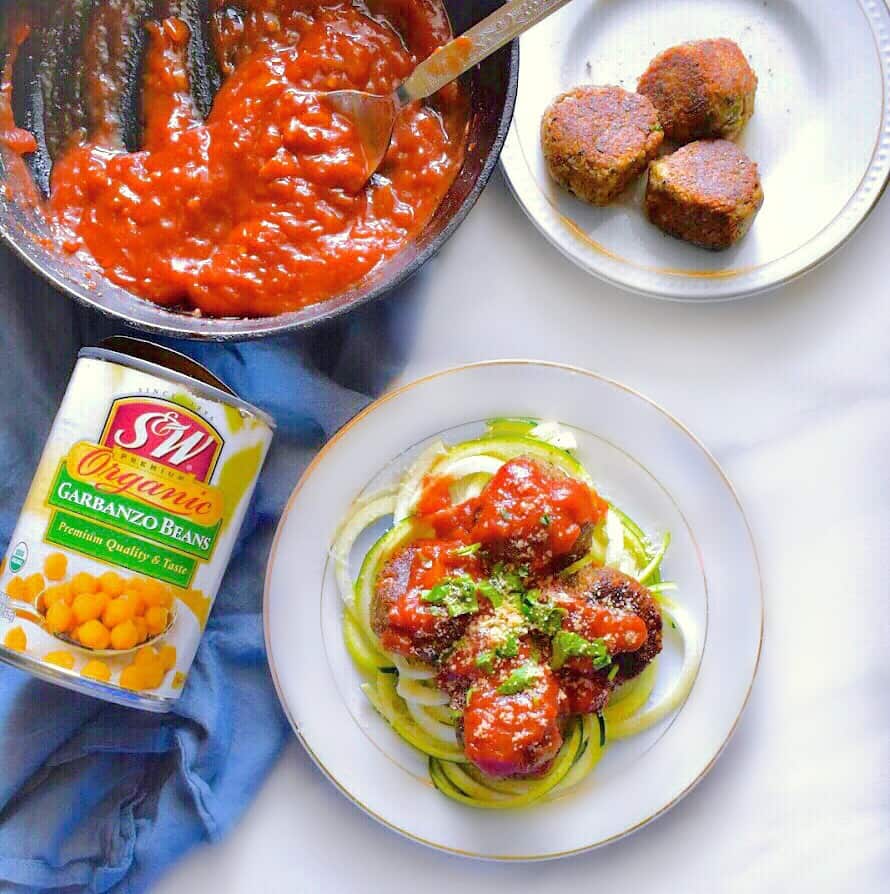 Apart from highest quality, the S&W Beans come in different varieties (Core, Less Sodium, Organic), which means, whatever kind of meal you're making, they have the best option to choose from.
So better meals start with better beans – S&W Beans have a variety of use cases from classic chili recipes to new, unique alternative protein recipe ideas.
So to make this lighter, healthier and easier version of Garbanzo Beans and Mushroom Meatballs recipe.
I'm using the Organic Garbanzo Beans along with everyday pantry ingredients (all listed below).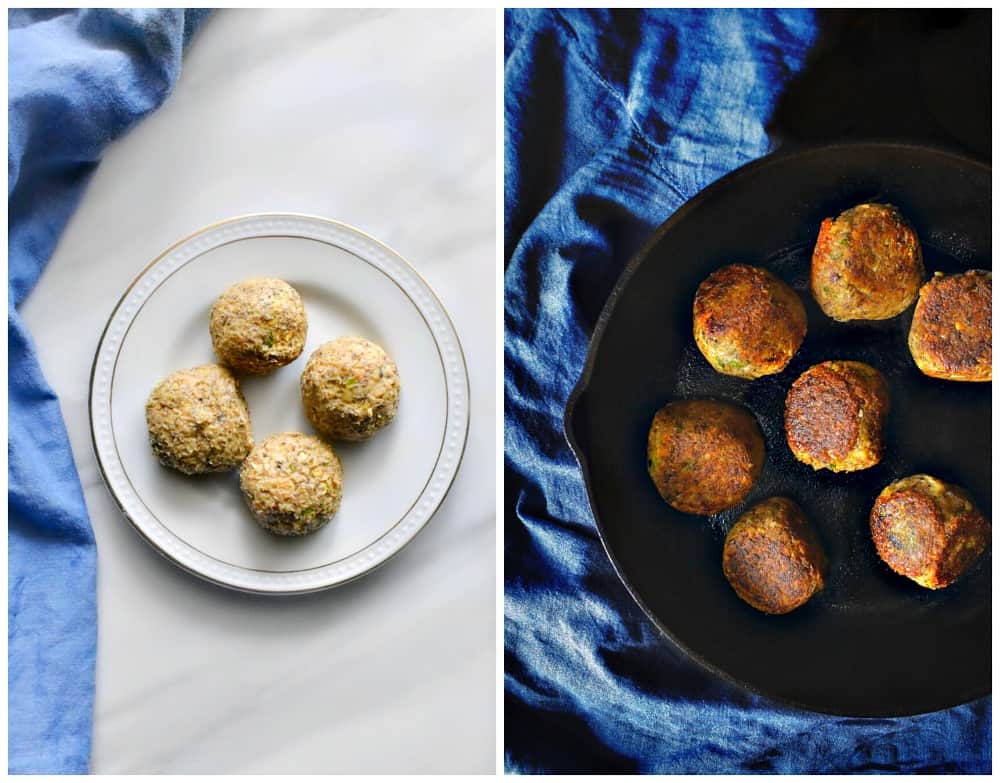 Once you gather the ingredients, the recipe comes together in 35-40 minutes and makes about 18 medium vegetarian meatballs.
You can keep these cooked meatballs in the fridge for 2-3 days (in an air-tight container) or freeze the cooked version for two weeks.
Also, since they are made using garbanzo beans and mushrooms they are extremely soft.
My taste tester can vouch that he ate 5 of them in a go and wanted to literally devour most of them straight out of the pan.
Now, to take things a notch higher (on the healthy-tasty platform), we are serving these Garbanzo Beans and Mushroom Meatballs with freshly homemade zucchini noodles or zoodles.
You can definitely use spaghetti but this is absolutely scrumptious and I HIGHLY RECOMMEND this combination.
Also, here's a GREAT NEWS and before you grab those car keys to go buy the ingredients for these Garbanzo Beans and Mushroom Meatballs Recipe,
S&W Discount Coupon (Click the Picture to go to Coupon):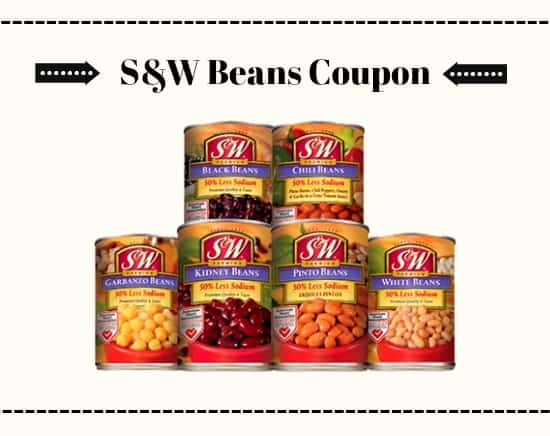 ---
Tried Our Recipe – AWESOME!!!
Now Quickly SNAP A PICTURE & TAG :
#easycookingwithmolly +  @easycookingwithmolly on Instagram –>
Connect with Me Here:  Facebook / Pinterest / Instagram / Twitter / Subscribe to our Newsletter / Google+
Yield: 18 Medium Meatballs
Vegetarian Garbanzo Beans and Mushroom Meatballs Recipe
Ingredients
1 Cup SW Organic Garbanzo Beans - drained
1/2 Cup Mushrooms - cleaned and sliced*
1 Medium Onion - chopped
2 Slices of Bread - use any plain variety or 1/2 Cup Breadcrumbs
4 Tbsp Quick Oats - you can use any plain oats as it's going to be blended
1/4 Cup Parsley - cleaned
2 Garlic Cloves - cleaned, you may use more if you like the taste
4 Tbsp Parmesan Cheese - grated
5 Tbsp Olive Oil - you may use any light oil
1 Cup Marinara sauce - homemade or store bought
2 Cup Zucchini Noodles - or you can use cooked spaghetti
Spices:
1 Tsp Italian Seasoning**
1/4 Tsp Pepper Powder
1/4 Tsp Chili Flakes - optional
Salt - as per taste
Instructions
Making the Vegetarian Garbanzo & Mushroom Meatballs:
In a large non-stick skillet, add 1 tbsp oil and let it heat for 30 seconds.
Add onions and saute till golden brown.
Now add mushrooms, garlic and saute till mushrooms become slightly cooked (about 2 minutes).
Saute till the water from mushroom is almost evaporated and then turn off the heat.
Let the mushrooms cool down completely.
Now, add the garbanzo beans, mushroom mix, bread, parsley, oats, 1/2 tsp Italian seasoning in a food processor.
Pulse to form a crumbly dough.
Scoop the dough to a clean surface and divide it into equal balls (I made 18 medium balls).
Cooking the Vegetarian Garbanzo & Mushroom Meatballs:
Heat a skillet and add 2tbsp oil.
Place 7-8 meatballs (or as many your pan acommodate) in the pan and lightly cook them over medium heat.
Turn them slowly to prevent them from breaking and cook till the entire meatball is golden brown
OR
You can line them on a baking tray and spray some cooking oil on all sides. Bake for 400F for 15 minutes.
Heating the Marinara Sauce:
In the same skillet, add the marinara sauce and the leftover Italian seasoning.
Let this mixture simmer over medium heat for 2 minutes and then turn off the heat.
Serving the Vegetarian Garbanzo & Mushroom Meatballs with Zoodles:
In a serving plate, place some zoodles in the bottom.
Now add 3-4 meatballs on top and pour 2-3tbsp marinara sauce on the top. (you can add less or more).
Sprinkle some freshly grated cheese and chopped parsley.
Serve Immediately
Nutrition Information
Serving Size
1
Amount Per Serving
Calories

1030
Total Fat

51g
Saturated Fat

13g
Cholesterol

75mg
Sodium

2209mg
Carbohydrates

121g
Sugar

57g
Protein

21g