Easy and Moist Kumquat Ginger Cake: This is a perfect spring-summer cake filled with citrus flavors that are enhanced by a hint of ginger.
Moist Kumquat Ginger Cake is moist and the taste transports you to delicious heaven.
Moist Kumquat Ginger Cake is Perfect Spring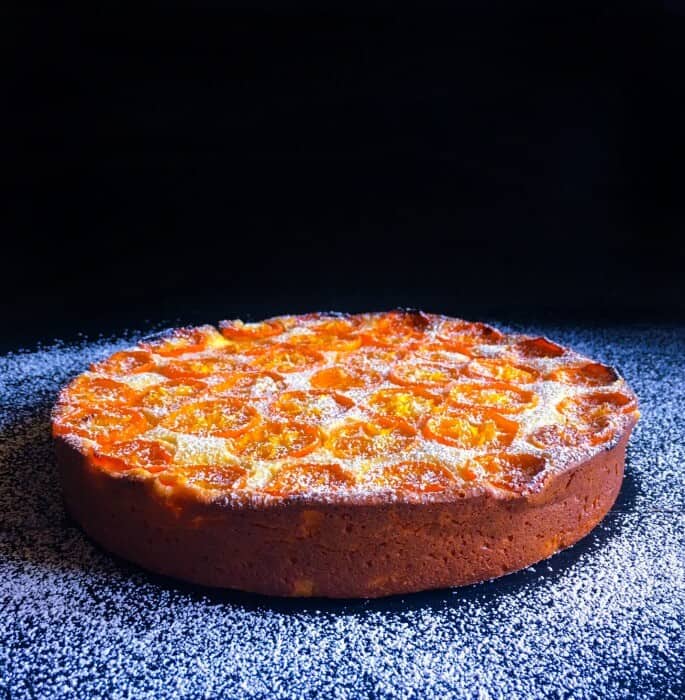 This whole week has just passed in such a jiffy but before the weekend starts, I wanted to share this gorgeous Easy and Moist Kumquat Ginger Cake with you'll.
You won't believe that I've been thinking of sharing this amazing cake recipe with you'll since last year but just didn't get a chance to buy fresh kumquats and make this.
So, finally, as soon as I saw the first batch of these cute little kumquats, I knew what's coming up next 😉
I love desserts more than savory food and on top of that, I love citrus flavored desserts from tarts, cake, muffins…you name it and I'll find a citrus version.
Especially after the long harsh winter that we've had this time, I've been craving my spring-summer fruits, sunshine, beaches and just everything green and colorful.
(Picture of Kumquat Fruit)

We've had tons of rains and gloomy weather here in California, so this cake was such a refreshing change that we all needed.
I did make it for a small gathering with friends and most of the cake was gone…except 2-3 slices which I packed for a friend who couldn't attend.
If you've been reading my blog, then you might have come across my 'Moist Lemon Yogurt Cake' and this is something similar but with an orange flavor and a bit of cream cheese.
Now, you can make this cake similar to the lemon cake recipe, however, the kumquats had this slightly more citrusy flavor which at times make desserts taste slightly more tart than needed.
So the cream-cheese tone down that tartness and also adds a layer of soft crust on top…which when you bite into is pure luxury!
I mean words cannot do justice to the delicious piece of yum this cake is…you have to try it to believe how amazing it is and don't worry, it's absolutely easy to make too.
I also added some freshly grated ginger to the cake batter to enhance that perfect citrus flavor and then added thinly sliced kumquats on the top (which have been soaked in a mixture of sugar, orange juice and ginger).
I'm telling you, it's one GOURMET CAKE, that you'd not get outside but once you try it, you'd never forget the taste and don't blame me for the next cravings 😉
That's it for now, Hope you try this Moist Kumquat Ginger Cake soon and have a Great Weekend !
DID YOU TRY MY RECIPE – AWESOME!!!
Now Quickly SNAP A PICTURE & TAG :
#easycookingwithmolly + @easycookingwithmolly on Instagram –>\
Connect with Me Here: Facebook / Pinterest / Instagram
You can also try my:
How to Make Spiced Kumquat Marmalade – (Easy & No Preservative)
Yield: 8 People
Moist Kumquat Ginger Cake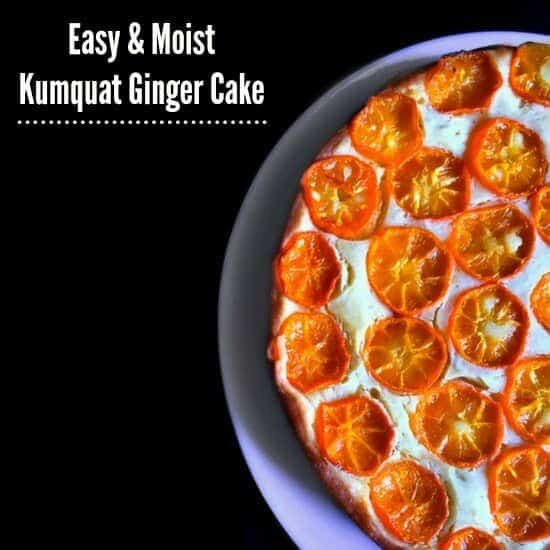 This Kumquat Cake is a perfect spring-summer cake filled with citrus flavors that are enhanced by a hint of ginger.
Ingredients
1 1/2 Cups All-Purpose Flour
1/4 Cup Freshly Squeezed Kumquat Juice - you may use orange juice as substitute
1/2 Tsp Fresh Ginger - grated
1/2 Cup Plain Yogurt or Greek yogurt (whatever is available)
1/2 Cup Canola Oil (You may use any light oil)
1 Cup Sugar - You may use sugar substitute of choice
2 Large Eggs
2 Tsp Baking Powder
1/2 Tsp Salt
Cake Topping (Need to be added before baking)
1/4 Cup Cream Cheese - whipped
8 Kumquats Thinly Sliced - round shape
1/4 Tsp Grated Ginger
1 Tbsp Sugar
Instructions
! Prep Work:
Preheat the oven to 350F (175'C).
Spray a (9x5) round cake pan with baking spray, set aside*
Mix sliced kumquats, 1/4 tsp ginger and sugar together. Keep aside.
! Make the Kumquat Ginger Cake:
Sift together flour, baking powder, salt in a large bowl.
Whisk together, yogurt, sugar, and eggs, to form a batter.
Add oil, kumquat juice, grated ginger and whisk again to form a frothy batter.
Fold the dry ingredients slowly into wet ingredients and form a smooth (lump-free batter).
Pour the batter into prepared pan.
Spread the cream cheese evenly on top of the batter.
Place the mixed kumquat slices on top.
Bake for 30-35 minutes, until the cake feels springy to the touch and a toothpick or cake tester inserted into the center comes out clean. Be careful not to over bake.
Cool cake on a wire rack for 10 minutes; then turn it out of the pan onto the rack.
Once the cake has completely cooled, sprinkle with powdered sugar.
Serve fresh.
Nutrition Information:
Yield:
10
Serving Size:
1
Amount Per Serving:
Calories:

340
Total Fat:

14g
Saturated Fat:

2g
Trans Fat:

0g
Unsaturated Fat:

11g
Cholesterol:

45mg
Sodium:

278mg
Carbohydrates:

47g
Fiber:

2g
Sugar:

30g
Protein:

6g