Festive Chocolate Chip Cookies with Peppermint Icing: These cookies are fudgy, puffy and loaded with chocolate chips, cranberry, pecans, marshmallow, peppermint and decorated with peppermint icing. 
Hey Everyone, Hope you had a great Thanksgiving and are now looking at an awesome weekend with loved ones!!
We had lots of celebrations last night and like always, we ended up eating way too much that we thought we would 😉 Did it happen with you too or is it just us 😉 ?
But I definitely wanted to share these Festive Chocolate Chip Cookies with Peppermint Icing with you'll as we are heading over to a gameday or weekend.
I know some of you would be looking for that quick but not that heavy festive dessert kind of a recipe.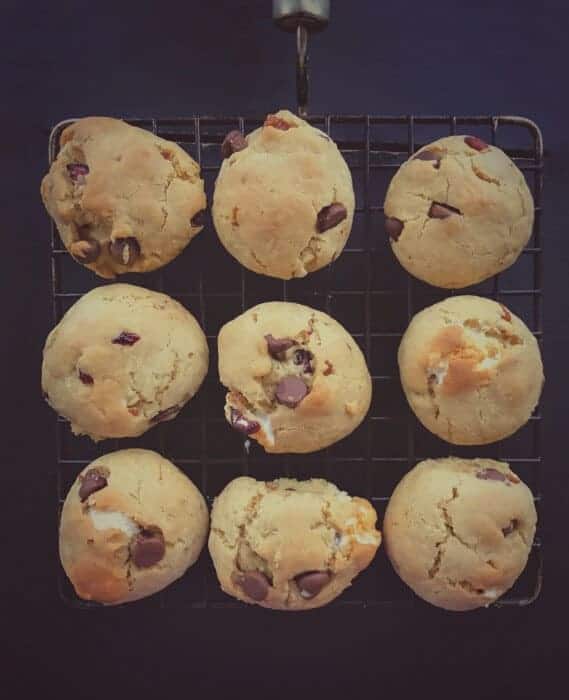 So guess what, what's better than these loaded cookies that are filled with all your favorite festive ingredients like cranberries, marshmallow, chocolate chip and much more.
I added some crushed peppermint toffee too for that 'Oh la la' taste and also iced it with some extra peppermint. But feel free to skip or add any other ingredient of your choice.
And did I tell you we got everything from the convenient 'Dollar General' which is offering tons of coupons on your festive ingredients.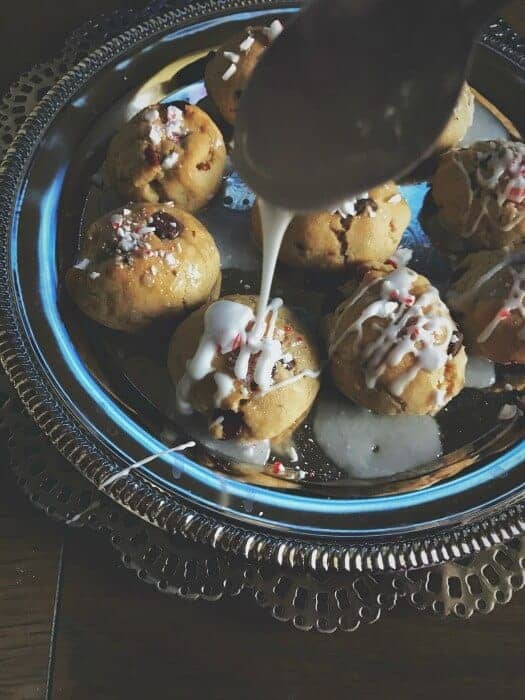 And if it's a gameday then it cannot be complete without everyone's favorite food – Pizza 🙂
So apart from other ingredients, I also picked up the Rising Crust DiGiorno Pizza which bakes super fast and tastes yummm.
I mean pizza + cookie is the perfect combination for any gameday !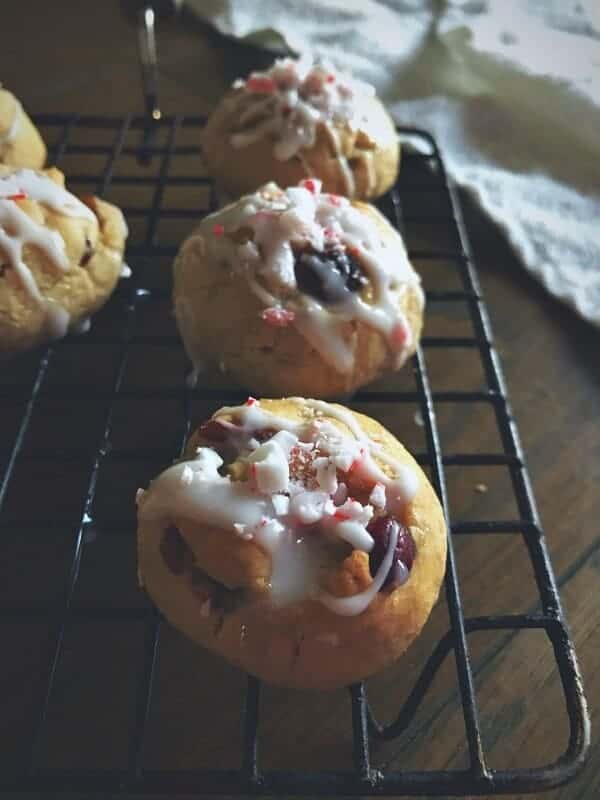 Enjoy your day ahead and I'll keep it short this time and see you'll next week with a new recipe.
Here's our Dollar General DiGiorno Pizza & Our Cookie ingredients.
---
Tried Our Recipe – AWESOME!!!
Now Quickly SNAP A PICTURE & TAG :
#easycookingwithmolly +  @easycookingwithmolly on Instagram –>
Connect with Me Here:  Facebook / Pinterest / Instagram / Twitter / Subscribe to our Newsletter / Google+
Yield: 15 Cookies
Festive Chocolate Chip Cookies with Peppermint Icing
Prep Time 5 minutes

Cook Time 15 minutes

Total Time 20 minutes
Ingredients
1½ Cups All Purpose Flour
½ Tsp Baking Soda
1/4 Tsp Baking Powder
¼ Tsp Salt
¼ Cup Granulated Sugar
½ Cup packed light Brown Sugar – (If unavailable, Can use regular sugar)
2 Tbsp Butter – unsalted and at room temperature
¼ Cup Oil – (Can use any non-flavored oil)
1 Large Egg – Room temperature
1 Tsp Vanilla Essence
½ Cups Chocolate Chips
1/4 Cup Pecans
1/4Tbsp Cranberry
1/4 Cup Marshmallow
1 Tbsp Peppermint Bark - crushed
Peppermint Icing Ingredients:
1/2 Cup Confectioner Sugar
1 Tsp Water
4 Tbsp Peppermint Bark - Crushed
Instructions
Prep Work: Preheat oven to 350F (190 C)
In a medium bowl, whisk together all purpose flour, soda, chocolate chips and salt.
In a large bowl, Whisk together butter, oil, egg, both sugar and vanilla.
Now add flour mixture to the wet mixture and mix using spatula till a smooth dough like texture is
attained.
Now using a tablespoon, make round balls about ¾ to 1 inch.
Space them about 2 inches apart on an already lined baking tray and bake for 8 minutes.
Cool for 2 minutes on baking tray and then transfer to a wire rack to continue cooling.
Prepare the Icing:
In a medium bowl, whisk together sugar, water, 2 tbsp peppermint and form a smooth runny icing.
Coat the cooled cookies with this icing.
Sprinkle peppermint on top and Serve fresh.
Store in an air tight container in fridge for a week.
Nutrition Information
Serving Size
1
Amount Per ServingCalories 20 Sodium 140mg Carbohydrates 2g Sugar 1g