Cranberry and Turkey Risotto in Brown Butter Sauce: Melt in your mouth recipe that's filled with flavors. Perfect holiday recipe enjoyed with loved ones. It can be enjoyed both for brunch or dinner.
Thanksgiving is just around the corner and I'm literally all over the place with last-minute gifts, cards and few more arrangements.
However, the only thing that gives me some peace of mind is that my dinner menu is already planned….phew !!!
This gorgeous – scrumptious Cranberry and Turkey Risotto in Brown Butter Sauce is the highlight of my Thanksgiving dinner.
Every holiday party, I do one gourmet/special dish which not only delights the person who's having the meal.
But also gives me that internal bliss (read mental peace…namaste moment) and for that one particular dish, I go all out or take that extra minute to prep or decorate.
My Cranberry and Turkey Risotto in Brown Butter Sauce is definitely going to be that one dish for this year's Thanksgiving dinner that's getting all the extra love 🙂
The recipe is very easy, all I did was make this brown butter sauce with cranberries and sauteed the risotto in it.
I also thinly sliced a turkey sausage and cooked it in brown butter along with herbs.
Then I sauteed a bunch of spinach in the same brown butter sauce and carefully placed everything together in an individual plate.
I'm serving it along with a dollop of yogurt with capers.
To serve this fabulous recipe, I was looking for that perfect drink that doesn't overpower the taste but simply blends in or enhance the flavors further.
I chose Wente Vineyards 'Morning Fog Chardonnay' 2014 Vintage (which has a Wine Enthusiast score of 90 Points).
For my chardonnay lovers, this wine has flavors of green apple and tropical fruits, balanced by subtle oak, cinnamon, and vanilla from barrel aging.
Hence, it goes perfectly with my rich brown butter sauce and gives the whole dish a very refreshing taste.
I'm slightly more excited about pairing the Wente Wine as we have actually been to the vineyard (Livermore, CA) a couple of times with friends and family.
And had an amazing time tasting wines and noshing in their in-house restaurant.
They have a gorgeous looking lush place with tasters room, restaurant, wedding place and even host music concerts (which is a BIG YAAAY for me).
If you're in California, I highly recommend visiting it and you can buy their wines online here -> Wente Vineyards <-
Until Next Time, I hope you try my 'Cranberry and Turkey Risotto in Brown Butter Sauce'
Perfectly Paired with Wente Wine (Here's a picture of the 'Morning Fog Chardonnay – 2014 Vintage').
Wish You'll A Happy Thanksgiving !!!
:: You May Also Like ::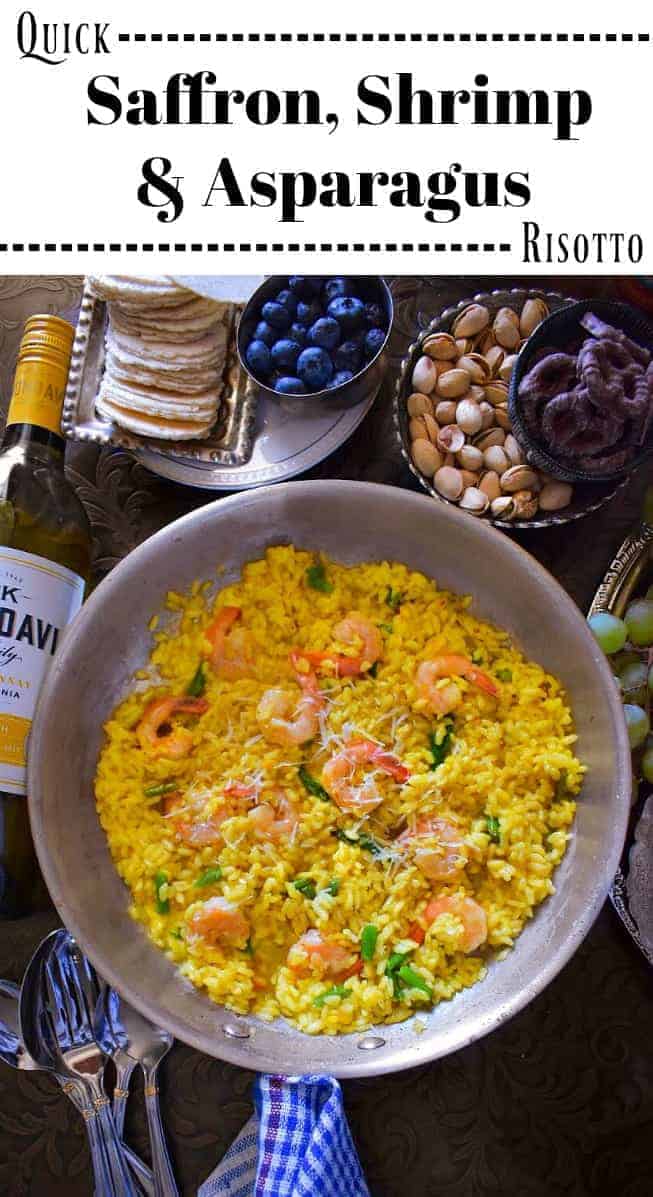 ---
Tried Our Recipe – AWESOME!!!
Now Quickly SNAP A PICTURE & TAG :
#easycookingwithmolly + @easycookingwithmolly on Instagram –>
Connect with Me Here: Facebook / Pinterest / Instagram
Yield: 6 People
Cranberry and Turkey Risotto in Brown Butter Sauce
Cranberry and Turkey Risotto in Brown Butter Sauce: Melt in your mouth recipe that's filled with flavors. Perfect holiday recipe enjoyed with loved ones. It can be enjoyed both for brunch or dinner.
Ingredients
1 Cup Cranberries - Fresh or Frozen
4 Turkey Sausage - thinly sliced
3 Cups Risotto - Cooked - i'm using Vialone Nano rice (Check Notes on cooking Risotto)
5 Tbsp Brown Butter
1 Tbsp Balsamic Vinegar - optional
1/2 Cup Water
2 Cups Spinach - I'm using fresh (check notes for frozen spinach)
1 Tbsp Truffle Oil - Optional
Yogurt Sauce :: Optional
1/2 Cup Greek Yogurt - optional
3 Tbsp Capers - optional
Herbs & Spices
1 Tbsp Thyme
1 Tsp Cinnamon Powder
2 cloves
1/4 Tsp Black Pepper Powder
Salt as per taste
Instructions
Heat a medium pan, add 1 tbsp brown butter along with fresh spinach and saute for 2 minutes or till spinach gets slightly cooked.
Turn off the heat and remove the spinach to a bowl.
Heat 1 tbsp brown butter in the same pan and add sliced turkey sausage in it.
Saute over medium heat for 3-4 minutes or till the sausage is completely cooked.
Remove the cooked sausage to a kitchen towel to soak any excess oil.
Heat 3 tbsp brown butter in the same pan (we want the sausage flavor in the sauce).
Add cranberries to it and saute on medium heat for a 3 minutes (keep stirring in between to prevent the sauce from burning).
Add balsamic vinegar, thyme, cinnamon, clove, pepper, salt, water and mix everything together in the sauce.
Now, add the cooked risotto and lightly fold the risotto into the sauce.
Cook for 2-3 minutes while stirring in between.
Optional Step: Add Truffle Oil and cook for another minute.
Turn off the heat and let the risotto cool for a minute.
Making Yogurt Sauce :: (Optional - to be served along with dish)
Whisk yogurt with salt and pepper in a small bowl.
Take 1 tsp capers and chop them thinly.
Add chopped capers to the whisked yogurt.


Plating the Dish ::
Take a deep circular cookie cutter or circular food mold and place it in the center of the plate.
Add 3Tbsp cooked rice to the bottom layer of the mold and press it gently to the bottom.
Now layer 1 Tbsp of Spinach over the cranberry risotto layer (spread the spinach leaves evenly).
Add 2 Tbsp of cranberry risotto over the spinach layer and press everything gently.
Very gently, remove the mold by pulling it upwards. (Lifting it above)
Place few spinach leaves on the center of the layered risotto and top with sliced turkey.
Decorate with spinach and cranberry on top.
Similarly, plate the remaining risotto onto the plates.
Spoon 1 tbsp of optional yogurt sauce around the plate and sprinkle some capers on them (For that tart taste).
Serve Warm
Notes
For Cooking Risotto at Home:
To cook 3 cups of risotto rice (Arborio / Carnaroli / Vialone Nano), you need
1 large onion
2 bay leaf
1 cup cheese
3 tbsp butter
1 cup chicken or vegetable stock
Instructions:
Heat a large pot and add 2 tbsp butter.
Now add the bay leaf, onion and saute for 3 minutes (till onions are slightly golden).
Now add the rice and saute for another 3 minutes.
Add the stock and let it cook for 12 minutes or till the rice is cooked.
Once the risotto is cooked, add 1 tbsp of butter, cheese and saute everything evenly.
Cook for another minute and turn off the heat.
Risotto is ready.
Nutrition Information:
Yield:
6
Serving Size:
1
Amount Per Serving:
Calories:

483
Total Fat:

24g
Saturated Fat:

11g
Trans Fat:

1g
Unsaturated Fat:

10g
Cholesterol:

90mg
Sodium:

685mg
Carbohydrates:

41g
Fiber:

4g
Sugar:

4g
Protein:

24g