Garlicky Khoba Roti – Glutenfree Indian Bread: Learn how to make this delicious and quick Indian roti made on stovetop within 10 minutes. Usually served with hot curry or cold yogurt mix with salad & also called 'Rajasthani Khoba Roti'
" Cooking is Love made Visible "
I totally agree with it and especially if it's a weekend- What do you think?
Weekends are meant for 'Food – Fun – Family & Friends' and if we get a chance, we can catch up on some sleep and then start fretting about everything come Sunday evening …
You get the idea 🙂 So this weekend, I wanted to share this special recipe Garlicky Khoba Roti – Glutenfree Indian Bread.
This roti/bread originates from Rajasthan, a state in Western India, popular for its music, colorful clothes, sand-dunes, old forts and definitely food. Oh, the food is excellent – Spicy and rich in flavors + ghee.
Growing up in New Delhi, we used to often drive down to Jaipur, Udaipur, Jaisalmer (all cities in Rajasthan) to nosh on their delicacies and site seeing.
And one of my favorite dish that we only could get in Rajasthan was Khoba Roti with Spicy Buttery Meat – OMG, it used to be so delicious..almost soul-satisfying (It felt that the whole purpose of that 2-3hrs drive was just to eat these 2 things 🙂 ).
Fast forward now and lets talk about Khoba Roti means 'Indented Bread' – which is a thick circular/oval shaped roti/bread, made using whole wheat flour or any flour combination.
In typical Rajasthani home, it's made all the way by hand and then small indentation are made all over the roti and then it's cooked thoroughly on clay stove or tandoor.
Now, of course, we don't have any clay stove at home but you can get the same taste and texture by making it on our regular modern day kitchen stovetop.
The recipe is very similar to making any Indian bread, just that you have to tweak some things here and there – Trust me, its easy and super yum!
To prepare the Khoba Roti, I'm using multigrain – glutenfree flours (chickpea flour + buckwheat flour + quinoa flour), ghee, garlic salt, fresh mint leaves but don't worry there are tons of substitute to the flours and all the ingredients used and here they are:
Substitutes:
1. You can replace GlutenFree Flour with Whole Wheat Flour or a Mix of Whole Wheat + All Purpose.
2. You can absolutely omit the garlic and make them plain too.
3. If Vegan, you can skip ghee and use coconut butter or any other vegan butter or oil.

4. You can skip mint and use coriander or just skip this step.
Seriously, it's an easy-peasy recipe and absolutely customizable to your taste. The only thing I insist upon is trying it with curry.
It tastes SUPER Delicious and nothing beats that taste. Add some ghee on the piping hot khoba roti to enhance the taste even further.
So, go ahead and try this Garlicky Khoba Roti recipe over the weekend along with this easy Indian Chicken Curry.
You can also make the dough and freeze it for later (stays up to a week in the freezer). Here's a Picture of 'How To – For the Khoba Roti'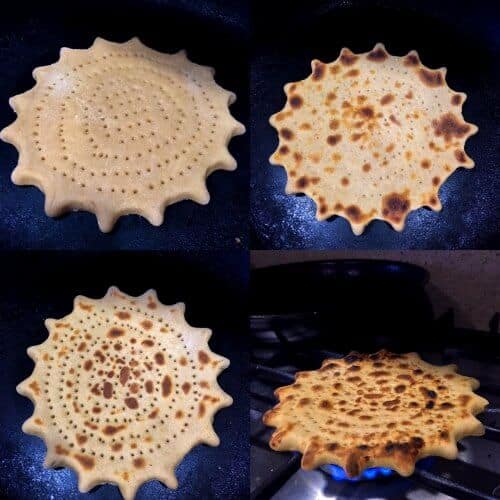 :: You May Also Like ::
Besan Ki Roti (Glutenfree Gramflour/Chickpea Flatbread)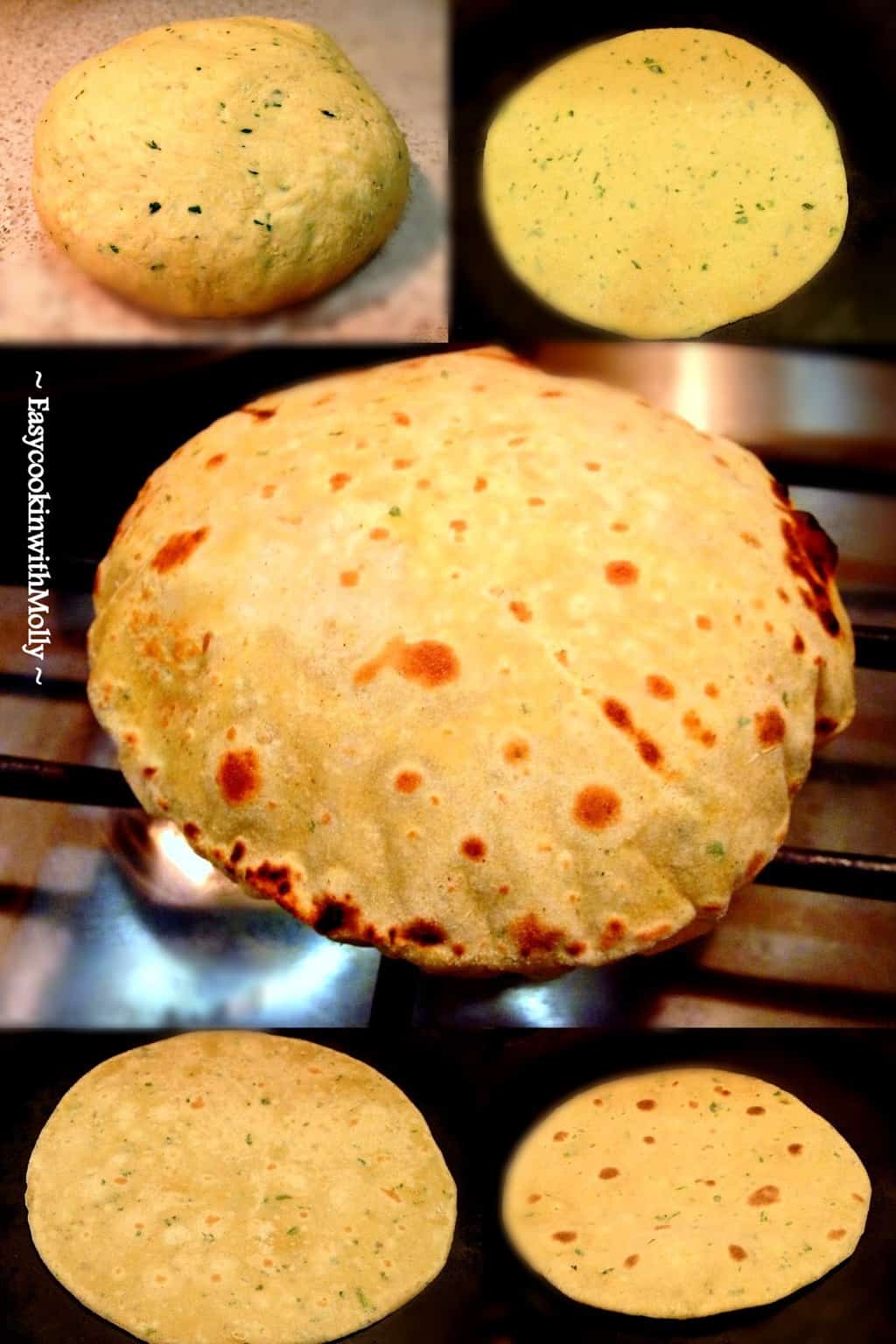 ---
As always, I Looove when you try my recipes and send me pictures & feedback.
You can tag my recipes tried by you using #easycookingwithmolly on any of the social media below:
Connect with Me Here: Facebook / Pinterest / Instagram / Twitter / Subscribe to our Newsletter / Google+
Yield: 10
Garlicky Khoba Roti – Glutenfree Indian Bread
Garlicky Khoba Roti - Glutenfree Indian Bread: Learn how to make this delicious and quick Indian roti made on stovetop within 10 minutes. Usually served with hot curry or cold yogurt mix with salad & also called 'Rajasthani Khoba Roti'
Ingredients
1 Cup Chickpea Flour - besan
1/2 Cup Buckwheat Flour - kuttu atta
1/2 Cup Quinoa Flour - optional
1/2 Tsp Garlic Powder - you can add or remove as per taste
3 Tbsp Ghee - optional
1/2 Tsp Carom Seeds - optional
1 Cup Water - 2-3 tables more incase the dough is dry
For Decoration:
7-8 Fresh Mint Leaves
1/4 Tsp Garlic Powder
1/2 Tsp Sea Salt - any course salt or even regular salt will do
Instructions
Making the Dough:
In a food processor, add all the three flour, garlic powder, carom seeds, 1 tbsp ghee and pulse for 10 seconds to mix everything.
Add 1/2 cup water to this mix and pulse again (you'll see dough lumps forming)
Add 1/4 cup water and mix again to form a smooth but slightly hard dough.
Divide the dough into 1o equal balls.
Making the Khoba Roti:
Now, take one dough ball and roll it into a thick circular shape using a rolling pin.
Use your fingers to form that star shape on the entire circle (see the process).
Use a fork to indent the inside of the circular roti (see the process pic).
Repeat this process till all roti's are made.
Cooking the Khoba Roti --
Heat a non-stick pan on high.
Place the raw khoba roti on it and let it cook for 1 minute (lower the heat during this process for even cooking).
Turn the khoba roti to another side and cook for another minute.
Follow this Method - If you have a Kitchen Tongs:
Life the cooked roti using the tongs and place it on high flames (side down) for 1/2 minute.
Turn to another side and cook evenly.
Repeat this process till all roti's are cooked.
** Follow this Method - If you DONOT have Kitchen Tongs:
While the roti is cooking on the pan, use a thick kitchen cloth to press and cook it even further.
Turn the roti to another side and continue the same process using the kitchen cloth.
Cook all the roti's similarly.
Once the roti's are cooked on both the sides, smear some ghee on top of each roti, sprinkle with garlic powder, sea-salt and crushed mint leaves.
Serve with Hot Curry for Best Taste.
Notes
Check SUBSTITUTES for Ingredients in Post
Nutrition Information:
Yield:
10
Serving Size:
1
Amount Per Serving:
Calories:

210
Total Fat:

10g
Saturated Fat:

4g
Trans Fat:

0g
Unsaturated Fat:

5g
Cholesterol:

8mg
Sodium:

286mg
Carbohydrates:

26g
Fiber:

3g
Sugar:

2g
Protein:

6g