Authentic Indian Chicken Curry – a quintessential, one-pot and melt in your mouth, Indian curry that consists of bite-size boneless chicken cooked in a perfect mix of onion, tomato, yogurt, and spices.
This Authentic Indian Chicken Curry recipe was posted on Feb 2015 and it's one of my evergreen or goto chicken recipes till date.
It can be served on any occasion/meal along with your favorite choice of side like bread/rice/roti's, etc.
The spices in this curry recipe are absolutely light and the recipe is so super easy that it's cooked almost 3-4 times (sometimes even more) in a month.
Although it's one of our favorite recipes, however the pictures here very old …. 2012 to be precise, when I had started my site.
So, I had been thinking since past few months that I'll update the old pictures (which were an extreme closeup of the dish in a not so lighted kitchen).
So, this time when I made a batch of this Indian Chicken Curry, I definitely wanted to take some pictures to update here and share with you'll.
How to Make Authentic Indian Chicken Curry:
Chicken (use clean chicken breast or thigh portion)
Yogurt
Tomato Paste
Onion
Ginger + Garlic
Basic Indian Spices: Turmeric, Chili, Salt
This also makes for a perfect one-pot recipe as everything is cooked in one pot from start to finish.
This Authentic Indian Chicken Curry recipe is very easy and although I've used yogurt in this curry but incase, you don't have yogurt, you can completely skip it.
The taste is still going to be amazing, just that it won't have the creamy golden structure.
Given below is the old post with pictures and hope you try this recipe soon 🙂
Indian Chicken Curry – How to make a basic Indian chicken curry recipe.
It all began during one of my conversations with mom this week and I started craving the simple Indian curry that she makes…cause there's nothing that comes close to a mom's cooking, it's the Best!
And just like most Indian women who have been cooking a particular dish for ages, they just eyeball all the ingredients and every-time it turns out great – no measurements, no fancy gadget but with tons of love 🙂
So we actually face-timed (video call) the very next day and she kept instructing eyeballing everything.
while I kept measuring and finally prepared her recipe of chicken curry with steamed rice and the best part – was the big contented smile on her face when she saw the finished dish.
Ahh,…that's what I call the boon of technology.
This infact is the most basic/authentic chicken curry recipe in India as it's made using common kitchen ingredients.
So here's the easy and delicious recipe which is best enjoyed with steamed rice. But you can definitely eat it with any soft bread or Indian roti.
Enjoy & Share
Here are some other Chicken Recipes You Can Try:
Lighter & Quick Chicken Biryani – Glutenfree
Indian Chicken Stew (Light & Glutenfree)
Indian Methi Chicken – Fenugreek Chicken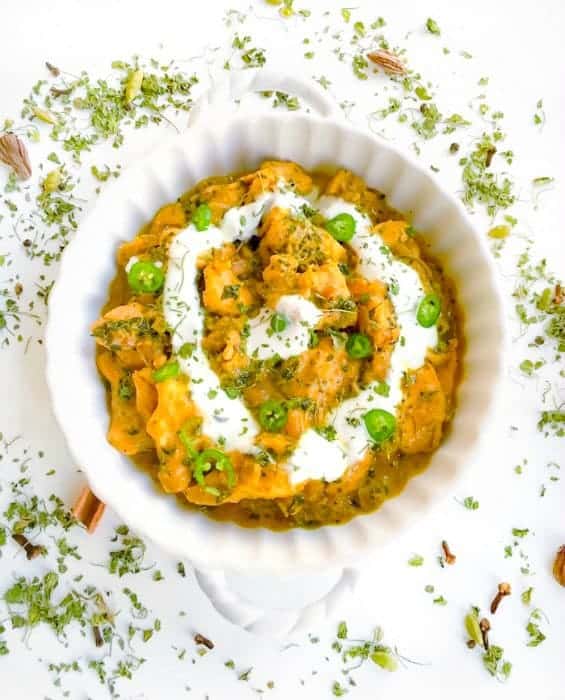 ---
DID YOU TRY MY RECIPE – AWESOME!!!
Now Quickly SNAP A PICTURE & TAG :
#easycookingwithmolly + @easycookingwithmolly on Instagram –>
Connect with Me Here: Facebook / Pinterest / Instagram
Yield: 1 Large Pot
Authentic Indian Chicken Curry
Authentic Indian Chicken Curry - a quintessential, one-pot and melt in your mouth, Indian curry that consists of bite-size boneless chicken cooked in a perfect mix of onion, tomato, yogurt, and spices.
Ingredients
3 Medium Chicken Breasts*
1.5 Cup Onion - Thinly Chopped
2 Medium Tomato - Thinly Chopped
1 Tsp Ginger+Garlic Paste
1 Cup Thick Yogurt - whisked
1/2 Cup water
5 Tbsp Olive Oil – You can use vegetable or canola oil as well.
1 Tbsp Chopped Jalapeno – OPTIONAL (For Decoration)
1 Tbsp Fried Onion – OPTIONAL (For Decoration)
Seasoning or Spices
2 Bay Leaves
1/2 Tsp Whole Pepper
3 Whole Green Cardamom
1/2 Stick Cinnamon
1 Tsp Turmeric Powder
2 Tbsp Coriander Powder
1 Tbsp Cumin Powder
1/2 Tsp Garam Masala Powder – You can get it easily at any Indian grocery store
1 Tsp Red Chili Powder
2 Tsp Salt (As per your taste)
Instructions
Warm the nonstick pan over high heat till hot (about a minute) and pour in the oil.
Reduce flames to medium, add bay leaves, whole pepper, green cardamom, cinnamon and sauté till they start to crackle.
Now add onion, ginger+garlic paste and saute until the onions turn light golden(about 3-4 minutes)
Add all the remaining spices and tomatoes, sauté for a minute.
Cover the nonstick with lid and cook together till tomatoes and onions gets tender and brown for 4 minutes on low flame. (Saute in between to avoid burning or over browning)
Stir in the chicken, re-cover the nonstick and continue to cook until chicken is tender about 6-7 minutes. (Saute every 2 minutes)
Now add whisked yogurt, water to the chicken, re-cover and cook everything together for another 2-3 minutes. (You can cook it 2-3 minutes longer if you like less curry)
Turn off heat and transfer into the serving dish.
Sprinkle with chopped jalapeno and fried onion and Serve hot with favorite bread / rice or Indian breads.
Notes
I'm using fresh tomato, if using frozen or canned, then reduce the quantity to 1/4 cup
Nutrition Information:
Yield:
4
Serving Size:
1
Amount Per Serving:
Calories:

214
Total Fat:

26g
Saturated Fat:

4g
Trans Fat:

0g
Unsaturated Fat:

21g
Cholesterol:

80mg
Sodium:

132mg
Carbohydrates:

22g
Fiber:

5g
Sugar:

11g
Protein:

34g