15 Minutes Mushroom Matar Masala – Stir Fry is a quick delicious entree or side dish to pep up any meal.
Goes well with Indian roti / bread or a bowl of steamed rice / any grain of choice.
Calling all mushroom fans as this 15 Minutes Mushroom Matar Masala – Stir Fry is super yum and so easy to make that you'll absolutely fall in love with this recipe.
This combination of mushroom and matar (peas) is a very popular Indian recipe that can be found in restaurants or North Indian homes.
Definitely, this is one of my favorite recipes, especially for a quick weeknight dinner or lunch.
I feel mushroom is such a versatile vegetable and tastes equally good in both Indian or International cuisine.
The only thing I don't like about it is 'They go bad so soon'…
I mean keep them in the fridge and by the time you think of what to make, they already start turning slightly mushy or get those brown patches.
So whenever we get them, it's always the first thing in my list to consume.
And as I mentioned above, this recipe can be your best bet to use mushrooms quickly and the stir fry gives it such a great taste. I
t's made using simple ingredients that can be easily found in your kitchen and all these ingredients + spices can be easily customized as per your taste.
But if you don't like matar (peas), you can totally make this with just mushrooms and it will taste equally delicious.
So, go get those mushrooms out of the fridge or buy that bunch or mushroom that you always thought you would get once you have an easy recipe.
Try this soon and enjoy with your whole family. This can be stored in the fridge for upto 2 days.
:: You May Also Like ::
---
Tried Our Recipe – AWESOME!!!
Now Quickly SNAP A PICTURE & TAG :
#easycookingwithmolly +  @easycookingwithmolly on Instagram –>
Connect with Me Here:  Facebook / Pinterest / Instagram / Twitter / Subscribe to our Newsletter / Google+
Yield: Cups
15 Minutes Mushroom Matar Masala – Stir Fry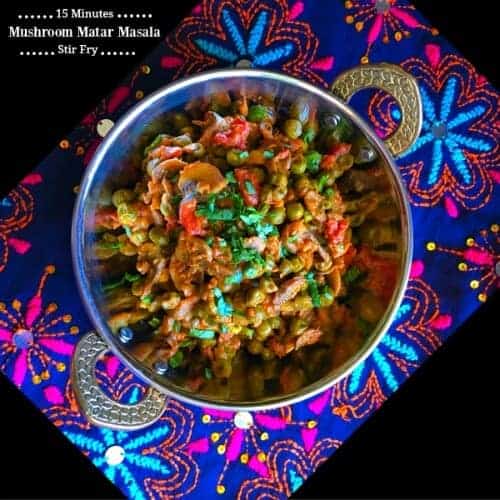 Ingredients
1 Packet Mushroom - I'm using 8 ounce white button mushroom
1 Cup Frozen Peas - thawed
1 Cup Onions - thinly chopped
1 Tsp Ginger - shredded
1 Tsp Garlic - shredded
2 Medium Tomatoes - thinly chopped
1 Small Jalapeno - thinly chopped - optional
5 Tbsp Olive Oil - to stir fry - can use any light oil
--- Spices ---
1 Tsp Cumin Powder
1 Tsp Coriander Powder
1 Tsp Garam Masala - homemade or store bought
1 Tsp Red Chili Powder - optional or use as per taste
1 Tsp Salt - use as per taste
-- Decoration --
1/4 Cup of Fresh Coriander - for decoration
Instructions
Heat 5 tbsp oil in a non-stick pan.
Add onions, ginger, garlic and stir fry for 5 minutes.
Add peas, jalapeno, tomatoes, all the spices and stir fry for 2 minutes.
Add mushrooms and stir fry on medium heat for 3 minutes.
Increase the heat to maximum and stir fry everything for another 2 minutes.
Switch off the heat and transfer the mushroom matar masala to a serving bowl.
Sprinkle some freshly chopped coriander.
Enjoy with side of choice.
Nutrition Information:
Serving Size:
4
Amount Per Serving:
Calories:

243
Total Fat:

19g
Saturated Fat:

3g
Sodium:

892mg
Carbohydrates:

16g
Sugar:

6g
Protein:

3g