Moist Almond Blueberry Coffee Cake made using yogurt and filled with fresh tart blueberries, toasted almonds and topped with a cinnamon-sugar crumb. Perfect for parties or breakfast.
Since Fall started my cravings for cake has taken a major jump and this Moist Almond Blueberry Coffee Cake was on top our list.
It's rich, flavorful and you just Cannot Stop at one slice….I'd say 2 or even 3 slices is a done deal with hot coffee.
This cake is popular by many other names like Blueberry Buckle Cake, Healthy Blueberry Yogurt Cake or Blueberry Streusel Cake.
This cake also tops our list as I've received multiple requests to post a moist yogurt-based cake after my extremely popular, requested 'Moist Lemon Yogurt Cake' which was done almost 4yrs back (gosh I can't believe its been that long).
So, this Moist Almond Blueberry Coffee Cake is very similar to the cake I mentioned above, except that this one has more toppings and goes perfectly with Fall Holiday themed parties.
Ingredients for Moist Almond Blueberry Coffee Cake :
Blueberry
Almonds
Eggs
Yogurt
Light Oil, can use olive oil or any light vegetable oil
Baking Powder + Baking Soda
Coffee Crumb Ingredients:
Brown Sugar
White Sugar
Flour
Butter
Almonds
Now, the crumb/streusel is completely optional and you can add or reduce the amount on top of the cake.
Step by Step Moist Almond Blueberry Coffee Cake Process:
For me Cakes (especially fruit-flavored ones) are literally One True Love 😉 If you haven't read my 'about me' details, it was the very first thing I made at a very young age and since then it was love at first sight.
So this cake is no exception and gets all the special attention and time it needs.
When it comes to cake, there's no hurry as baking a cake is extremely therapeutic experience.
So we start by whisking together flour, baking powder+baking soda and keeping this mix aside (which we call Dry Ingredients).
Then we whisk the eggs with sugar and I always use a medium speed (in hand mixer) which results in a fluffier/lighter cake.
Then we add other liquid ingredients like oil, yogurt (any essence or extract) and whisk everything to a smooth luscious batter.
Once the liquid batter is all ready, we add the berries, almonds and the dry mix and fold everything together.
As seen below
Once the wet + dry batter is evenly mixed (no lumps should be there), we transfer everything to a baking pan (I'm using 9×5 round pan).
Now, you can bake the cake as is, but as we are serving it for holiday party, I wanted to add crumb on top.
So mix the 'Crumbs' ingredients in a bowl and sprinkle it on top of the cake.
Then bake for 30 minutes.
That's it, after 30 minutes of baking and 5-7 minutes of cooling the cake, it is ready to be served!!!
You can serve the cake as it is or add some more fresh blueberries on top and serve.
Pro-Tips for the Best Moist Almond Blueberry Coffee Cake:
Always use Fresh Blueberries, as frozen blueberries literally become all watery and the cake texture comes out all soggy.
Always use Thick Plain Yogurt (full fat), we don't want any extra water in the batter. You CAN Substitute Yogurt with Plain Buttermilk or even Sour Cream.
Never Beat the eggs in high speed or for loner time as this results in a cake with the uneven or soggy center.
You want ALL Ingredients to be at room temperature (including eggs – which whisks better).
Always fold the dry ingredients as this also results in a fluffier and light cake.
Never Whisk the Blueberries or Push them too hard when mixing in batter, as they break easily and the cake would come out uneven.
Always keep an Eye when making Crumb/Streusel cakes, as they tend to burn quickly.
You can use a Mix of Sugar with Stevia for this cake.
So, go ahead and make this Moist Almond Blueberry Coffee Cake ASAP and enjoy with a fresh cup of coffee or tea.
It's a family favorite at all my house events and I can say kid to elderlies, everyone loves it.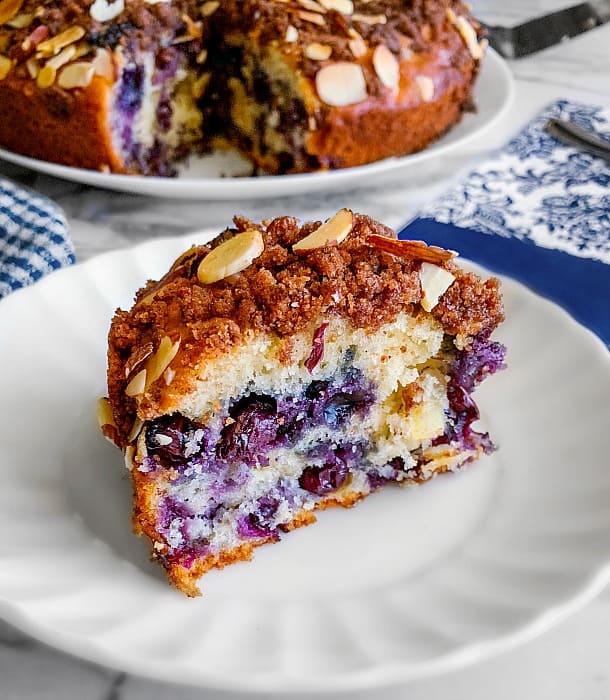 Tried Our Recipe – AWESOME!!!
Now Quickly SNAP A PICTURE & TAG :
#easycookingwithmolly + @easycookingwithmolly on Instagram –>
Connect with Me Here: Facebook / Pinterest / Instagram
:: You May Also Like ::
Yield: 10 People
Moist Almond Blueberry Coffee Cake (Using Yogurt)
Moist Almond Blueberry Coffee Cake filled with fresh tart blueberries, toasted almonds and topped with a cinnamon-sugar crumb. Perfect for parties or breakfast.
Ingredients
1 Cup Fresh Blueberries
1 Cup Slivered Almonds
1½ Cups All-Purpose Flour (Maida)
2 Large Eggs – Room Temperature
1 Cup Powdered Sugar
½ Cup Oil – (Any flavorless Oil will do)
4 Tbsp Yogurt
1 Tsp Baking Powder
½ Tsp Baking Soda
1 Pinch Salt
1 Tsp Vanilla Extract
Streusel/Crumb:
3 Tbsp Flour
3 Tbsp Brown Sugar
1 Tbsp White Sugar
1 Tbsp Cinnamon (more if you like)
2 Tbsp Butter
1/4 Cup Slivered Almonds for topping
Instructions
Prep Work:
Pre-heat oven at 375 Fahrenheit
Add 2 Tbsp Flour to fresh blueberry and gently mix with spoon to coat each blueberry (this prevents blueberry from sticking in the dough and break less).
In a bowl, add all the streusel ingredients, whisk and keep aside.
Make the Moist Almond Blueberry Coffee Cake:
In a medium bowl, sieve together flour, baking powder, baking soda & keep aside. (Dry Ingredients).
In another bowl, whisk eggs for a minute (until nice and frothy).
Add sugar and whisk until combined.
Add oil & yogurt, Whisk on medium speed till everything is mixed together completely.
Now, lightly fold in (mix) the dry ingredients to the above mixture slowly making sure no lumps are formed.
Once the mixture is completely folded, add the blueberries and almonds.
Fold everything to combine evenly.
Transfer to buttered/oiled baking tray.
Sprinkle crumble on top.
Add some more almonds on top.
Bake at 375F for 31 minutes.
Turn off the oven, insert a toothpick in the center of the cake and take it out. If it comes out clean+dry, the cake is nicely cooked inside.
Remove from oven and let it cool for few minutes.
Slice and serve with coffee/tea.
Nutrition Information:
Yield:
10
Serving Size:
1
Amount Per Serving:
Calories:

357
Total Fat:

21g
Saturated Fat:

3g
Trans Fat:

0g
Unsaturated Fat:

17g
Cholesterol:

44mg
Sodium:

163mg
Carbohydrates:

38g
Fiber:

3g
Sugar:

18g
Protein:

6g