Flavorful, fudgy and melt-in-your-mouth Easy Besan Barfi is made using besan, ghee, sugar, and water. Studded with coconut powder, rose petals and almonds, this Besan ki Barfi is a Must this Festive Season.
Hey Everyone, I've finally come to this year's Diwali Celebrations finale recipe and it's Everyone's Favorite ~ Besan Barfi or Besan ki Barfi or sometimes also called Besan Burfi.
It is Indian Chickpea-Ghee Dessert fudge which is an essential part of the Festive season or just about any celebrations in India.
So you can say its a 'Traditional Indian Sweet' made on special occasions 🙂
As we move from north to south, we can find many different shapes/variations of this particular dessert-like: Mohanthal / Mysore Pak / Besan ki Chikki, etc.
No matter what you call or where you go, there's one thing common – the sweet/mithai is absolutely Delicious and the ingredients are simple.
This recipe is exactly how my mom makes it and I've not changed anything much except I've added some food color to give it that pop of yellow-orange tones (which is completely optional).
Ingredients for Easy Besan Barfi or Besan ki Barfi:
The ingredients for this Indian sweet is so few, you can literally count in 1 hand 😉
Besan – chickpea flour
Ghee – clarified butter
Sooji – extra-fine Semolina
Sugar
Water
Decoration & Flavors: Cardamom powder, coconut powder, rose petals and yellow-orange food color
Before you jump-start the recipe, here are some Tips/Tricks to Keep in Mind:
Kadai (Pan), I prefer a wide mouth non-stick pan to make this recipe.
Low-Medium Heat, this is sooooo important, you need to roast the besan in low-medium flames to avoid burning and uncooked besan.
Besan, we need smooth and fine quality besan and NOT Ladoo Besan (available in Indian stores).
Ghee, we need plain ghee, NO Flavored or Old Brown Ghee (that results in dark shaded barfi).
Sugar Syrup Mix (Chashni), this is what makes the barfi Hard or Soft. So we need 1 Thread Sugar Syrup (you can check tons of Youtube videos for that) 🙂
If Sugar Syrup is Cloudy in Color: if your sugar syrup is cloudy that means it has impurities and you need to clear that by adding 2tbsp milk (1 cup sugar). Once you boil with 2tbsp milk, you will see dusty color froth on top while the mix bubbles. Simply remove that froth using a big spatula and paper towel.
How to Fix Hard Barfi: this usually happens when the sugar syrup is not of 1 thread. Simply microwave the barfi. Add little milk powder and then set it again.
How to Fix Soft Barfi: this is the easiest to fix, simply add more roasted flour + milk powder and set again.
The Process to Make Besan ki Barfi:
Now that we have discussed the basic tips, let's begin with the recipe:
I start by whisking some ghee with besan and sooji (semolina). This mixes and breaks down the lumps that are formed by mixing dry-wet ingredients. Also, your besan is nicely incorporated with ghee.
Now heat a pan/Kadai, add the besan-ghee mix and start roasting over low-medium flames.
Keep whisking the roasted besan till you finally smell a nutty flavor coming from the roasted besan and it would also become richer in color (slightly dark orange-brown).
Meanwhile, in another pot heat together sugar and water to make the 1 Thread Sugar syrup.
Once the sugar syrup is made, I like adding the food color in it for an even look.
Now add the roasted besan to the sugar syrup and turn the heat to medium.
Keep whisking this mixture unless the texture begins to harden a little.
Turn off the heat and transfer the mix to a greased pan.
Add chopped almonds on top and leave outside or keep in the fridge for 30 minutes to set.
Once set, slice the besan barfi and sprinkle coconut flakes and rose petals.
Serve immediately or store in an air-tight container.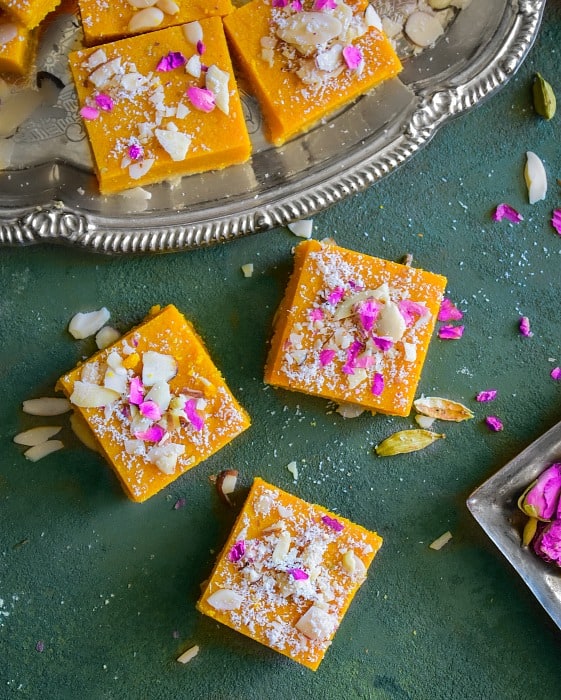 How to Make 1 Thread Sugar Syrup (1 Taar ki Chashni):
Heat sugar – water together and whisk in between until sugar is completely dissolved.
Now, take a tiny droplet using a spoon and place in your index finger.
Close it using the thumb and open – if there is 1 faint string-like texture, your syrup is ready.
If not, cook for 1-2 more minutes and test again till you see a tiny thread.
—————————-
Tried Our Recipe – AWESOME!!!
Now Quickly SNAP A PICTURE & TAG :
#easycookingwithmolly + @easycookingwithmolly on Instagram –>
Connect with Me Here: Facebook / Pinterest / Instagram
:: You May Also Like ::
Yield: 10 Pieces
Easy Besan Barfi
Flavorful, fudgy and melt-in-your-mouth Easy Besan Barfi is made using besan, ghee, sugar, and water.  Studded with coconut powder, rose petals and almonds, this besan ki barfi is a Must this Festive Season.
Ingredients
1 Cup Besan (Chickpea Flour)
1/2 Cup Ghee
4 Tbsp Ghee - extra
1/4 Cup Sooji - extra fine
1 Cup Sugar
1/4 Cup Water
Decoration (optional)
4 Tbsp Sliced Almonds
1 Tbsp Dry Coconut Powder
1 Tsp Dry Rose Petals
Instructions
Prep Work:
Grease or place a parchment paper on a square dish (you can use an 8-inch plate/baking dish too) and set aside.
Roast the Besan
In a large bowl mix besan, sooji, and 4 tbsp ghee. Mix well using a whisk or by hand.
Place a Kadai/pan over medium flame and add 1/2 cup ghee.
Let the ghee heat until fully dissolved and then add the besan mixture.
Now reduce the flame to medium-low and start mixing the besan and ghee together.
Keep roasting the besan for 7-8 minutes until it starts turning golden brown and you'll get a nutty aroma (it will also become thick and leave ghee at the sides).
Make the 1 Thread Sugar Syrup (Chashni):
In a large pot, add sugar, water and boil over medium heat until sugar completely dissolves.
Keep boiling for a minute more and do the 1thread test (take a drop of sugar in the index finger and close by a thumb. Open the thumb and you should see a light thread forming).
If using food color, add it now and whisk so that the sugar syrup looks yellow-orange.
Make the Besan Barfi:
Keep the flames low on sugar syrup pot.
Now add the roasted besan mixture slowly in the hot sugar syrup (keep whisking).
Once all the besan mixture is added, whisk to make a smooth thick batter.
Keep whisking this over low flame till you see the mixture starts to thicken.
Turn off the heat.
Now take the greased dish and pour the thick besan barfi mixture in it.
Smoothen the top using a knife or pat it slightly with hands.
Sprinkle sliced almonds on top and let the barfi cool for a minimum of 45 minutes.
Once barfi is hard to touch/set, use a knife to cut into desired pieces (I make 10 pieces).
If using, sprinkle dry coconut powder and rose petals on top.
Serve immediately or store in an air-tight container for later.
Notes
Besan, you need fine besan and NOT the ladoo besan
Sooji, you need extra fine sooji. If you cannot find it, then blend regular sooji to make an extra fine variety.
Sugar Syrup, if it's cloudy, then remove the dirt by adding the 2tbsp milk method mentioned in the post.
Nutrition Information:
Yield:
4
Serving Size:
1
Amount Per Serving:
Calories:

666
Total Fat:

44g
Saturated Fat:

25g
Trans Fat:

0g
Unsaturated Fat:

17g
Cholesterol:

98mg
Sodium:

21mg
Carbohydrates:

65g
Fiber:

3g
Sugar:

53g
Protein:

7g