Matcha Green Tea Yogurt Snack Bowl : 3 Minutes, Healthy snack recipe that leaves you craving for more. Its packed with the goodness of Matcha Green Tea, Honey and Fresh Fruits n Nuts – NomNomNom.
Is anyone else feeling super lazy this weekend or is it just me?
Although the weather is amazing and my heart says lets go out for the day but my head is like – No, you need to rest (especially after all the jetlag that's started to seep in since past 2 days).
With all this + unpacking the bags + laundry, GOSH…the list is long and I needed to do some cooking too, as I made a conscious decision to start eating healthy (after a crazy All-You-Can-Eat India Trip).
So, enter the ' Matcha Green Tea and Yogurt Snack Bowl ' which is not only healthy but seriously Yummmm & Off we go shopping for it.
We went to our nearby> Sprouts Farmers Market < which was also running a fabulous 35% off all participating items. No code or coupon needed! (How Awesome is that)!
Plus, you can also find more April Savings on the Sprouts landing page! Some of the products that are on sale are:
– Food Should Taste Good Multigrain Tortilla Chips 5.5 oz
– Larabar Peanut Butter Chocolate Chip
– Cascadian Farm Cinnamon Crunch Cereal
– Muir Glen Pasta Sauce Tomato Basil
– Mountain High Original Style Plain Yogurt
– IBC Cinnamon Rolls with Icing 5 ct.
– Annie's Mini Pizza Bagels – Cheese
– Annie's Mac & Cheese Shells & Wisconsin Cheddar
– Annie's Fruit Snacks Bunny Berry Patch
– Annie' s Natural Goddess Dressing
With so many discounts on stuff, we actually ended up shopping an entire cart full, along with Mountain High Original yogurt and strawberries for our Matcha Green Tea and Yogurt Snack Bowl.
As we were coming back home, I also found a couple of classic movies to watch & The Weekend is all set!!!
The recipe is easy-peasy and you can make it however you please.
I like to mix the matcha powder with yogurt and then top with rest of the ingredients. But, if you want, you can even sprinkle Matcha directly over the bowl of yogurt and add rest of the ingredients.
So, what started as a lazy weekend is actually turning into a 'Movie+Pajama All Day' kinda Weekend but thankfully – we are eating something healthy.
Here's the final result after all the mixing, chopping and decorating. I made twice the quantity mentioned in this recipe as I think I'm gonna binge on it for lunch or dinner too.
The mix of strawberry + matcha (sugarless) makes it absolutely divine and when we top it with honey, its Ahhhmazing!!!
Have a Fun – Fab Weekend and Do visit the Sprouts site for Sweepstakes (Info Below):
Sprouts will be hosting a > Get and Give Back Sweepstakes < hosted on www.sprouts.com/giveback.
Five lucky winners will be selected to receive a $2,000 Sprouts gift card and nominate a local food bank in their community to receive a $2,000 monetary donation.
Connect with Me Here: Facebook / Pinterest / Instagram
Yield: 2
Matcha Green Tea and Yogurt Snack Bowl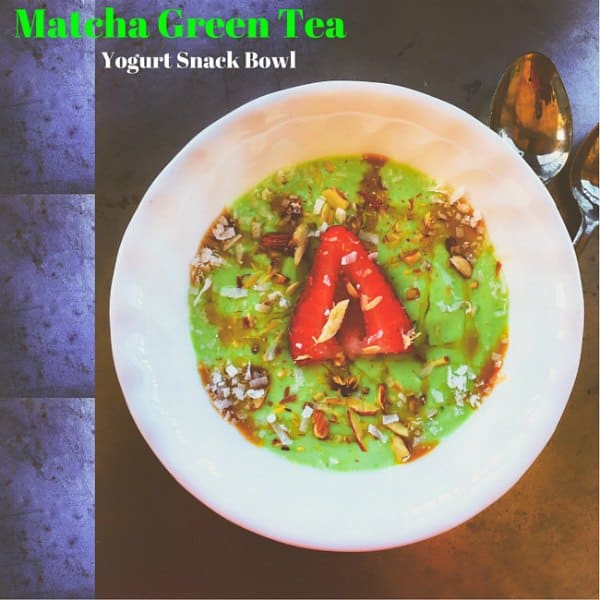 Matcha Green Tea and Yogurt Snack Bowl
Ingredients
1 Cup Yogurt
1 Tsp Matcha Green Tea - light/strong, any variety you like
4-5 Strawberries - Sliced as per choice
2 Tbsp Toasted Almonds - homemade or store bought
2 Tbsp Toasted Coconut Flakes
2 Tsp Honey - for each bowl
Instructions
In a bowl, whisk yogurt and green tea to a smooth paste.
Transfer to serving bowl and top with strawberries, coconut, almond and drizzle with honey.
Serve fresh or chill in refrigerator to be served later.


Nutrition Information:
Yield:
2
Serving Size:
1
Amount Per Serving:
Calories:

183
Total Fat:

8g
Saturated Fat:

3g
Trans Fat:

0g
Unsaturated Fat:

5g
Cholesterol:

7mg
Sodium:

138mg
Carbohydrates:

22g
Fiber:

2g
Sugar:

18g
Protein:

8g