Instant Coconut Ladoo: a popular Indian sweet recipe made using 3 ingredients – coconut powder, condensed milk and cardamon. Ready in 10 minutes and makes 15 ladoos. Perfect for Indian festive season or parties
Learn How to Make Instant Coconut Ladoo with 3 Different Flavors
There cannot be an easier Indian dessert/sweet that these Instant Coconut Ladoo.
They are ready in 10 minutes, require only 3 ingredients and perfect to gift or use for Indian Festivals.
It's also the first Indian Sweet recipe that I learned from my Mom while growing up as we always made it together for Holi/Diwali apart from tons of other things she made.
There is no shortage of sweets in the market but as Mom says 'Nothing says love than Homemade', so here I'm sharing my favorite Instant Coconut Ladoo (Nariyal ke Ladoo) recipe with you all 🙂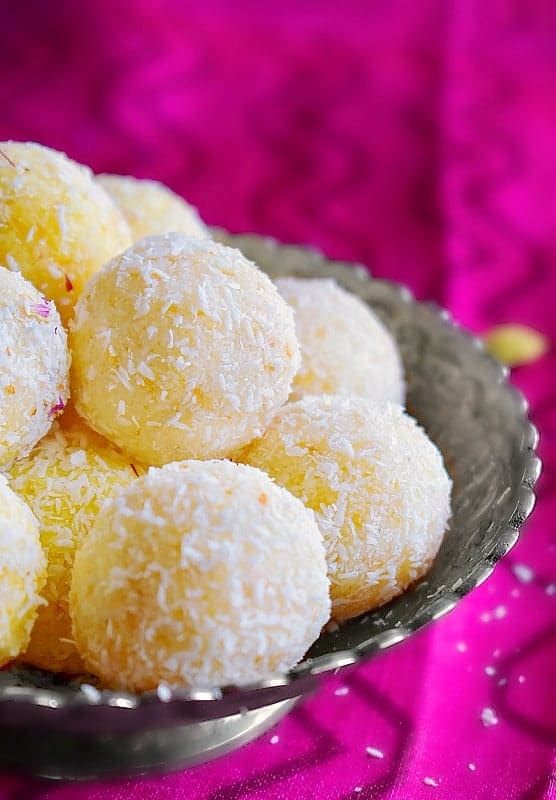 What Do You Need to Make Instant Coconut Ladoo (Ingredient)?
Coconut Powder (unsweetened)
Condense Milk
Cardamom Powder
I usually start the recipe by slightly roasting the coconut powder for a minute as this brings out a delicious coconut aroma.
Once that's taken care of, it's just mix, shape and enjoy
Seriously, that simple and if you want, you can TOTALLY Skip the roasting coconut part.
Infact, this recipe was posted in 2014 with under the kitchen slab pictures, so I thought for this Holi, why not re-create and share some new pictures.
And trust me, it was tough to get them clicked as the Coconut Ladoo's kept getting disappeared … I wonder who ate most of them 😉
Also, I'm also giving you 3 Flavor Variations for this Coconut Ladoo Recipe :
Original Coconut Ladoo Flavor
Saffron Coconut Ladoo Flavor
Rose Coconut Ladoo Flavor
From here you can read the Old Post:
There's also lots of traditional + modern food that are cooked, parties and eventually closing the ceremony by eating dinner with loved ones and bursting crackers.
And off-course, this festival is incomplete without sweets – ranging from intricate Indian sweets/mithai's to real easy ones (Only MUST HAVE – they have to be YUMMYYY)
So this Diwali, I'm making these Instant Coconut Ladoo and wanted to share this super quick, simple but absolutely yummy recipe.
You can also call it a 3 Ingredients Sweet that's ready in 10 minutes and needs the least cooking.
Also as we are using sweetened condensed milk, hence there's no need to add any extra sugar.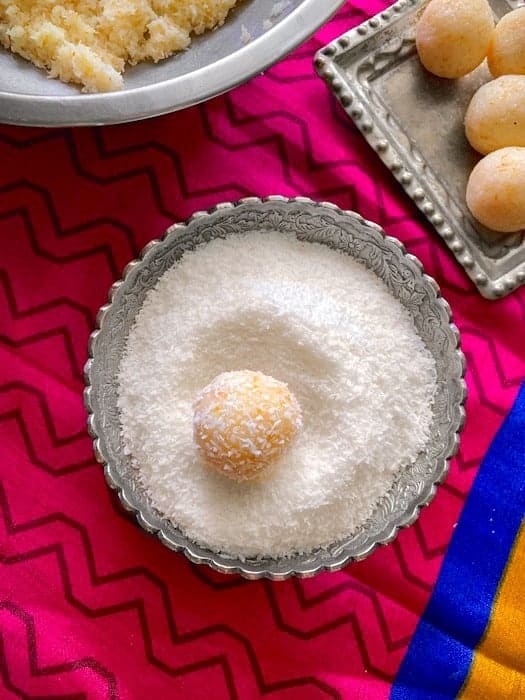 Pro Tips :
Slightly toasting the desiccated coconut brings out an intense flavor.
Greasing your hands while making Ladoo, will prevent the mixture from sticking to your hands.
Using an Ice-Cream Scoop to measure the size of ladoo, will result in even shaped/sized ladoo.
They also make an excellent sweet to gift in any Indian festival or for parties.
~*~*~*~ Wishing Everyone A Very Happy, Prosperous & Holi ~*~*~*~
Quick Indian Desserts
Delicious and Quick Indian Dessert recipes that can be easily made at home for big to small gatherings.
---
DID YOU TRY MY RECIPE – AWESOME!!!
TAG : #easycookingwithmolly + @easycookingwithmolly on Instagram –>
Connect with Me Here: Facebook / Pinterest / Instagram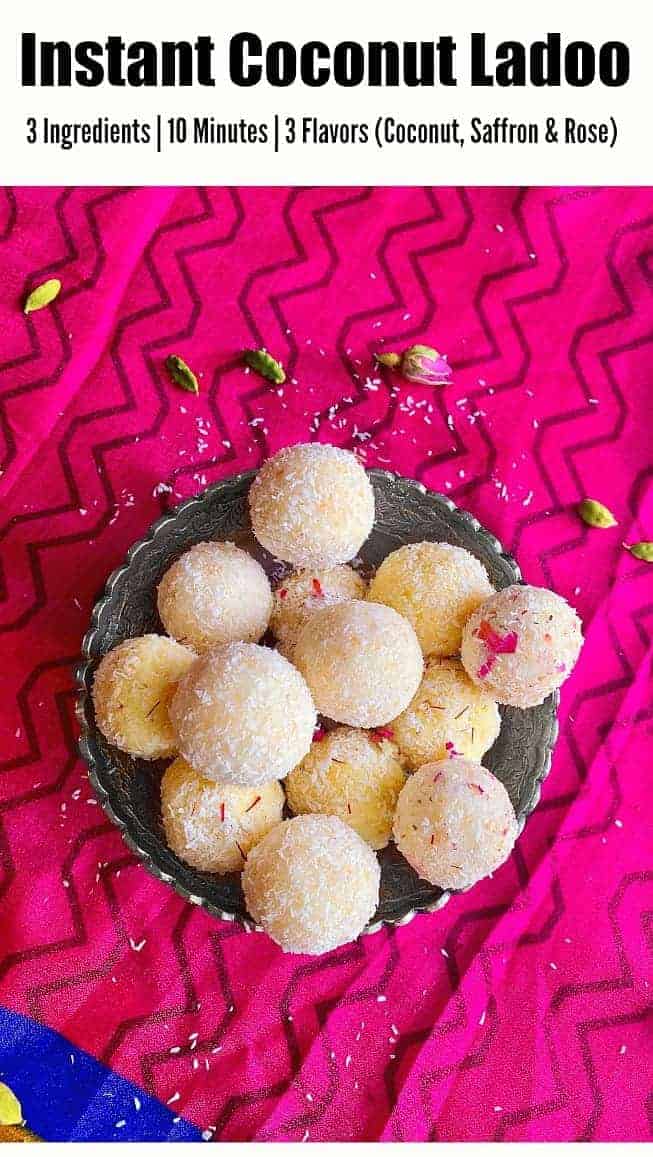 Yield: 15 medium ladoo
Instant Coconut Ladoo (made using Condensed Milk)
Instant Coconut Ladoo: a popular Indian sweet recipe made using 3 ingredients- coconut, condensed milk, and cardamom. Ready in 10 minutes. Makes 15 ladoos & 3 Different Flavors (Saffron & Rose) #holisweets
Ingredients
1 Can Condense Milk (14.Oz)
2 Cups Dry Shredded Coconut (Unsweetened)
1 Tsp Cardamom Powder
1 Tbsp Oil – For greasing your hands to make ladoo
Decoration - optional
2 Tbsp Dry Shredded Coconut
1 Pinch of Saffron
2 Tbsp Milk - to dissolve saffron
5-6 Dry Rose Petals - crushed - you can use fresh petals too
Instructions
Preparing the Instant Coconut Ladoo Mix:
In a non-stick pan, toast the desiccated coconut over medium heat for 1-2 minutes.
Turn off the heat and Let it cool completely.
Add condense milk, cardamom powder to toasted coconut.
Mix the ingredients thoroughly. (Give it a taste, if you feel it's too sweet, add little more coconut)
Making the Instant Coconut Ladoo:
Now grease both your hands with 2-3 drops of oil.
Scoop about 1.5Tbsp coconut mix on your hand and make round balls.
Roll each ladoo in dry shredded coconut powder to coat them evenly.
Similarly, make all the ladoo and transfer to serving plate.
Share and Enjoy
Follow - If Making Other Two Flavors of Ladoos:
Saffron Coconut Ladoo:
In the warm milk, dissolve saffron and add this to cococnut mix.
Follow the process above to make the ladoo and enjoy
Rose Coconut Ladoo:
Add the crushed rose petals in the coconut mix.
Follow the process above to make the ladoo and enjoy
Nutrition Information:
Yield:
15
Serving Size:
2
Amount Per Serving:
Calories:

93
Total Fat:

6g
Saturated Fat:

4g
Trans Fat:

0g
Unsaturated Fat:

2g
Cholesterol:

5mg
Sodium:

52mg
Carbohydrates:

9g
Fiber:

1g
Sugar:

5g
Protein:

2g