Indian Methi Chicken – Murg Methi (Fenugreek Chicken): An Indulgent and Fragrant chicken recipe from India, that's a perfect blend of spices, flavors and comfort food (light version).
Indian Methi Chicken – Murg Methi (Fenugreek Chicken)
The mild spices and warm-sweet 'methi' aroma makes this it absolutely delicious.It can be made 1-2 days in advance and frozen for upto a week.
This Indian Methi Chicken is my absolutely FAVORITE chicken recipe (sorry Butter Chicken- but you're my second favorite 😉 and must have made it gazillion times.
More than being the favorite, the reason to make it that many times is plain and simple – It tastes absolutely Heavenly & is so simple to make.
It takes about 30-40 minutes to make this recipe from scratch and the result is mind-blowing!
And, did I mention, my version is actually LIGHT in Calories too (as it's made using thick yogurt instead of cream)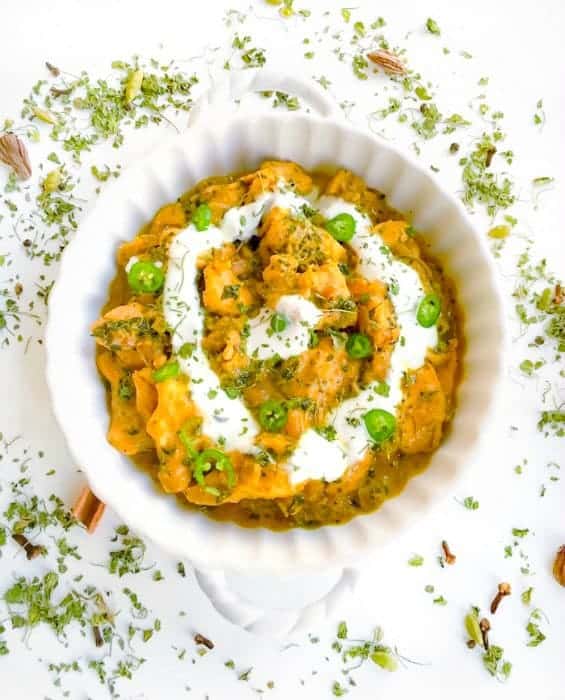 This Indian Methi Chicken recipe is particularly famous in the northern part of India as that place is rich in cultivating the main ingredient 'Methi/Fenugreek Leaves'.
(Fresh Fenugreek Leaves are similar to watercress leaves and has a sweet aroma).
Here's a picture of Dry Kasuri Methi or Fenugreek Leaves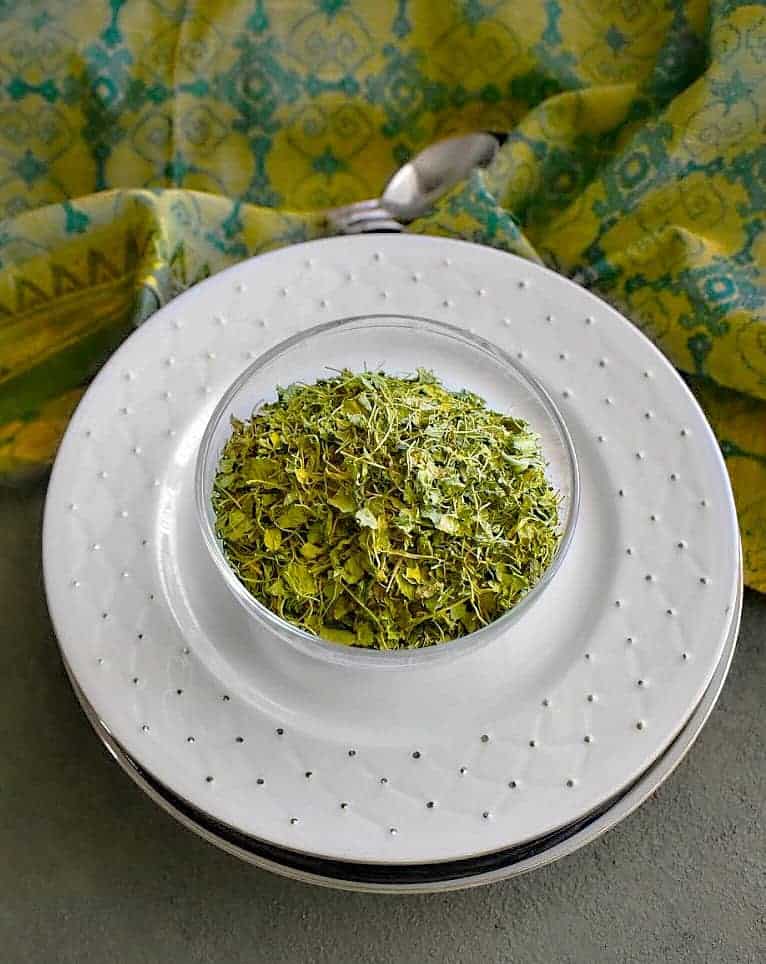 Hence most of the Indian restaurants there serve it on their menu and I've come across it in many Indian restaurants in USA & Europe.
Then you add mild flavorful spices like cardamom, cloves, cinnamon (seriously they smell so good), mix it up with yogurt, chicken, few more ingredients and cook over low heat.
The result will be an absolutely drool-worthy dish.
Because we want to do full justice to the flavors of methi+whole spices, hence we kept the other ingredients pretty light.
You don't want to overpower it by adding tomatoes or too much garlic….every ingredient in dish complements each other in taste and aroma.
For most of us living abroad, 'Fenugreek Leaves or Methi & Kasoori Methi (dried version of it) can be easily found in any big/small Indian grocery stores.
For this particular version, I'm using 'dried fenugreek leaves/kasoori methi' (available in the spice aisle) but if you get fresh leaves, that's great too.
IMPORTANT TIP:
You have to be careful about one thing when cooking with Fenugreek Leaves (dry/fresh)
You add them towards the very end of your dish (cook for 3-4 minutes) as they do have a tendency to taste kind of bitter (if over-cooked).

Whenever I make this Methi chicken, it's made in a big batch, to be served that particular day and then freezing some part of it for the coming week…
I mean who wouldn't mind a flavorful pre-cooked gravy recipe on a busy (read crazy at times) weekdays…
Oh, by the way, the other thing, that's always found in our freezer is frozen roti's/naans (whether store-bought or homemade) as that seriously makes life so much easier.
Also, this one is my favorite stress-buster too, as when I cook this, the aroma of the methi and spices, just transcend me into this peaceful space.
As I said many a time, I love hearing from you, about my recipes that you tried and are you like many of us …for whom cooking is just as therapeutic as anything else?
Indian Chicken Recipes
Quick, Delicious and Lighter #Indian #Chicken Recipes.
---
As always, I Looove when you try my recipes and send me pictures & feedback.
You can tag my recipes tried by you using #easycookingwithmolly on any of the social media below:
Connect with Me Here: Facebook / Pinterest / Instagram

Subscribe to Our Newsletter!
Recipe Inspiration, Easy to Follow Recipes & Much More.
Yield: 4
Indian Methi Chicken - Murg Methi (Fenugreek Chicken)
An Indulgent and Fragrant chicken recipe from India, that's a perfect blend of spices, flavors and comfort food (light version).
Ingredients
1 lb Boneless Chicken - cut into bite-size pieces (you may use with bones/drumsticks too)
1 Cup Thick Yogurt - whisked
2 Medium Onion - chopped
1 Tsp Ginger+Garlic Paste - fresh or store-bought
1 Tbsp Ghee
2 Tbsp Olive Oil - you can use any light oil
1/4 Cup Water
1 Green Chili - chopped
Spices:
3 Tbsp Dried Fenugreek Leaves - To be ADDED TOWARDS the END
1 Tsp Turmeric
Salt - as per taste
1 Tsp Red Chili Powder- optional
1 Tsp Garam Masala
Whole Spice:
4 Green Cardamom - crushed
3 Black Cardamom - crushed
4-5 Cloves
1/4 Stick Cinnamon
3-4 Black Pepper
Instructions
In a big bowl, whisk together yogurt, turmeric, red chili and garam masala.
Add chicken to it, mix evenly and marinate for 10 minutes (if you can, marinate it for longer).
Heat oil+ghee, add all the whole spices and let them crackle on low heat for half a minute.
Now, add chopped onions and saute till they turn light pink (about 3-4 minutes)
Add ginger+garlic paste and saute for another minute.
Mix the marinated chicken to this cooking mixture, saute everything and cook covered for 10 minutes (saute every 2 minutes).
Once the chicken is lightly cooked, remove the cover and let it cook for another 2 minutes.
Now, add crushed fenugreek leaves, saute evenly to mix the leaves and chicken.
Finally, add salt, water and mix everything together.
Cook uncovered for another 3-4 minutes (you'll see oil separating in the sides)
Turn off the heat.
Transfer to a serving bowl, decorate with chopped green chilies, crushed fenugreek leaves and yogurt.
Serve Hot with favorite side.
Nutrition Information
Yield
4
Serving Size
1
Amount Per Serving
Calories

310
Total Fat

33g
Saturated Fat

9g
Trans Fat

0g
Unsaturated Fat

19g
Cholesterol

80mg
Sodium

212mg
Carbohydrates

27g
Fiber

6g
Sugar

8g
Protein

48g