Kuttu ka Dosa – Healthy Buckwheat Crepes: is an instant dosa made using kuttu ka atta (buckwheat flour), spinach and water. This dosa is served along with vrat wale aloo for Navratri.
Healthy Buckwheat Crepes – Kuttu ka Dosa
I usually don't share the recipe on Wednesday but this Kuttu ka Dosa – Healthy Buckwheat Crepes recipe is especially being shared on the auspicious occasion of 'Navratri' (meaning nine nights).
One of the holiest Hindu festivals celebrated all over India. During these nine days/nights, people worship different forms of Goddess Durga (Shakti) and many keep fast (eat glutenfree and vegetarian).
Most of the fast food comprises of fresh fruits/ milk/ yogurt and a lot of fried dishes made using:
Buckwheat: known as Kuttu in India
Water Chestnut Flour: known as (Singhada)
Echinochloa colonaFlour: known as (Sama ka chawal).
I remember growing up, we used to love this kind of festival because of all the festival food and festivities.
Like singing/ dancing and lots of activities in Pooja Pandal (a designated public park/place for festivities).
Who wouldn't love the deep-fried kachori (fried puffs) / Poori's / special vegetables and lots and lots of sweets.
(You might read 'lots n lots of sweets' in many of my posts related to Indian festival and I'm sure by now you would have understood, our LOVE with sweets) 😉
So that was then and coming back to present, with our lifestyle, I don't think we can eat too much-fried food, so I always try to create new recipes especially for such festivals.
What is Kuttu Dosa?
So these 'Buckwheat Crepes' or Kuttu Dosa have become our house favorite, especially for any fasting or festivity.
I usually make them with buckwheat mixed with some same ke chawal flour and spinach.
I eat them as plain crepes but If you want, you can serve them along with this potato scramble (aloo ki sabzi).
This 'Aloo ki Sabzi' is made for fasting too, hence no onion-garlic is used in it.
Since we are using all flour mix, hence you can even call them instant. It's also a Diabetic friendly meal or for people who are looking at eating glutenfree/fewer carbs.
Since its being made for fasting, I'm using Rock Salt(Sendha Namak) but you can use regular salt as well.
Did you see my 'Coconut Cashew Chutney' (below) which goes fantastically with these delicious crepes / Kuttu Dosa.
Other Kuttu / Navratri Recipes: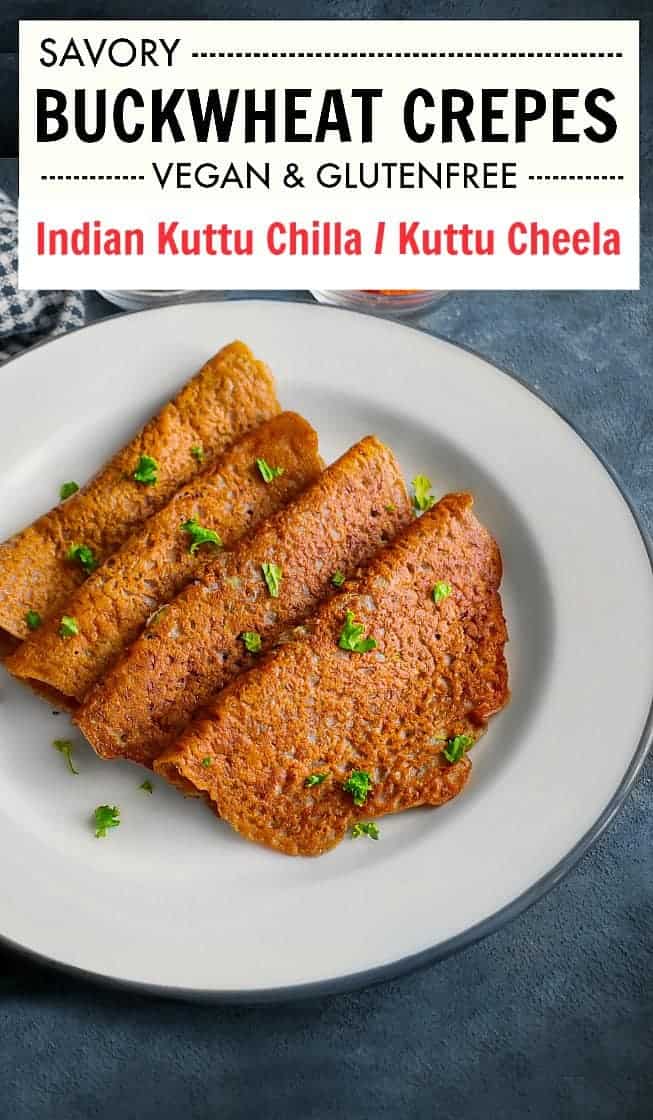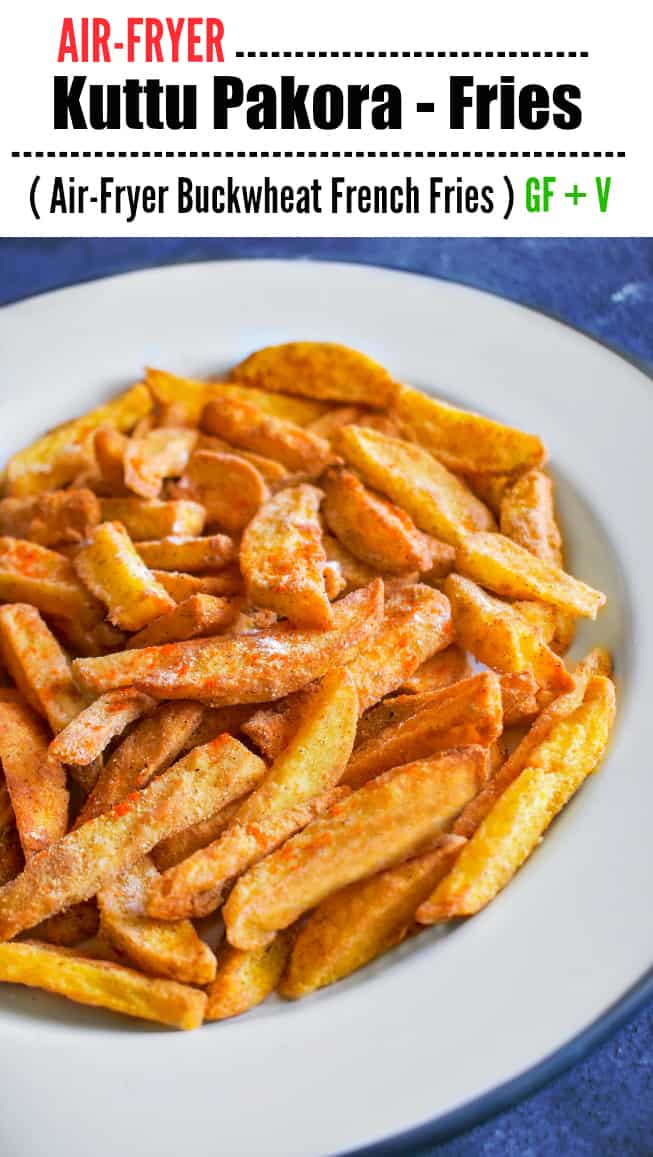 ************* Wish You All A Happy Navratri *****************
Yield: 15
Kuttu Dosa - Healthy Buckwheat Crepes #navratri
Kuttu Dosa - Healthy Buckwheat Crepes: is an instant dosa made using kuttu ka atta (buckwheat flour), spinach and water. This dosa is served along with vrat wale aloo for Navratri
Ingredients
For Crepes/Dosa:
1 Cup Buckwheat Flour (Kuttu ka Atta)
1/2 Cup Sama ka Chawal - You can use any regular rice flour or couscous flour
1/4 Cup Spinach - Fresh or Frozen
1/2 Cup Plain Yogurt - If vegan, use vegan yogurt or just plain water
1/4 Cup Water
Rock Salt (Sendha Namak) - You can use any salt as per taste
4 Tbsp Olive Oil - Any light oil for making crepes
Vrat Aloo ki Sabji:
2 Boiled Potato - Peeled and cut into bite size
1/2 Cup Cilantro - chopped (Optional)
1 Green Chili - chopped
1/4 Tsp Turmeric
1/4 Tsp Mustard Seeds
2 Tbsp coconut Flakes - Optional
2 Tbsp Olive Oil - For cooking
Instructions
For Making Crepes/Dosa:
Using a hand blender or food processor, grind buckwheat flour, sama ka chawal and spinach together.
Add yogurt, water, salt and pulse to form a smooth batter (Batter should be slightly thick and not runny). Keep aside.
Heat a tsp of oil in a large skillet/non-stick pan for about a min.
Pour about 2 ladle of batter and swirl to form the shape of crepe.
Cook for about 2 minutes on low flames.
Lightly, flip the crepe to another side and cook for another 2 minutes (You can cook more or less as per taste. For crispy brown, you may cook for another minute).
Follow the steps till all the crepes/dosa is made.


For Making the Potato Scramble:
Heat 2 tbsp oil for a minute.
Add mustard seeds,as soon as they crackle, add turmeric, salt and potatoes.
Stir potatoes to mix with turmeric, oil and mustard seeds.
Cook over medium heat till potatoes are nicely cooked and browned (Takes about 2-3 minutes).
Turn off the heat and add chopped cilantro, chili and coconut flakes.
Toss them lightly and serve separately or filled in each crepe.
Nutrition Information:
Yield:
12
Serving Size:
2
Amount Per Serving:
Calories:

282
Total Fat:

12g
Saturated Fat:

3g
Trans Fat:

0g
Unsaturated Fat:

9g
Cholesterol:

15mg
Sodium:

296mg
Carbohydrates:

35g
Fiber:

2g
Sugar:

3g
Protein:

8g