Buckwheat Potato Croquette (Kuttu ki Tikki): patties made using buckwheat (kuttu) and potatoes.
This recipe is vegan and glutenfree.
Buckwheat Potato Croquette (Kuttu ki Tikki)
Can be served as snacks or used as a patty in the burger.
'Buckwheat ' or Kuttu as it's popularly known in India, is my new favorite for past few months.
It's light on the tummy, has a nutty flavor (just like whole wheat flour which is we usually eat) and it tastes absolutely great sweet or savory.
Now 'Buckwheat' is a cereal grain (Glutenfree) and can be eaten as a substitute for grains for people who are sensitive to wheat or other grains that contain protein gluten.
It's one of a very popular flour used in India (North) during religious fasting and is known as "Kuttu" or "Okhla".
And every big or small grocery markets are well stocked with them during festivities or otherwise too.
In Indian religious fast's the meal is usually glutenfree, many a times vegan (No milk or milk products) and most of the recipes revolves around potatoes.
So, today I'm going to share the recipe of Buckwheat Potato Croquette (Kuttu ki Tikki).
Which I've grown up eating at home because we do have a "Vasanta Navratri Festival" being celebrated in the northern part of India.
The only change I've made to the traditional recipe is the addition of peanuts, which adds a pleasant crunch to it.
The process is pretty simple and croquette is fried till crisp golden consistency.
If you haven't tried buckwheat flour till now, I urge you to give it a chance.
It's easily available in most Indian grocery stores, organic and whole-food grocers (Here in the USA) and online.
The possibilities are endless with this flour as it blends equally great in both sweet and savory recipes.
So give the flour and croquette a try and let me know "How you like it"?
While I work upon another recipe with it…..maybe pancakes or noodles…..who knows 🙂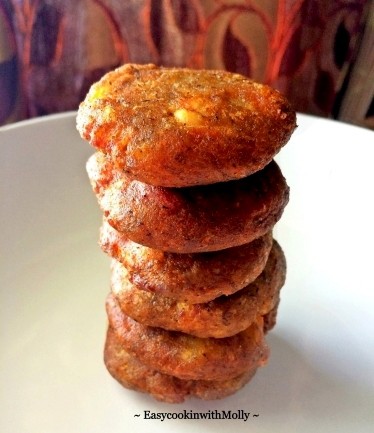 :: You May Also Like ::
Buckwheat Crepes (Kuttu ka Dosa)
Happy Navratri
~ Enjoy & Share ~
Yield: 8 Croquette
Buckwheat Potato Croquette (Kuttu ki Tikki) #Navratri
patties made using buckwheat (kuttu) and potatoes. This recipe is vegan and glutenfree.
Ingredients
1 Cup Buckwheat Flour
2 Large Boiled Potato – Peeled (You can use any variety of potatoes)
¼ Cup Roasted Peanuts – Chopped into small bits (OPTIONAL)
1 Cup Canola Oil – For Frying. (You may use any flavorless oil of choice)
Seasoning
¼  Tsp Black Pepper Powder
½  Tsp Red Chili Powder - (OPTIONAL)
1 Tsp Salt – I'm using Rock Salt (Sendha Namak), you may use any salt.
Instructions
In a large bowl, grate the boiled potato. (You can mash them too but grating gives them an even texture.)
Add, buckwheat flour, peanuts and seasoning to the grated potatoes and mix everything together to form soft pliable dough.
Divide the mixture evenly, using an ice-cream scoop or spoon (makes about 16 medium croquette)
Now, use little water to wet your hands and shape each divided mixture into a flattened circular shape or any shape of choice.(I'm making this shape as it cooks evenly)
Heat oil in a pan for about 2 minutes on high and reduce the heat to medium.
Now add, 3-4 croquettes and let them fry for a minute.(If they are not fully submerged in oil, then quote oil on the side up)
Turn croquette to the other side and let it cook for another minute.
Now, turn them again and let them cook for 2 minutes.
Transfer the cooked croquette on kitchen towel to soak any excess oil.
Stack them on serving dish and serve warm with choice of dip/sauce.
Nutrition Information
Yield
8
Serving Size
1
Amount Per Serving
Calories

364
Total Fat

32g
Saturated Fat

3g
Trans Fat

0g
Unsaturated Fat

28g
Cholesterol

0mg
Sodium

463mg
Carbohydrates

19g
Fiber

3g
Sugar

1g
Protein

4g