Punjabi Aloo Paratha (Multigrain Potato Flatbread) are healthy, delicious flatbread/paratha stuffed with potato filling. They are made using homemade multigrain flour which can be customized as per taste/need.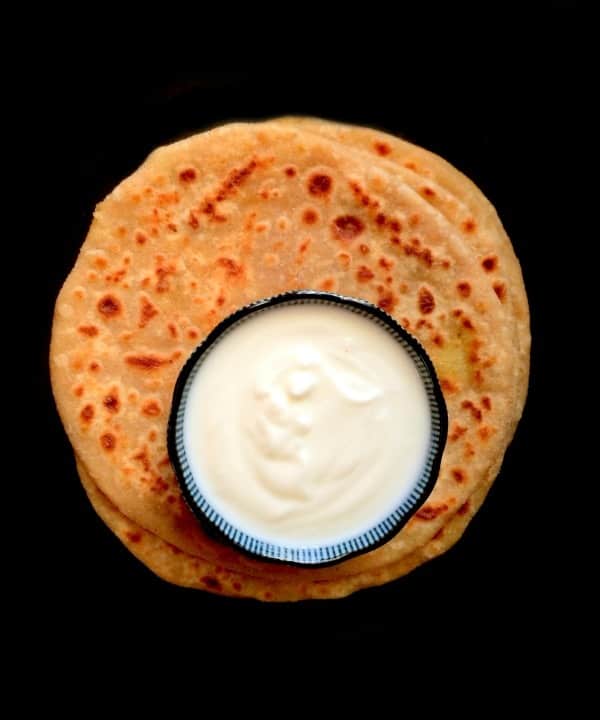 Being a Delhi girl, the approaching winter season is a perfect time when I crave some typical 'Dilliwala' (Delhi) food.
One such dish is a warm, slightly crisp stuffed paratha with a tiny dollop of homemade butter and my hot cuppa masala chai …. you give me this and my day is made.
Being a foodie, I feel especially excited about this season as this is when we crave and relish most of our comfortfood recipes.
Now, you may ask, what's so special about Punjabi Aloo Paratha ?
First: you gotta try these Punjabi Aloo Paratha to actually feel that crispy-warm – melt in your mouth texture and the divine taste.
Second: I've mixed different flours and flax seed to give this traditional dish a healthy twist.
Paratha/Flatbread are a very famous or common morning breakfast in the Northern part of India and are often relished as weekend brunch too.
They are made plain or with choice of filling but the most famous or I can say World Famous are Aloo Paratha (Aloo means Potato).
The potatoes are boiled and mashed to a smooth consistency, then spices (less or more) are added, this filling is then stuffed into each flatbread and finally, the flatbread is cooked over stovetop using oil.
Now that is the general way of cooking flatbreads.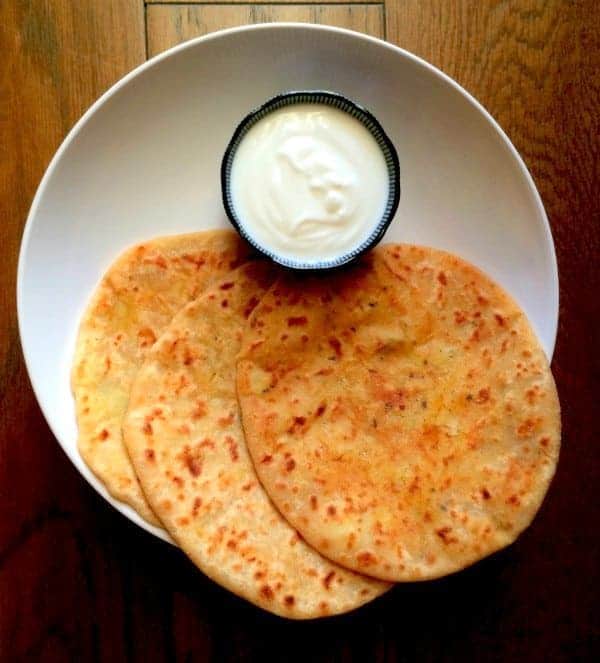 For Punjabi Aloo Paratha there are a couple of added steps:
First – while preparing the filling, we add Ajwain (carrom seeds), add slightly more chilies (red or green) and some white butter (homemade butter is preferred but you may use store bought too).
Second – the paratha's are usually thicker and larger in size as they are generously stuffed with the potato filling.
Third – paratha's are cooked over a medium flame and more butter is added while cooking them
Most of the time, the Punjabi Aloo Paratha is the only item served for that particular meal with a dollop of homemade butter, hence it's stuffed generously with the potato filling.
Some people might serve it with plain yogurt or Indian pickle but that's about it – there is no curry or vegetable along with it.
Do give this Punjabi Aloo Paratha a try and hope you and your loved one enjoy this as much as I do. The recipe is simple and very much customizable as per your taste.
If in a hurry, you can make the potato filling and the paratha dough a day before. The dough can be frozen for upto 2 weeks.
---
DID YOU TRY MY RECIPE – AWESOME!!!
Now Quickly SNAP A PICTURE & TAG :
#easycookingwithmolly + @easycookingwithmolly on Instagram –> As I Loooove to see you recreate my recipes:
Connect with Me Here: Facebook / Pinterest / Instagram / Twitter / Subscribe to our Newsletter / Google+
Yield: 12
Punjabi Aloo Paratha (Multigrain Potato Flatbread)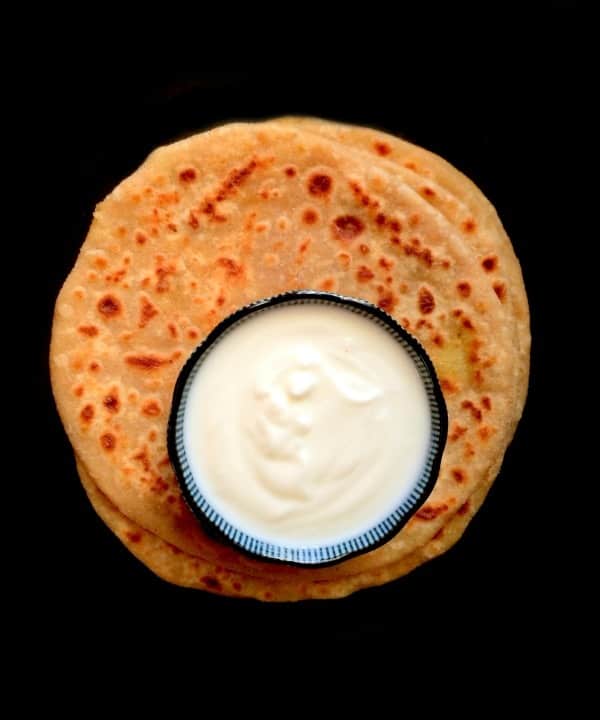 are healthy, delicious flatbread/paratha stuffed with potato filling. They are made using homemade multigrain flour which can be customized as per taste/need.
Ingredients
1 Cup Whole Wheat Flour
1/4 Cup Chickpea Flour
1/4 Cup Oats Flour
4 Tbsp Flax Seed Powder
1/2 Cup Warm Water
4 Tbsp Olive Oil - To make paratha
For Potato/Aloo Filling:
3 Large Boiled Potato - Peeled and mashed
1/4 Tsp Carom Seeds (Ajwain)
1 Tbsp Butter (You can use white or any butter)
1 Tsp Red Chili Powder
Salt to Taste
Instructions
In a food processor or Kitchen Aid, add all the flours, flaxseed powder and give it a quick mix.
Now add warm water to form a smooth supple dough (takes about a minute).
*** You can make the dough with hands too ***
In a large bowl, add mashed potato, chili, carom seeds, butter, salt and mix evenly.
Divide the dough into 12 equal parts and form round balls.
Now flatten each ball to the size of your palm (small size) and place a 2 scoops (spoons/use hand) of potato filling in the center.
Close each filled flattened dough to form a smooth ball again.
Using a rolling pin, flatten them (with least pressure) to a desired size/shape flatbread/paratha.
Follow this step to make all the paratha.
Heat a nonstick flat pan/tava on medium flame for about a minute.
Now place, the stuffed paratha over the hot pan and let it cook for 1/2 minute.
Flip the paratha, apply 1/4 tsp of oil on the cooked side and flip it again.
Now apply 1/4 tsp of oil on the other cooked side.
Let the paratha brown as per desired taste on both the sides.
Transfer the cooked paratha to serving dish and follow this step till all of them are cooked.
Serve immediately.
I'm serving this with a bowl of plain yogurt.
Nutrition Information:
Yield:
6
Serving Size:
1
Amount Per Serving:
Calories:

402
Total Fat:

16g
Saturated Fat:

4g
Trans Fat:

0g
Unsaturated Fat:

12g
Cholesterol:

5mg
Sodium:

193mg
Carbohydrates:

56g
Fiber:

8g
Sugar:

2g
Protein:

9g