Til Mungfali ki Chikki (Indian Sesame Peanut Brittle) is an incredibly delicious Indian brittle made using til, gud, mungfali and herbs. (Made using peanut, jaggery and sesame seed) Perfect for Navratri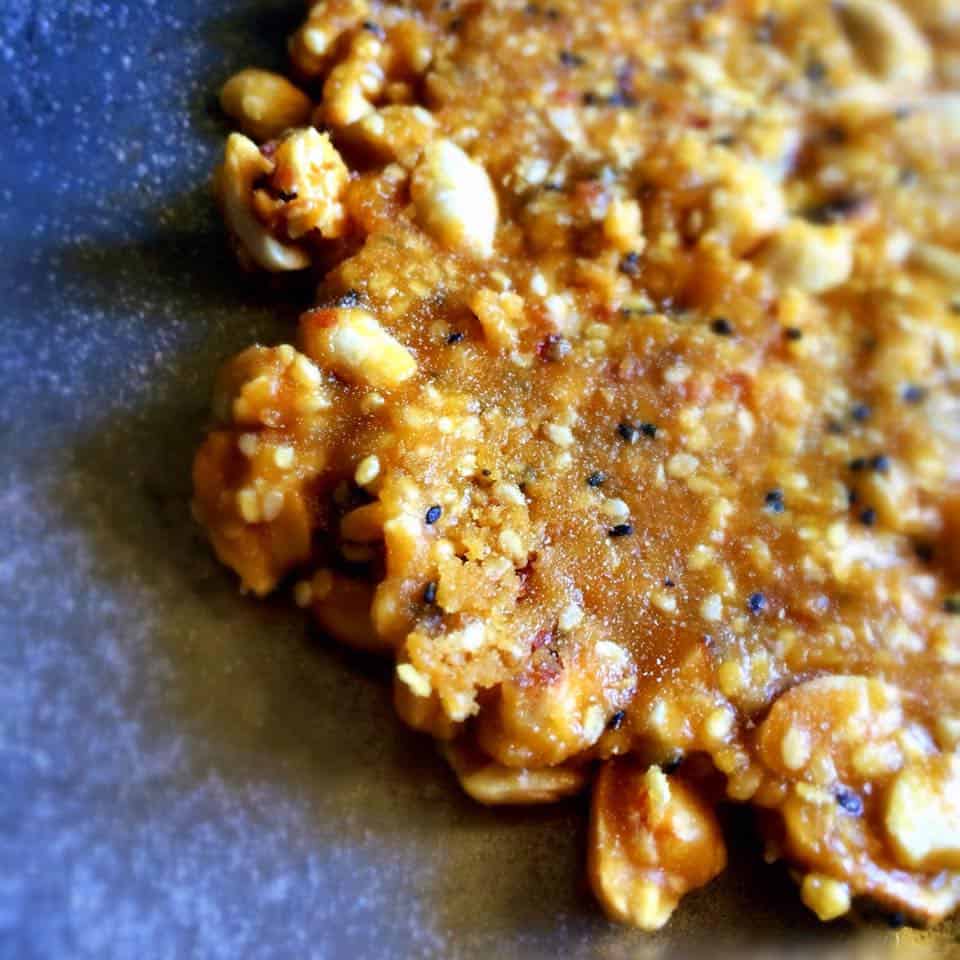 Til Mungfali ki Chikki (Indian Sesame Peanut Brittle) makes for a great snack/dessert
Hey, you'll we have finally stepped into Friday and this week actually liked kind of short thanks to the long weekend.
While we step into weekend mode, the weather is making us dance to a very different tone.
As this week, we actually had some record-heat in California over and above the drought situation – Yikes!
Seriously, if you plan to go out this weekend, don't forget to carry your hat/umbrella, shades & high SPF sun-screen. Gosh….for a minute I thought I'm writing a beauty blog 😉
How to Make Til Mungfali ki Chikki (Indian Sesame Peanut Brittle) :
Step by Step Process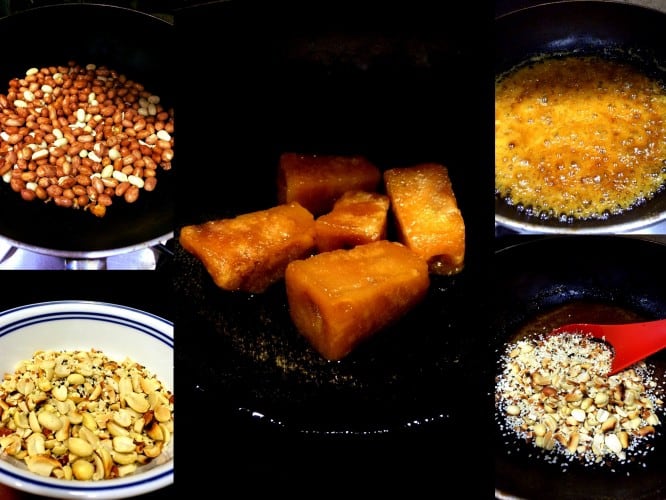 Now getting back to the foodie chats, we spent this gorgeous 3 days vacation in South Lake Tahoe filled with lots of food, fun & family time (Pics will be posted soon on my Instagram).
And yes, just like many of you, I wanted the vacation to continue for a whole week….
Back home and to the reality of getting back to the healthy routine but with the craving of eating something sweet.
So I decided to make these fancy (what I call them) Til Mungfali ki Chikki (Indian Sesame Peanut Brittle) .
I mean a girl always find a way to eat her sweets if she really wants one !!
The best part, they are pretty healthy as we made them using jaggery (more benefits on jaggery here) along with my fave Pink Himalayan Salt (Don't you just love the sound of it).
The recipe is easy peasy and can be stored for upto a month in air-tight containers.
NOTE: I'm using raw sesame and peanuts, you may use pre-roasted to reduce few steps.
So do try the recipe and share with friends & family.
I would love to hear from you as well on any of my social media or if you want to send me pics of my recipes prepared by you.
DID YOU TRY MY RECIPE – AWESOME!!!
Tag #easycookingwithmolly + @easycookingwithmolly on Instagram –>
Connect with Me Here: Facebook / Pinterest / Instagram
:: You May Also Like ::
Yield: 15
Til Mungfali ki Chikki (Indian Sesame Peanut Brittle)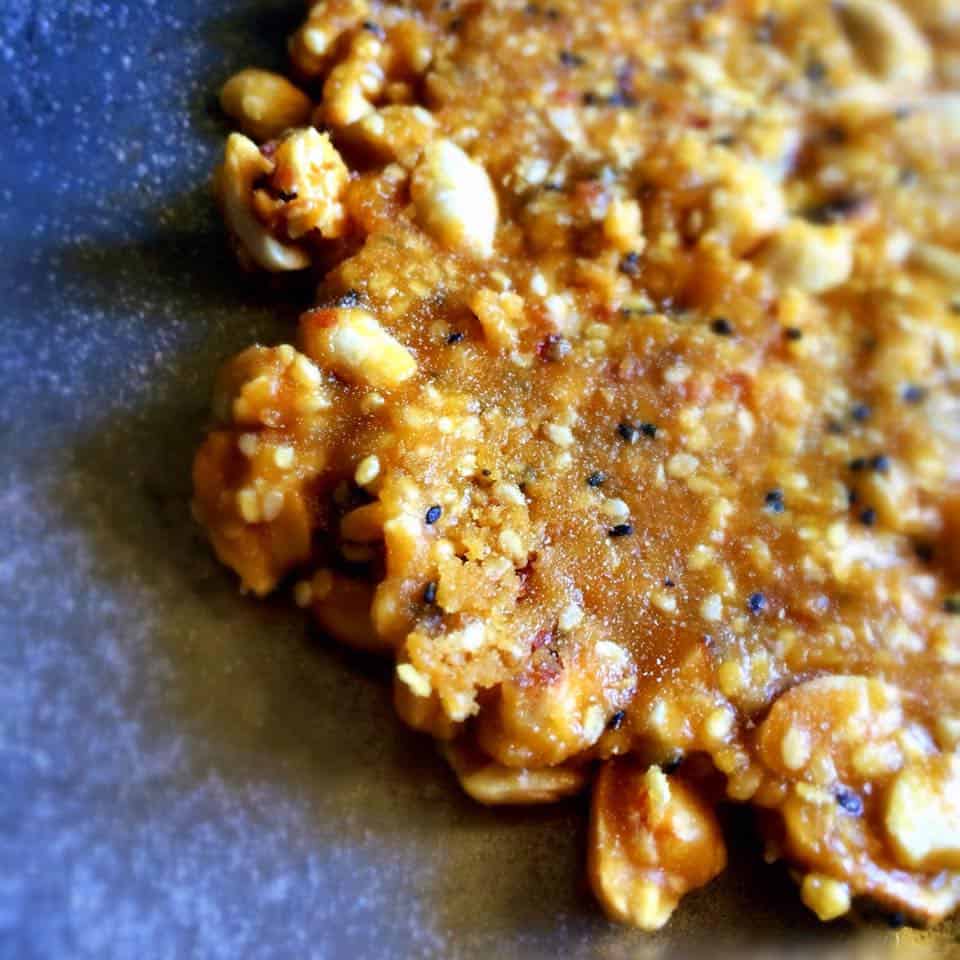 Til Mungfali ki Chikki (Indian Sesame Peanut Brittle): delicious and easy recipe to make mungfali chikki or Indian sesame peanut brittle at home.
Ingredients
1 Cup Mixed Sesame Seeds – I'm using a combination of black and white, you may use just one.
2 Cups Peanut – Shelled and slightly crushed
1 Cup Jaggery *
1/4 Cup Water
2 Tsp Clarified Butter (Ghee) or Salt-free Butter
Salt – For sprinkling (I'm using Pink Himalayan Salt from Costco, you can use any salt)
Instructions


In a nonstick wok, roast sesame seeds on a medium flame till they are slightly toasted (takes 2 minutes) and keep aside in a bowl (While roasting the seeds, stir continuously as they tend to burn quickly).
Now lightly roast the peanuts for 2-3 minutes and keep aside in the same bowl as roasted sesame seeds.
In the same wok, add ghee and let it dissolve.
Now add jaggery, water and stir to make a smooth paste (takes about 3-4 minutes).
Once the jaggery completely dissolves, lower the heat and let it cook for 2-3 minutes (It will continuously bubble, hence be very careful).
Now add roasted sesame seeds-peanuts mix and stir everything together to form a smooth thick paste.
Stir everything together for 2 minutes over low flame and then turn off the heat.
Transfer the mix to the already greased tray/pan or parchment paper.
Flatter the paste to desired consistency using a spatula or a big knife.
Sprinkle Salt evenly on the flattened mix** and let it completely cool (Takes about 15 minutes in fridge or 30-45 minutes outside depending on the temperature).
While serving, break into desired shape.
These can be stored in a cool dry place or in fridge for upto a month.
Nutrition Information:
Yield:
5
Serving Size:
3
Amount Per Serving:
Calories:

661
Total Fat:

45g
Saturated Fat:

9g
Trans Fat:

0g
Unsaturated Fat:

32g
Cholesterol:

10mg
Sodium:

581mg
Carbohydrates:

55g
Fiber:

8g
Sugar:

38g
Protein:

19g